These guides should not be reposted off the website. If you translate it, please link back.
Due to the unclearness of what may directly affect the illustration, all options chosen when illustration was received have been noted.
– Negative result for LOM
/ Neutral result for LOM
+ Positive result for LOM
Any without one of the symbols above means I don't know. However, LoM is actually defaulted to 0 in Alternate Life (it does not affect your main LoM at all). LoM will likely still have some kind of effect on future episodes of Lysander's UL story, but most likely not anything else.
Action Points used: 1,200-1,300
Illustrations: 1. It may be LoM-based. Succeeded at 90+ (though, Crush was enabled for it to be 100)– failed at 75 and lower.
Money: $180 for Outfit
Outfits: 1
Fairy Gift: Wooly
AP Used: 20 AP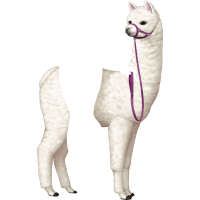 You can find Auntie in the Art Building after talking to Melody in the dining hall.
---
The episode kicks off with Candy and Lysander having dinner.
Lysander: I… This all seems very complicated, [Name]. Even unrealistic.
• (I shrugged my shoulders. He's more stubborn than I thought.) /
• You can tell me if you don't want me to stay. -5
• To me too, but I really want to try. +5 (Choice picked)
You'll then be taken through a series of timeskips before Candy wakes up in the middle of the night and notices Lysander is no longer there, so she tries to find him. He's in the Kitchen.
After various dialogue, Candy will drive to Anteros Academy back in Amoris. Head to the Main Auditorium for class. After, heading to the Dining Hall, you meet two new people: Reese and Emma. After more dialogue, head to the dorm room to prepare for your return trip back to the Farm. Simply go out to campus for Candy to start driving back.
Once back, head to the Kitchen to meet up with Lysander.
Lysander: Maybe. Or he got used to you giving it to him…
• I'll give him some tomorrow, I should be home earlier. / (Choice picked)
• I could go give him some now, to see? +5 (Choice picked)
• He'll eat when he's hungry enough. -5
After more dialogue, head to the bedroom to get some sleep. It'll then be back to Anteros Academy. Next is lots of Candy talking to herself and filling us in until she heads back to the farm. After dinner, Lysander suggests heading up to watch a movie before she heads to sleep.
The same auto-moving-Candy thoughts continues as she goes back and forth for another day. The movie is continued until Candy falls asleep again. And the routine keeps going… Finally, you have the ability to actually move yourself again. Head to the Kitchen to meet back up with Lysander.
Lysander: And you, did you sleep well? You slept a long time, anyway…
• I think I needed it. The week was tiring. / (Choice picked)
• I feel great! You see, I was right! -5
• No, actually, I didn't sleep very well at all, I had nightmares. +5 (Choice picked)
Lysander: Yes, but as its name suggests, it's a secret: I can't tell you.
• Even with me? Maybe you can at least give me a hint? / (Choice picked)
• Alright, I won't insist… But I hope you wrote it down somewhere! +5 (Choice picked)
• Drugs…? Is that it? -5
After more dialogue, you are automatically taken to get your suitcase from the car and then head up to the bedroom to change. After going back to the Kitchen, you can finally move yourself again.
From here, you can go right out to the gardens to see the animals. After more dialogue, head to the Pastures. Next will be more auto-moving and dialogue before Candy makes her way back to Anteros Academy. Once there, head to your Dorm Room where you'll run into Yeleen.
• I… I'm sorry, I didn't think of that… I'm sorry. +5 (Choice picked)
• Actually, I don't really see why I would knock to enter my room. -5 (Choice picked)
• Not really, no… I… Actually, we're going to be roommates. /
After, you'll end up at the Dining Hall and meet up with Alexy and Rosa. We also finally learn that Alexy's roommate's name is Julien. You'll then skip a few more days and automatically go back to your dorm where you'll have another conversation with Yeleen. Then you'll automatically move to class followed by seeing Rosalya and Alexy again at the Dining Hall once more.
Another week skips. Candy continues to move automatically. She finally heads back to the Farm. You can find Lysander in the Gardens.
Lysander: We missed you a lot, too, [Name].
• Still, you could have replied to my messages… -5
• (I hugged him with all my might.) +5 (Choice picked)
• I'm so happy to be back… To have two days with you… / (Choice picked)
After more dialogue, head to the Pastures for even more dialogue until it's time for dinner. Head to the Kitchen to meet back up with Lysander. Candy will then automatically head back to Amoris after.
After class, she'll meet up with Melody in the Dining Hall. Melody has a solution for Candy much to her relief. After talking to Melody, you can head into the Art Building to find Auntie (as per usual, it may take some going back and forth before she pops up). If you don't care about Auntie or once you've finished talking to her, make your way to the dorms.
Candy will then drive back to the farm. You can find Lysander in the bedroom. We also learn that Lysander's last name is still Ainsworth. You'll then automatically move to the garden and get some more stuff with Candy talking to herself about everything happening now. This is where you get the illustration if your LoM is high enough (and possibly based off dialogue?). After a bit more dialogue, the episode ends.