These guides should not be reposted off the website. If you translate it, please link back.
– Negative result for LOM
/ Neutral result for LOM
+ Positive result for LOM
Any without one of the symbols above means I don't know. However, LoM is actually defaulted to 0 in Alternate Life (it does not affect your main LoM at all).
Action Points used: ~1,080-1,150AP
Illustrations: 2. You need at least 65* LoM and have to pick the right dialogue choice. You can only get one per route.
*It was originally 75 before being lowered.
Money: $170 for Outfit
Outfits: 1
Fairy Gift:
AP Used: 20AP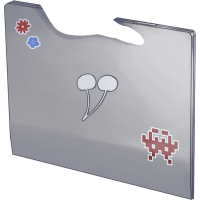 You can find Auntie at the Library before heading to your classes after Armin leaves your dorm room.
---
The episode kicks off with Candy discussing the situation with Yeleen.
• Don't tempt me! +5
• I'm having a hard time knowing if you're serious or not? -5
• Mmm… Sorry, I'm talking too much, aren't I? /
Armin then shows up at her door and after more dialogue, you'll start getting dialogue choices.
• I'm not sure I want it… /
• Okay. /
• What proves to me that this time it will be different? That you're sincere? /
• Exactly! You see, when you put your mind to it! +5
• That's it. Things are off to a bad start, in any case… -5
• (I smiled at him, indulgently.) /
After Armin leaves, it's time to head to class. This is when you can find Auntie. She is at the Library before heading in to your classes. She uses up 20AP.
Once you're done talking to Auntie, or if you don't want to find her, head into the Art Building and go to the Main Auditorium to go to class. After some monologuing, you'll then be transported to your dorm room to buy your outfit.
Once you leave the campus, make your way to the Gazebo by going to the park. Armin will be there waiting.
• Don't overdo it either… -5
• Be careful not to set the bar too high… +5
• That makes me really happy, thanks. /
Head to the Forest Path where Armin continues doing what he does best.
• Go ahead, show me. +5
• What a "charming" remark, for a first date. -5
• For someone who doesn't even want to set foot outside, that's a very daring proposition. /
Armin: Little flings, girls I met at school, or online…
• Wait, when you say "a few", is it a few three or four, or a few ten or twenty? /
• Didn't you try with Anais, after all? -5
• But you didn't take any to Disneyland, did you? +5
Armin: You must have been chased after non stop, like a golden snitch.
• Yeah, I had quite a few boyfriends, in the end. -5
• Not really, a bit like you, in the end… /
• Actually, no one… /
At the halfway point, you decide to turn back because this isn't Kentin's spin-off and we have better things to do. Make your way to Shop Street to head to Armin's apartment.
• I never liked that! You must be confusing me with someone else… -5
• You're impossible. Did you make a list of everything I eat?! +5
• Don't even ask me, I have no idea what you're going to order for yourself. +5
After ordering food, it is time for the Illustration split. As always, because life is cruel, you can only pick one or the other and then have to replay everything to get the other illustration even though it's entirely possible for both options to happen in the same episode 99% of the time.
Armin: Or relaxing in front of a good film.
• Come on, let's play LoL. / ⬅ TOWARDS ILLUSTRATION 1 (Gaming)
• Let's watch a movie, but I get to choose what we watch! / ⬅ TOWARDS ILLUSTRATION 2 (Sleeping)
If you decided to play LoL:
We begin with Candy doing her best and both of them saying gaming terms most people wouldn't actually say like this out loud. It is not going well.
Armin: At the same time, seeing how he's fed…
• Did you see?! They're super good, it's too much! /
• I may not be as bad as you think…? -5
• Maybe you're not as good as you think…? +5
You then switch to Call of Duty and get a friendly cameo from Nathaniel and yay for them still being friends. Regardless, the friendship can not stop Candy from doing terrible.
• Fff… Help me, I'm failing. / ⬅ ILLUSTRATION CHOICE
• I can do it! I just need to focus… /
• Stop commenting on everything like that, it's not helping me! /
If you have at least 65 LoM, you will get the illustration after a bit more dialogue.
You then decide to stop playing and this is where the two routes merge with Armin offering to walk Candy home.
If you decided to watch a Movie:
Armin: And you? Who would you choose?
• Wanda! She is super classy. +5
• Black Widow, of course! One of the pioneers. /
• Iron Man. Already, to be a billionaire. -5
• (More, I want more.) /
• (I don't want to skip steps.) /
• (Just a little kiss…) / ⬅ ILLUSTRATION CHOICE
If you have at least 65 LoM, you will get the illustration after a bit more dialogue.
After a bit more dialogue, Armin offers to walk Candy back to her place and this is where the two routes combine. Make your way back to the Campus.
After some more dialogue and Candy monologuing once more, the episode ends.