The game does not release until March 31st, so right now this is more of a planning page than a current stats thing.
So, welcome to the Story of Seasons Game Diary page! While I can't guarantee there will be tons of entries about it, this will give a list of current stats along with current plans for the game :)
Character Name: Jenny
Farm Name: Golden
Shop Setting: Need to see them all first :P
Going for: Mistel
In general, my main goal is to always:
-Get married
-Have kids as grown as they can be
-Have at least one of every animal
—-If possible: In each color as well
-Have at least one of each pet possible
-Complete whatever the game's story may be (if there is one)
-Win every Festival at least once.
And most importantly…
-Finish before any Animal Life span issues can happen.
Because of the fact that there ARE Animal Life Spans, I am essentially making a list of what I want to do so I can get an idea of what I need to get done ASAP. I'd like to get the Zoo completed and all the trading…shop…people as I feel that is part of the story, but I'm not sure if I'll be able to before the last part. :(
Blueprint stuff wanted
Pink Fences require Pink Roses, Iron, and Small Lumber.
Pink Door requires Pink Roses, Iron, and Lumber
Cow Gate I actually just need Treats for
Fluffy Gate needs Lumber and Alpaca Wool
White Parasol Table needs White Cloth, Small Lumber, and Lumber
Sun Statue needs Sunflower, Black Stone, and Orihalcum
Animal Statue needs Small Stone, Stone, Black Stone, and Animal Magnetism
Chic Fountain needs Stone, Jade, and Coin
Pond needs Rock and Red Magic Flower
Slide needs Lumber, Yellow Pearl, Red Pearl, and Blue Pearl
Sand Animal needs Small Lumber and Dried Soil
Snowman needs Snowballs
Igloo needs Snowballs and Ice
Ice Lamp needs Ice
Snow Cow Statue, Snow Sheep Statue, and Snow Bird Statue needs Ice and Snowballs
Red Illuminated Tree needs Branch, Glittering Stone, and Mint
Red Illuminated Gate needs Lumber, Stone, Glittering Stone, Red Magic Flower
Clock tower needs Small stone, stone, brick, and moonstone
Ice Cream Stand needs Small Lumber, Lumber, Ruby, and Peridot
Strawberry Parfait, Strawberry Parfait Cake, and Three Layered Cake need Pink Rose, Soft Soil, Glittering Stone, and Lumber
Globe needs Diamond, Orihalcum, Platinum, and Green Pearl
Mini Tower needs Black Rock and Shiny Coin
Cow Picture Board needs Small Lumber, Lumber, and Old Clay Doll
New Year's Decoration needs Pine Branch, Solid Soil, and Bamboo
Bamboo Ornament needs 10 Bamboom, Rock, and Moondrop Flower
Tsurutan needs Pine Branch, Cherry Branch, Maidenhair Branch, and Bamboo
Three Wheeler needs Iron, Copper, Mithril, and Adamatite
Mechanical Lion needs Red Cloth, Green Cloth, Lumber, and Jade
Mechanical Panda needs White Alpaca Wool Cloth, Black Llama Wool Cloth, Moonstone, and Glittering Stone
Mechanical Duck needs Yellow Downy Tuft, Orange Downy Tuft, Purple Downy Tuft, White Pearl, Glass Stone
Mechanical Penguin needs Amethyst, Fluorite, and Ice
Pink Rose Pot needs Stone, Pink Rose, and Soft Soil
All the pots need the same except with the different flower so just going to say flowers: Marguerite, Tulip, Carnation, Sunflower, Red Rose, Hydrangea, Lily, Hibiscus, Pink Carnation, White Rose, Hilton Daisy, Snowdrop, Gentian, Blue Rose, Cactus
Flower beds are the same, just Lumber instead of Stone.
Potted Bamboo – Brick, Bamboo, Soft Soil
Bonsai – Brick, Small Lumber, Pine Branch, Soft Soil
Cherry Blossom Pot – Brick, Cherry Branch, Soft Soil
Maidenhair Pot – Brick, Maidenhair Branch, Soft Soil
Palm Tree Pot – Brick, Coconut, Soft Soil
Hanging Pot – Brick, Moondrop Flower, Soft Soil, and Iron
Red Flower Basket – Iron, Tulip, Carnation, Red Rose
Pink Flower Basket – Iron, Pink Rose
White Flower Basket – Iron, Lily, White Rose
Shrub – Branch, Weeds
Conifer – Twig, Weeds, Moondrop Flower
Ball Topiary – Branch, Brick, Laurier
Double Ball Topiary – Branch, Brick, Basil
Hedge – Twig, Weeds, Solid Soil
Lion Topiary – Branch, Orihalcum, Red Magic Flower
Mammoth Topiary – Branch, Adamantite, Blue Magic Flower
Rabbit and Fox Topiaries – Branch, Emerald, Cherry Branch
Penguin Topiary – Branch, Blue Pearl, Maidenhair Branch
Phoenix Topiary – Black Branch, Philosopher's Stone, Pine Branch
Bamboo Grove – Bamboo, Weeds, Moondrop Flower
Pine Tree – Pine Branch, Brick, Solid Soil
Cherry Blossom Tree – Cherry Branch, Brick, Solid Soil
Maidenhair Tree – Maidenhair Branch, Brick, Solid Soil
Palm Tree – Coconut, Soft Soil
Cow Statue – Moo-Moo Treat, Black Stone, and Moonstone
Sheep Statue – Sheep Treat, Black Stone, Jade
Chicken Statue – Chicken Treat, Black Stone, Topaz
Horse Statue – Treat, Black Stone, Amethyst
Alpaca Statue – Alpaca Wool, Black Stone, Sandrose
Llama Statue – Llama Wool, Black Stone, Fluorite
Tricycle Pot – Silver, Iron, Ruby
Watering Can Pot – Silver, Iron, Watering Can
Boot Pot – Silver, Iron, Boot
Red Flower Arch – Stone, Red Magic Flower
Gazebo – Silver, Mithril, Platinum, Moonstone
Pink Geometric Roads – Pebble, Rock, Black Rock
Eastern Double Bed – Lumber, White Rabbit Fur Cloth
Large Gold Fridge – Stone, Ice, Gold
Alarm Clock – Triton's Tumpet, Red Pearl
Record Player – Small Lumber, Triton's Trumpet, Glittering Stone, Philospher's Stone
Brown Fireplace – Brick, Silver, Winter Sun
Television – Black Lumber, Bottle, Iron, Glittering Stone, Crystal
Grandfather Clock – Philospher's Stone, Old Coin, Glass Stone, Black Lumber
Large Potted Plant – Branch, Stone, Solid Soil
Potpourri Diffuser – Small Stone, Small Lumber, Lavender, Rosemary
High-end Dining Chair – Black Lumber, White Alpaca Wool Cloth
Pink Dining Chair – Lumber, Pink Carnation
White Dining Chair – Lumber, Lily
Red Armchair – Small Lumber, Lumber, Red Rabbit-Fur Cloth
White Armchair – Small Lumber, Lumber, White Rabbit Fur Cloth
Pig Mosquito Coil – Small Stone, Laurier
Black Pig Mosquito Coil – Black Stone, Laurier
Gold Pig Mosquito Coil – Black Stone, Gold, Laurier
Chic Dining Table – 8 Lumber, 5 Yellow Cloth, 4 White Yarn
Pink Dining Table – 8 Lumber, Pink Carnation, White Yarn
White Dining Table – Lumber, White Rabbit Fur Cloth, White Rabbit Yarn
Chic Cabinet – Small Lumber, Lumber, Sandrose
High-end Cupboard – Small Lumber, Black Lumber, Gold
Chic Club Chair – Lumber, Brown Alpaca Wool Cloth
Red Club Chair – Lumber, Red Rose
Pink Club Chair – Lumber, Pink Carnation
White Club Chair – Lumber, Lily
Red Sofa – Lumber, Red Rose
Pink Coffee Table – Lumber, Pink Rose
Old Fashioned Shelf – Small Lumber, Lumber, Laurier
Large Stand Light – Small Lumber, Lavender, Glass Stone
Small Stand Light – Small Lumber, Sage, Glass Stone
High end Bookshelf – Lumber, Glass Stone, Gold
One-Layered Shelf – Small Lumber, Twig, Chamomile
Stuffed Bear – Brown Alpaca Wool Cloth, Goat Hair, Crystal
Big Stuffed Dog – Gold Camel Hair Cloth, Camel Hair, Platinum
Big Stuffed Cat – Silver Camel Hair Cloth, Camel Hair, Adamatite
Cello – Small Lumber, Orange Downy Tuft, Purple Downy Tuft, Green Pearl
Sailing Ship – Small Lumber, Lumber, White Cloth, Peridot
Balloon Art – Balloon, Red Rose, Pink Rose, Blue Rose
Stained Glass – Glass Stone, Ruby, Amethyst, Sandrose
Old Fashioned Globe – Glittering Stone, Adamantite, Orihalcum, Mithril
Chessboard – Stone, Black Stone, Mithril, Adamantite
Telescope – Moonstone, Glass Stone, Lumber
Coral Decoration – Coral, Venus Comb Murex, Red Pearl, Blue Pearl
Martian Statue – Moonstone, Crystal, Philosopher's Stone, Old Clay Doll, Empty Can
Pink Striped Print – Lumber, Yarn, Pink Carnation
Pink Stained Glass Print – Lumber, Glass Stone, Sandrose
Pink Diamond Flooring – Stone, Rabbit Yarn, Pink Carnation, Sandrose
Sky Blue Rug – Stone, Red Downy Tuft, Blue Downy Tuft, Purple Downy Tuft, Fluorite
Aquamarine Rug – Stone, Salt, Ice, Coral, Blue Pearl
Child Art Rug – Stone, Chery Branch, White Pearl, Glittering Stone, Platinum
Sewing Studio – Small Lumber, Lumber, Iron, Wool
Pottery Studio – Small Stone, Stone, Soft Soil, Solid Soil
Winery – Small Stone, Stone, Bottle, Glass Stone
Seed Maker – Small Stone, Lumber, Brick, Turnip Seeds
Spice Factory – Small Lumber, Lumber, Stone, Black Stone
Cheese Factory – Small Lumber, Lumber, Black Stone, Gold
Red Merry-Go-Round – Lumber, Black Lumber, Camel Hair, Red Alpaca Wool Cloth +, Gold
Greenhouse – Lumber, Rock, Soft Soil, White Cloth, Silver
Bird Feeder – Stone, Dried Soil
Hot Spring – Pebble, Rock, Black Rock, Energy Booster
Random Screenshot of the moment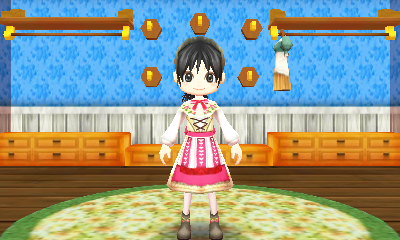 Comments (0)