Even though I was mainly just stuck waiting around on Thursday, some stuff did still pop up before the DLC released. For one, I got a new recipe from Merengue.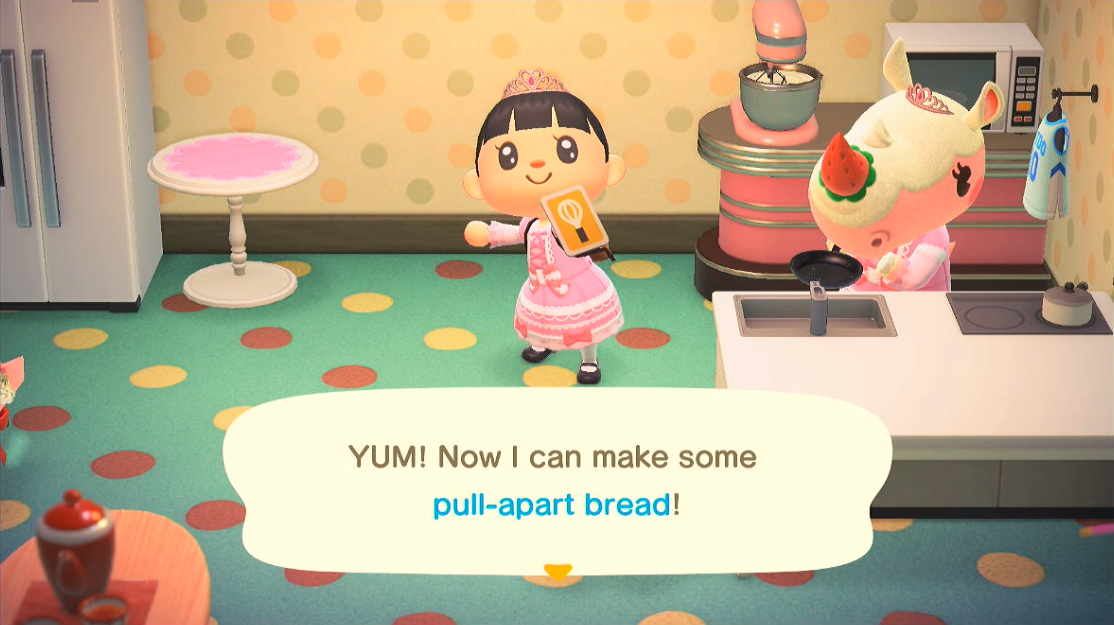 I also started fishing to try and get more DIYs after learning you could get some that way as well.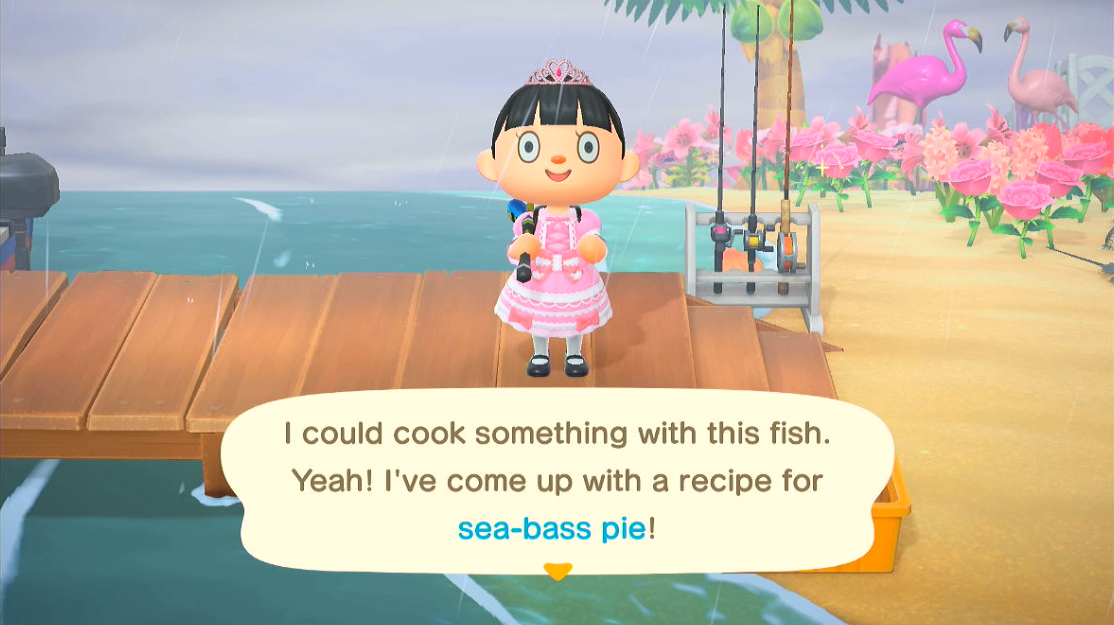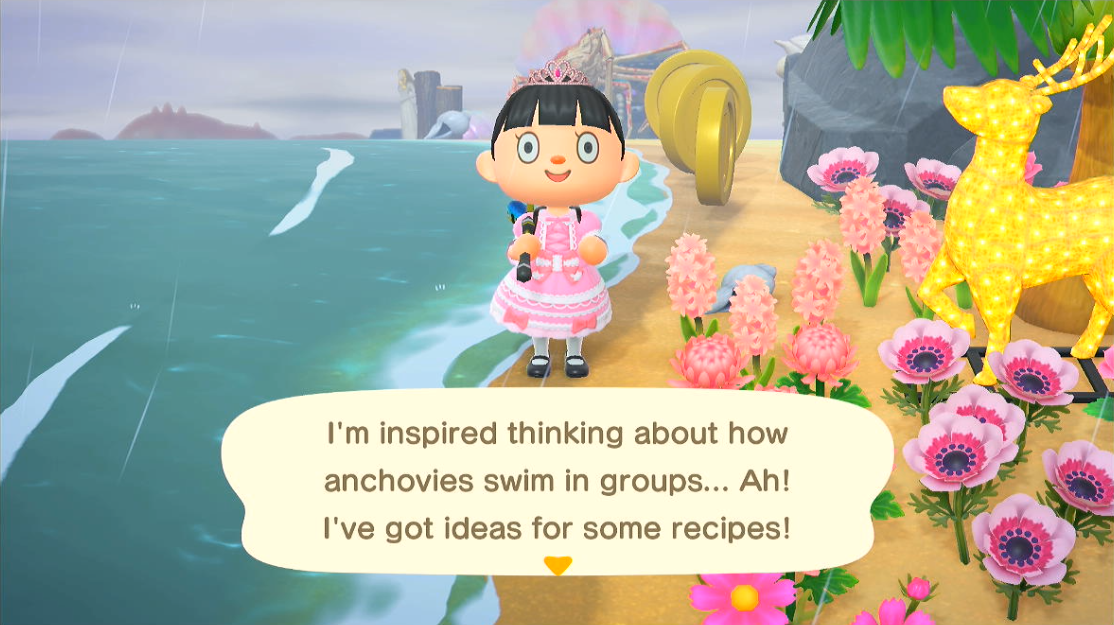 That facial expression is the one bad thing about this eye style.
Judy ended up inviting me over to visit her House so she could practice her hosting. For the most part, it wasn't too different than how it's been in the past with a slight exception of bringing up a game to the biggest surprise: A gift when I left.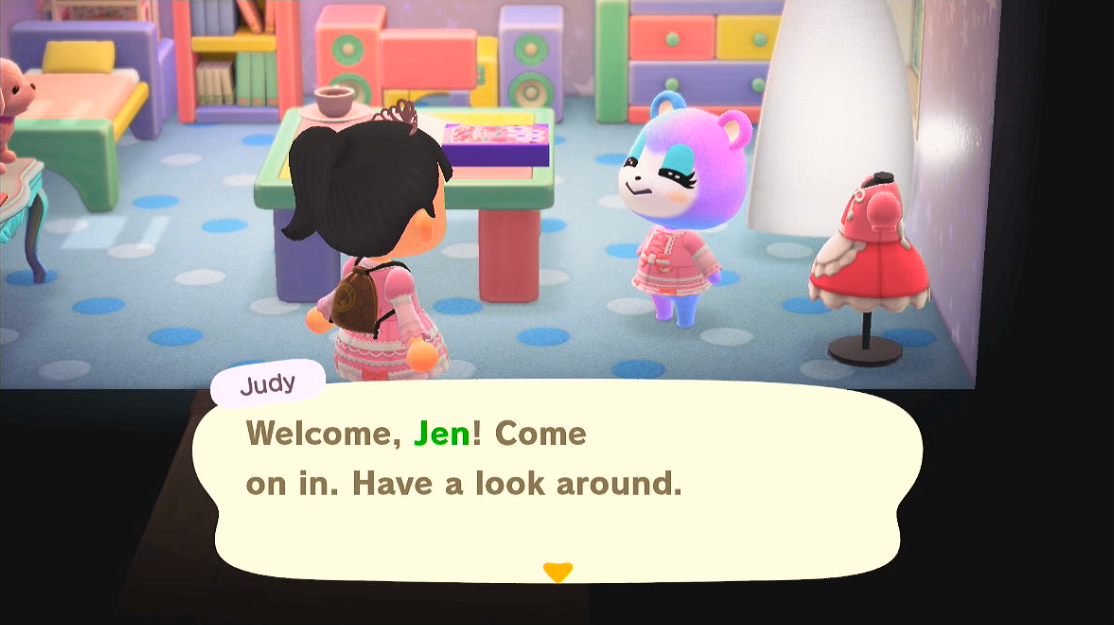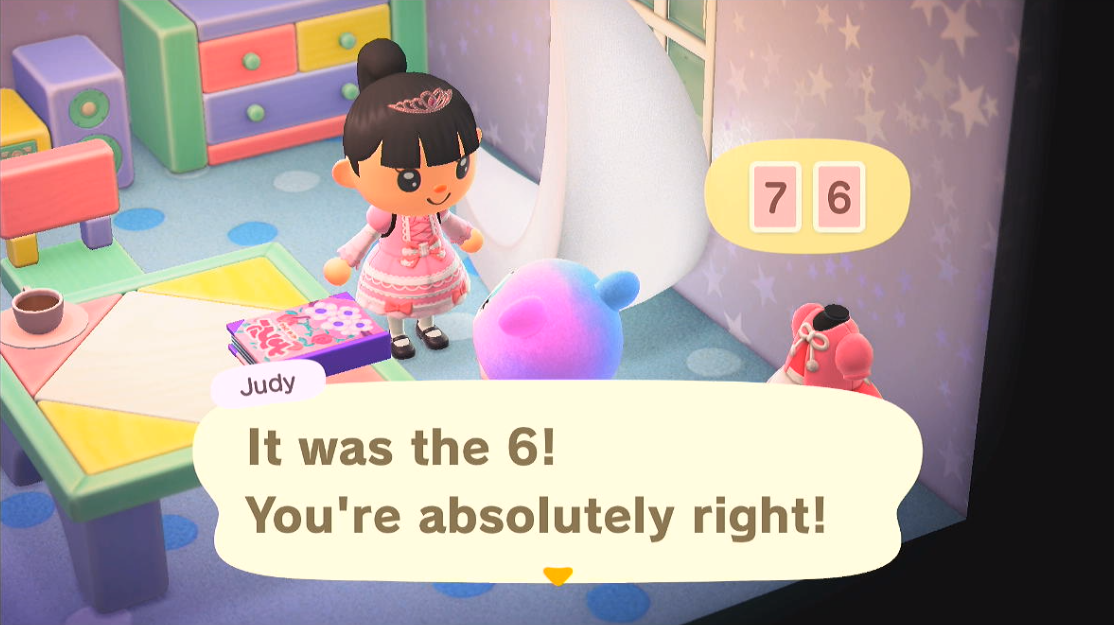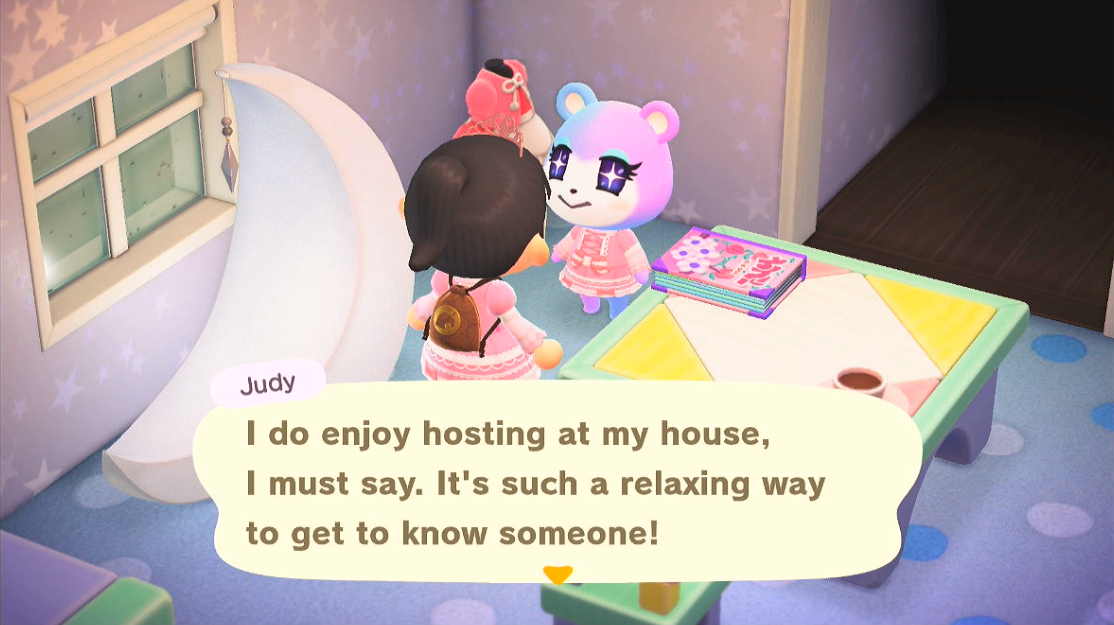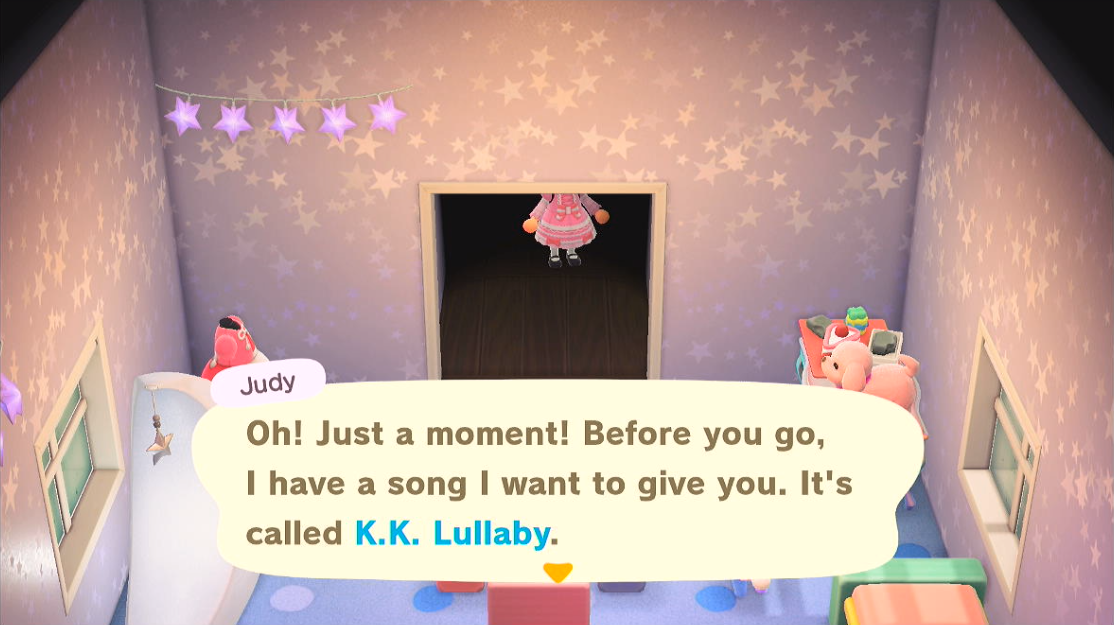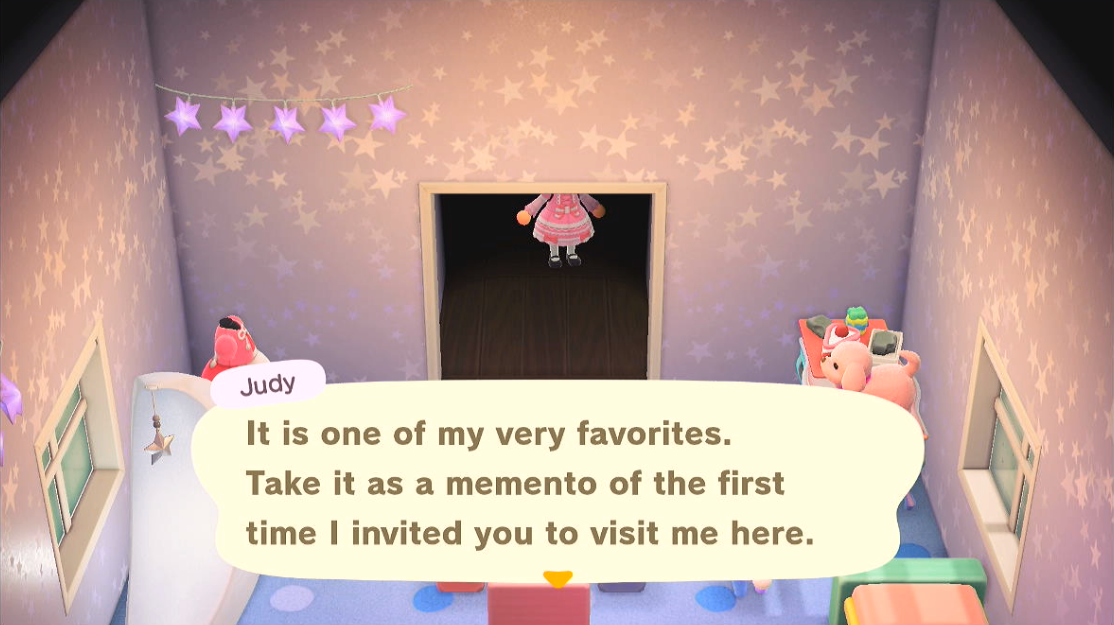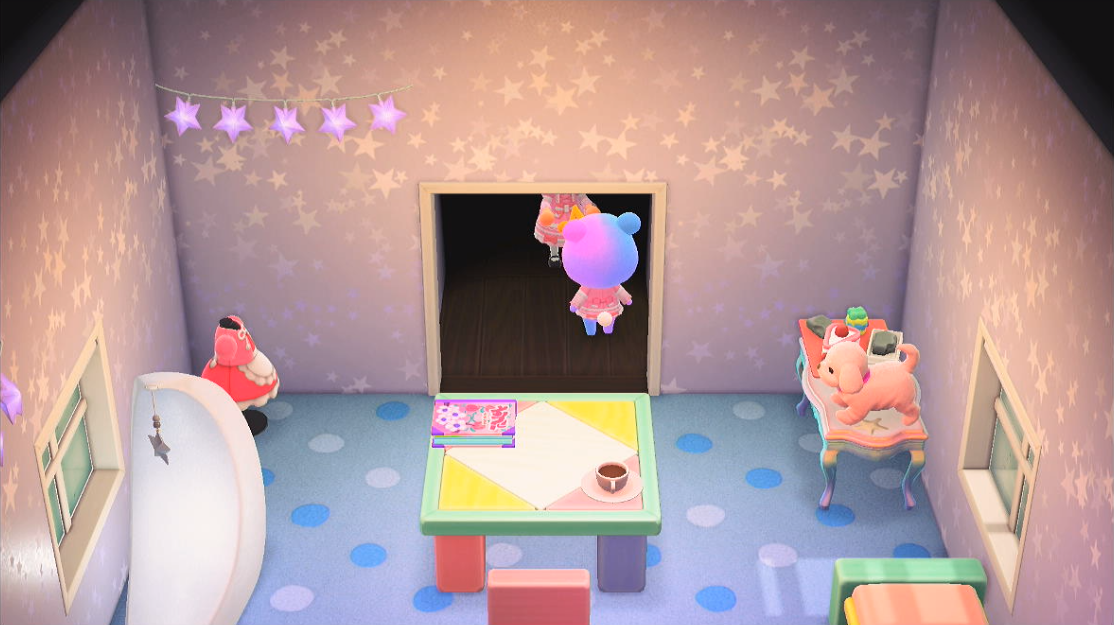 I then did my best to cook the recipes I could for the moment.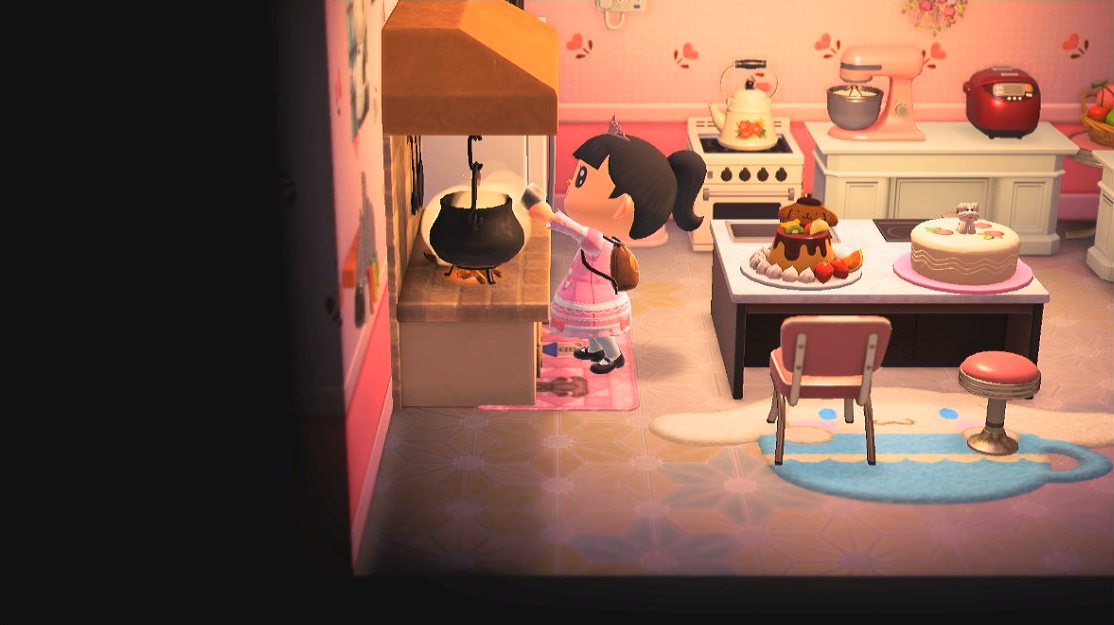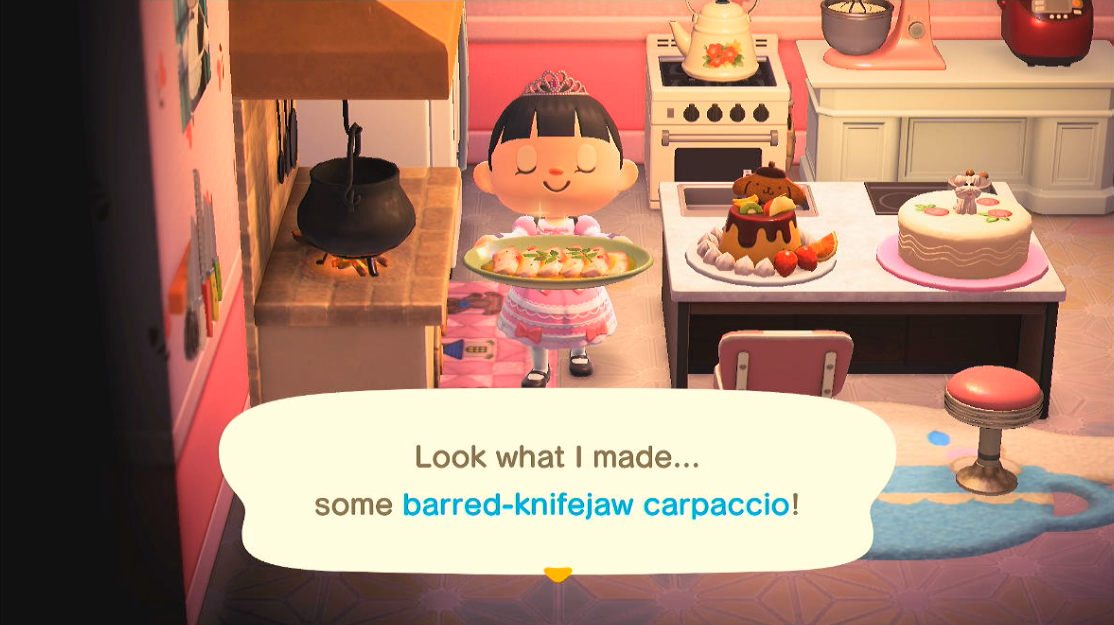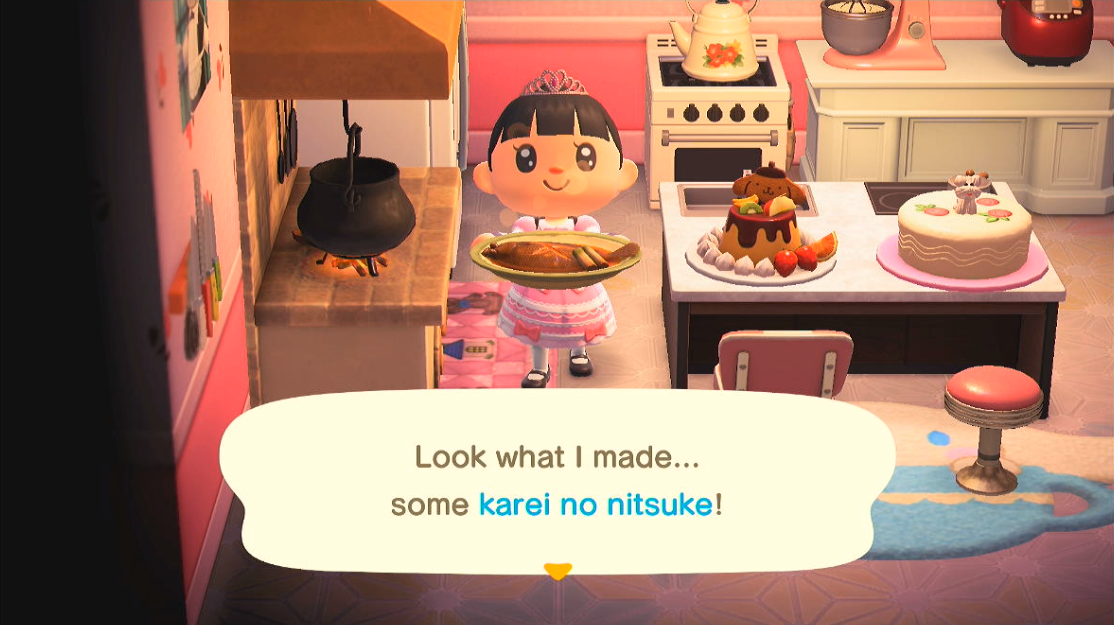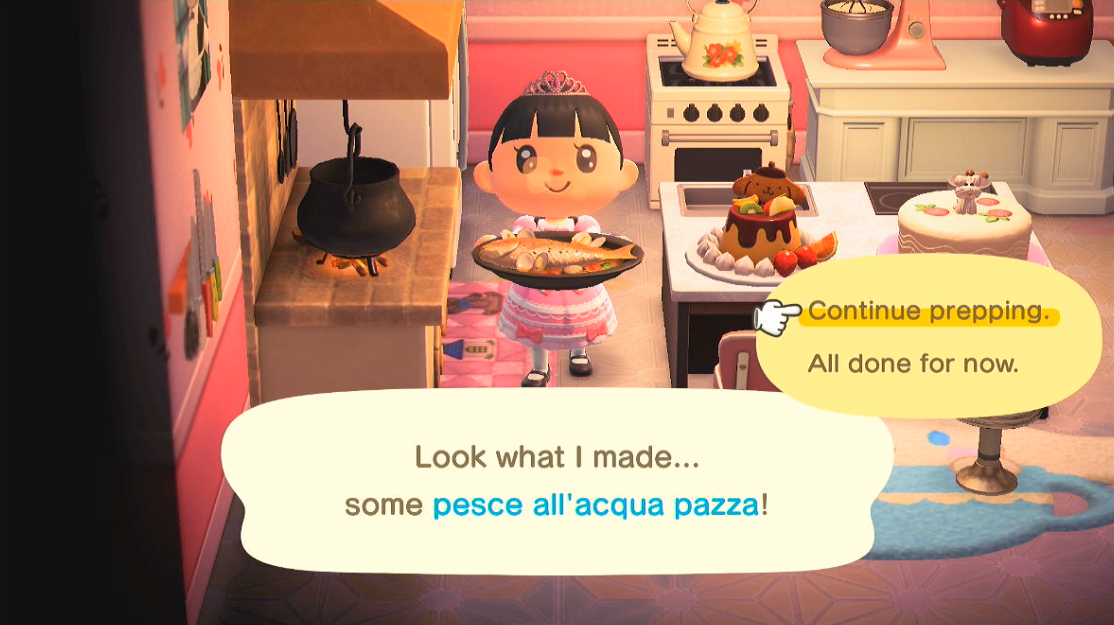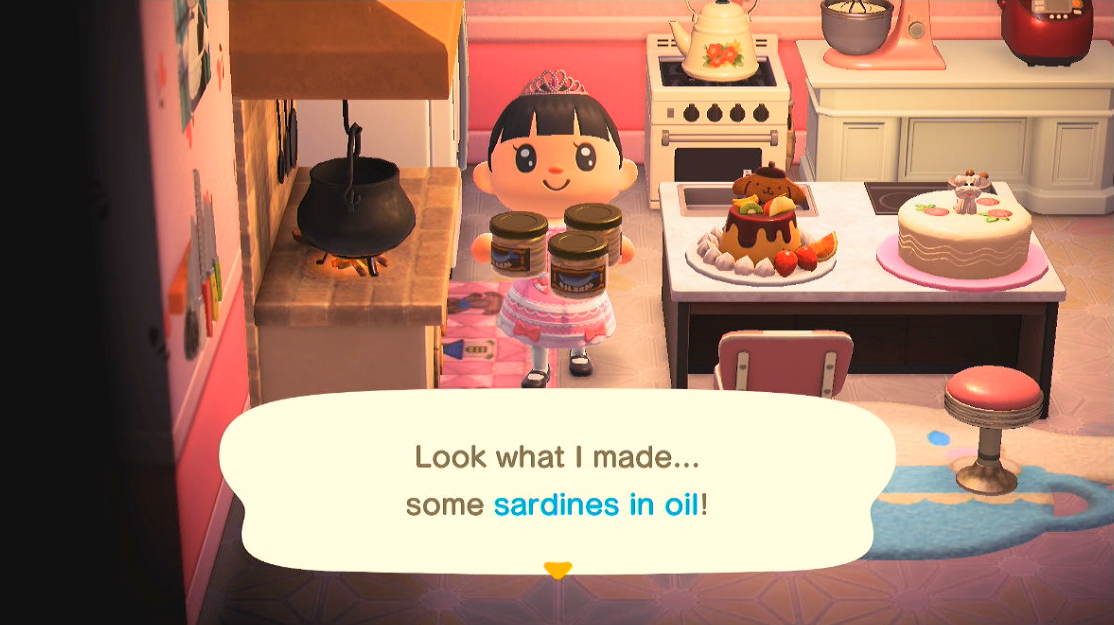 Meg also invited me over to her town as her museum was done already so we could have coffee at Brewster's and watch K.K.'s Concert.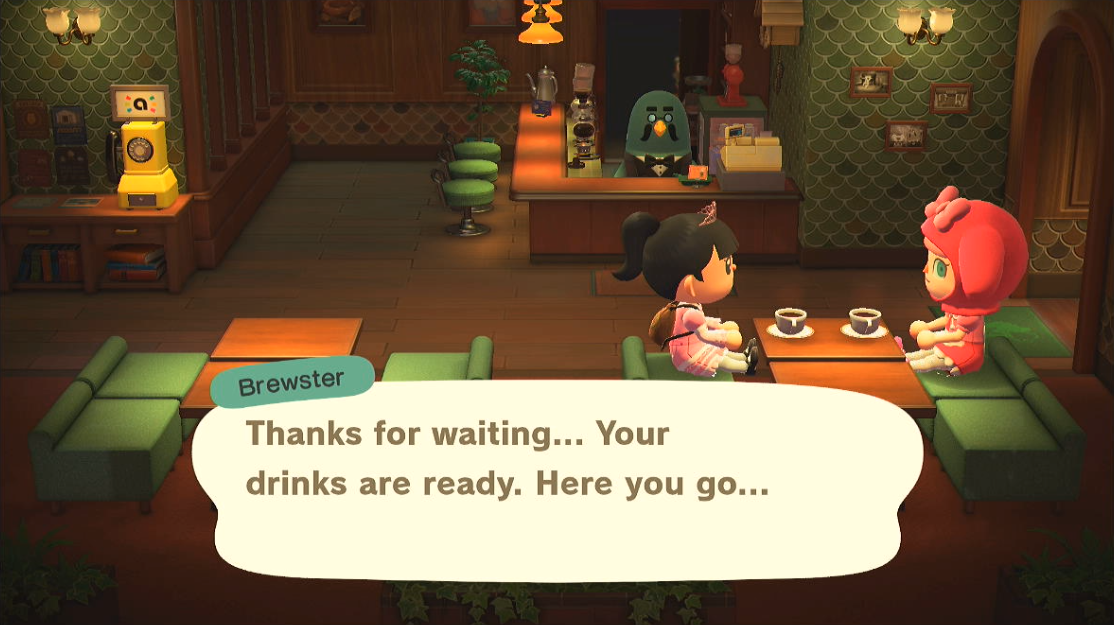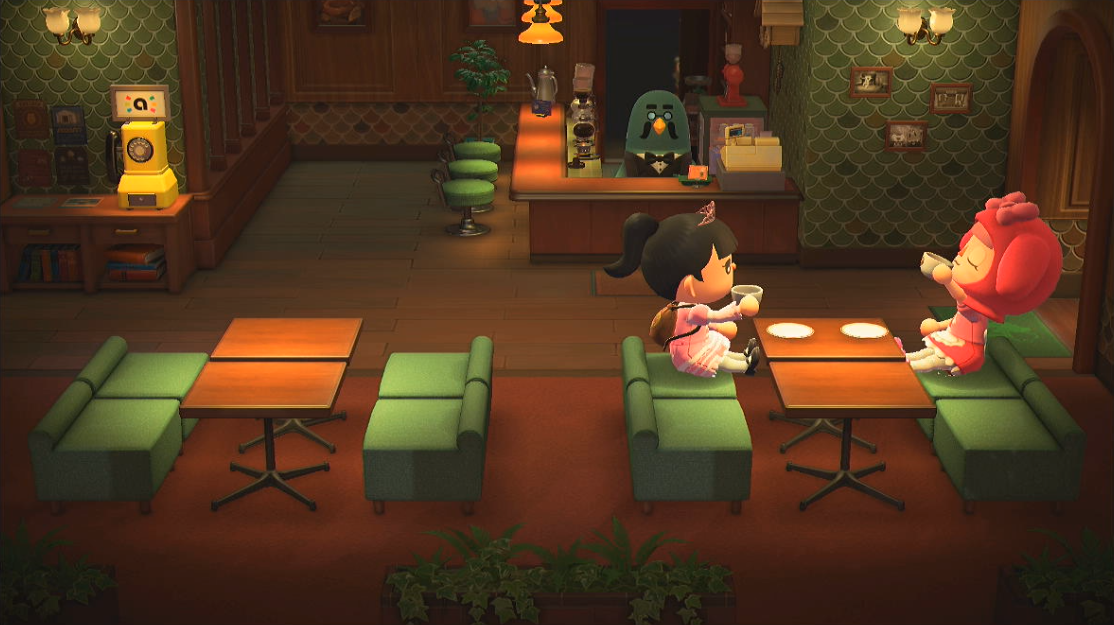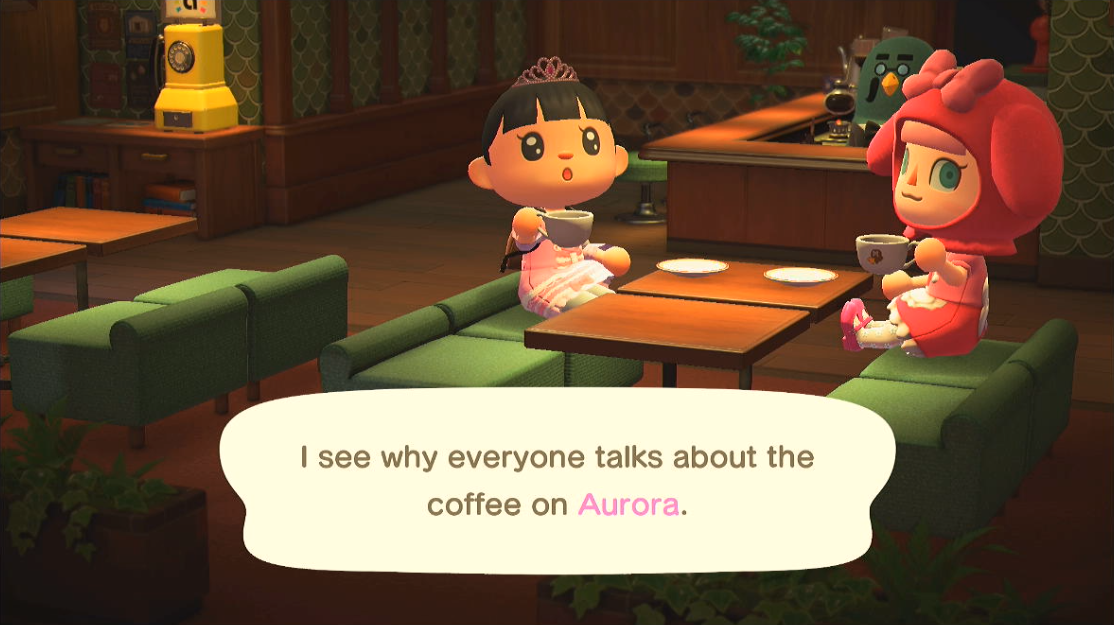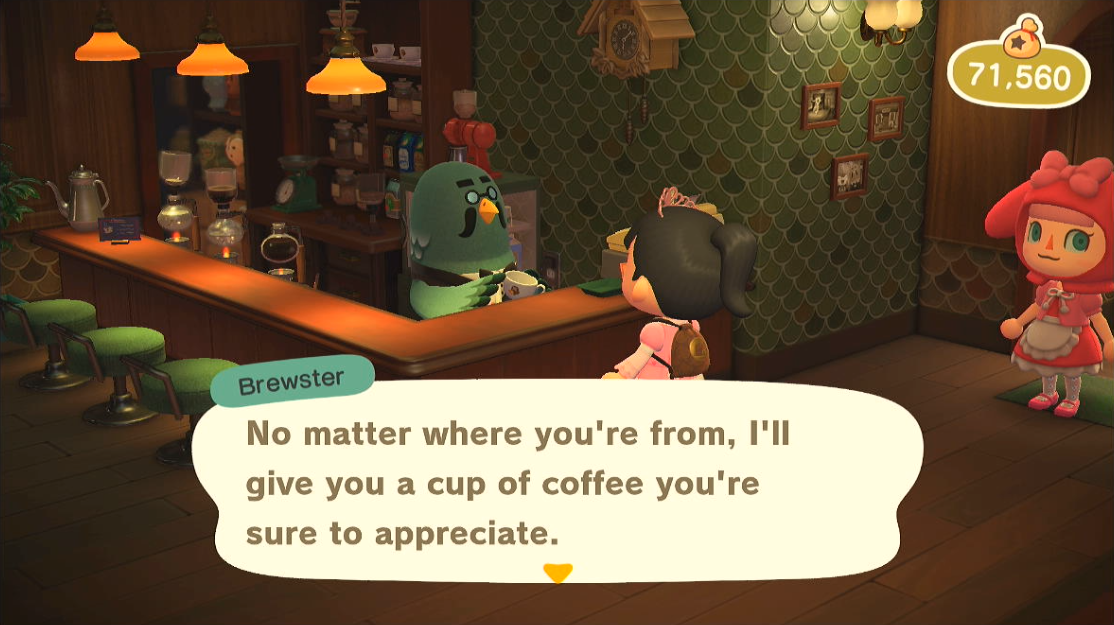 Regardless, Happy Home Paradise ended up releasing at midnight! After downloading, immediately upon loading in, I had a call from Tom Nook.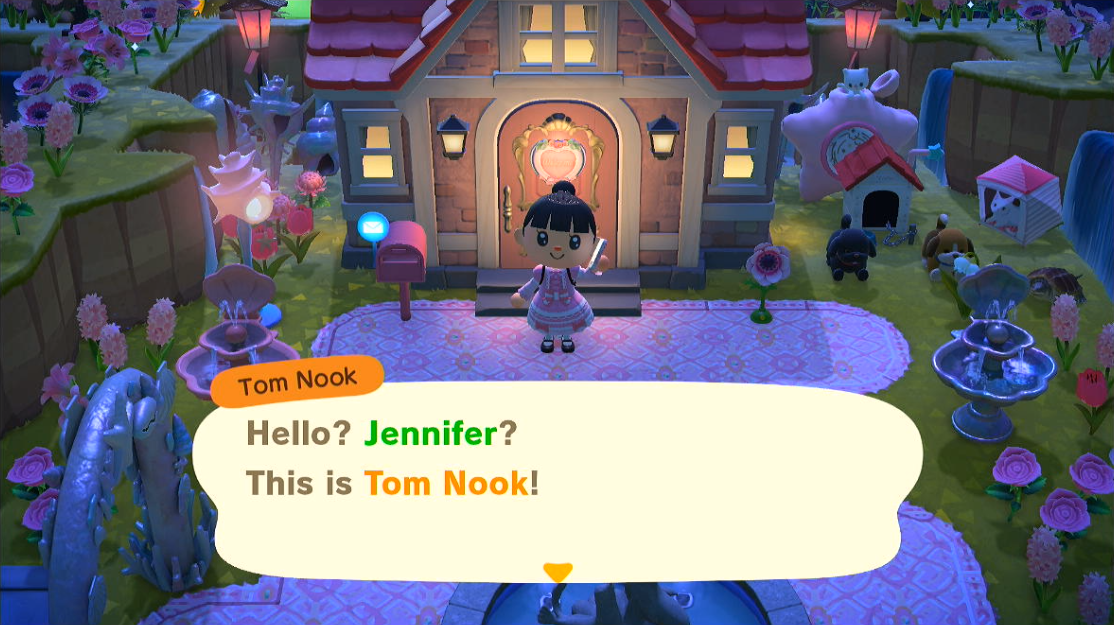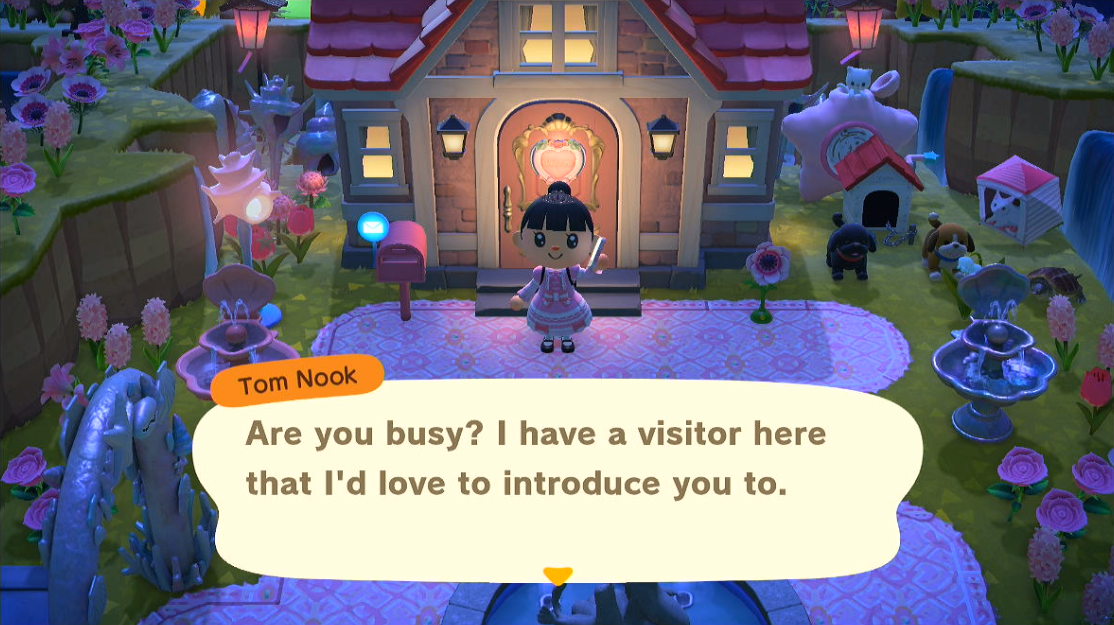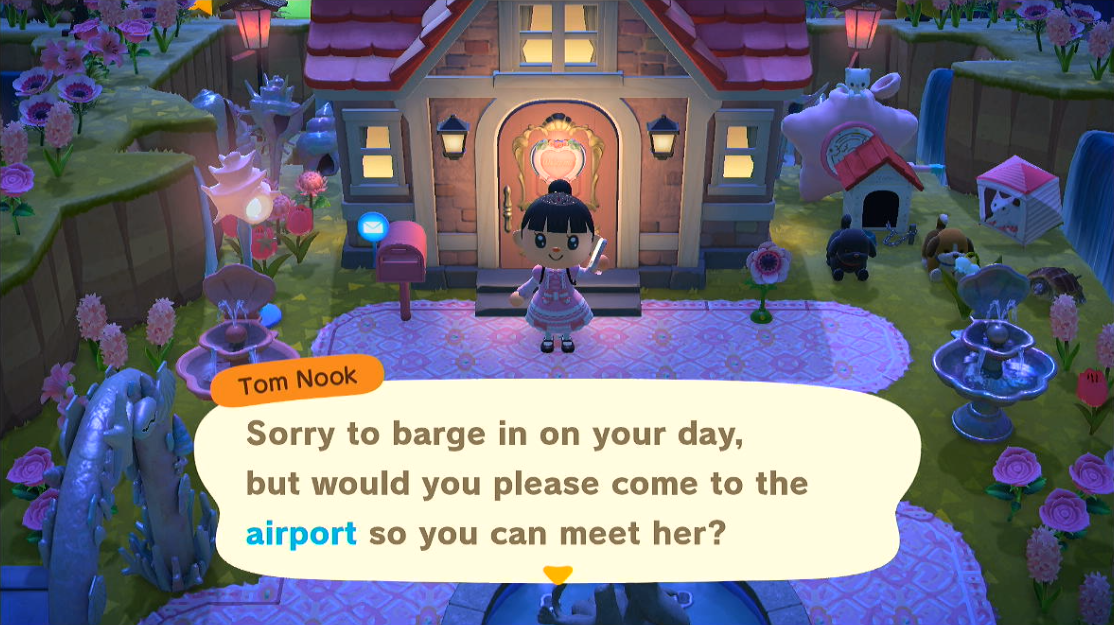 I had hoped to do a few things first, but got immediately whisked away to the airport.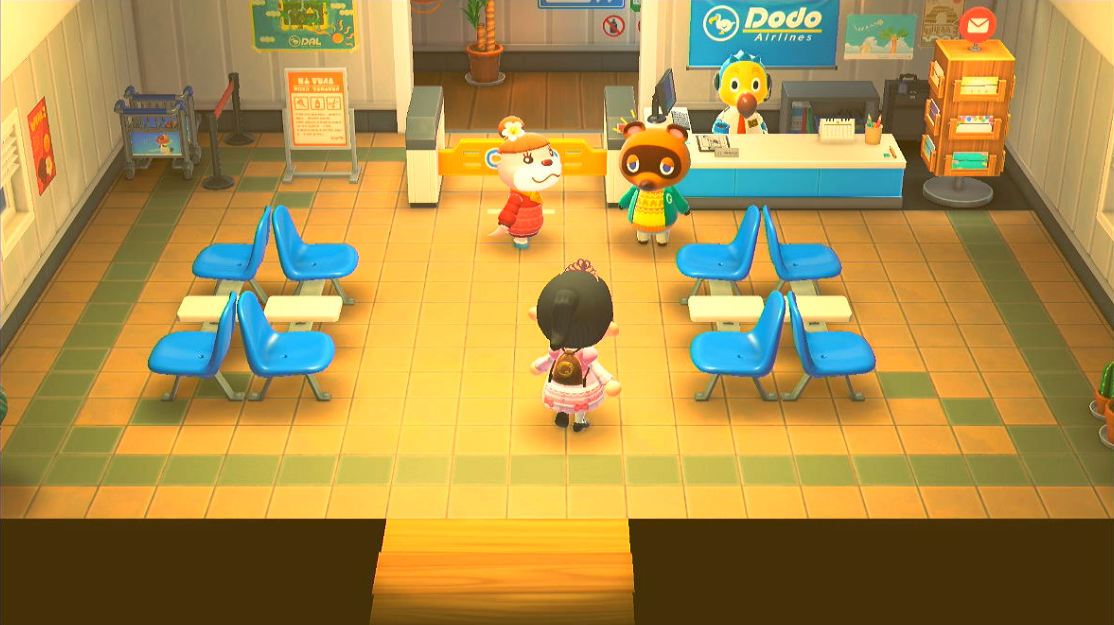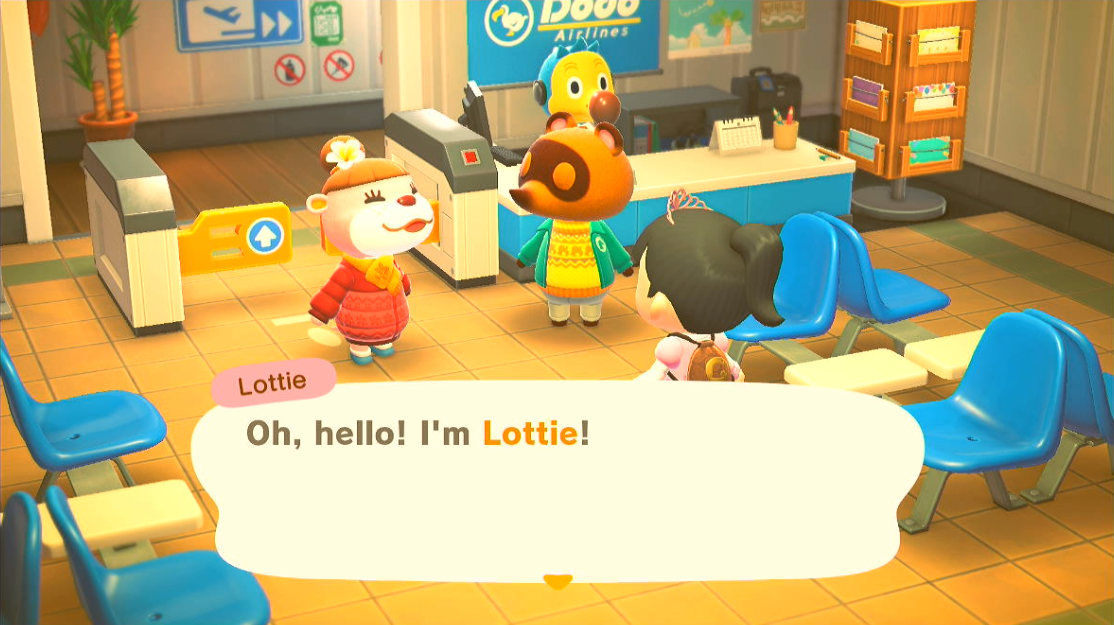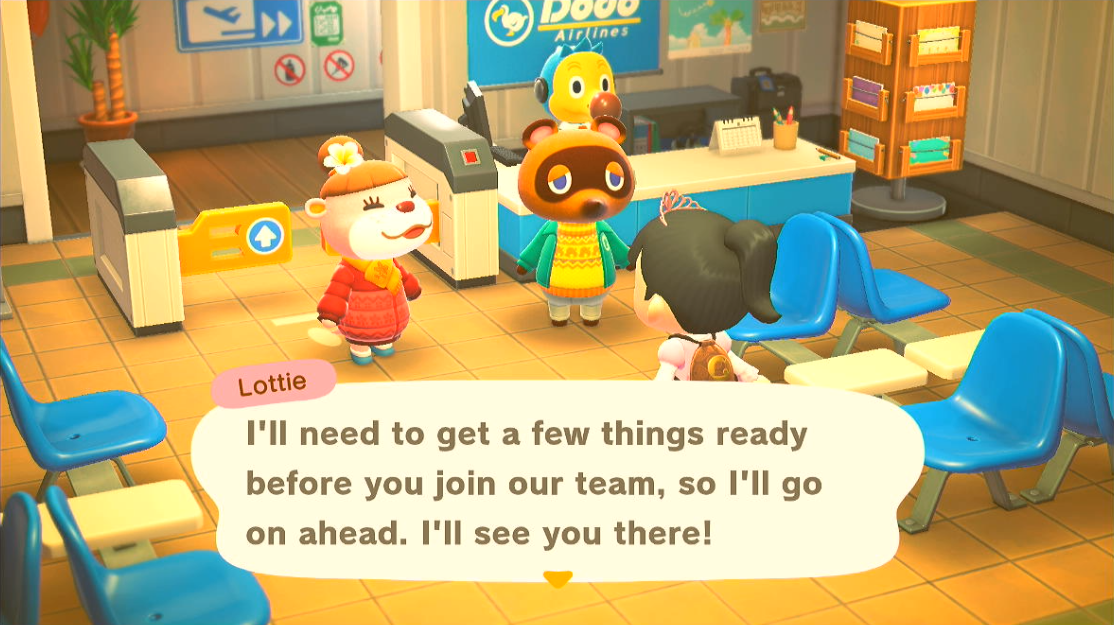 Before immediately rushing to work, I decided to take care of the few things I had hoped to and I also had quite a bit of mail to go through, including a specially marked Nintendo one that came with this lovely photo of Lottie, Niko, and Wardell.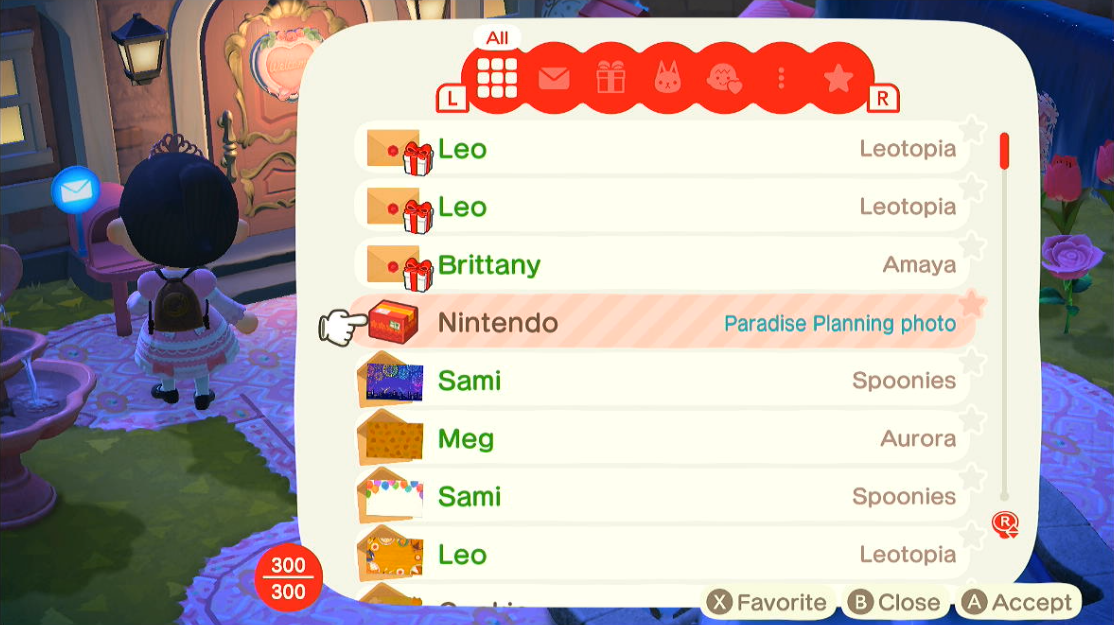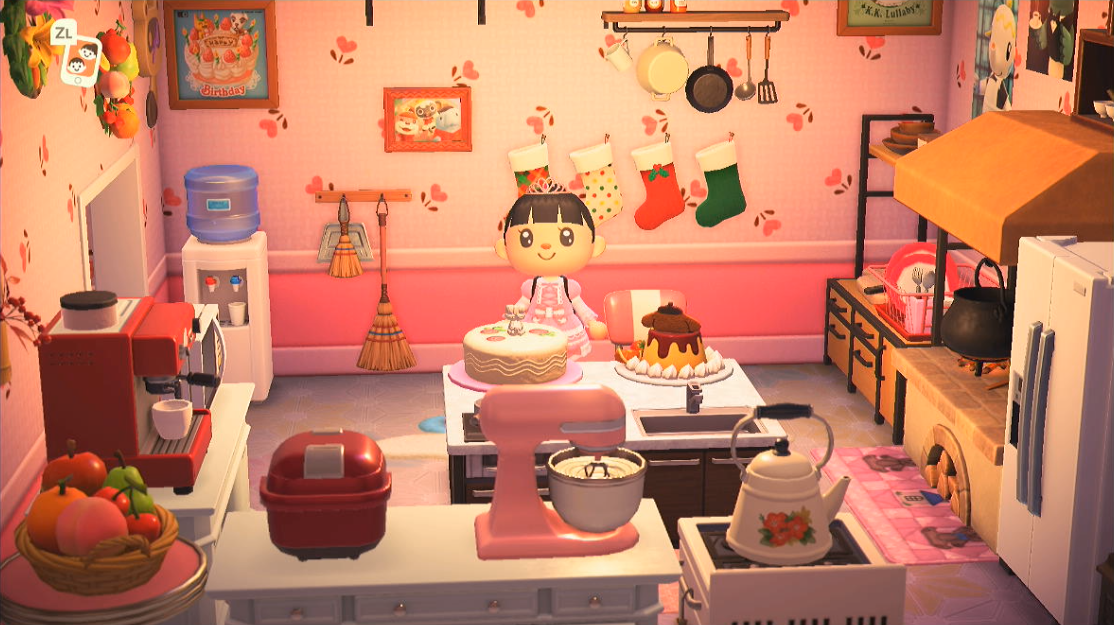 With my own little to-do list done and new recipes crafted, I was finally time to head off for work.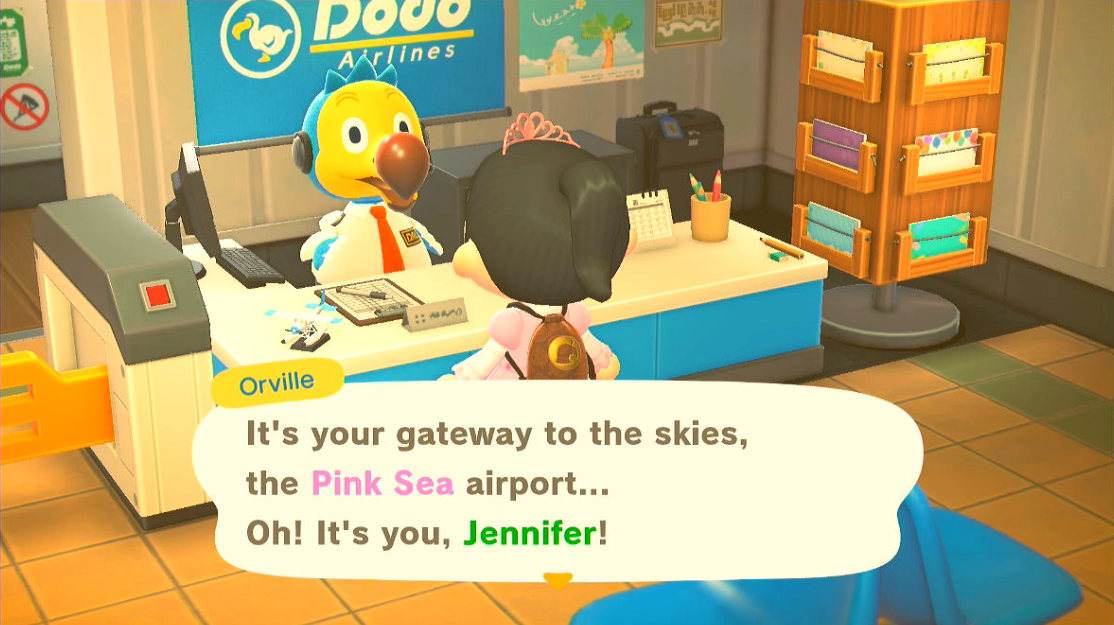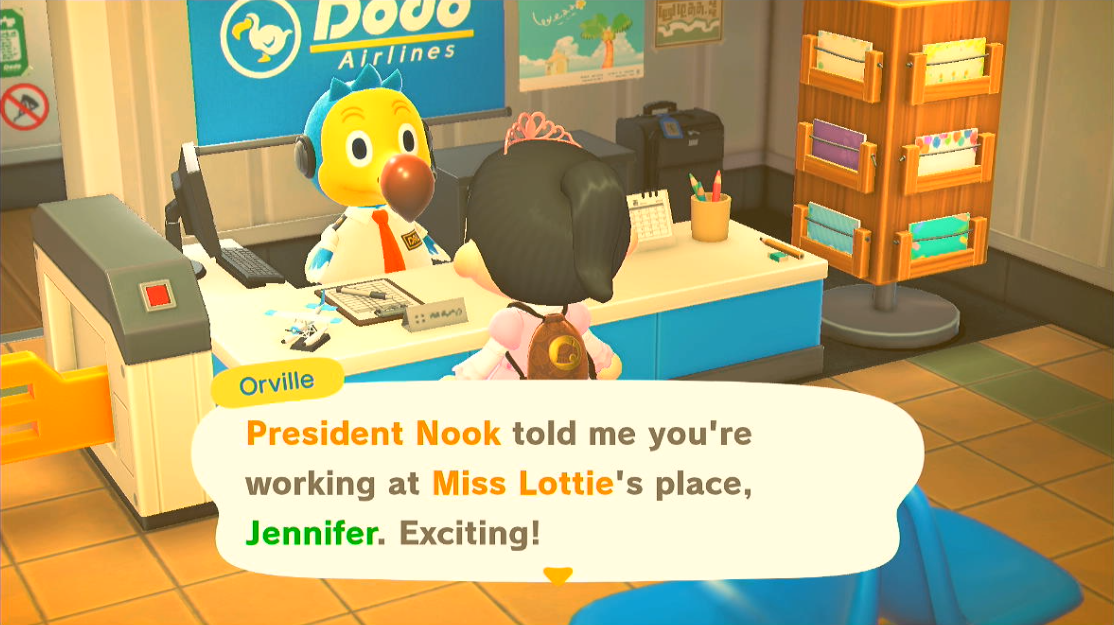 Immediately upon landing, we met Niko who showed us the way to the main headquarters.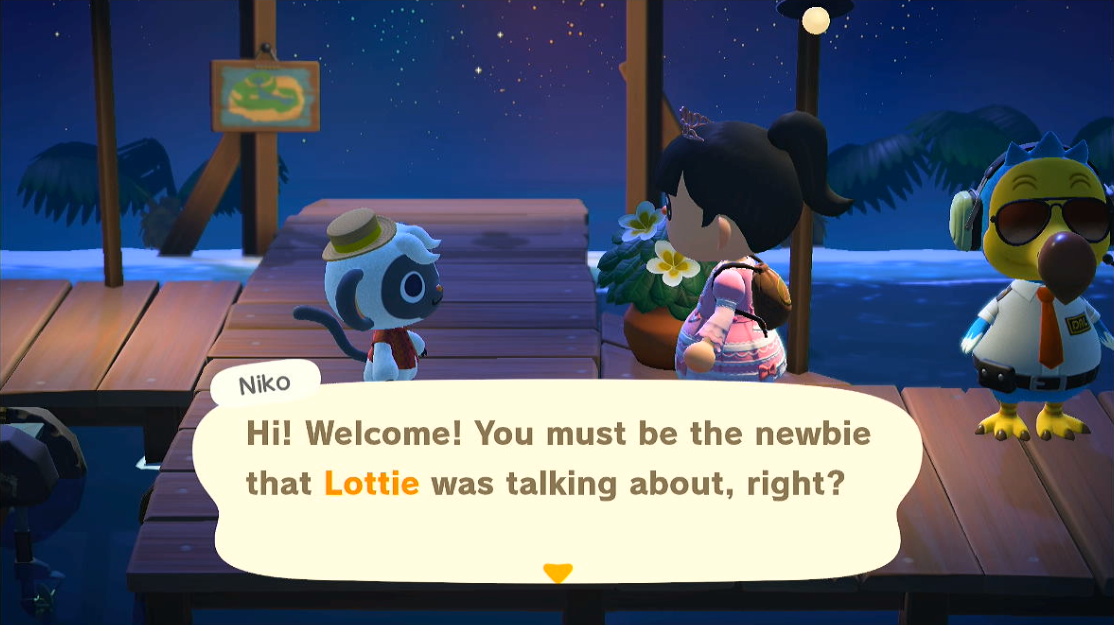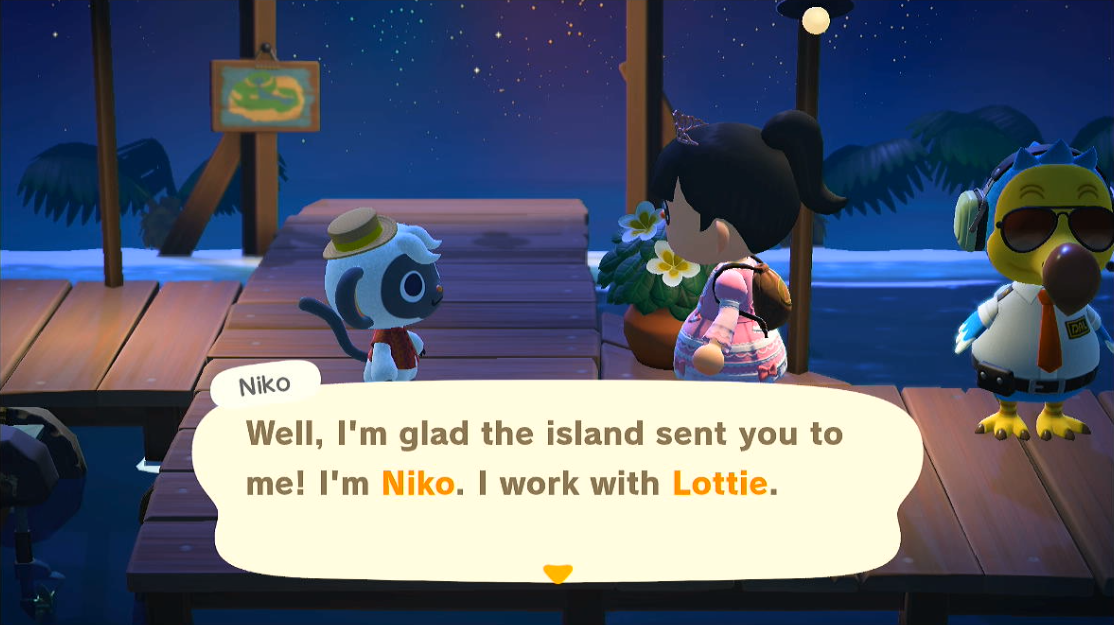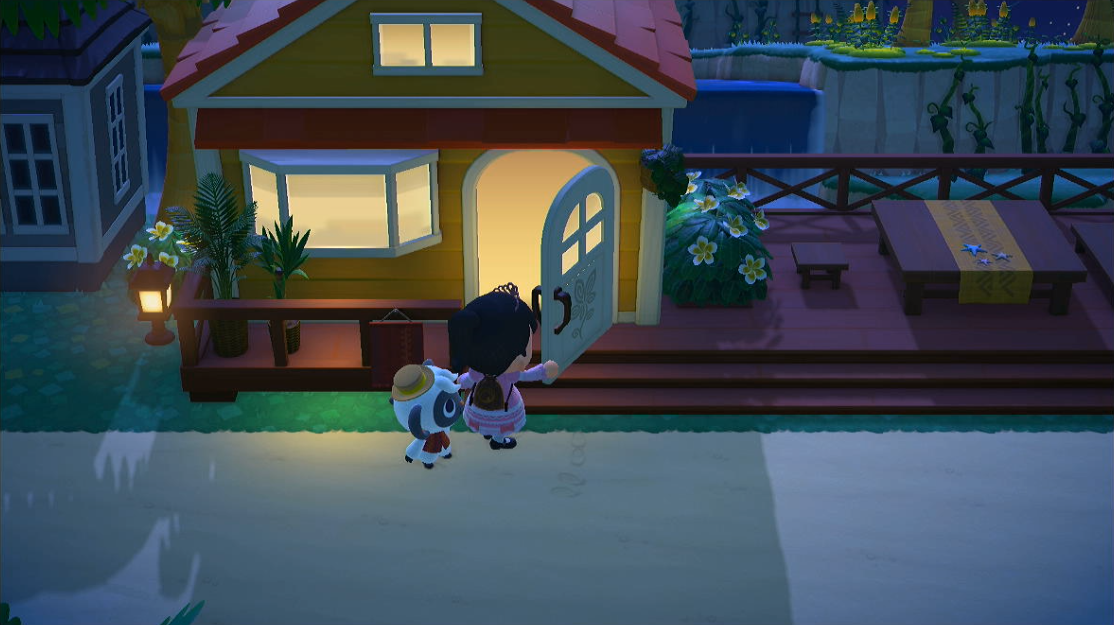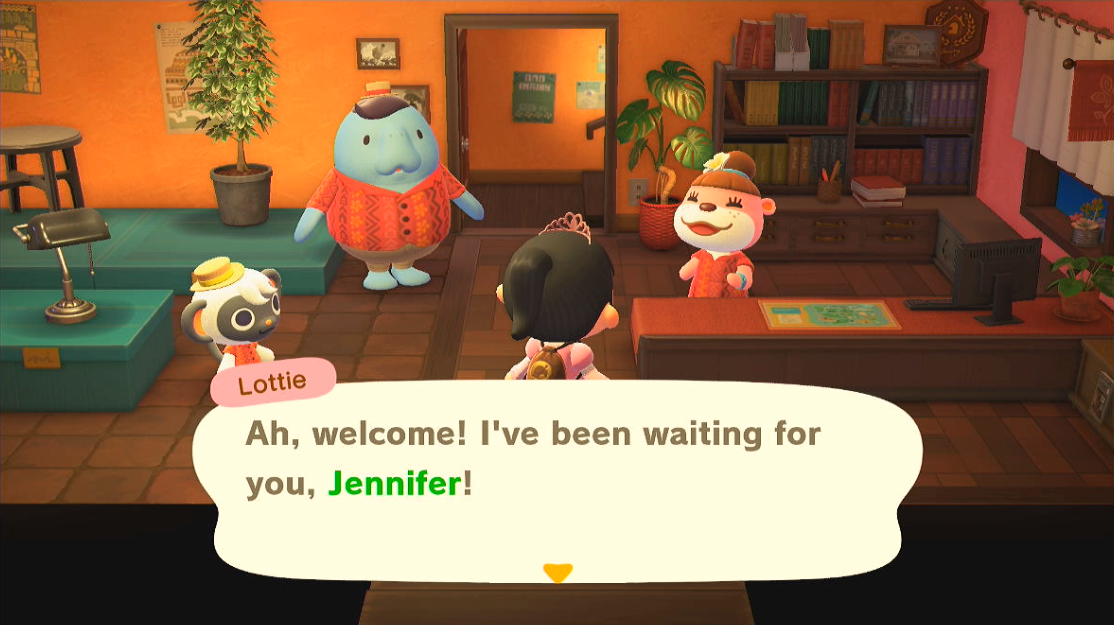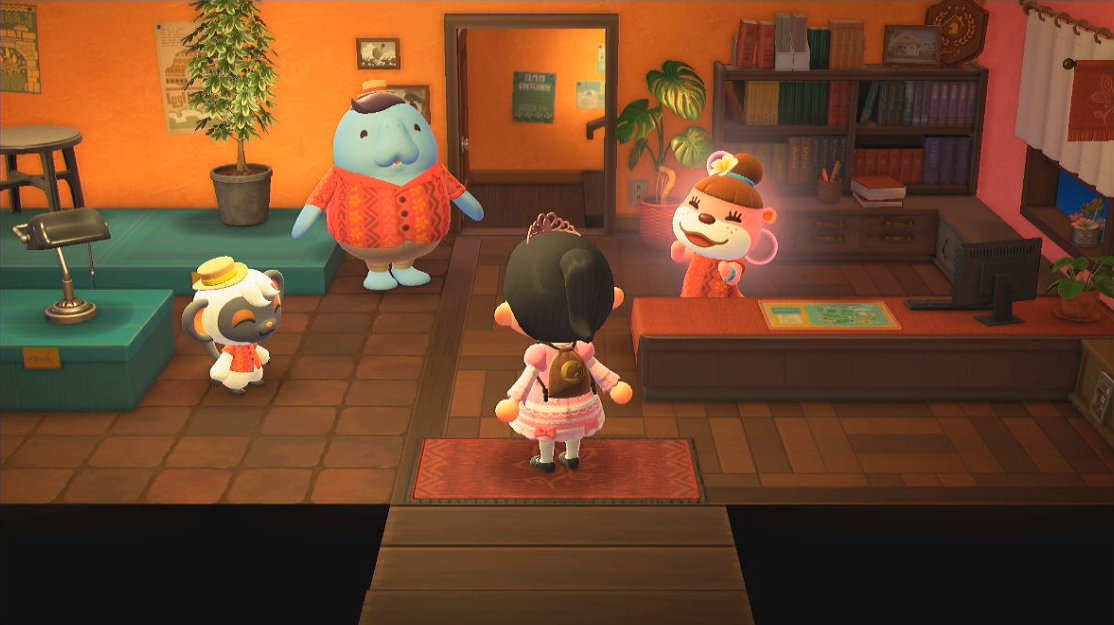 After getting introduced to everyone, Lottie told us to head upstairs to change into my Work Uniform.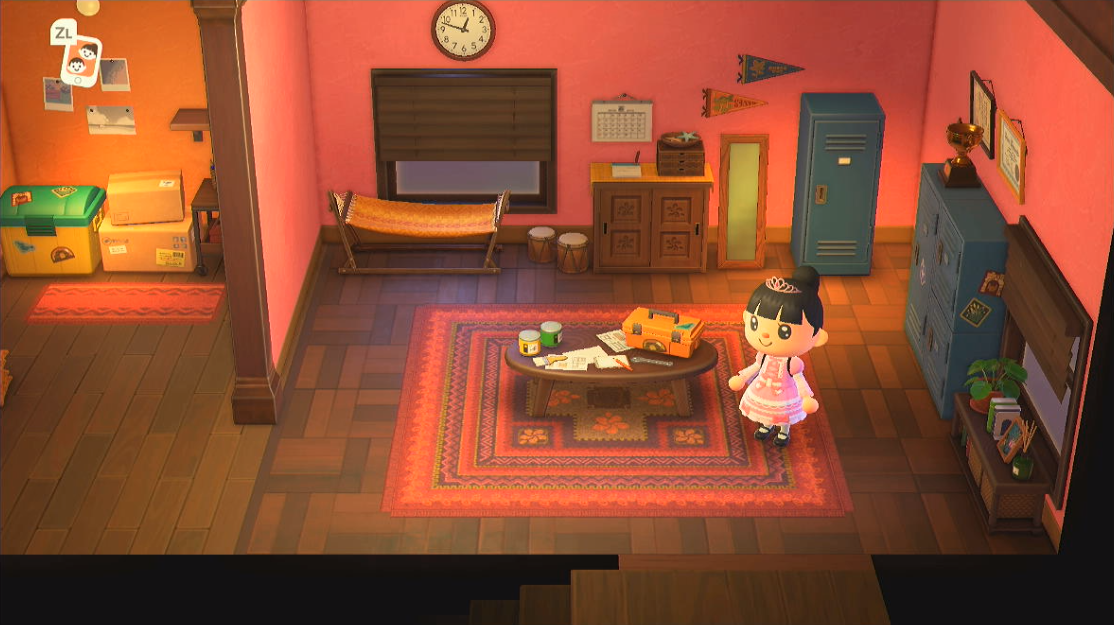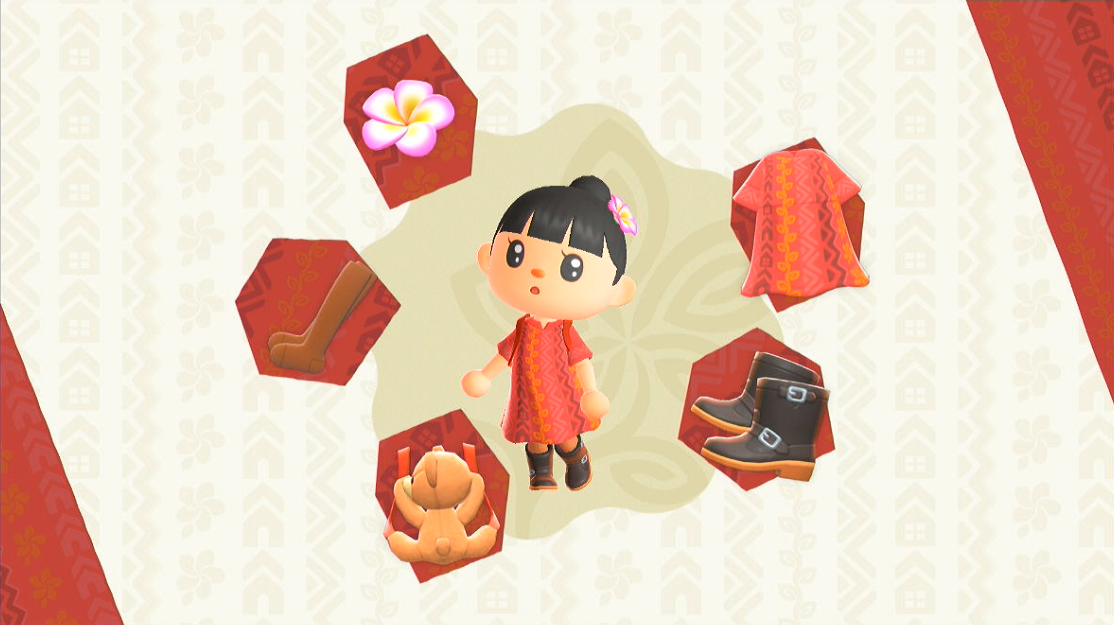 After heading down and a short conversation, our very first customer walked right in: Eloise!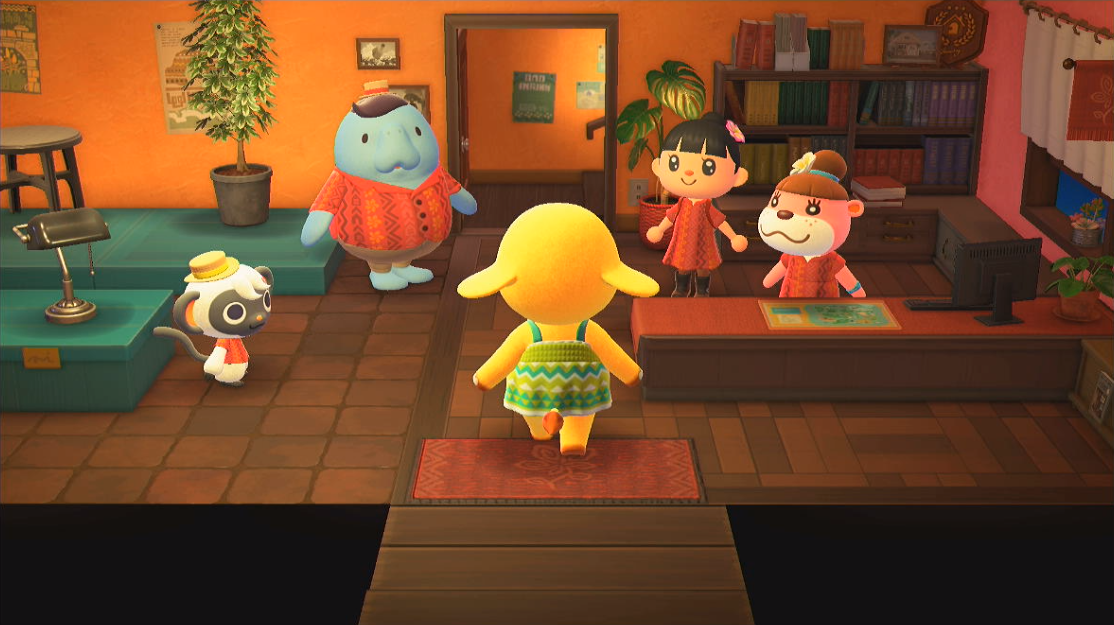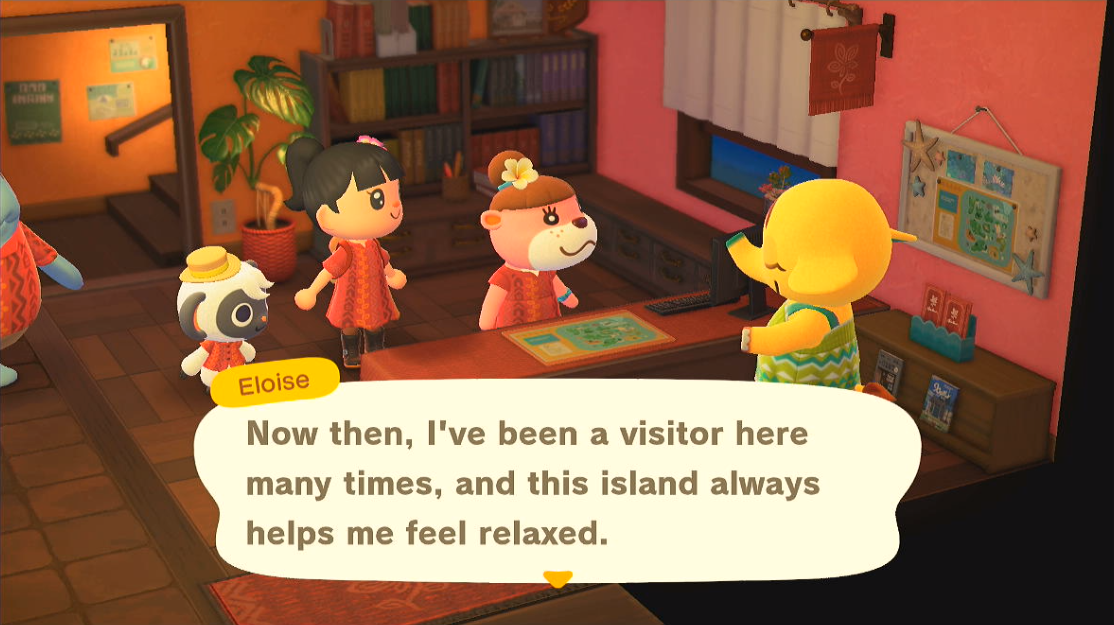 Eloise – My Relaxing Reading Room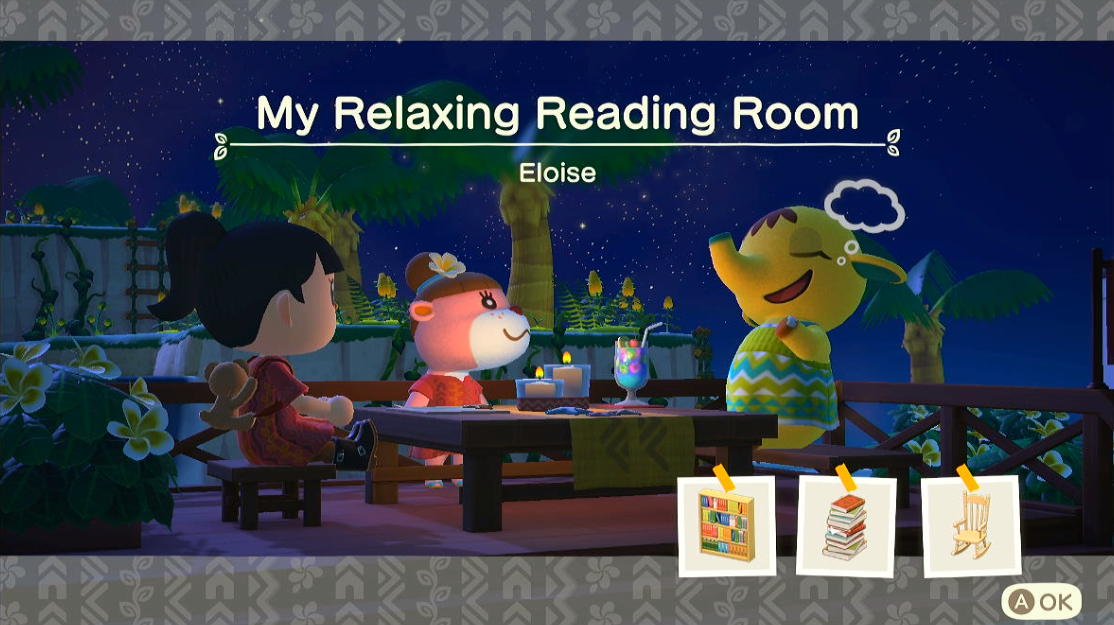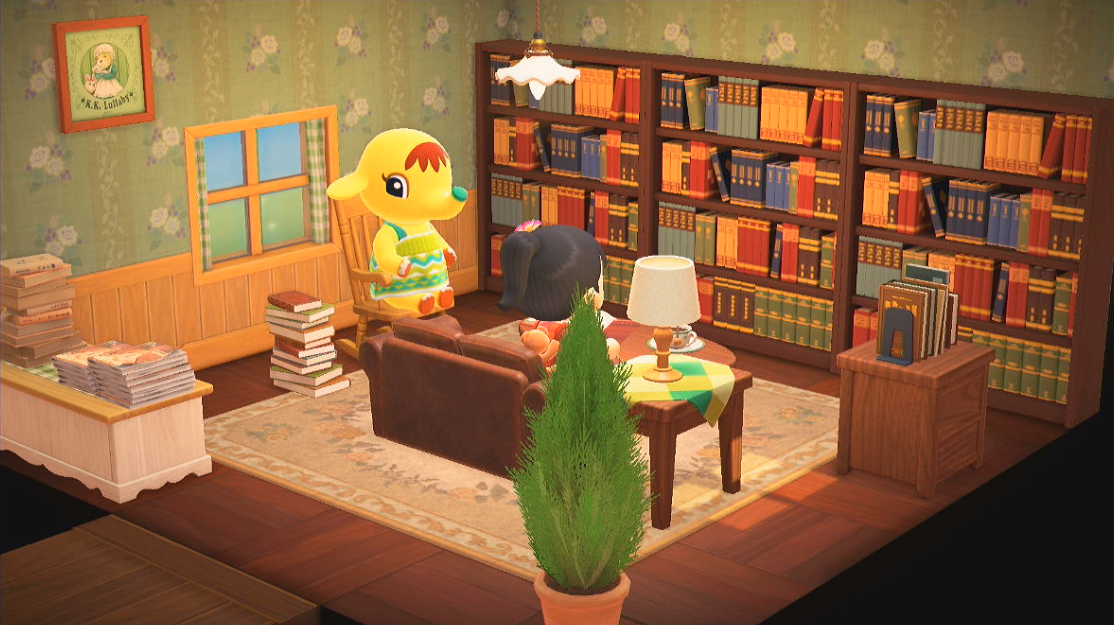 We were then told to head out to the Beach to find more possible customers. I generally just picked whoever's theme sounded most interesting, whoever I saw first, and/or based off a friend's or chatter's suggestion during the stream.
Besides buying stuff in the store, I also made sure to buy enough Souvenir Chocolate for all my villagers.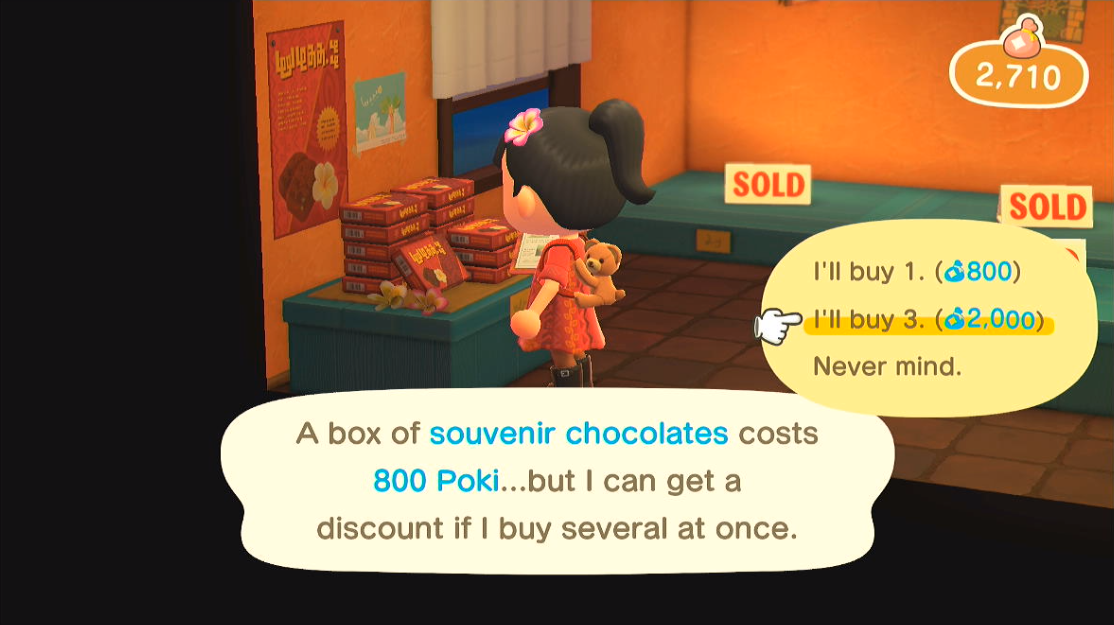 Azalea – A House of Green Furniture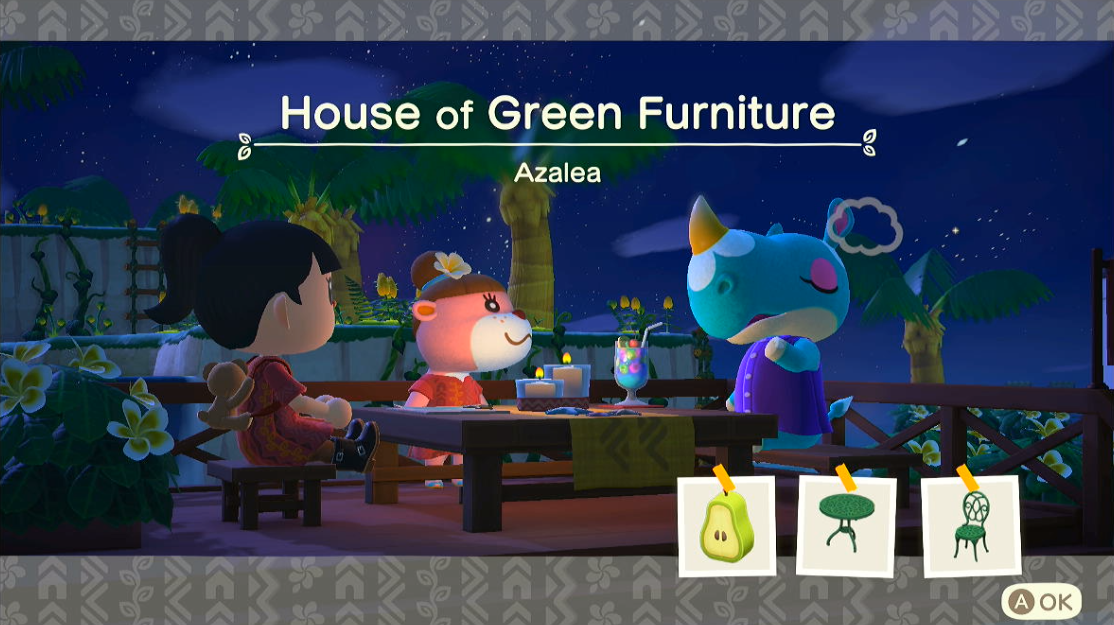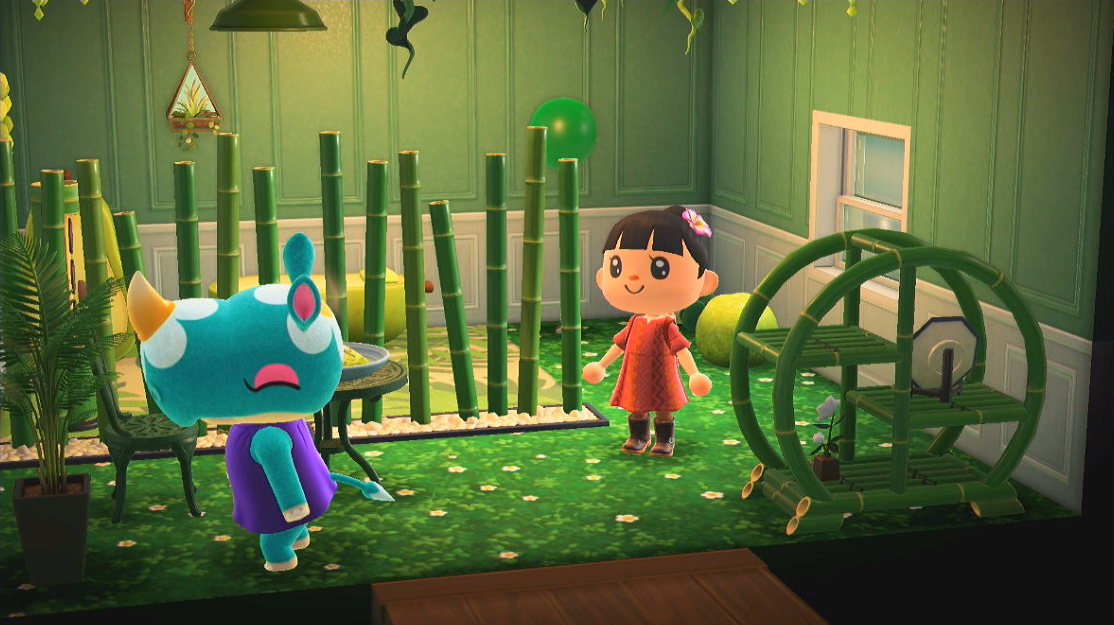 We learned the whole shining things up pretty early, but I constantly forget about it. Even when I say to myself "I'll make sure to do so this time!", I get so caught up in the actual decorating and completely forget. I lost track how many times the characters told me to take a break though.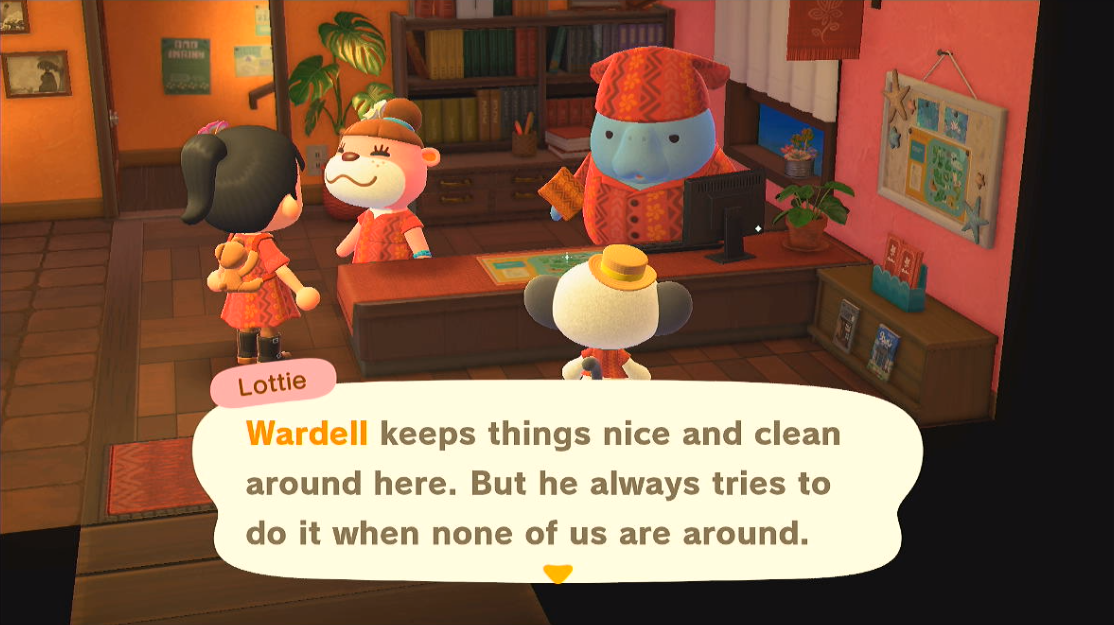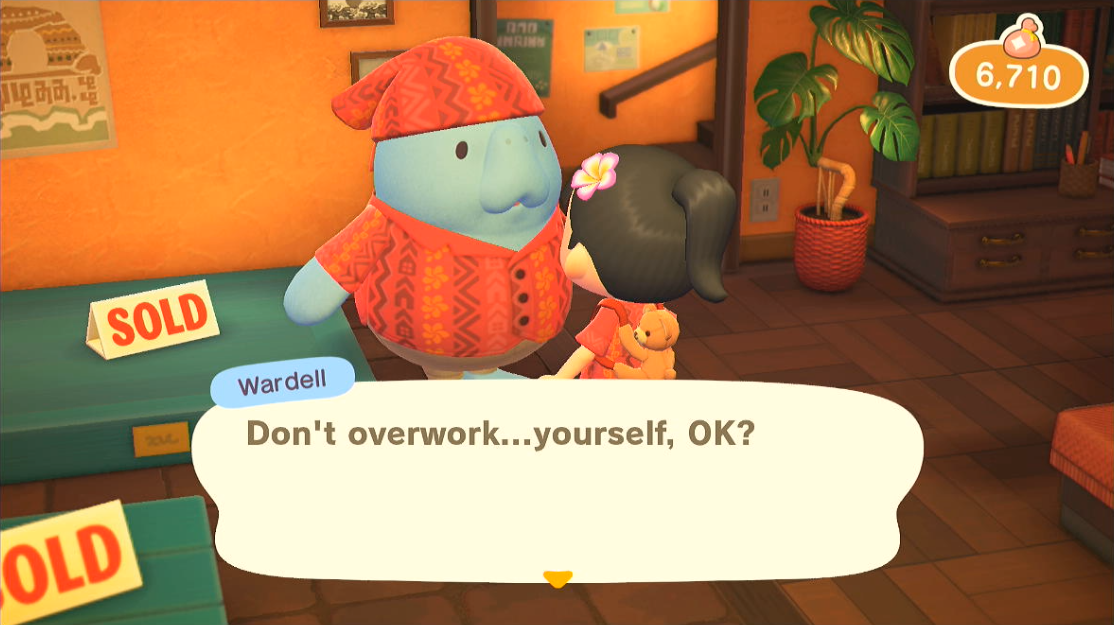 Bertha – Bungalow of Cozy Blankets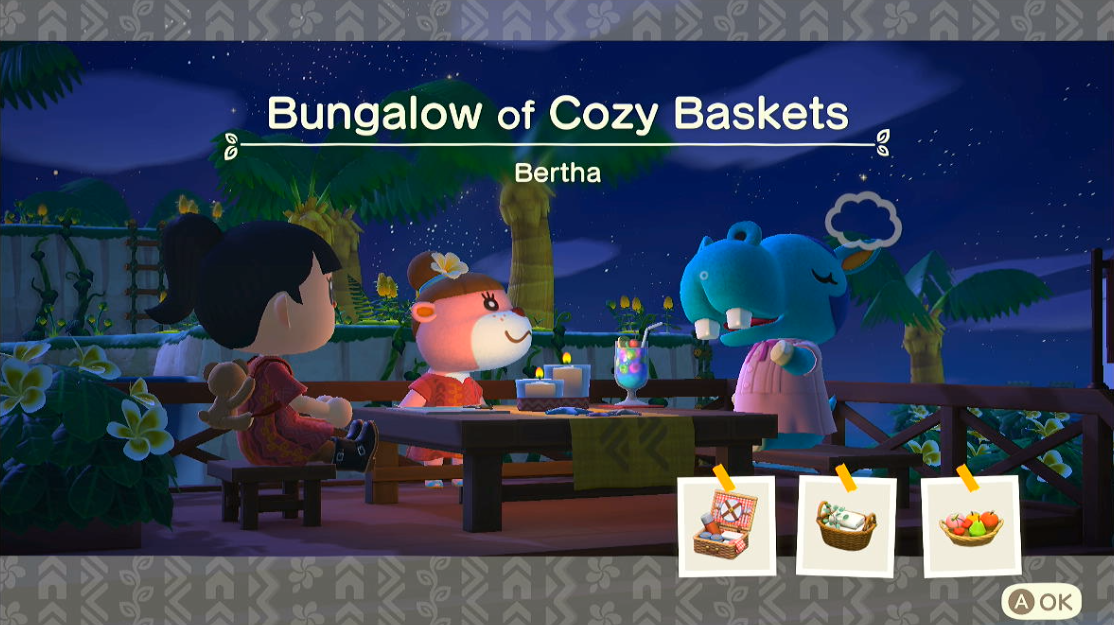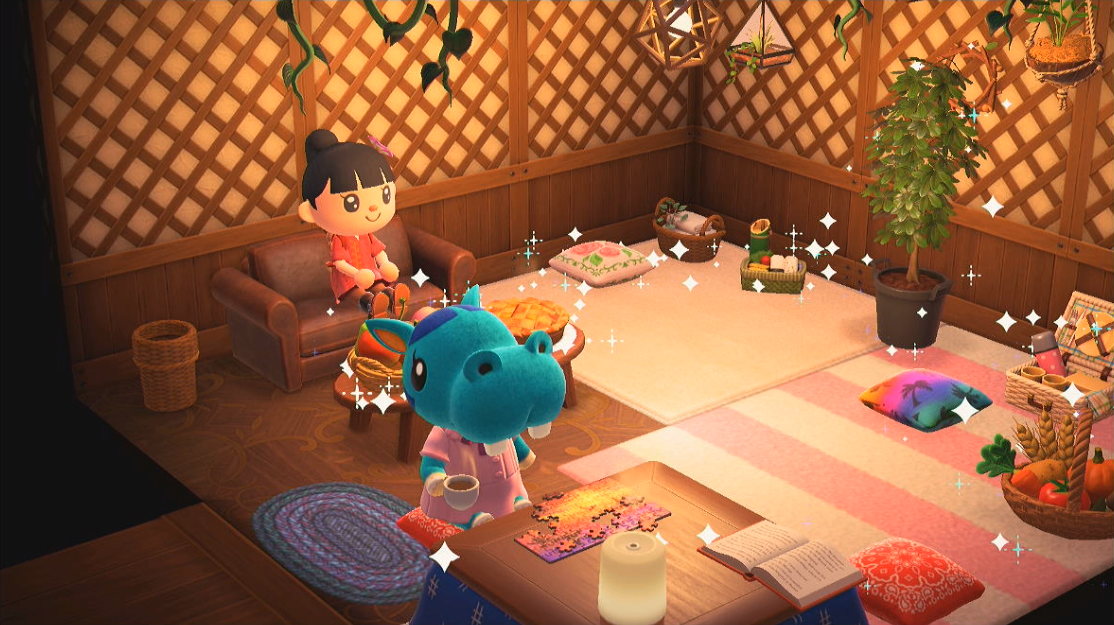 Continuing to be yelled at to take a break, Lottie told us next and ended up checking out a building that would soon be a facility we could work on. She also recommended us look around the island and it is quite pretty.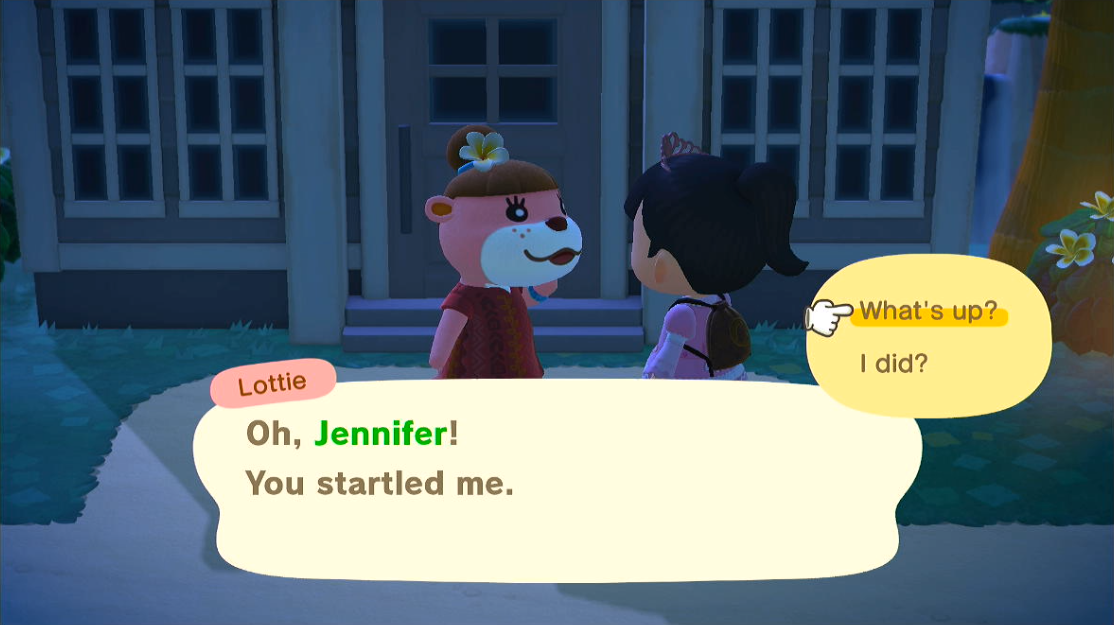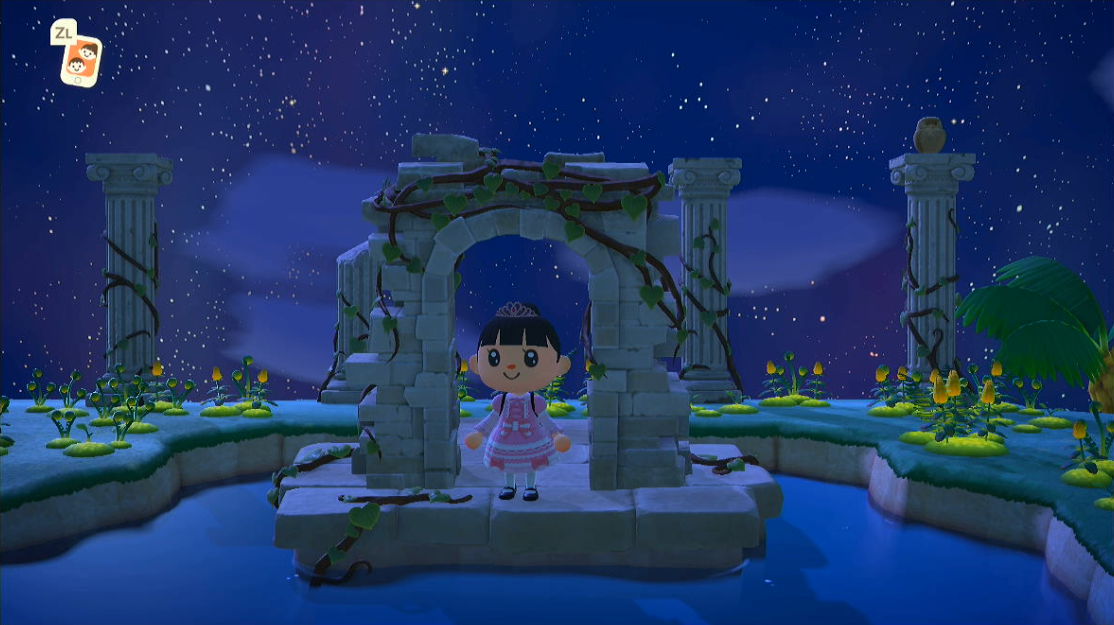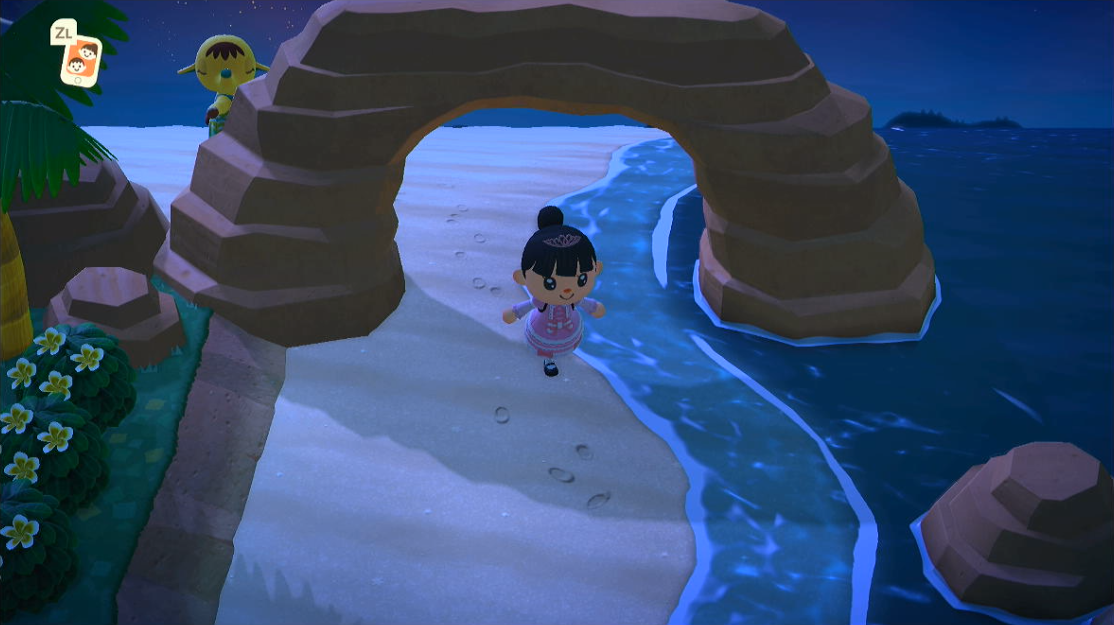 Niko found a letter in the bottle and gave us the DIY.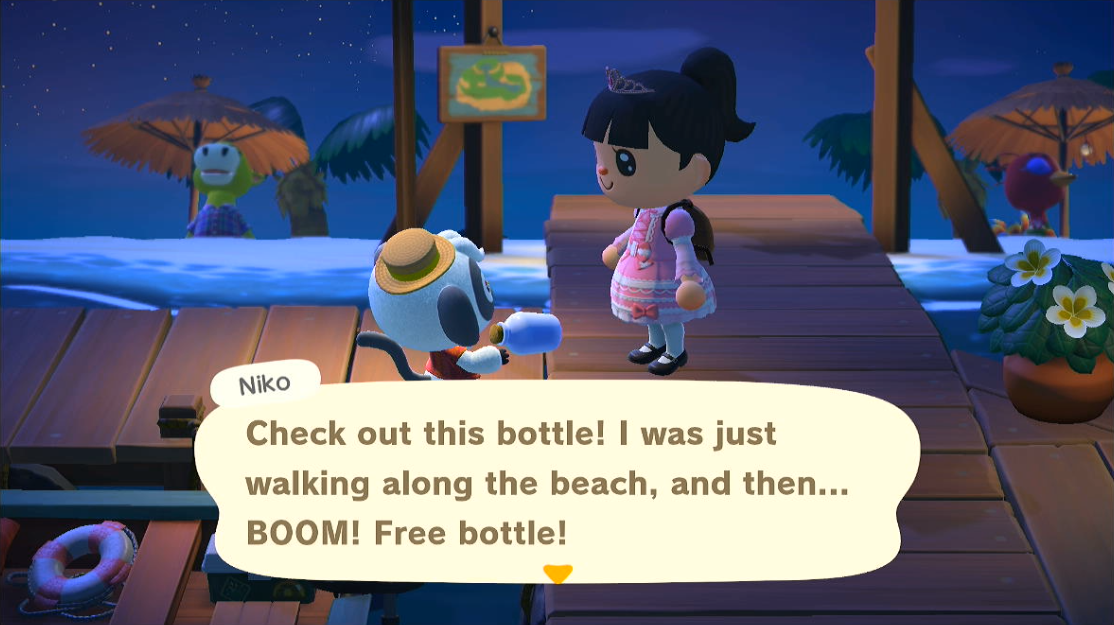 I also see we still have some unique names for these houses.
Olivia – Portal to the Land of Nod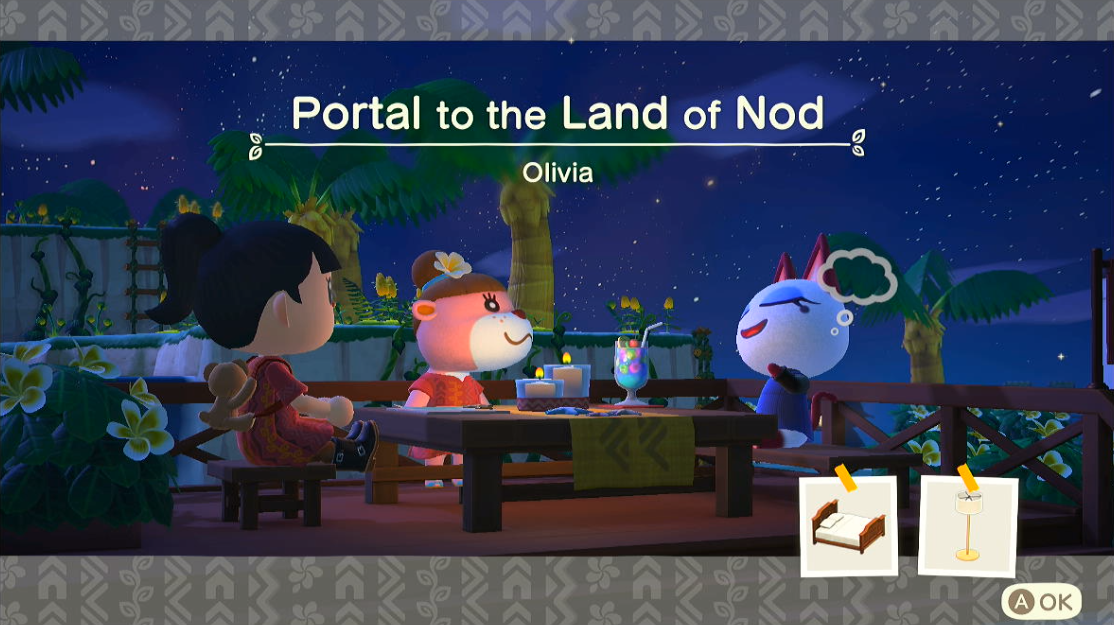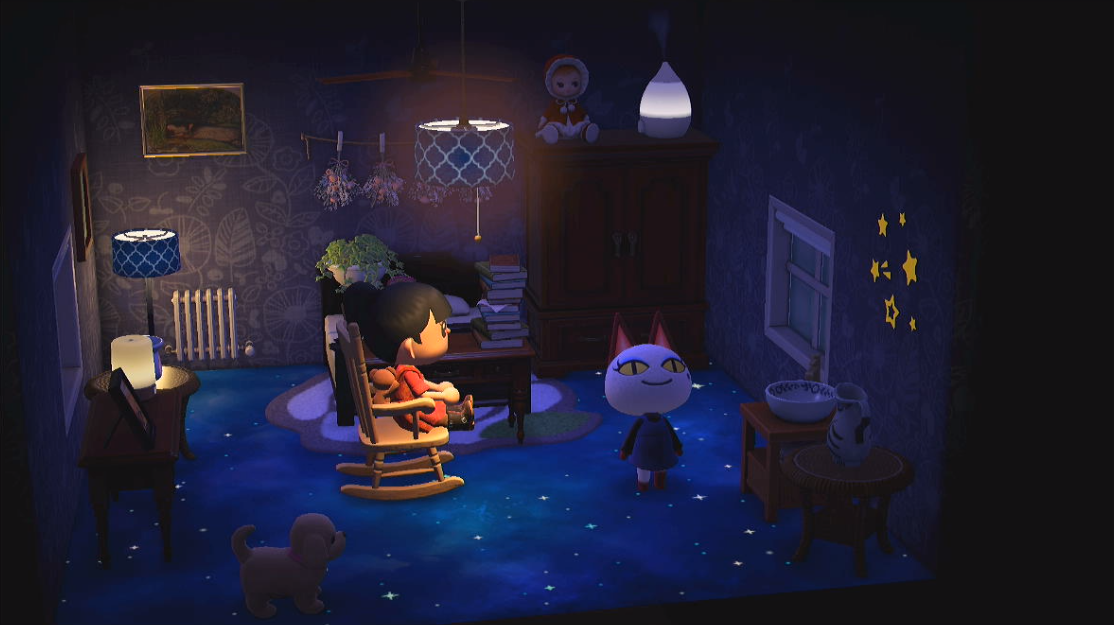 Upon getting back, we were promoted and got new outfit choices.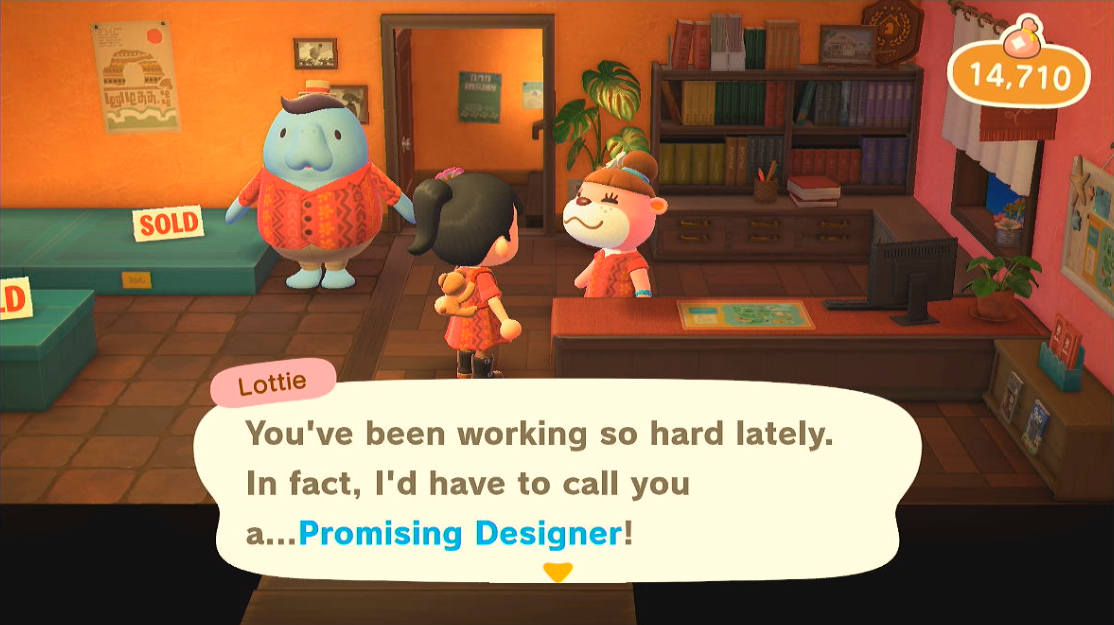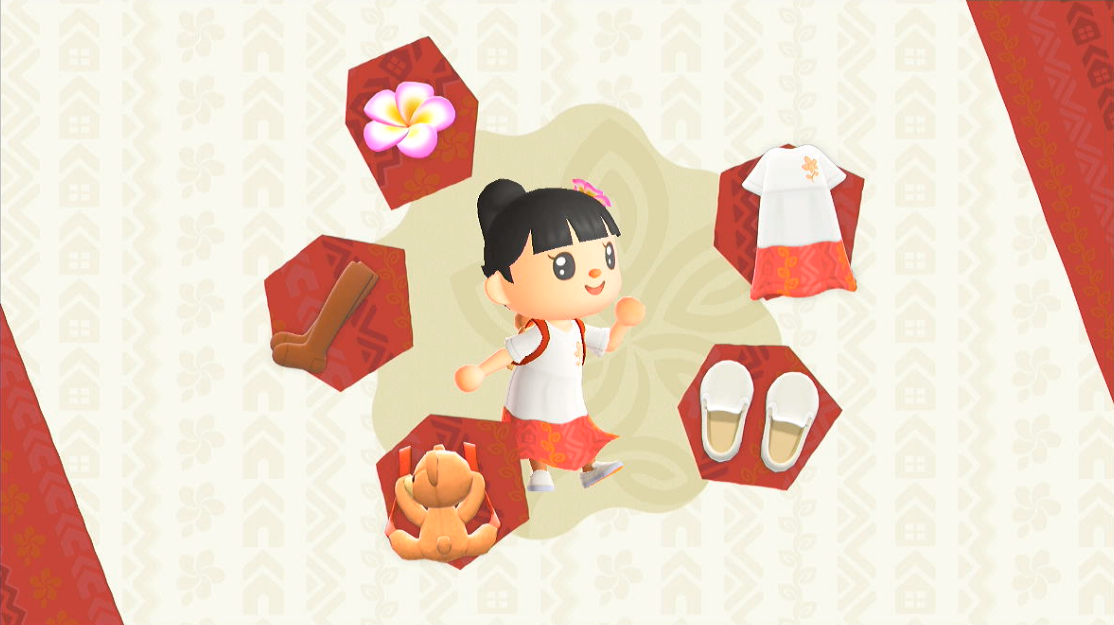 Lottie then asked us to help work on the very first Facility: The School!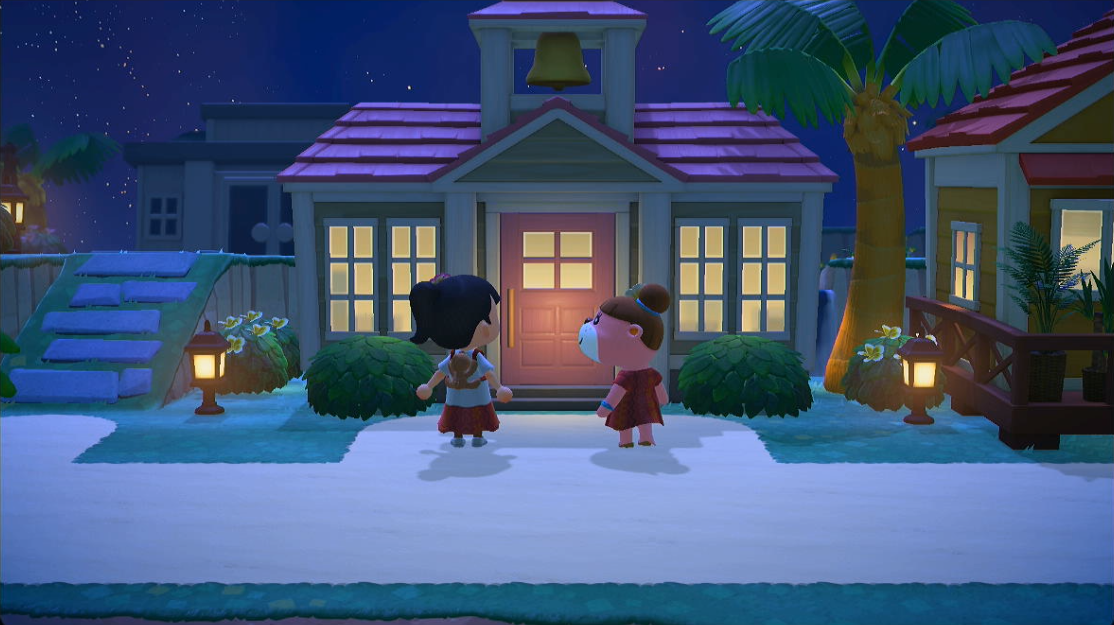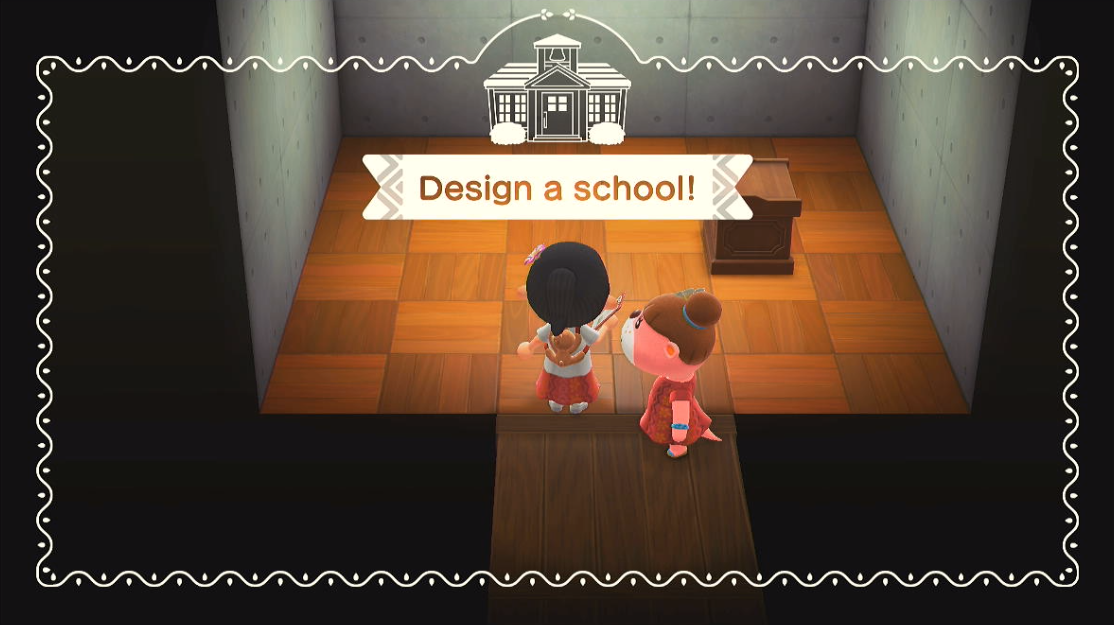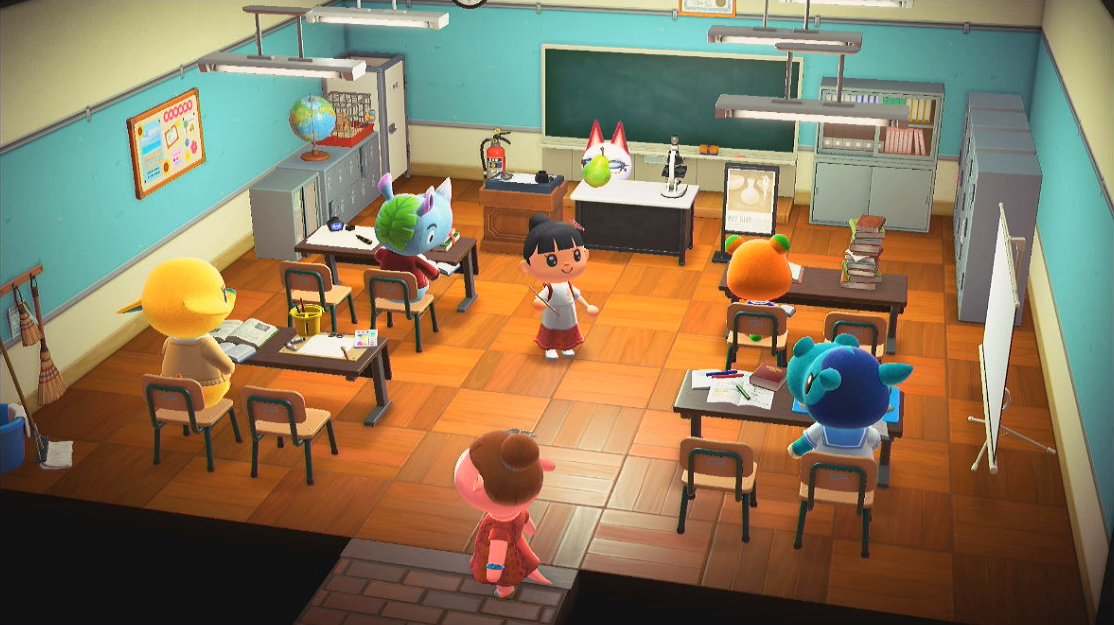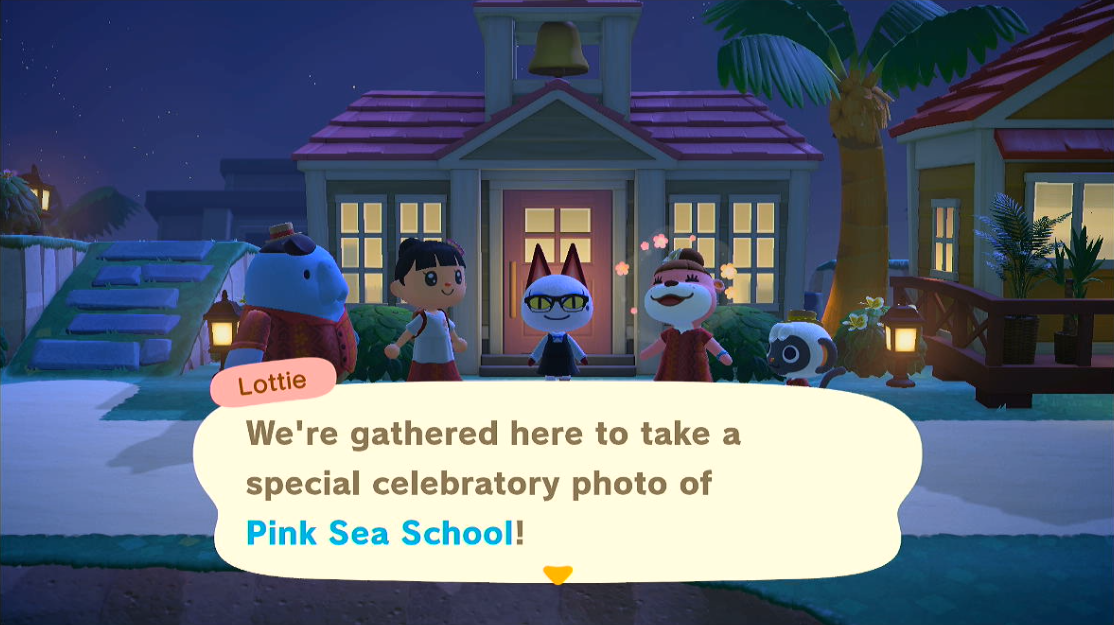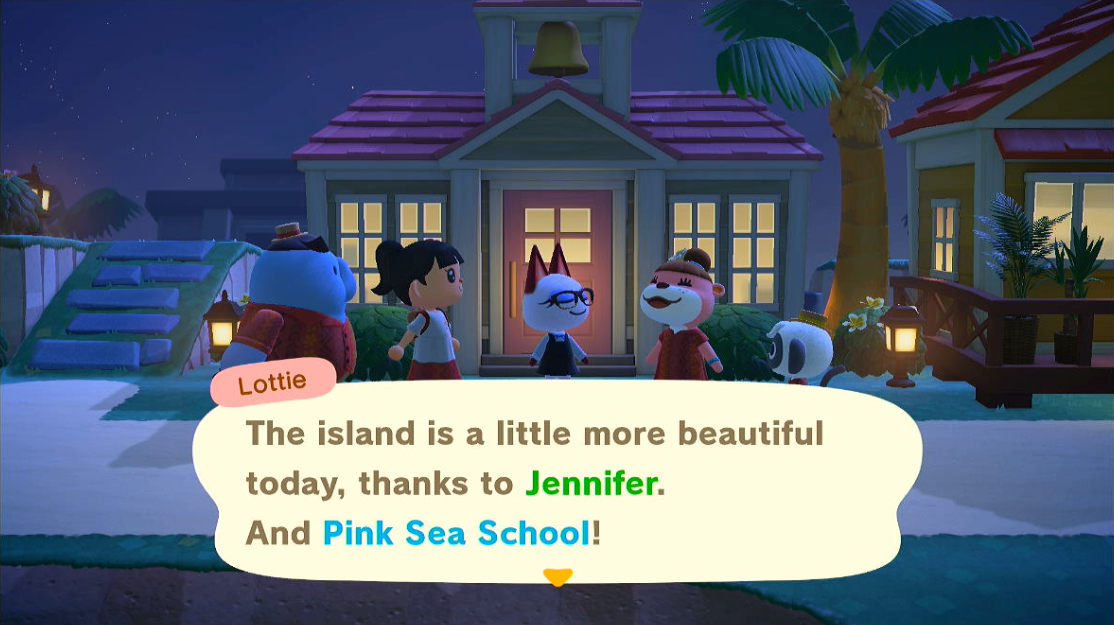 Because every member of this team needs to tell me to take a break apparently.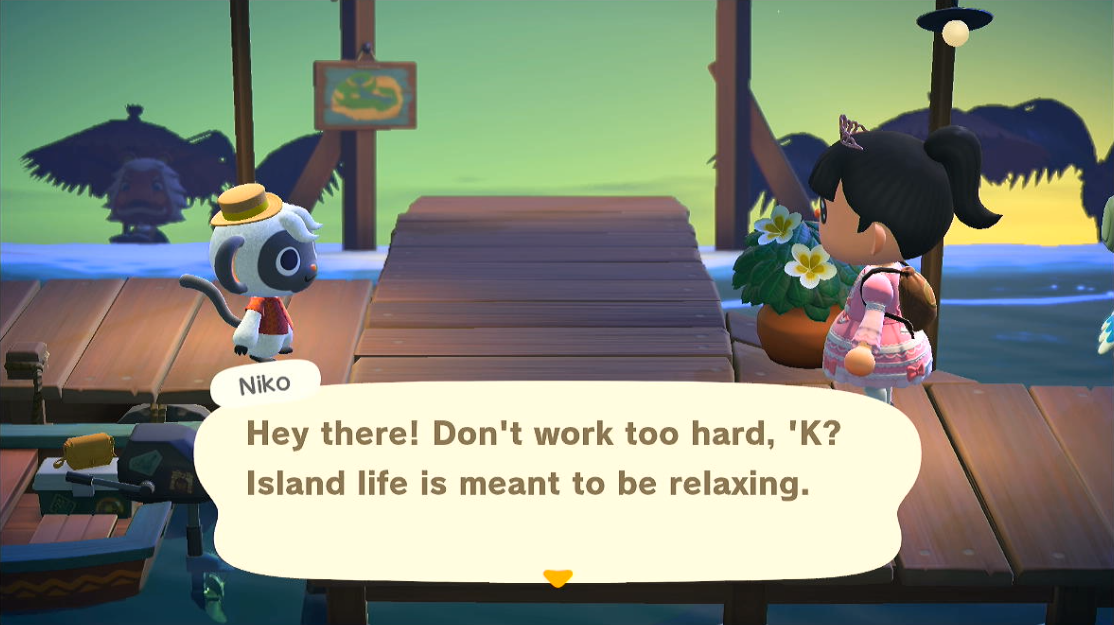 We do agree on one thing though: Yes, Island Life should be relaxing!! Too bad the game mechanics took tons of unrelaxing mechanics v-v Regardless, after this, Lottie had the Amiibo device installed. It'll be a long while before I get to that.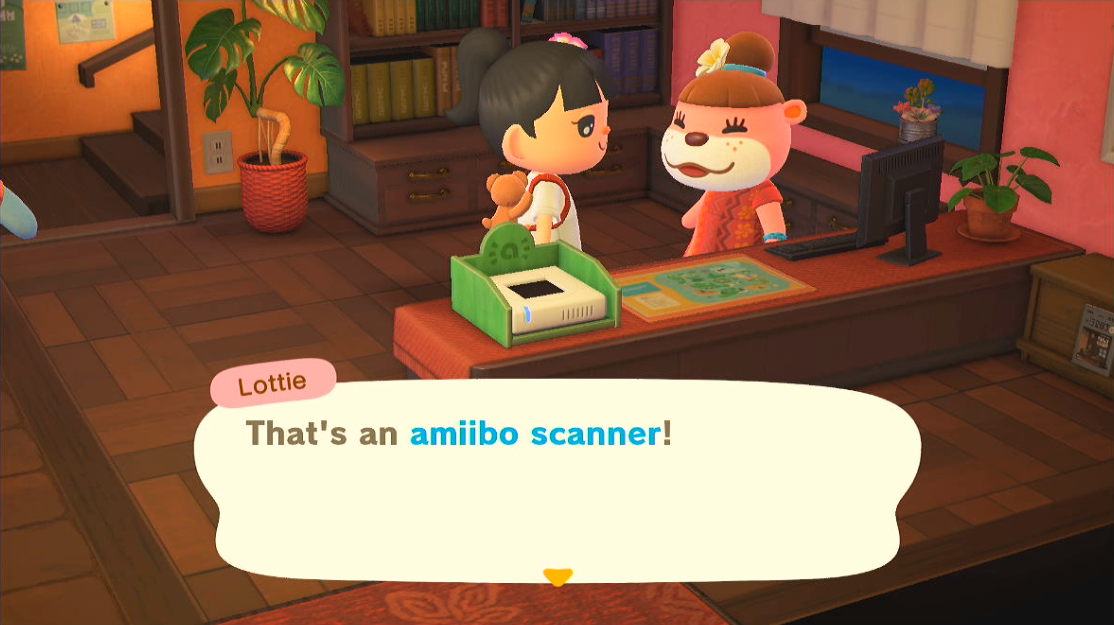 And then, of course, we continue to have some… incredibly weird ones.
Let me just say I was very thankful I unlocked partitions with this house because I don't know if it would've gone nearly as well otherwise.
And at this point, it had passed 5AM so the time rolled over while on the island.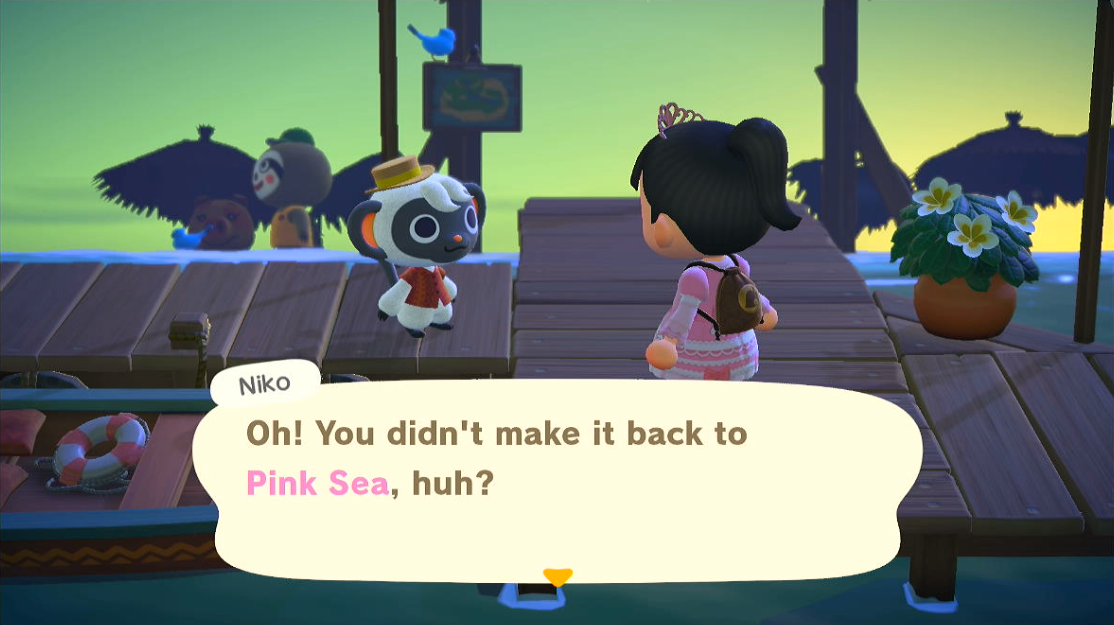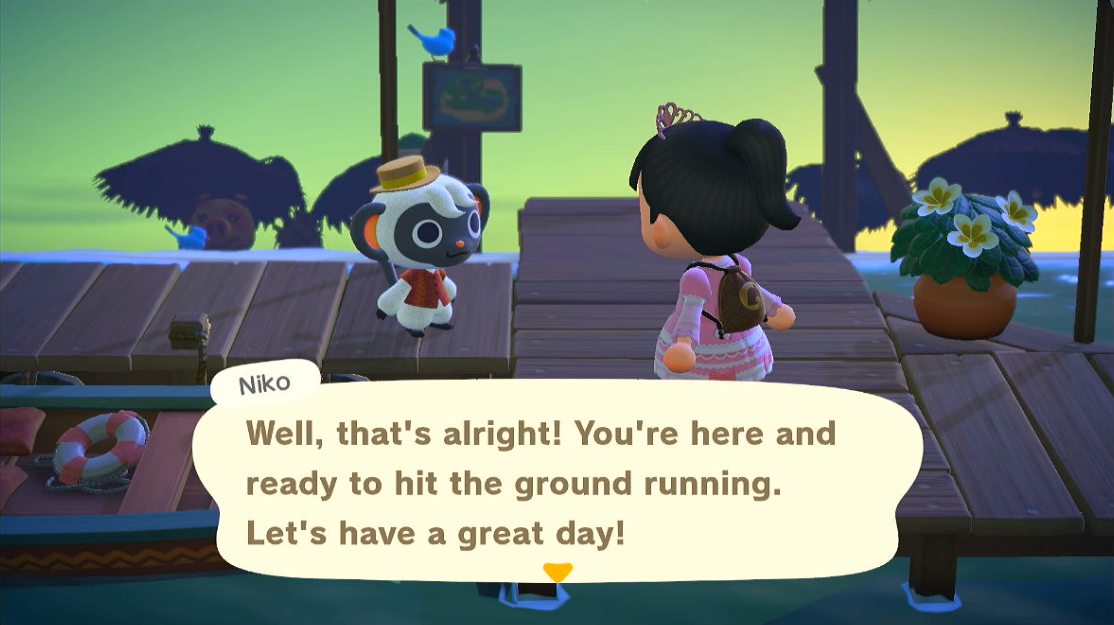 To my surprise, I saw Leif wandering around on the Beach. He was looking for the School and ended up making it so we could use Hybrid Flowers during decorating now.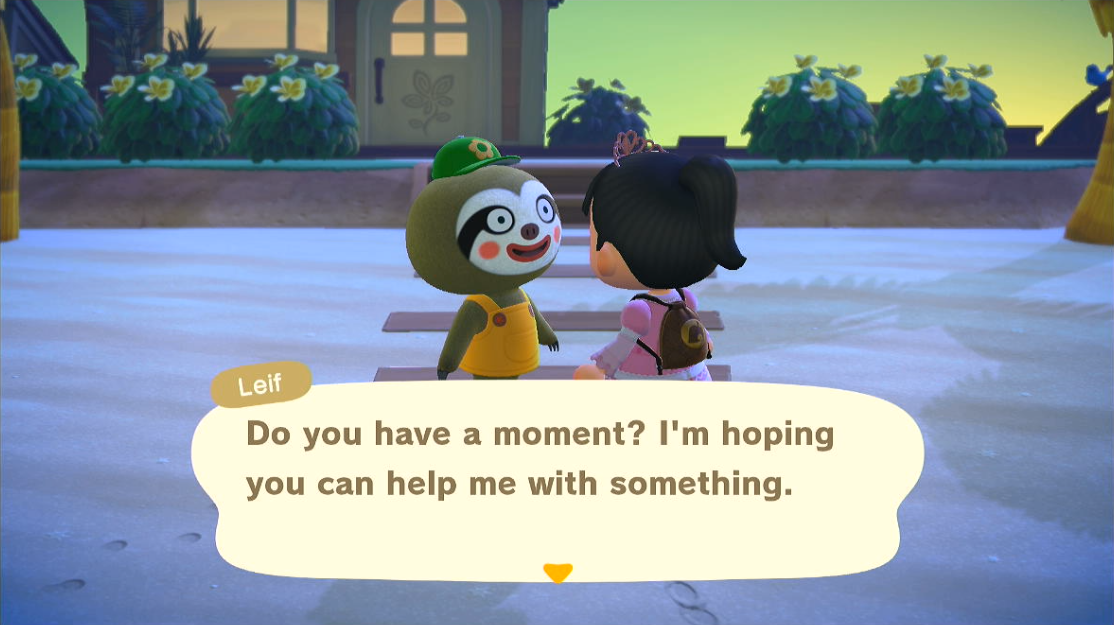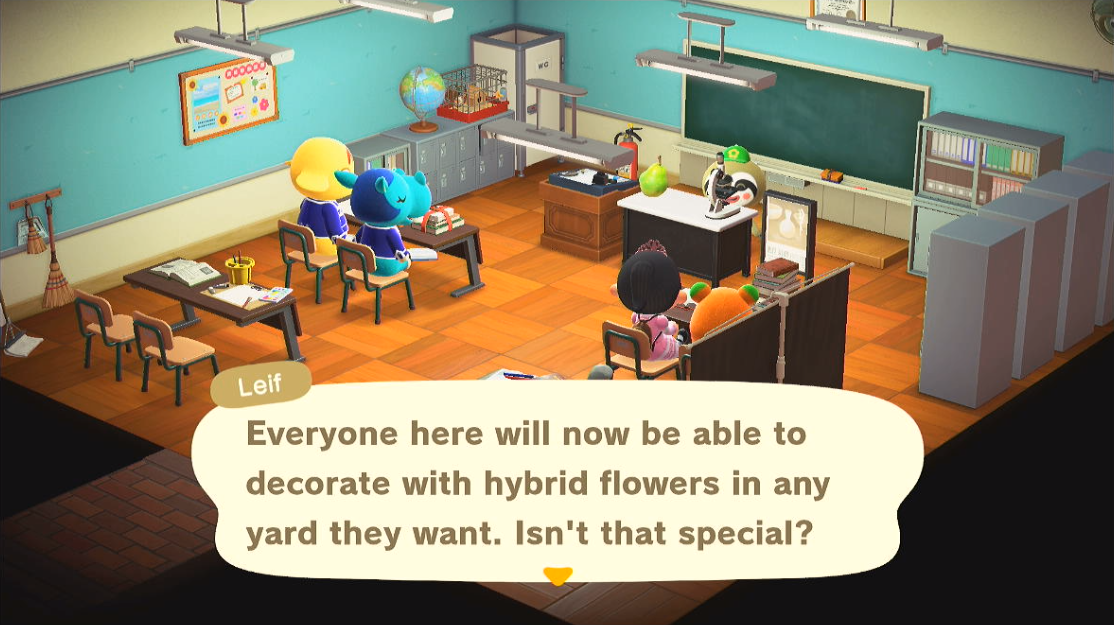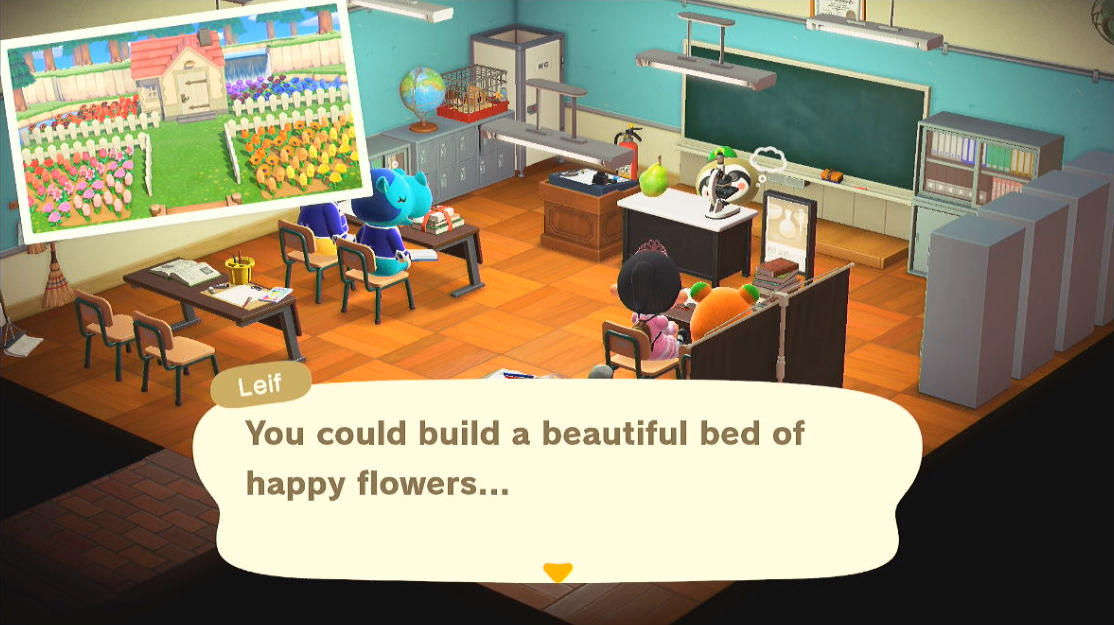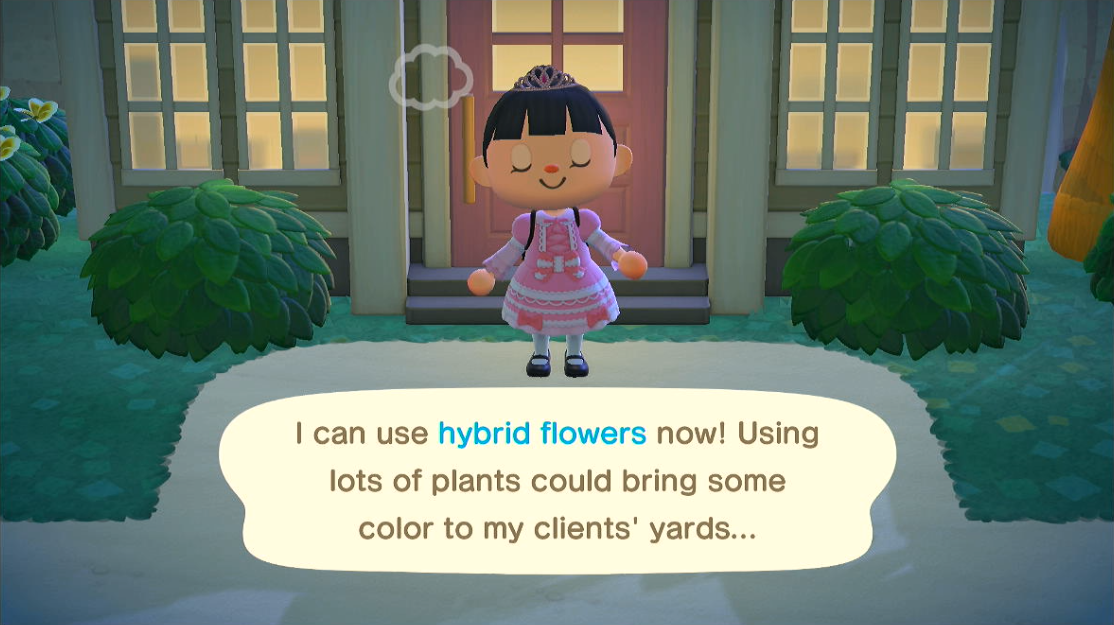 Since it hit 5AM though, that meant the Museum's construction would be done and the Cafe would be opened so I decided to truly take a break and head back to Pink Sea.
I had gotten some nice mail and even got a lovely pink chandelier which I put in the bedroom.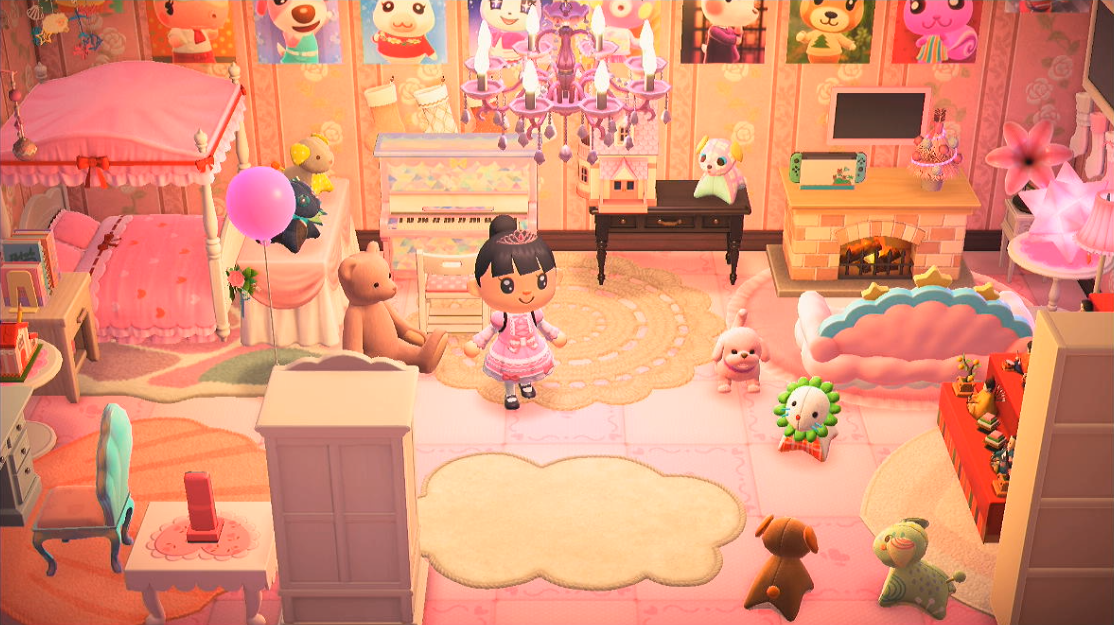 It was then off to the museum!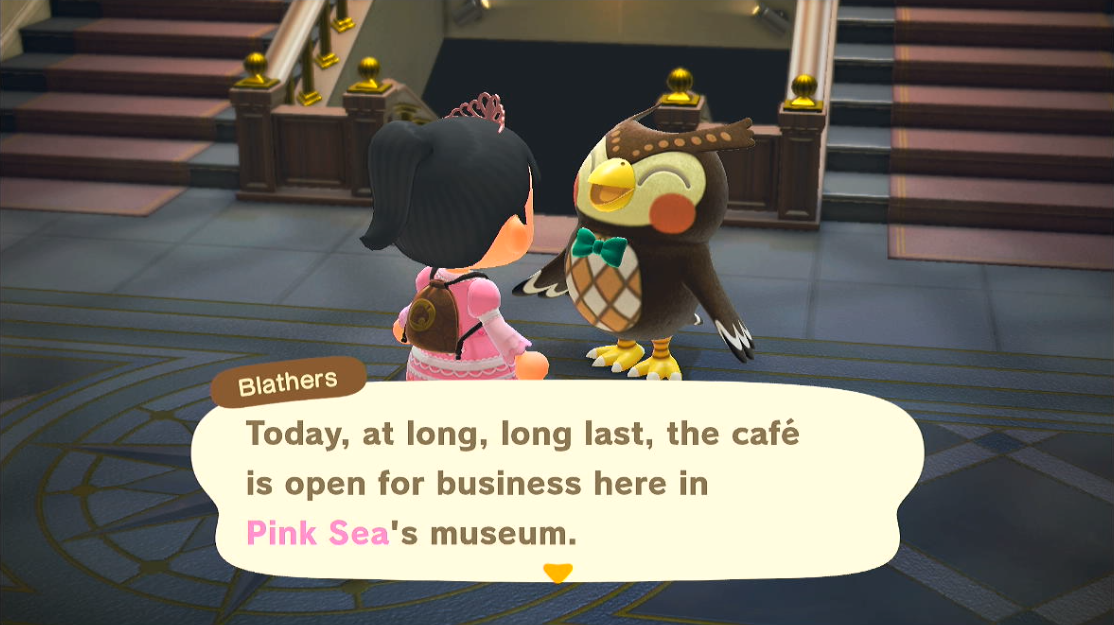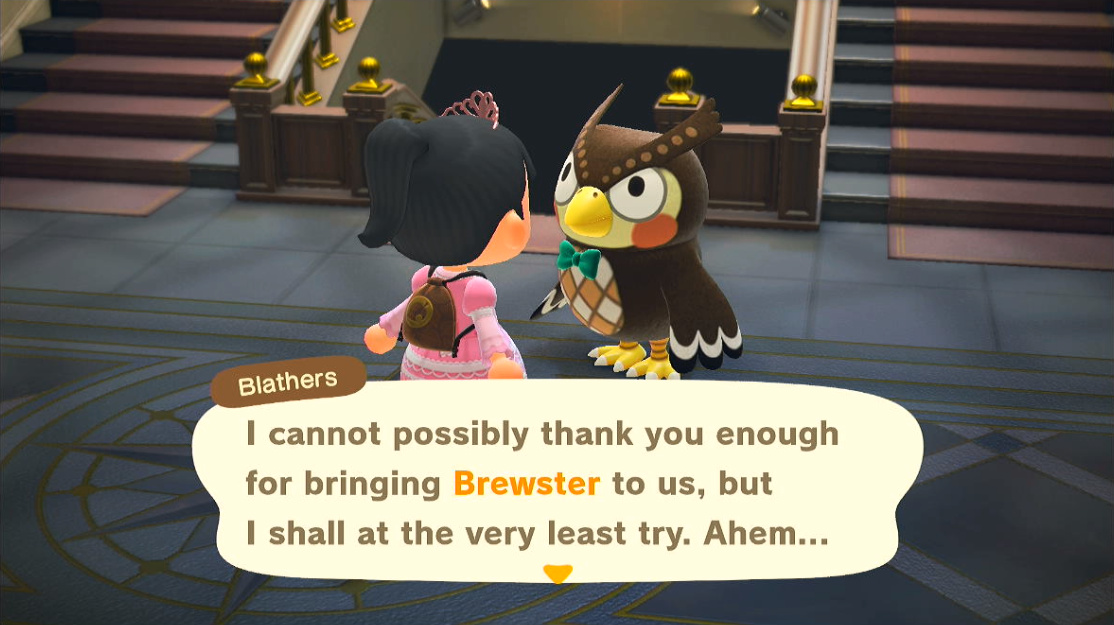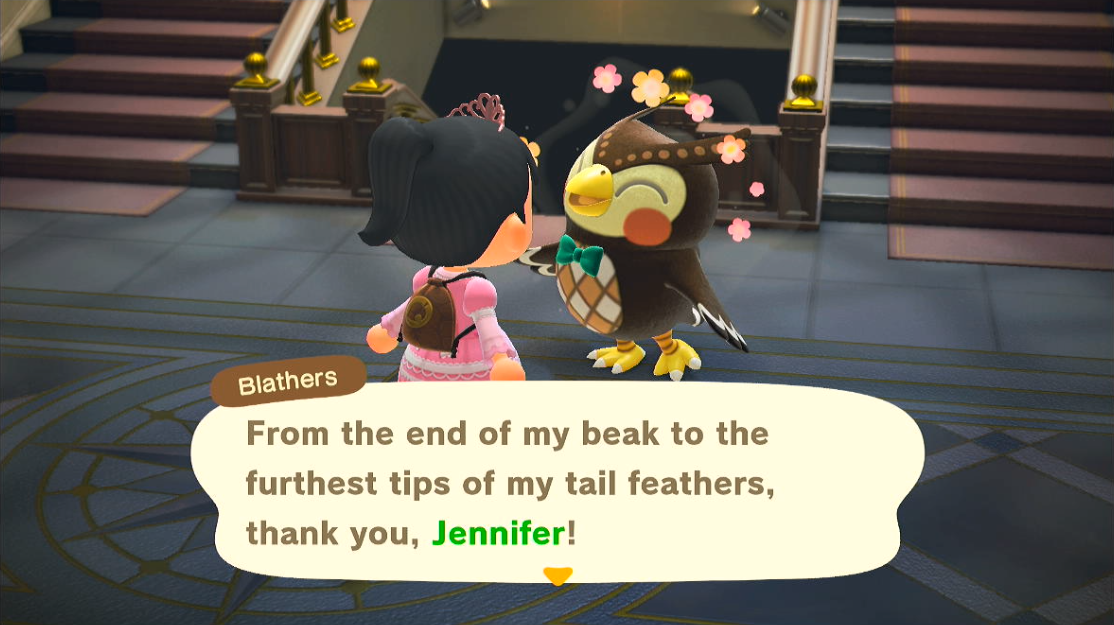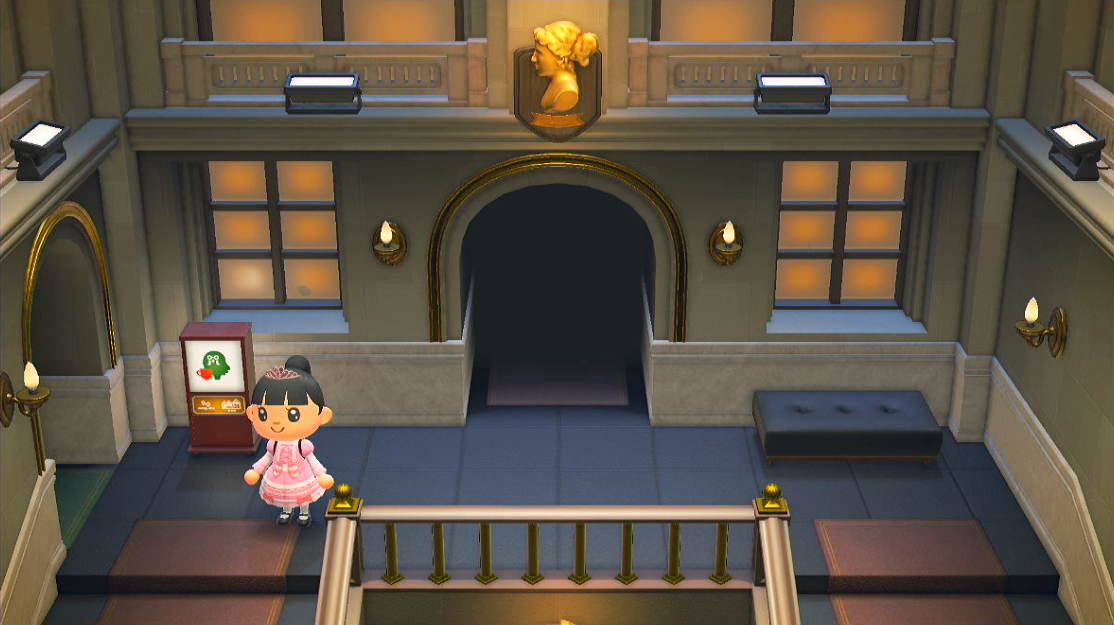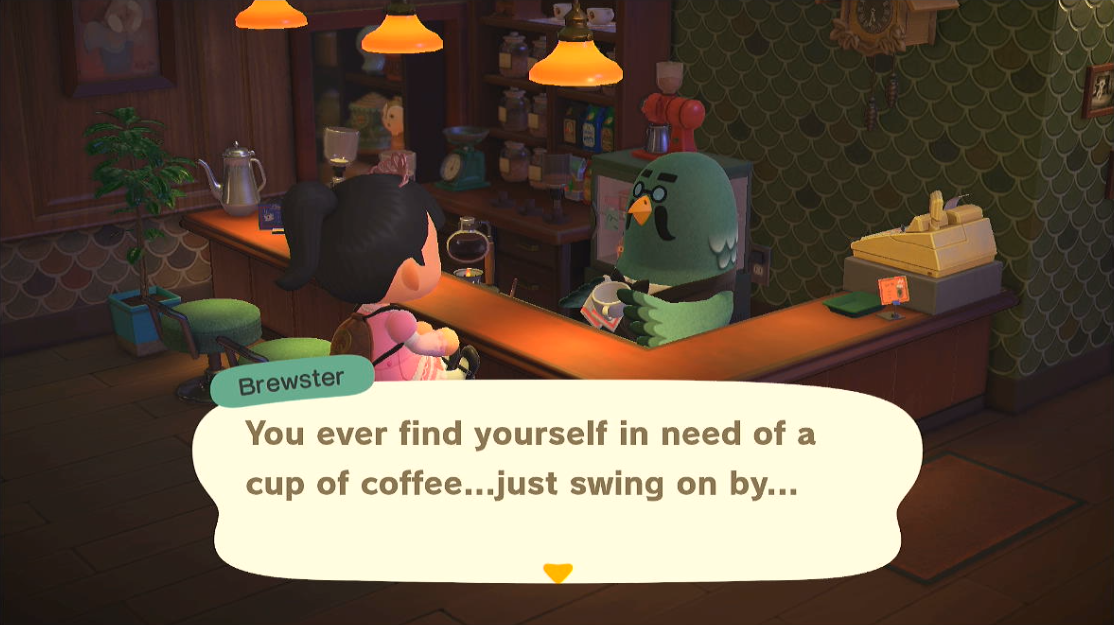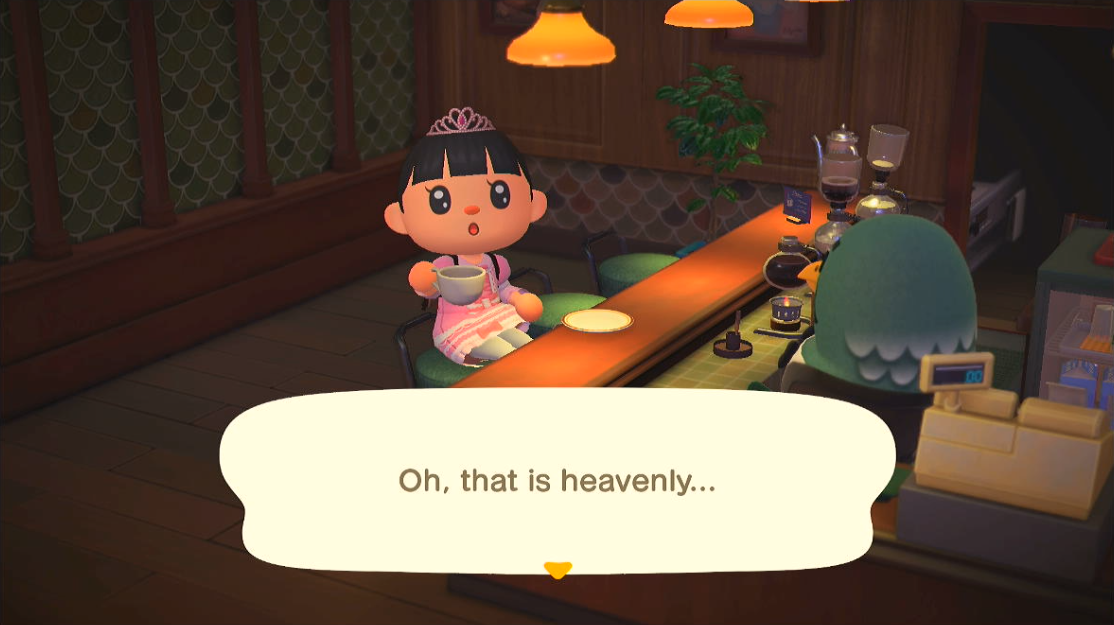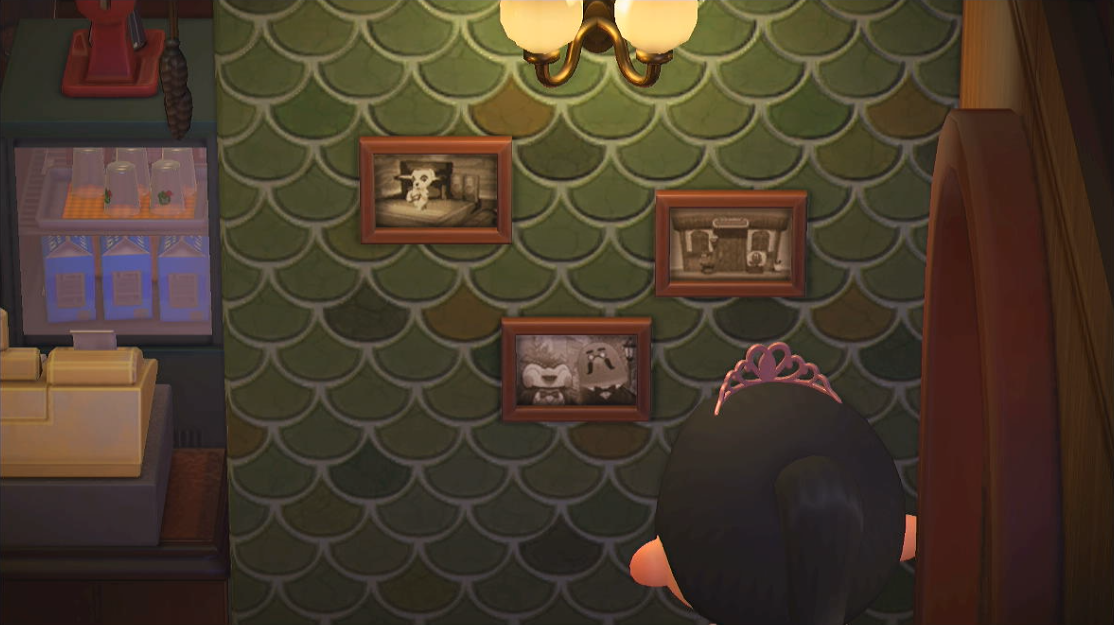 While on one of Kapp'n's islands, I actually found a already grown Gyroid in addition to a fragment which was surprising.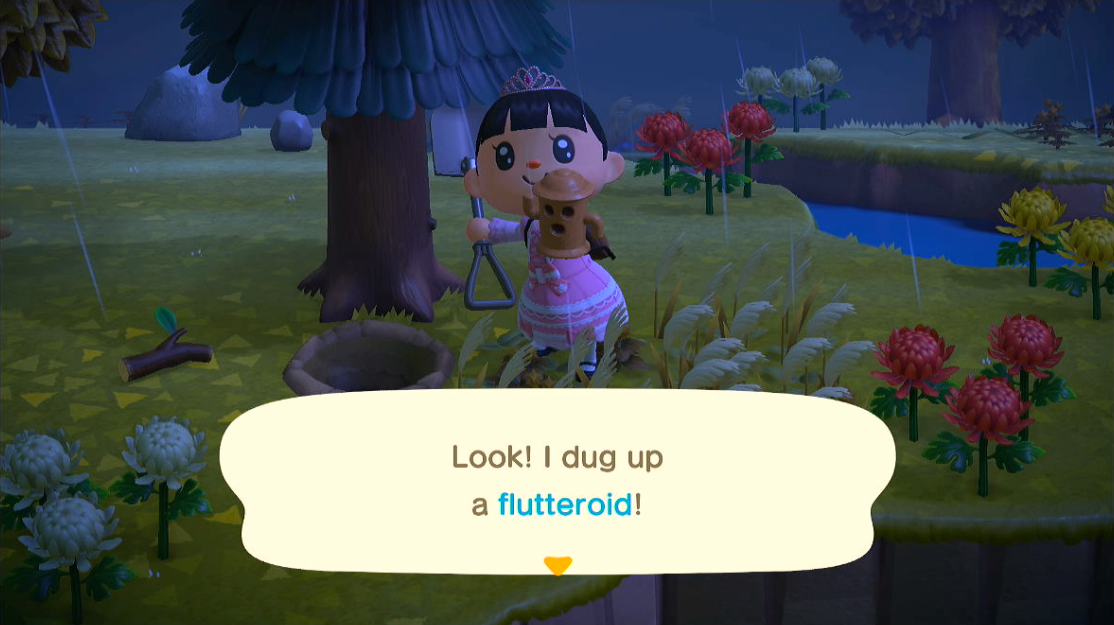 I then headed over to Harvey's as the next shop should be opened.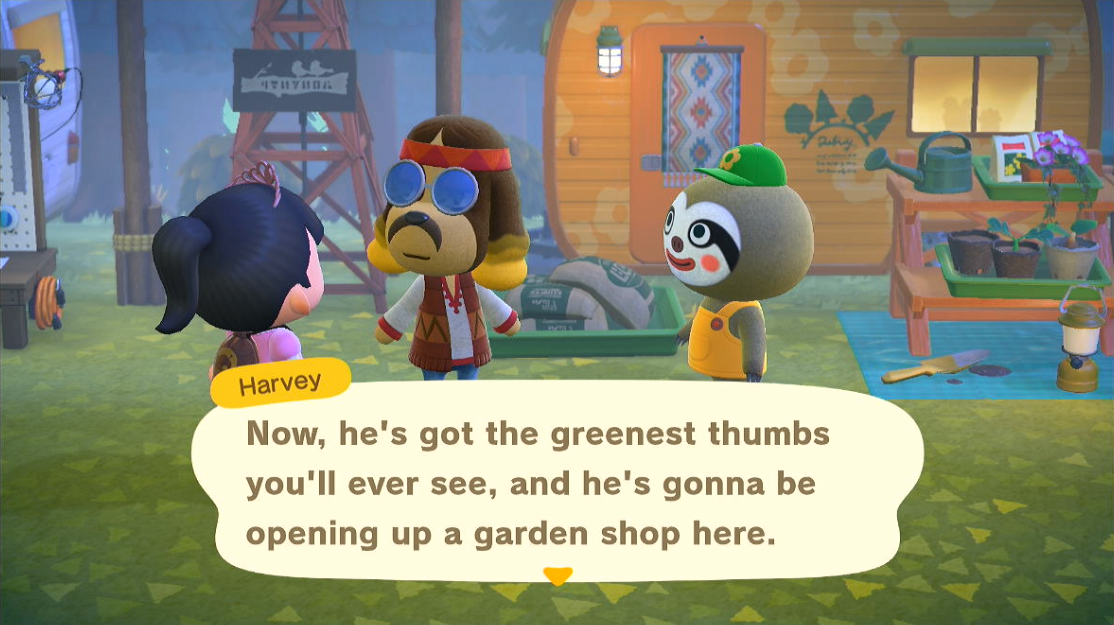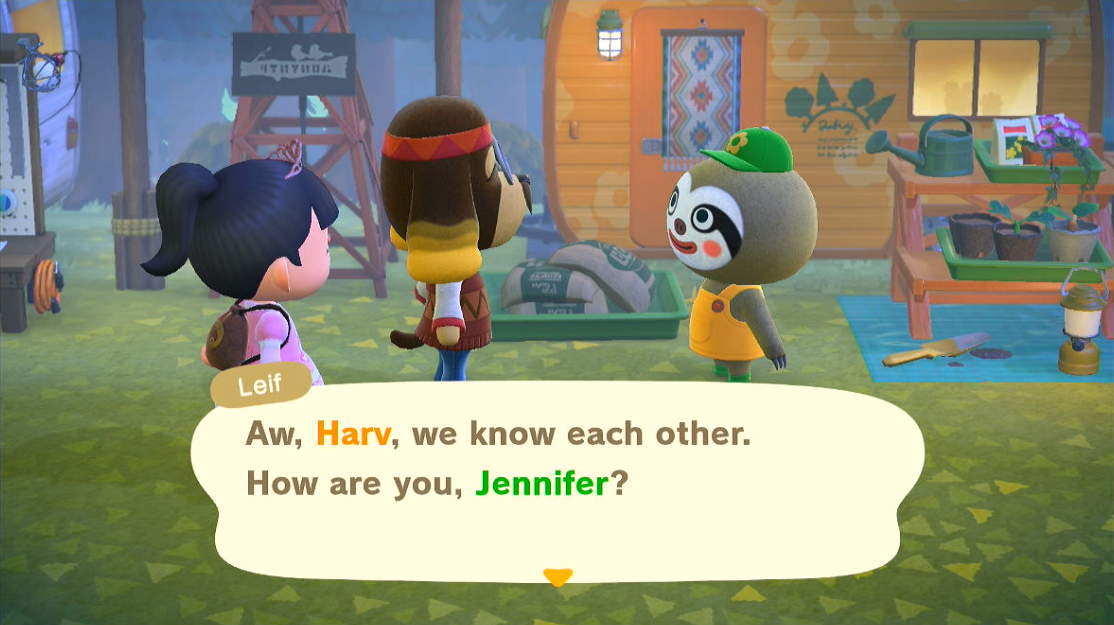 I noticed Merengue walking around early so I decided to hand out one of the Souvenir Chocolates. What I was not prepared for was to immediately end up heading back to the Island to have an option to make her a Vacation Home.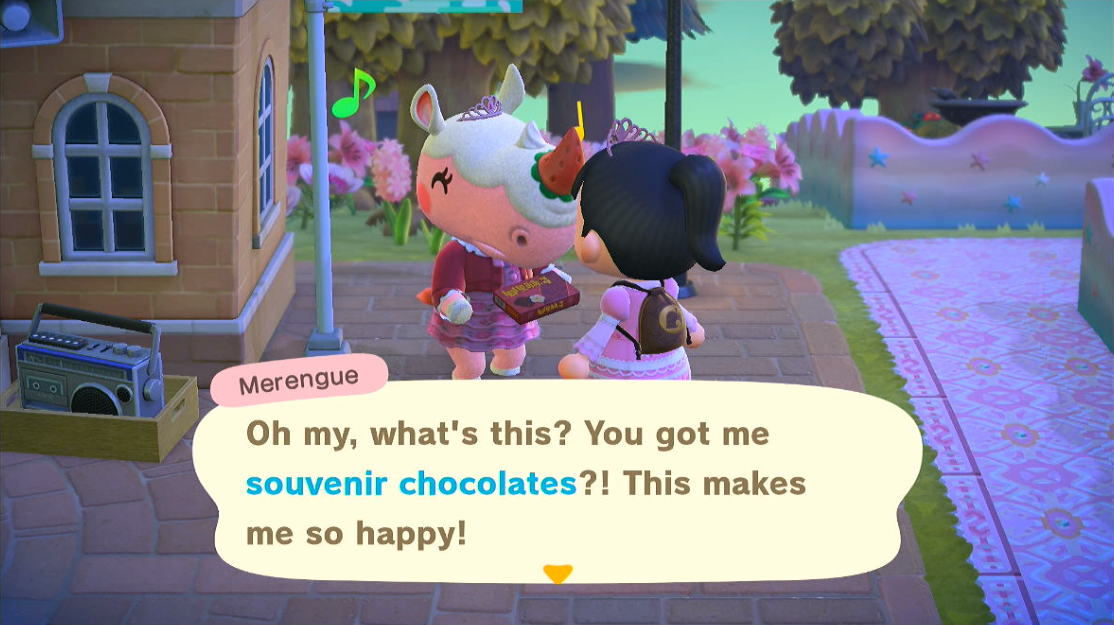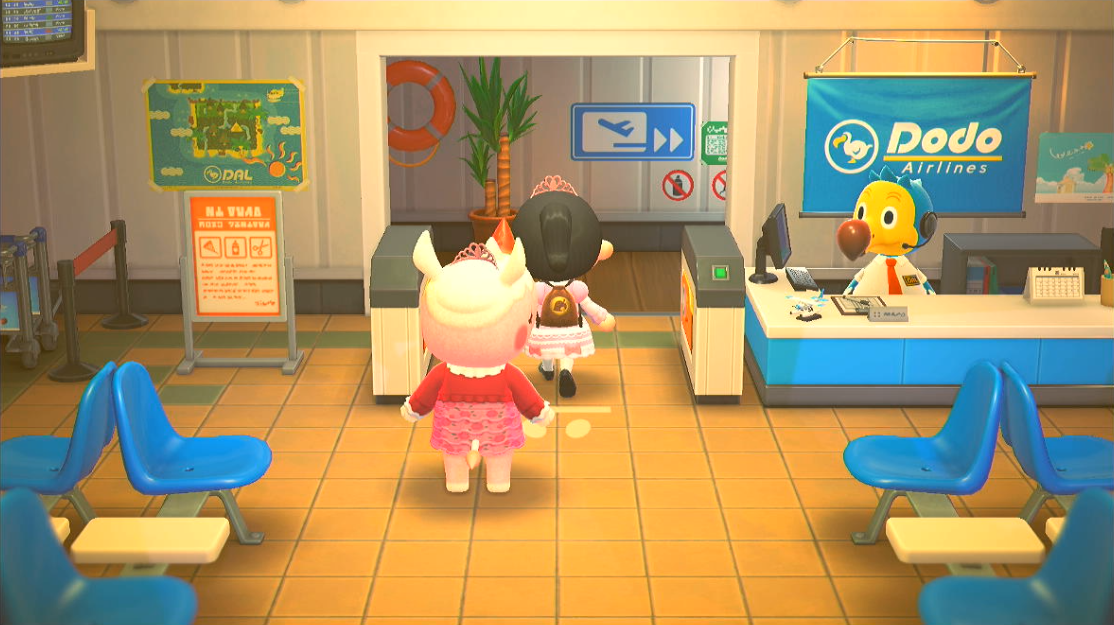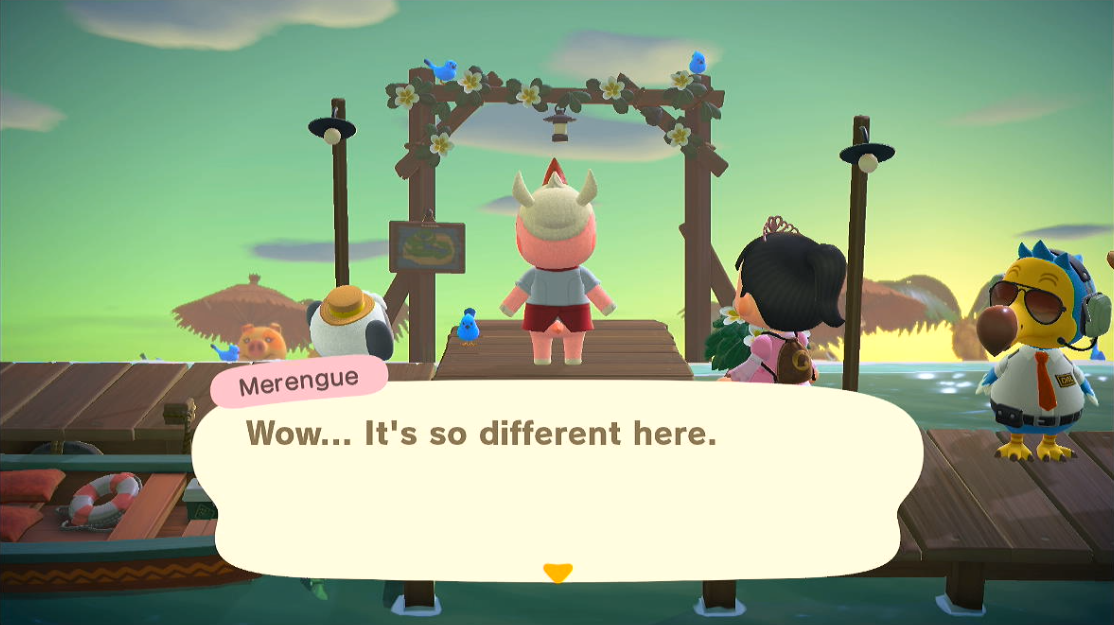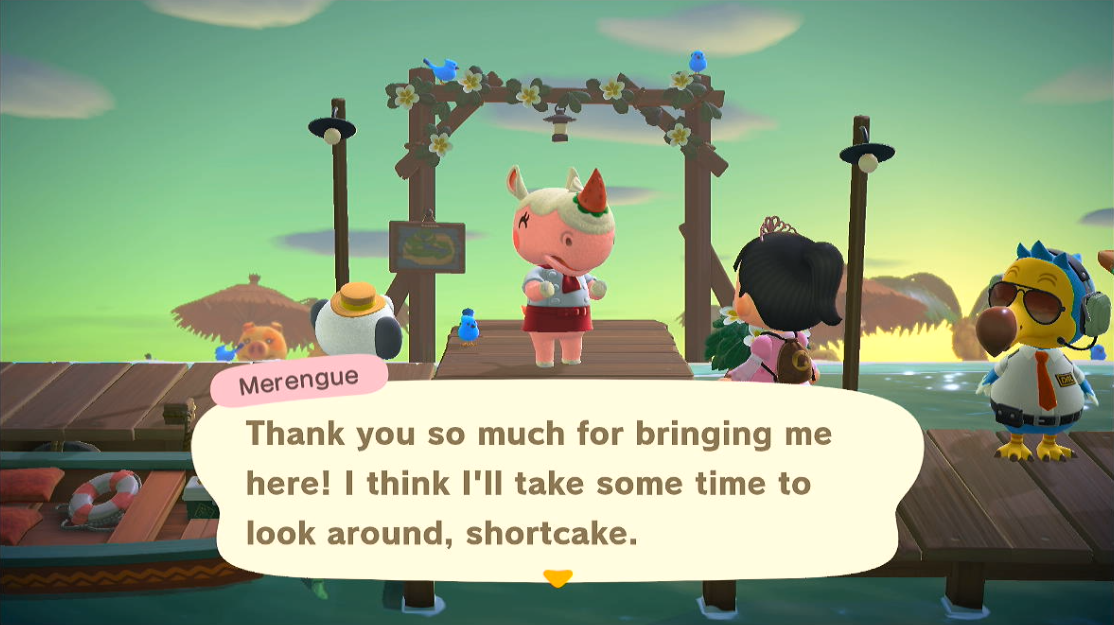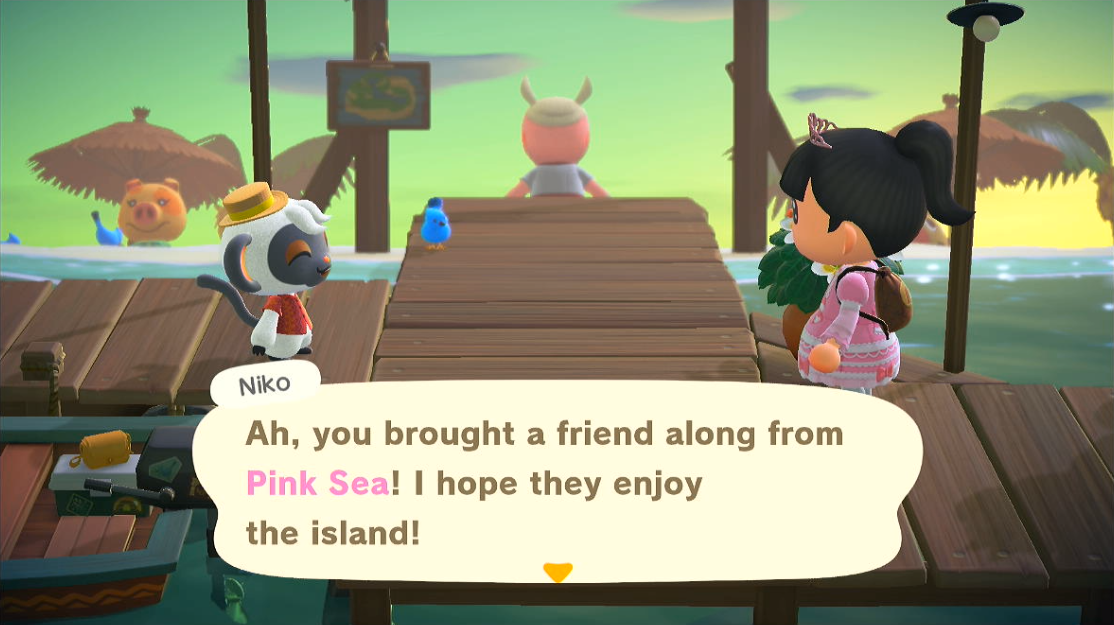 And of course that meant I had to… I think I'll wait until I unlock everything before handing out anymore chocolate.
Merengue – Dessert R & D Dept.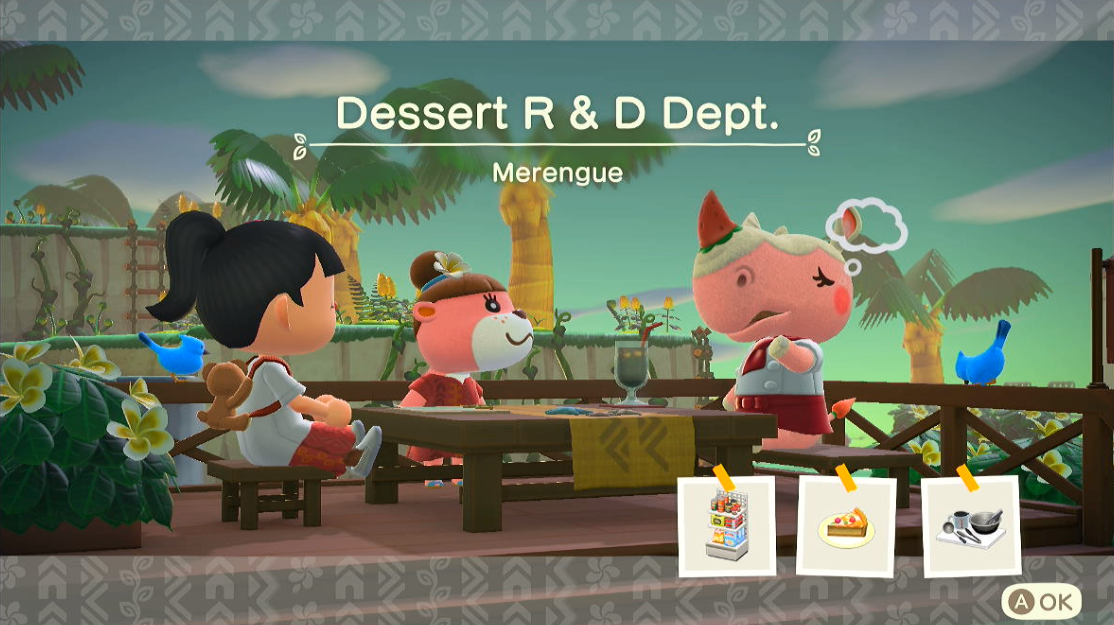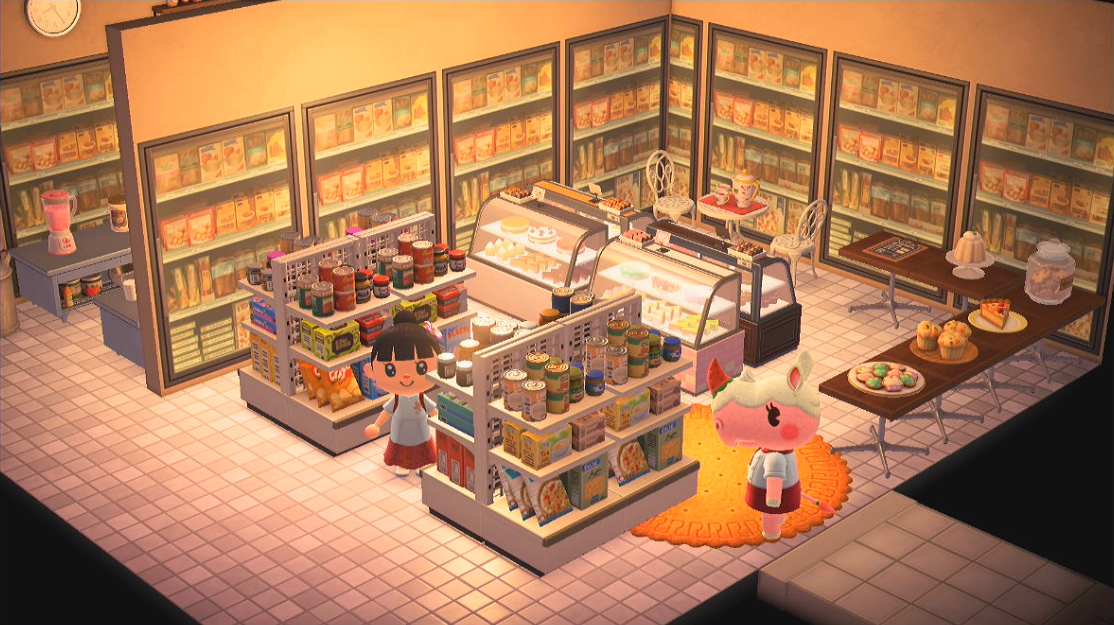 Heading back, it was time to get started placing some of the items I got in the mail.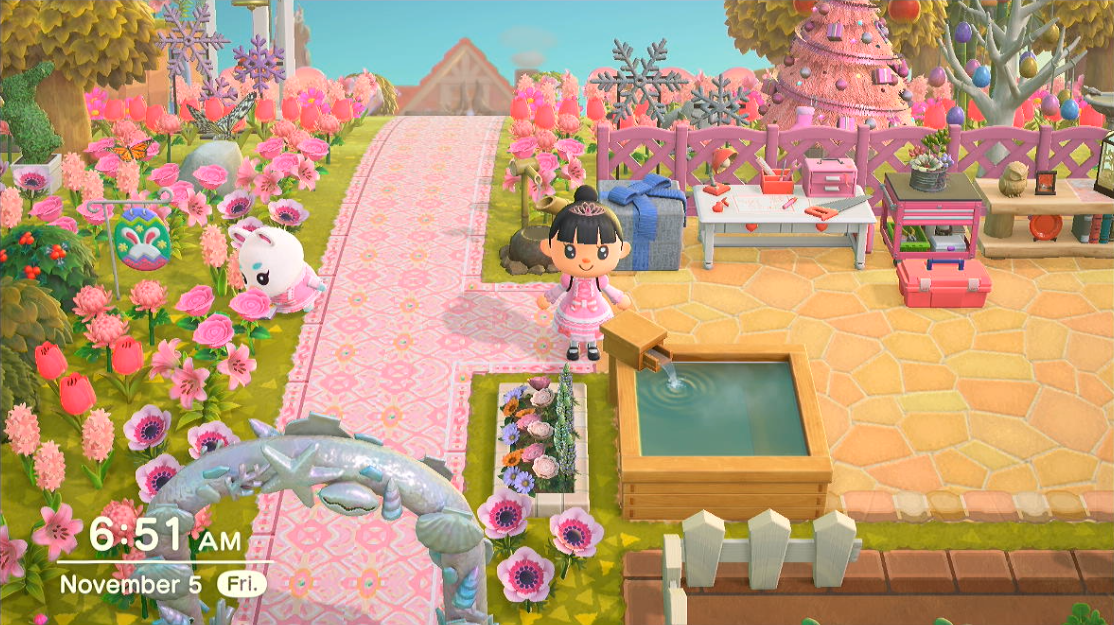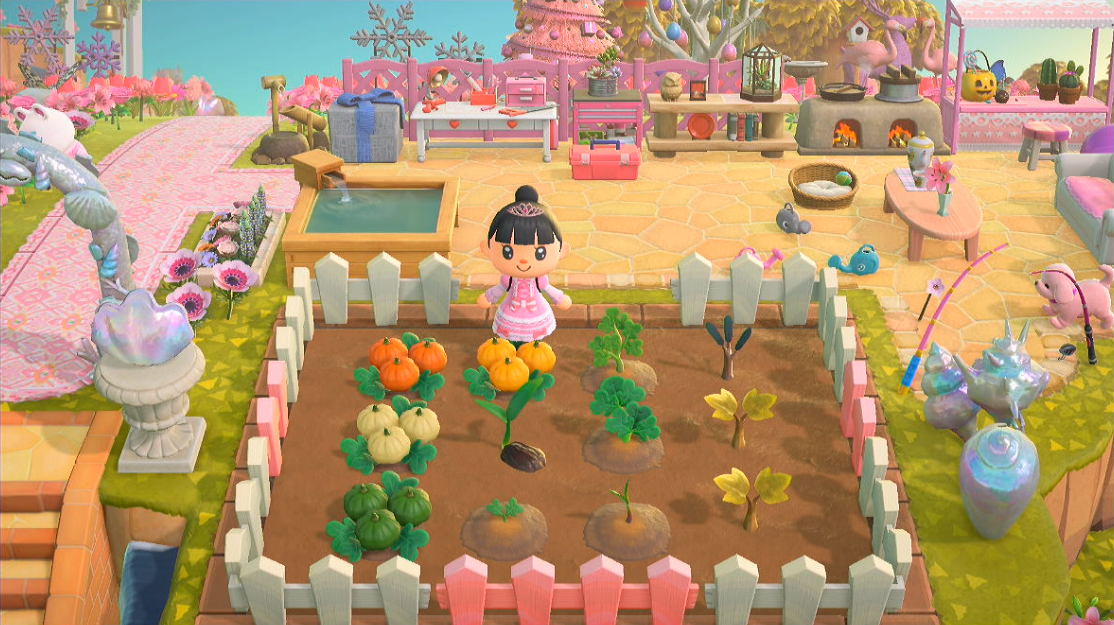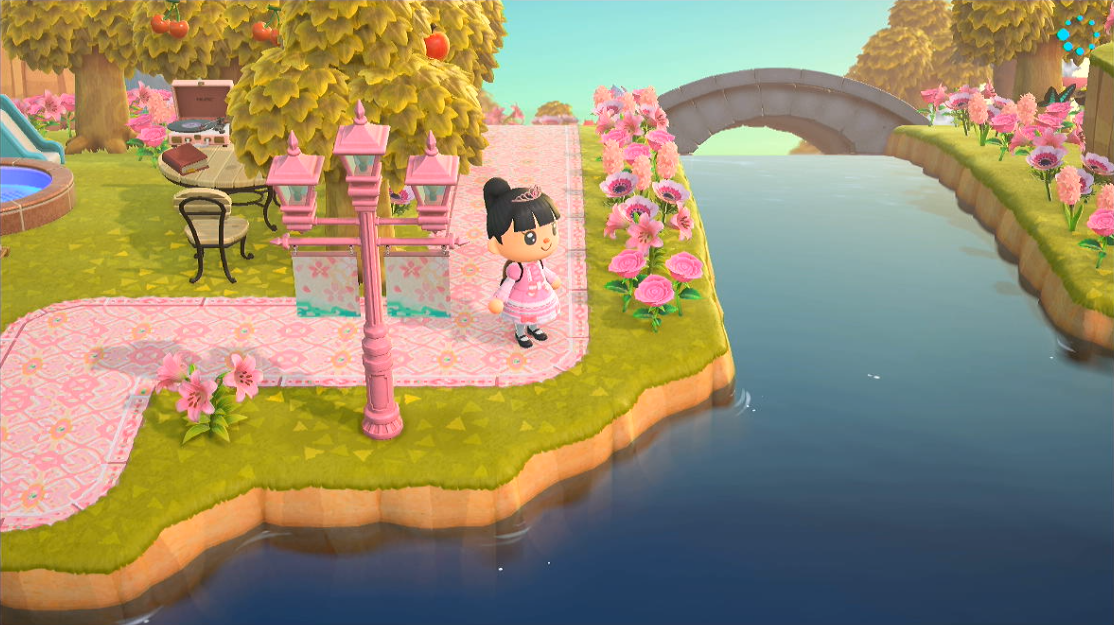 I also got to learn that apparently new seasonal recipes are dropping from balloons which isn't fun.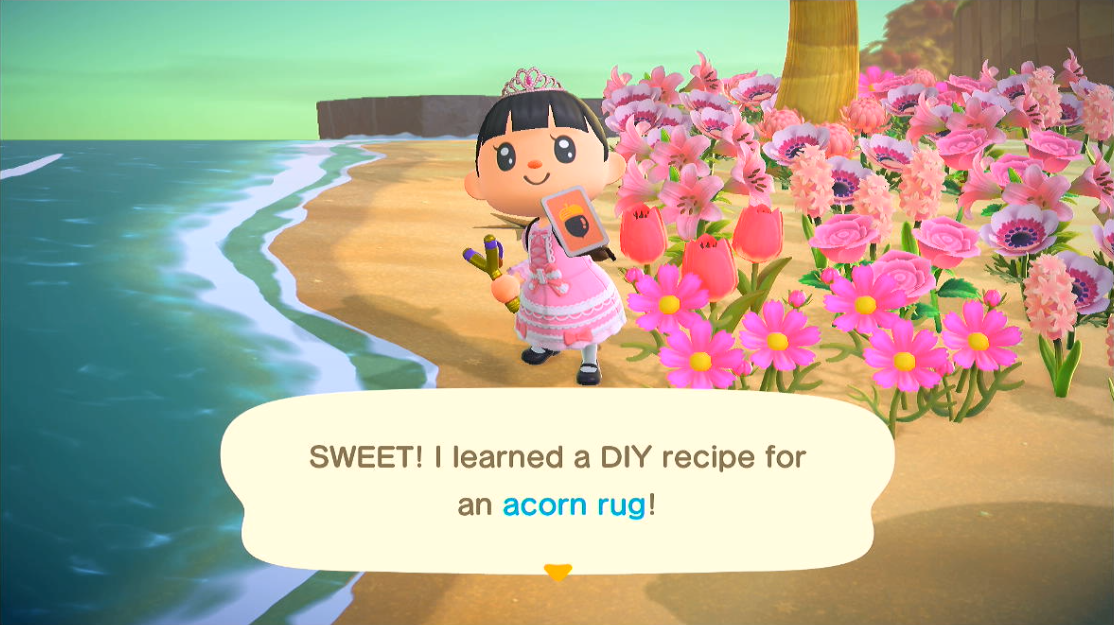 I also decided to try burying the Gyroid Fragment on the beach as it's the only place I really had and thankfully, it worked out.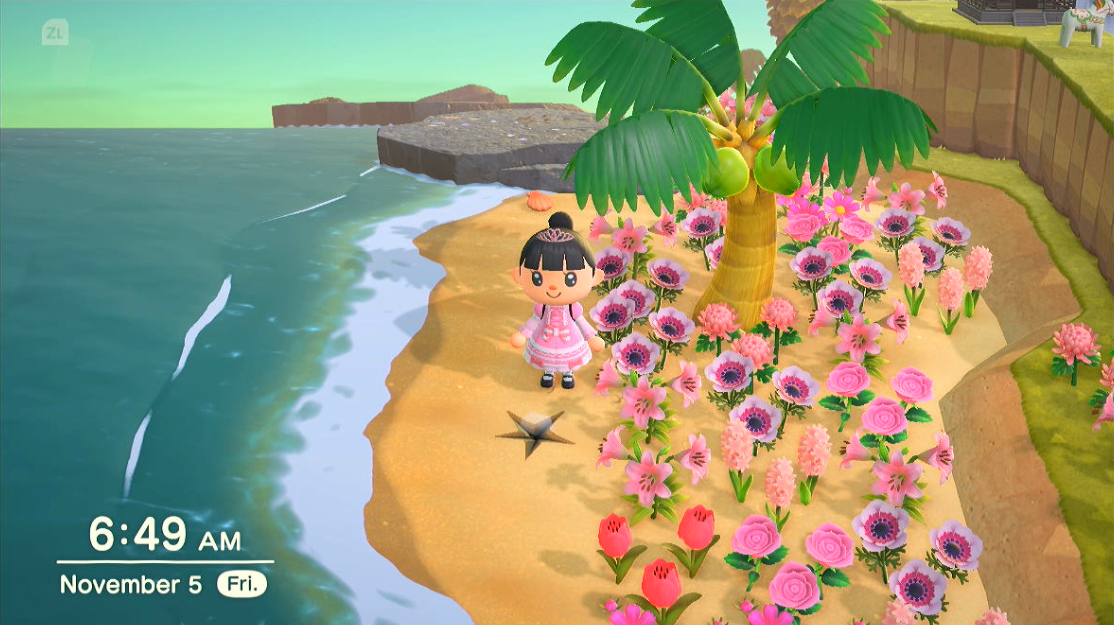 It was then time for the ceremony in honor of the Cafe opening! It's been a long time since we last had one… And thinking about it, this may actually be the last ever one for Pink Sea. I have no where to put any new ramps or bridges nor any plans to add any and there will be no other major updates so…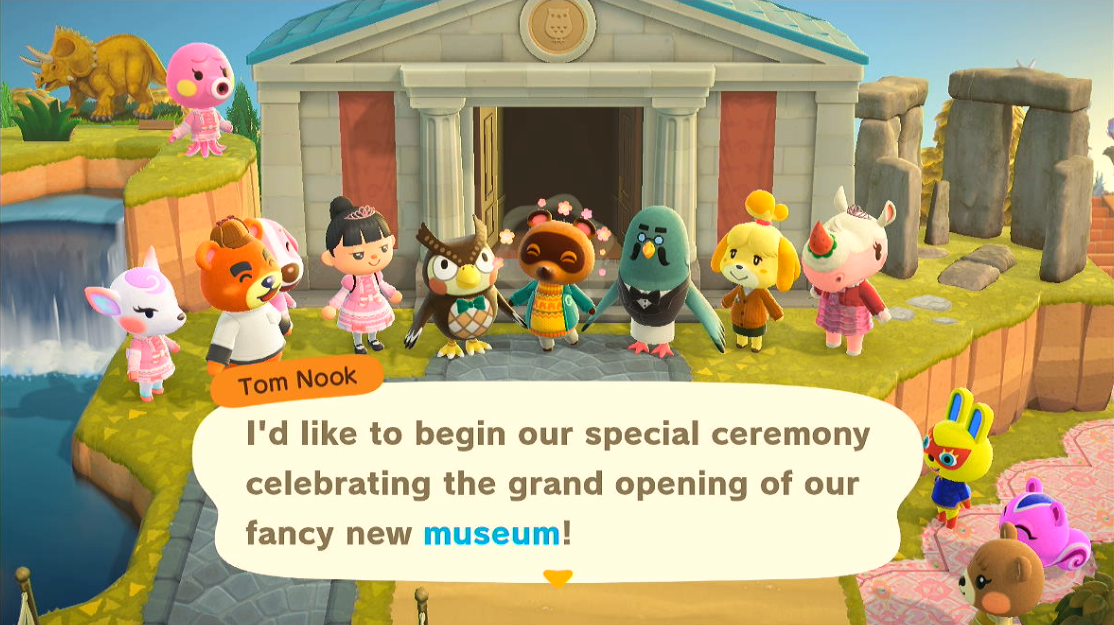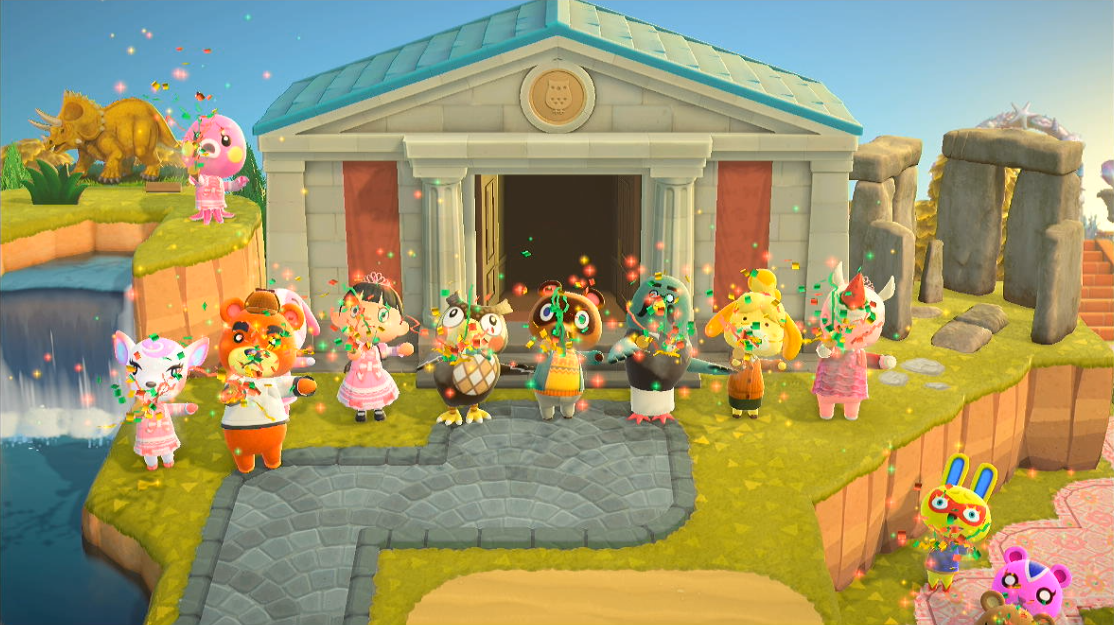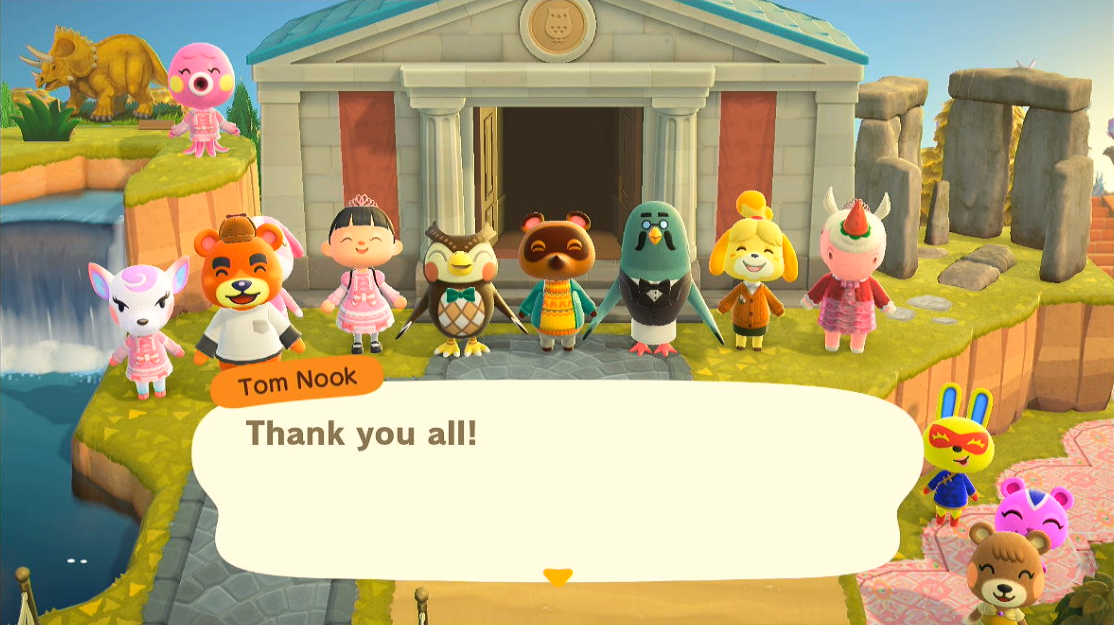 I also started playing around with trying to use the new sparkle effect in my own house, but I can't really get any of it to look that great…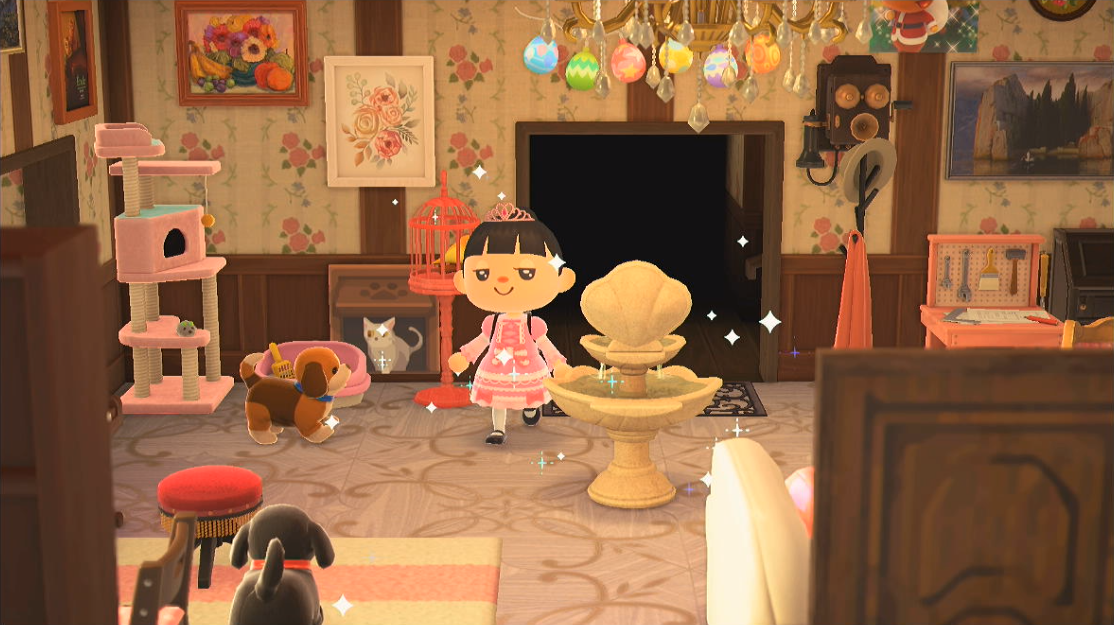 Meanwhile, Zed had gotten a recipe for a Cherry Blossom Rug and kindly sent me one. It's so cute.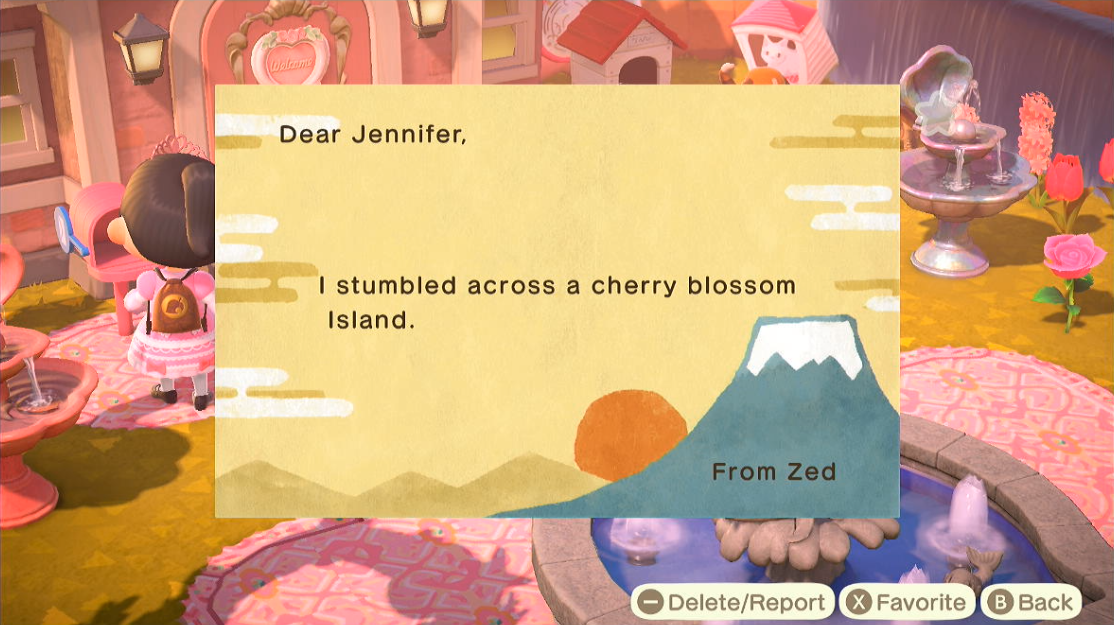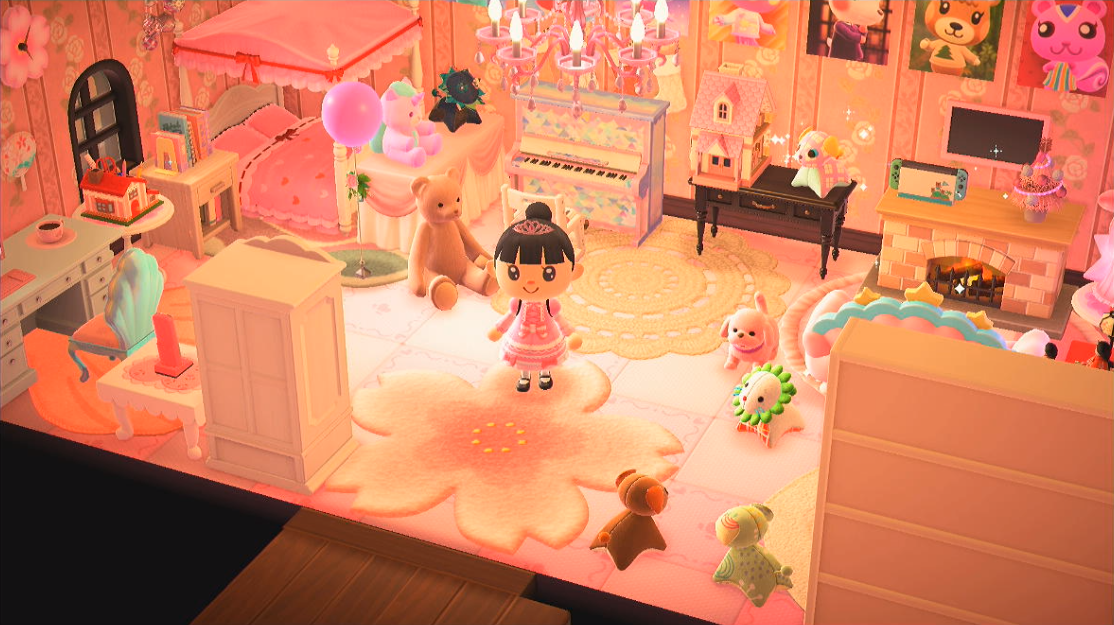 I also want to just mention that while going back home and learning how I could do stuff I learned in HHD, it did outright confirm how changing room sizes was not one of them and while I'm not surprised, I'm still annoyed. I get not having it available from the get-go if someone is still expanding their house, but if they fully expanded it and their storage to 5,000, WHY can't that be an option? I can do so much more with 10×10, 8×10, and 8×8 rooms than 6x anything and I'm so frustrated at the lost potential, especially as we couldn't even get all rooms as big as New Leaf's.
---
Regardless, another day had come and thanks to surprises from nice people and friends, I managed to zoom through DIY collecting T~T So now I can pretty much solely focus on my catalog. I also finally managed to catch the Seal Fountain's special hour moment. It's really cute.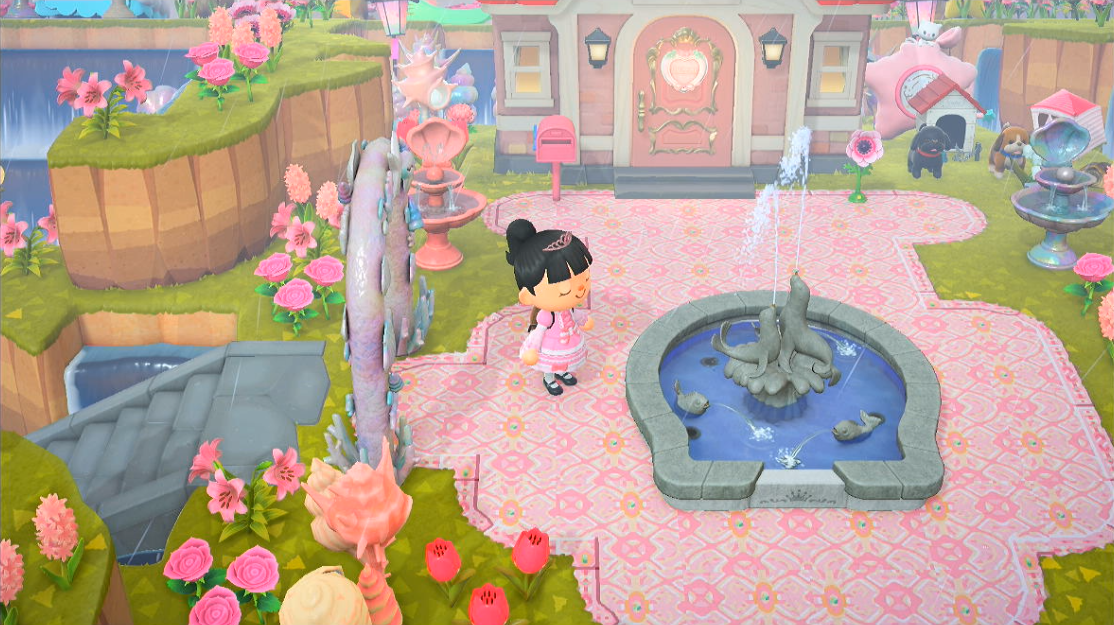 And I managed to get one of each sprout for my little farm. Nice for aestheticness, but pointless in terms of how many I'll need from crafting so shout out to all my friends who offered to help because they know how much I can't stand farming in games.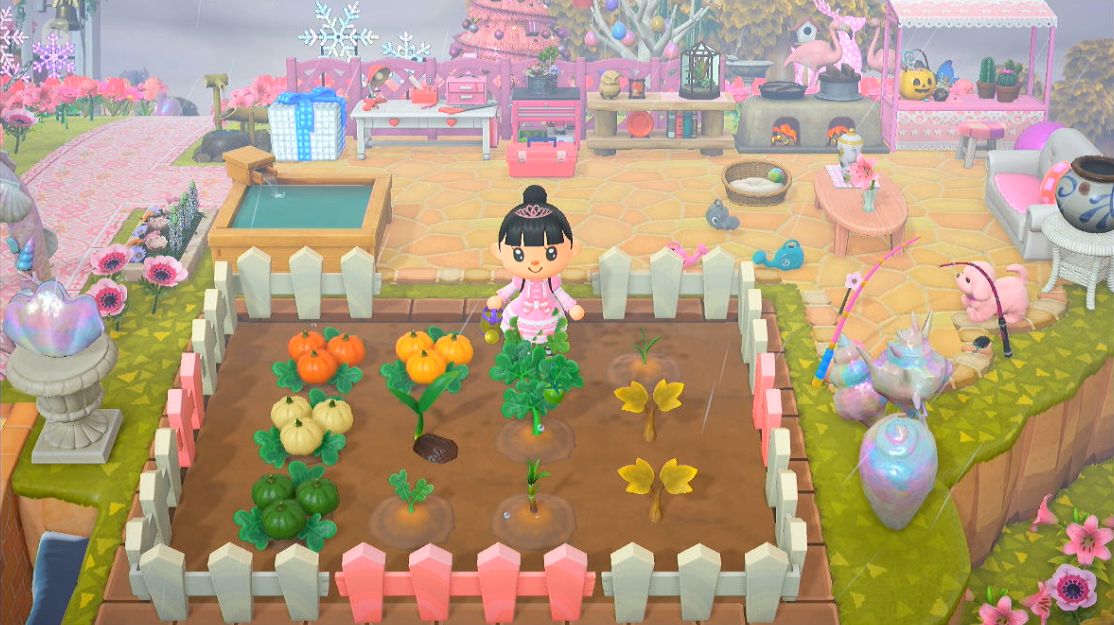 Finishing up with Gyroids thanks to some kind people, I also decided to just drop one here as an ode to the old days.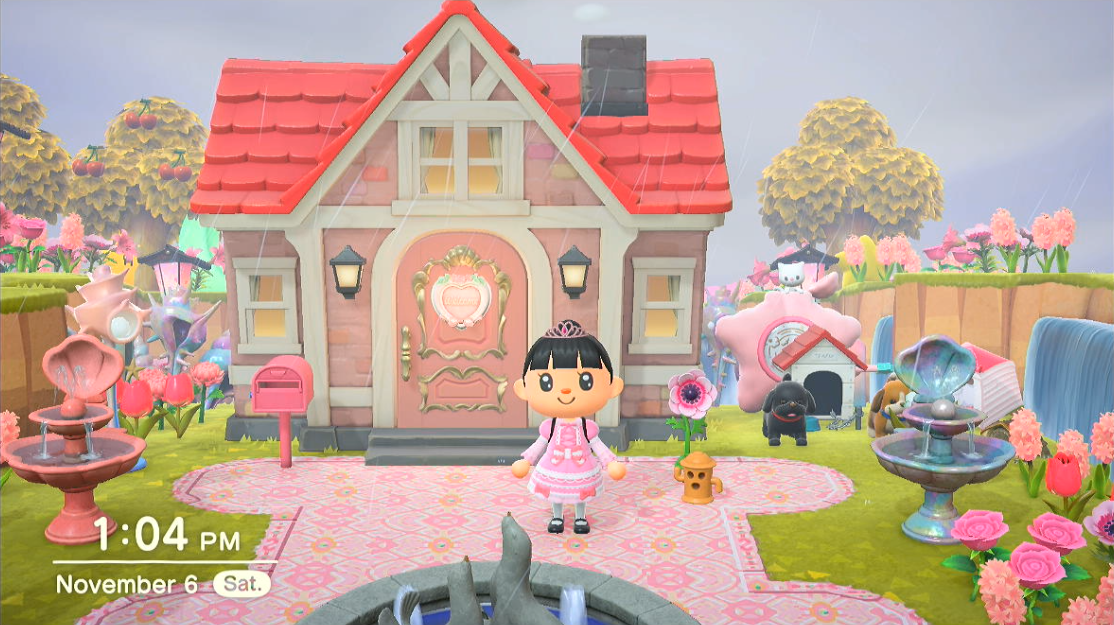 I then stopped by Resident Services as my loan was now complete.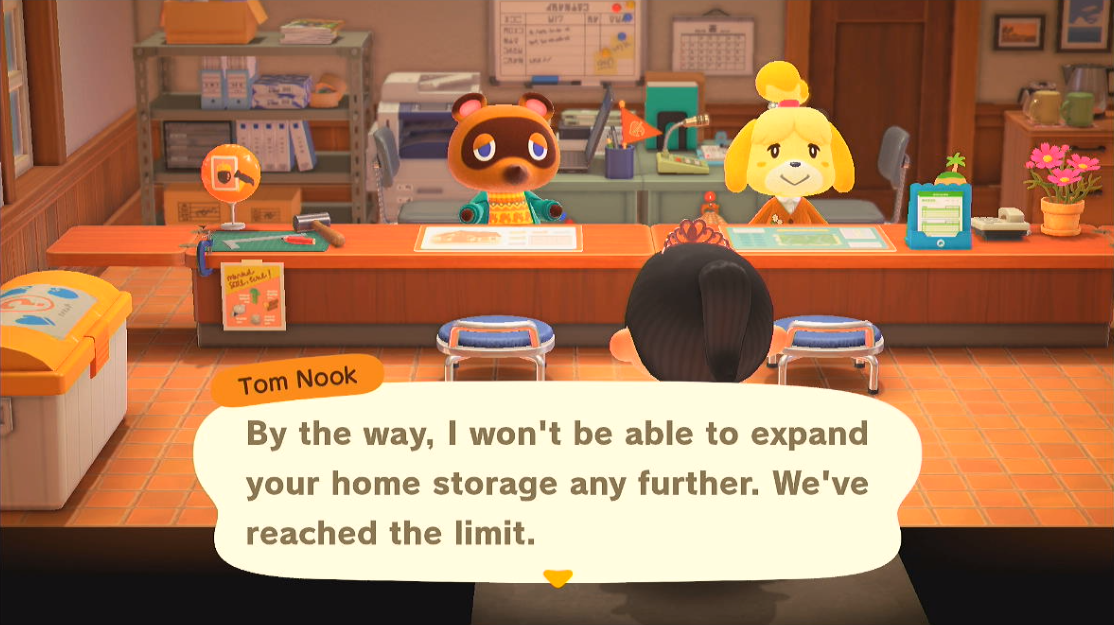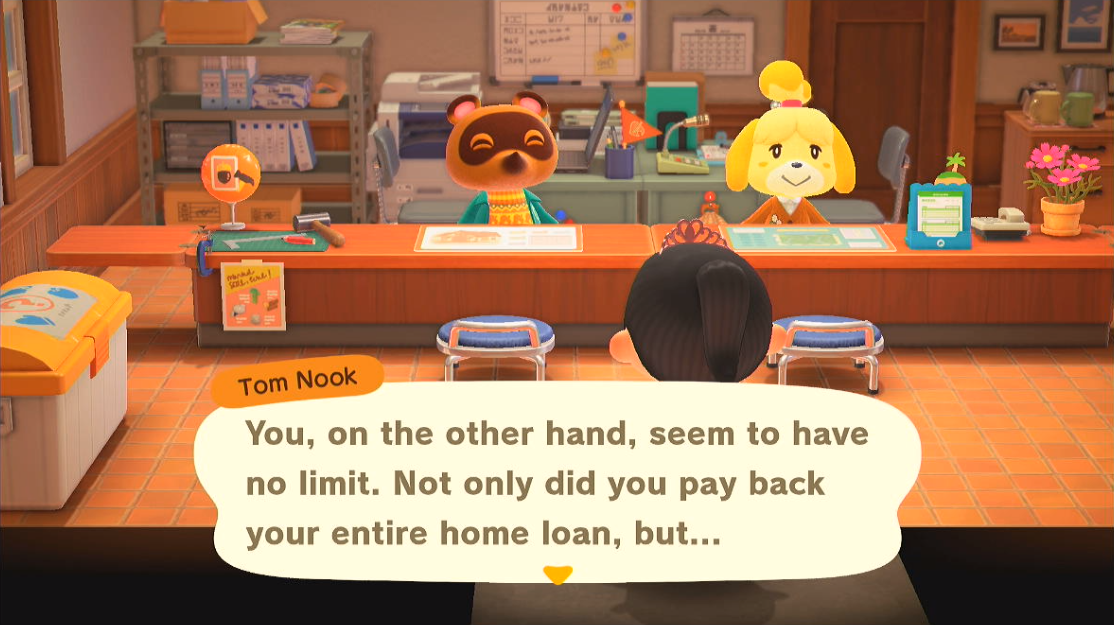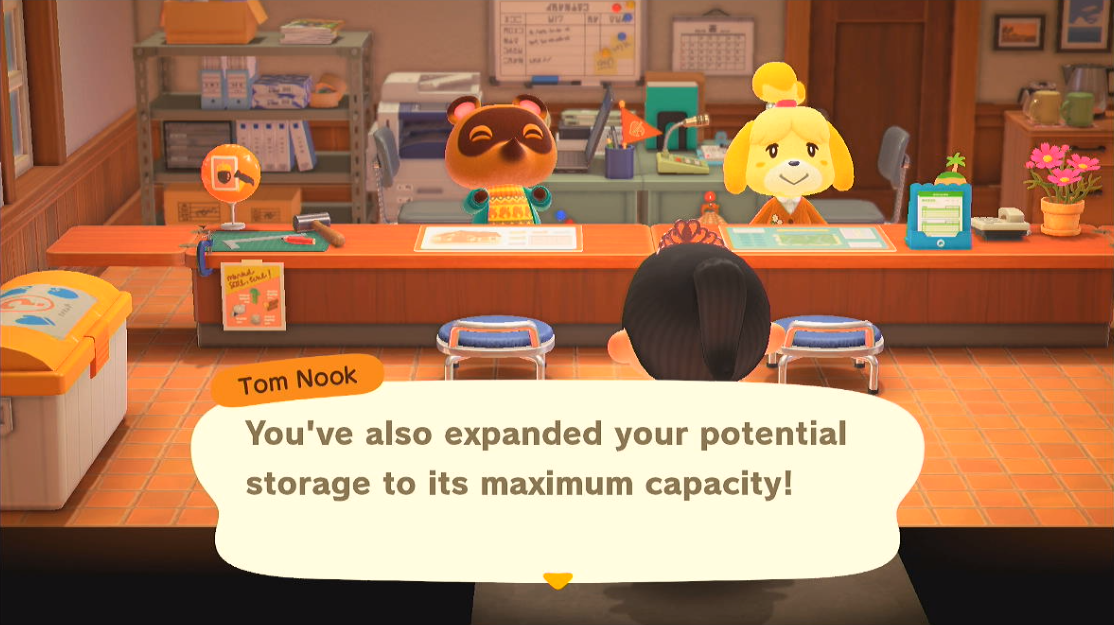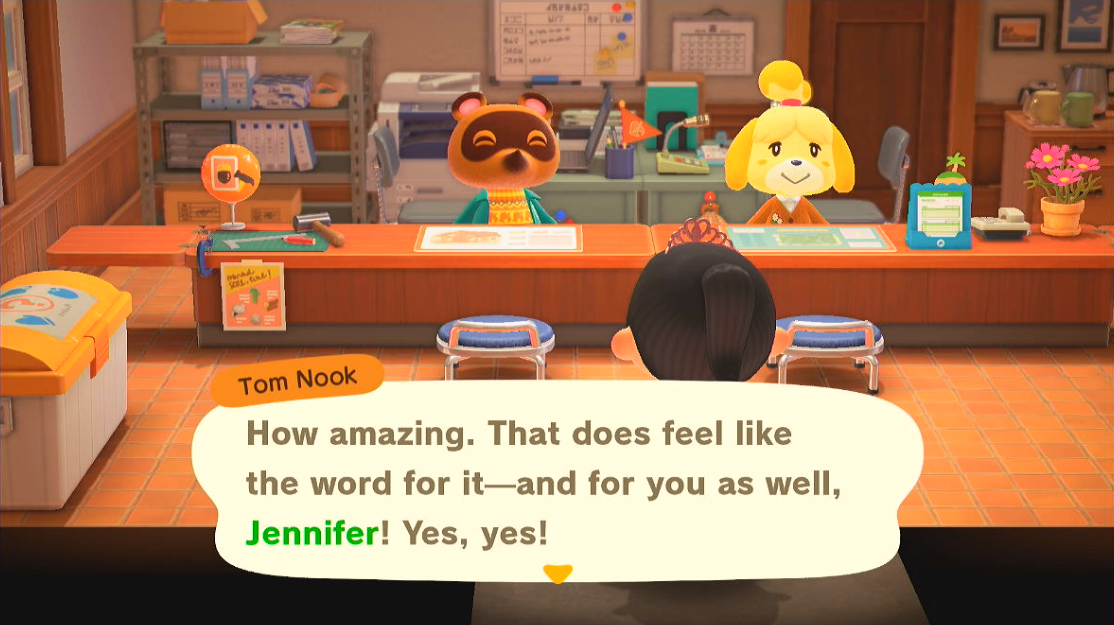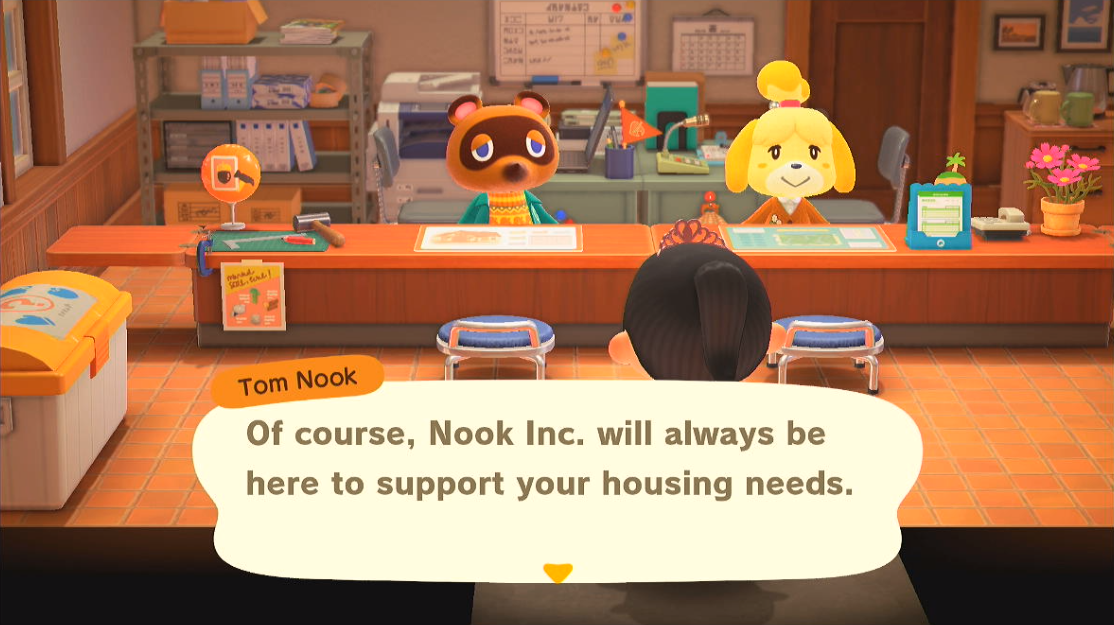 I also found out that the gift boxes you can deliver to villagers also can "timeout" like the lost items so I was able to finally have a gift box where I always imagined one since Balloon Gifts don't spawn high enough.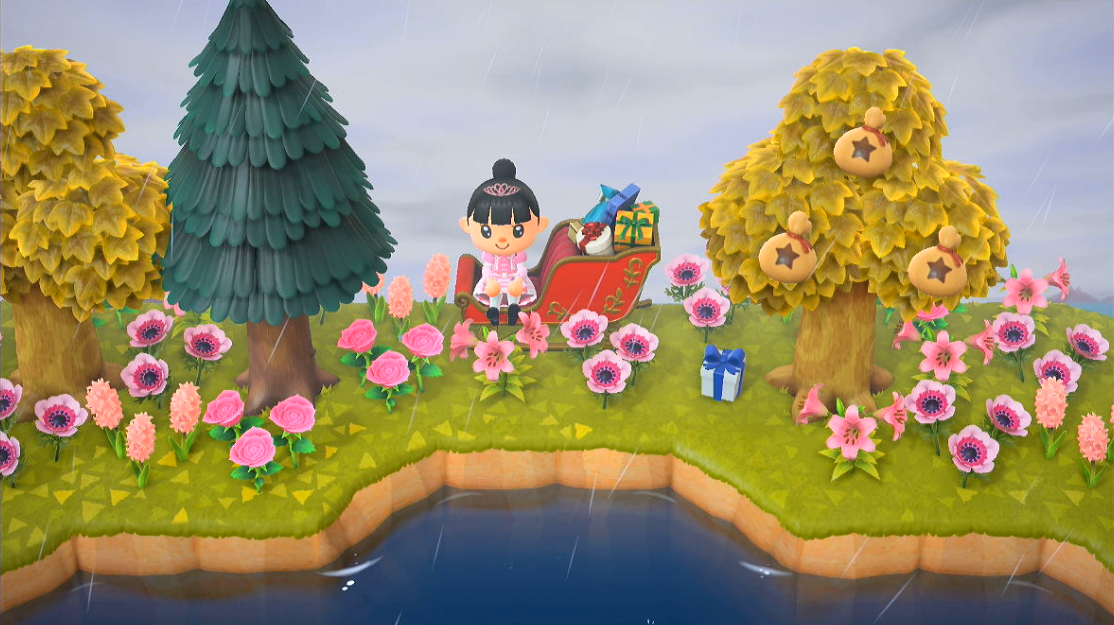 Over at Harvey's, Tortimer was now here!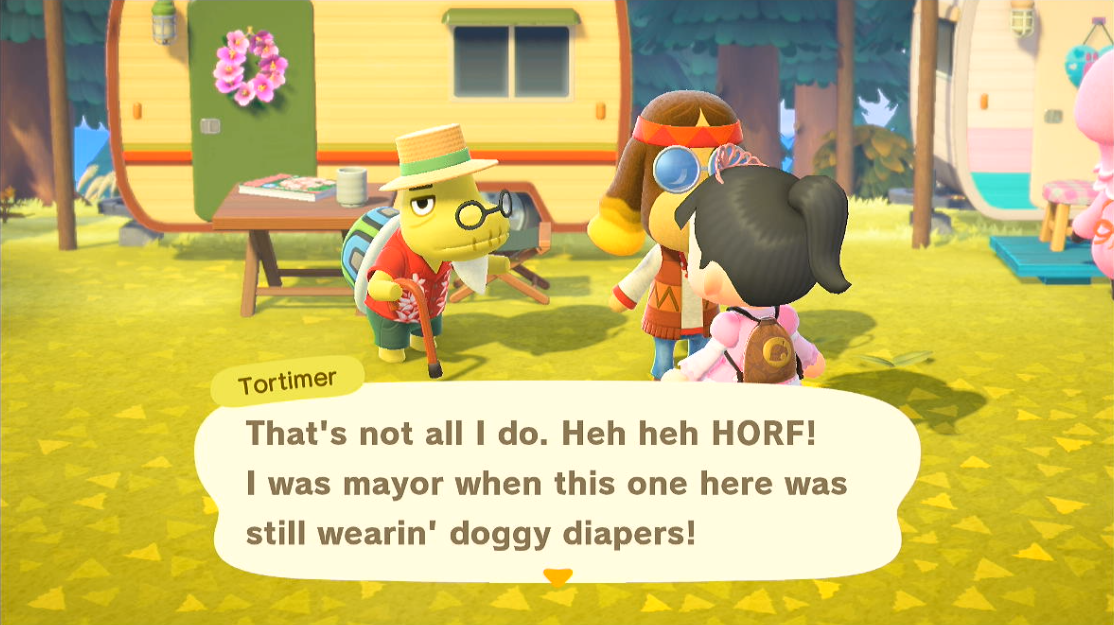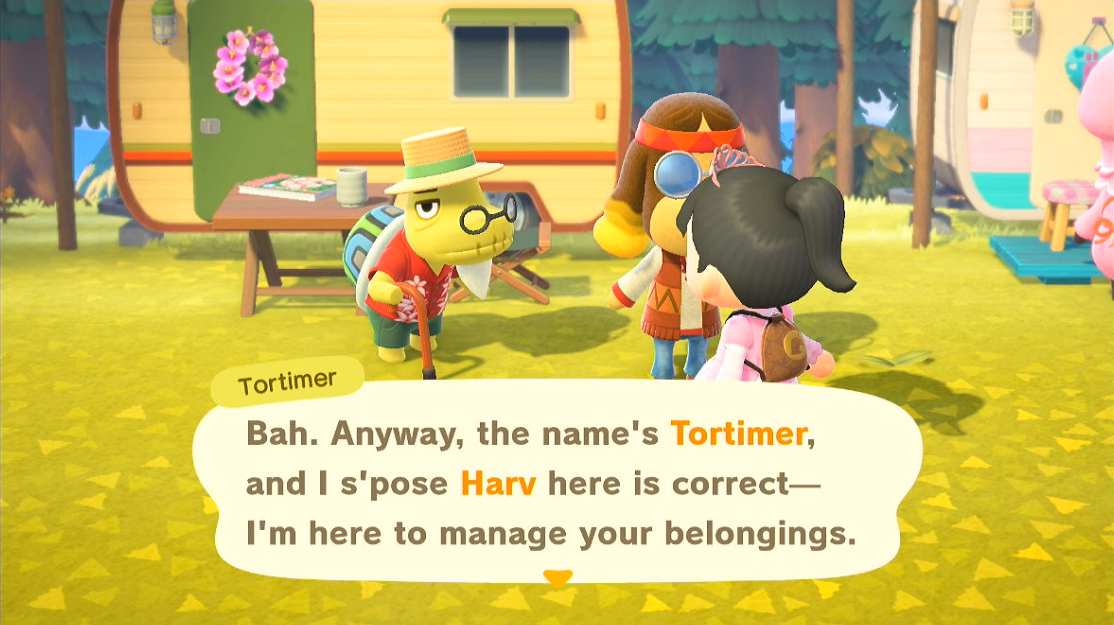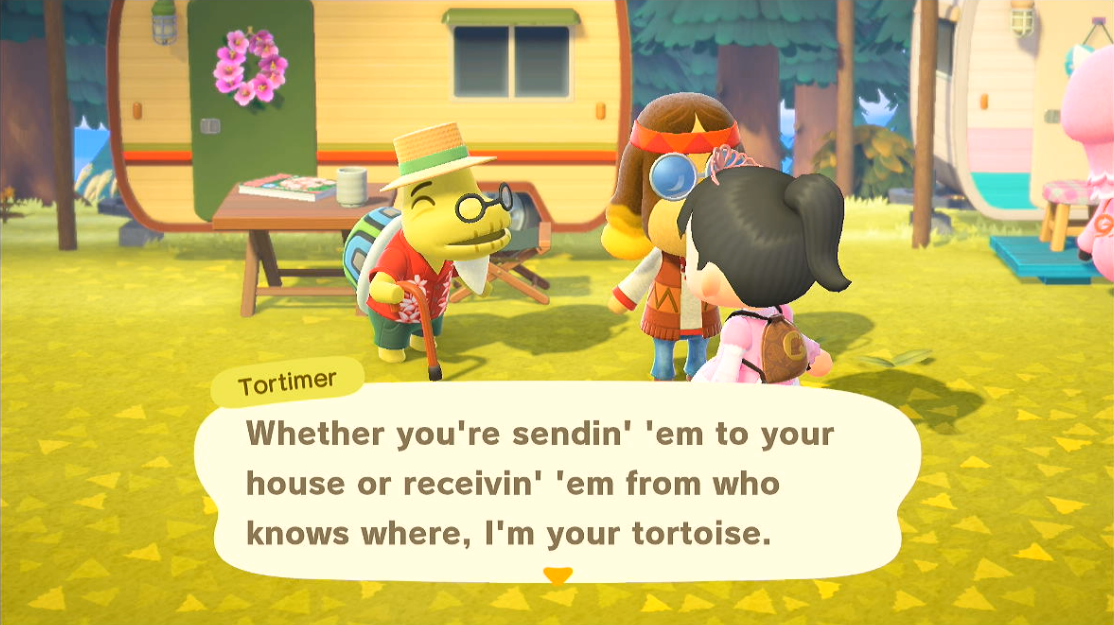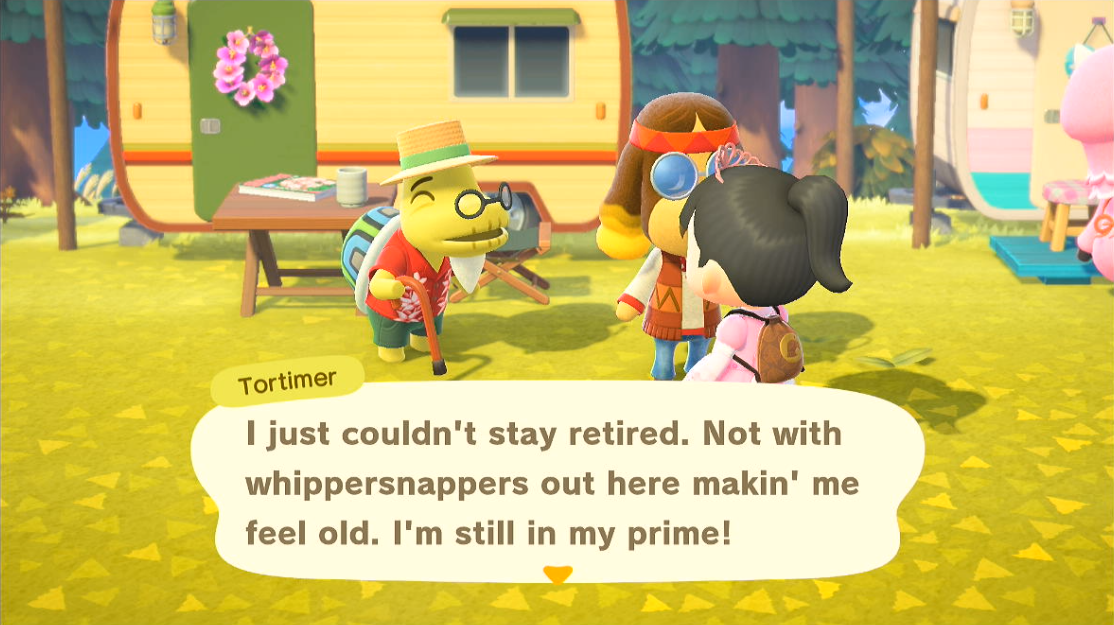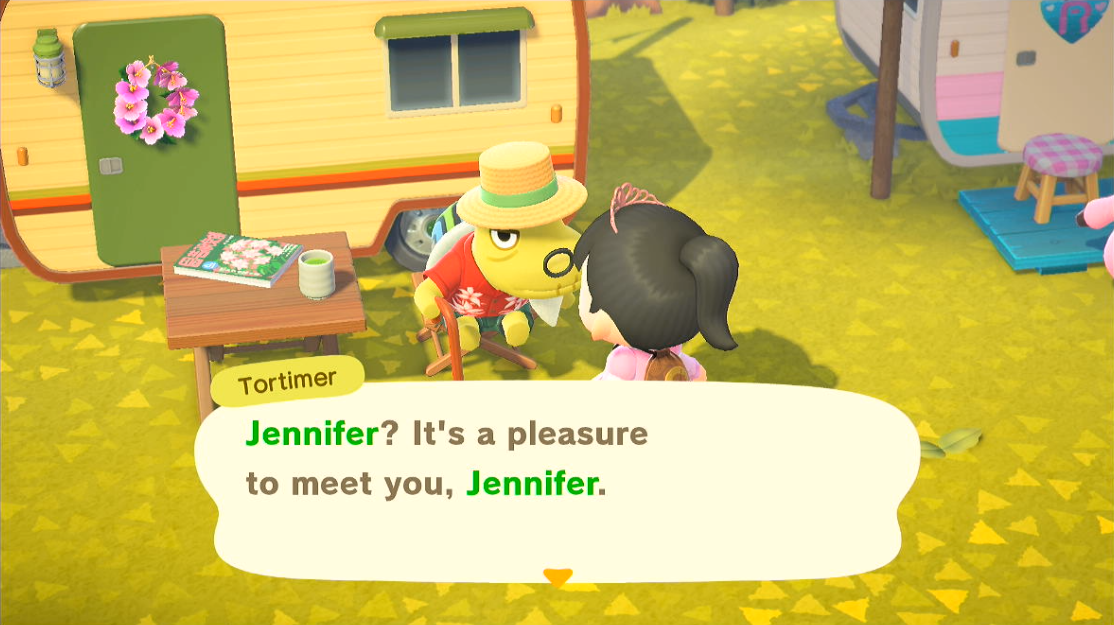 I get that we're always essentially a different person and not somehow the same character still around as everyone else gets older, but I have mixed feelings on it. I wonder if they ever think of us. I suppose more accurately I could just think of each game as its own reboot, but…
Regardless, the main theme of today was just… Little updates as I got new items to use around town. I'm not sure if all of them are permanent fixtures or not, but I think they look nice… Hopefully anyway.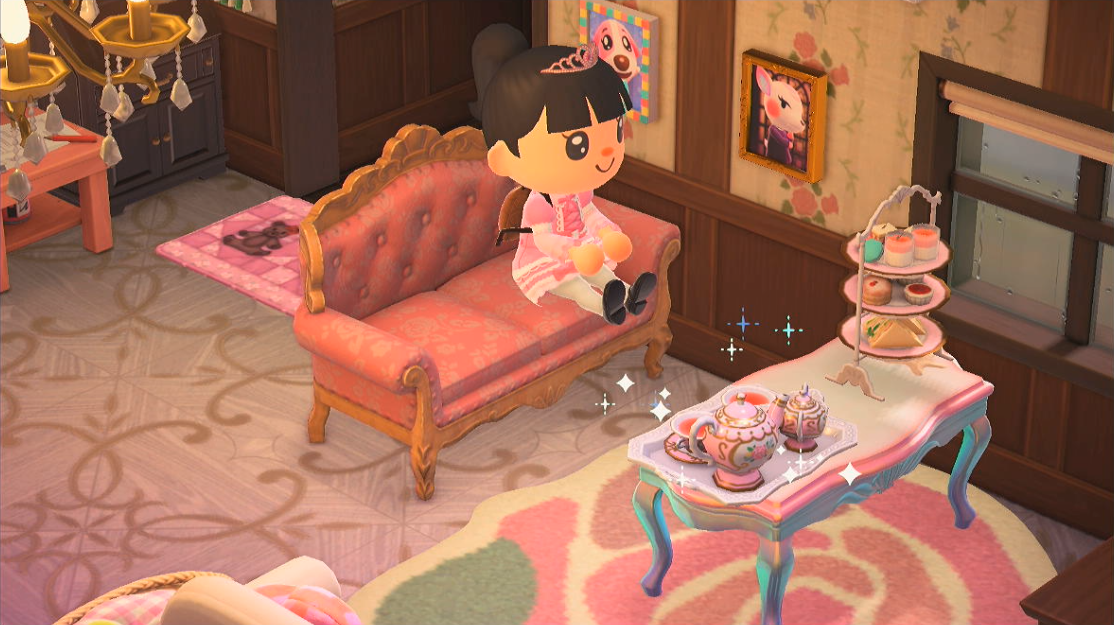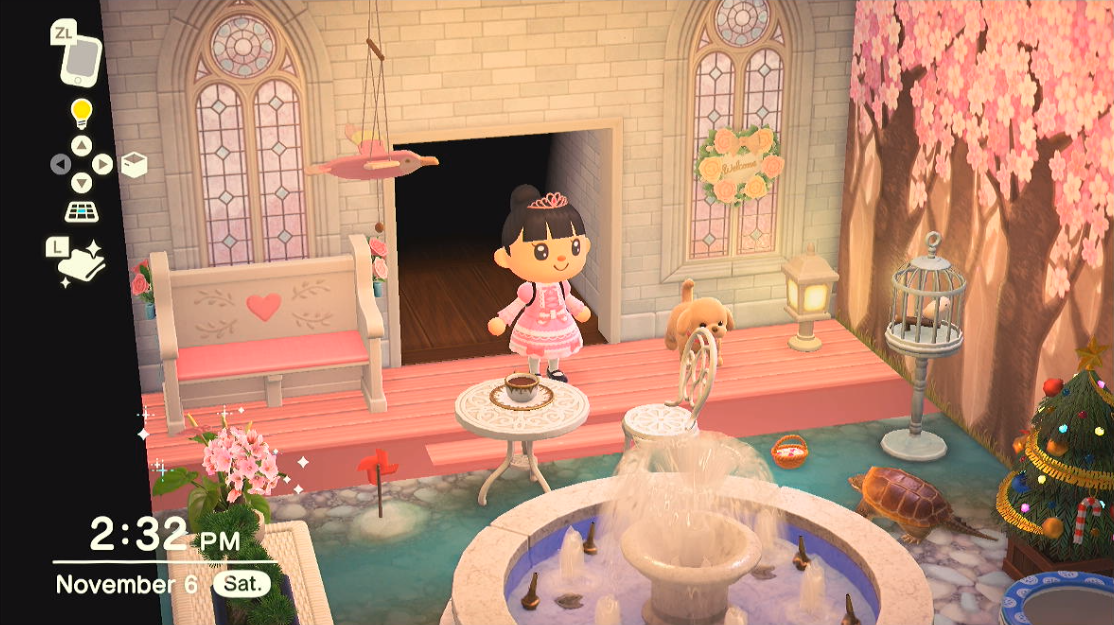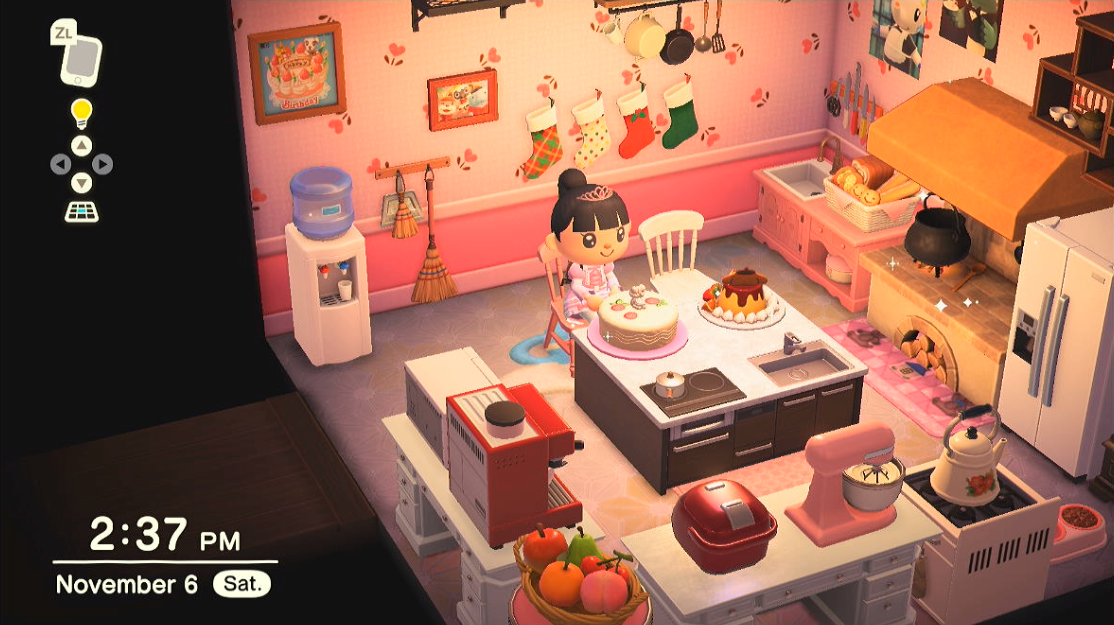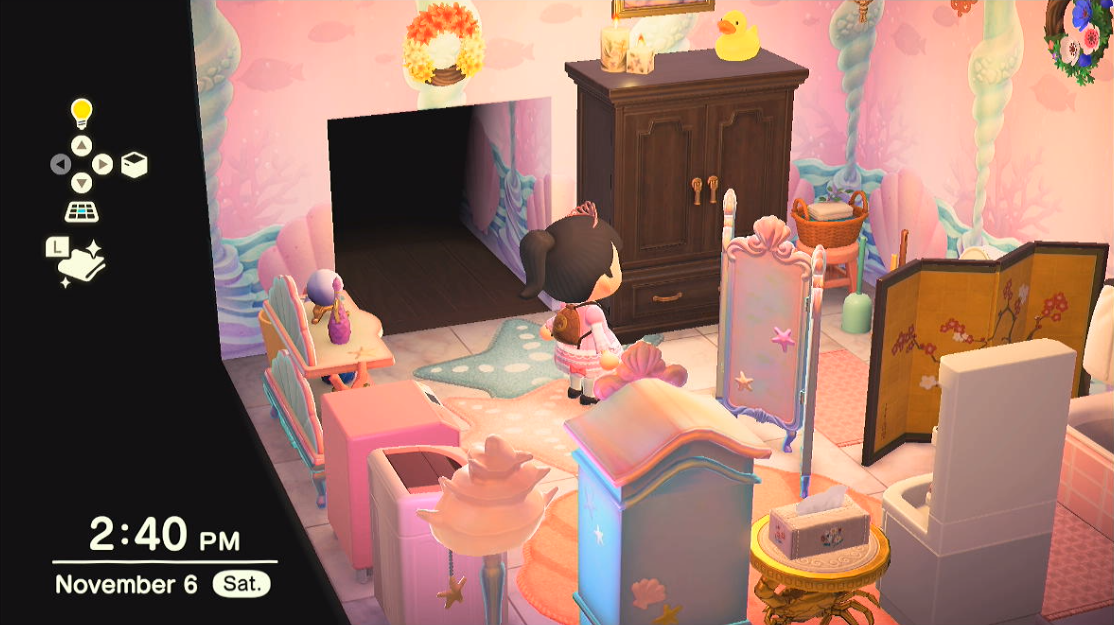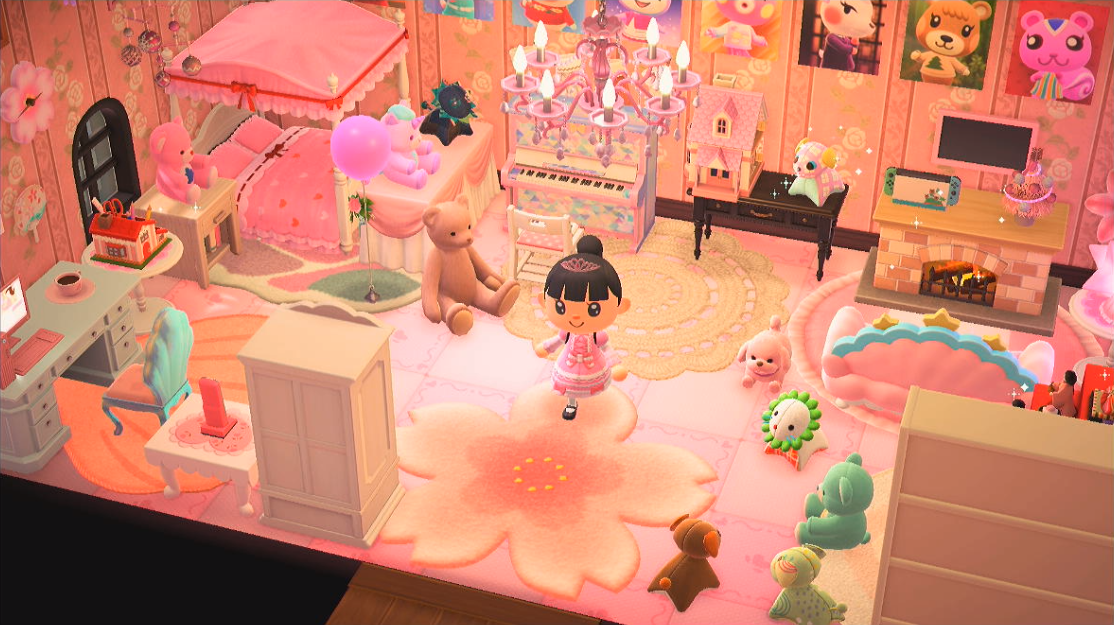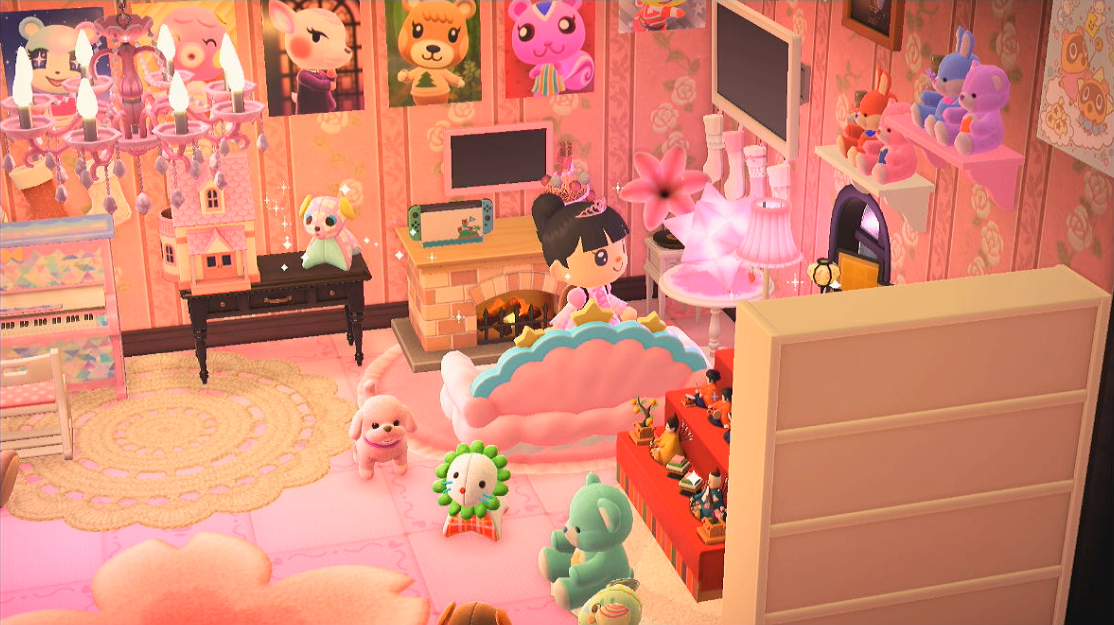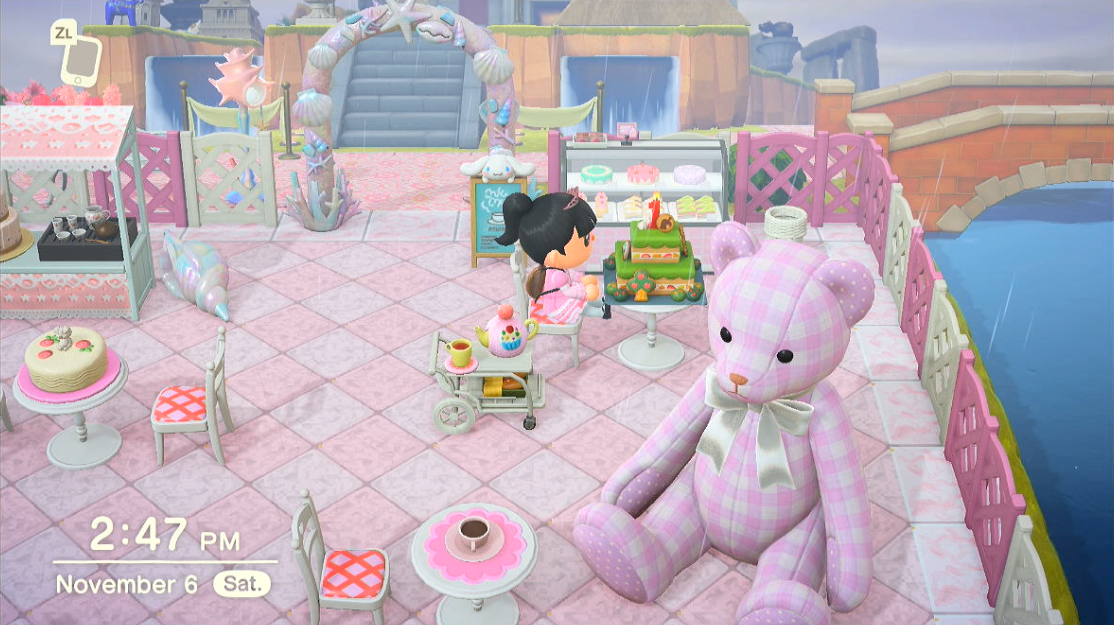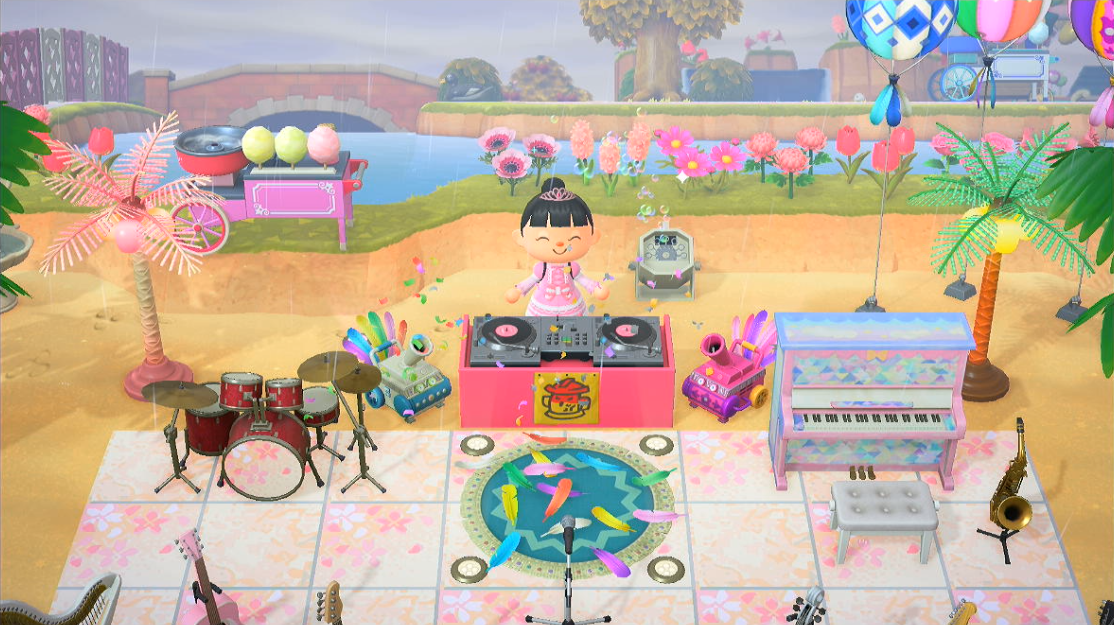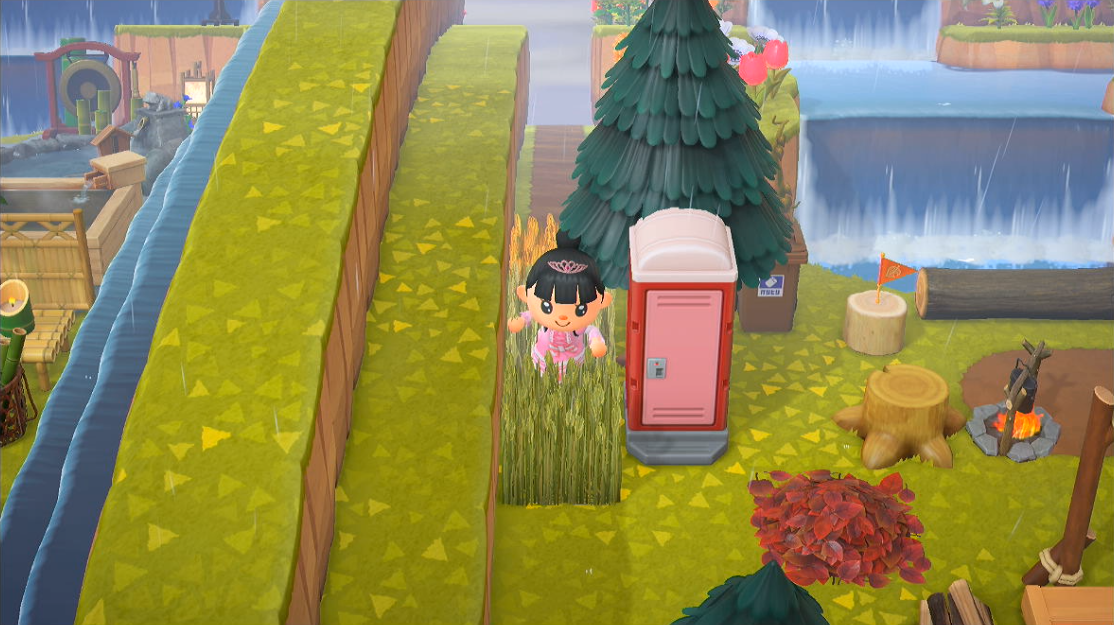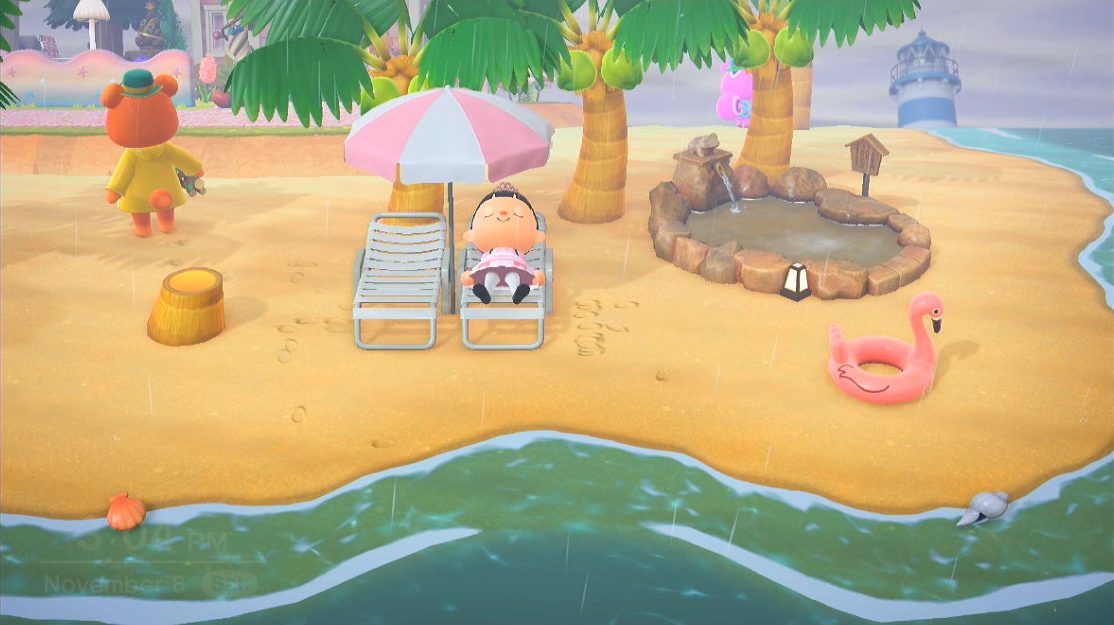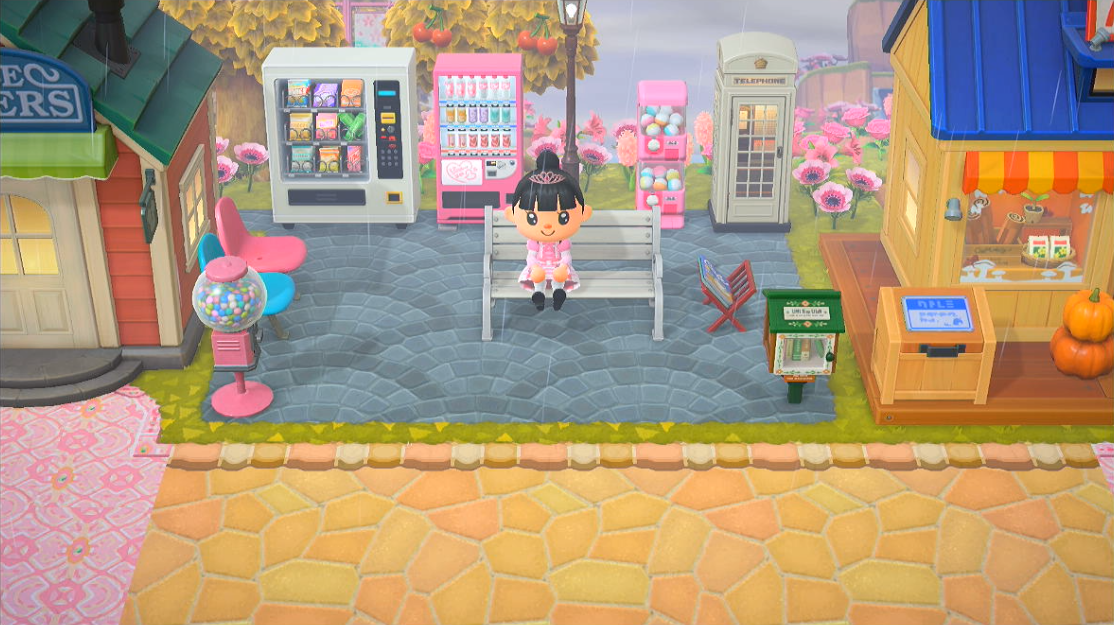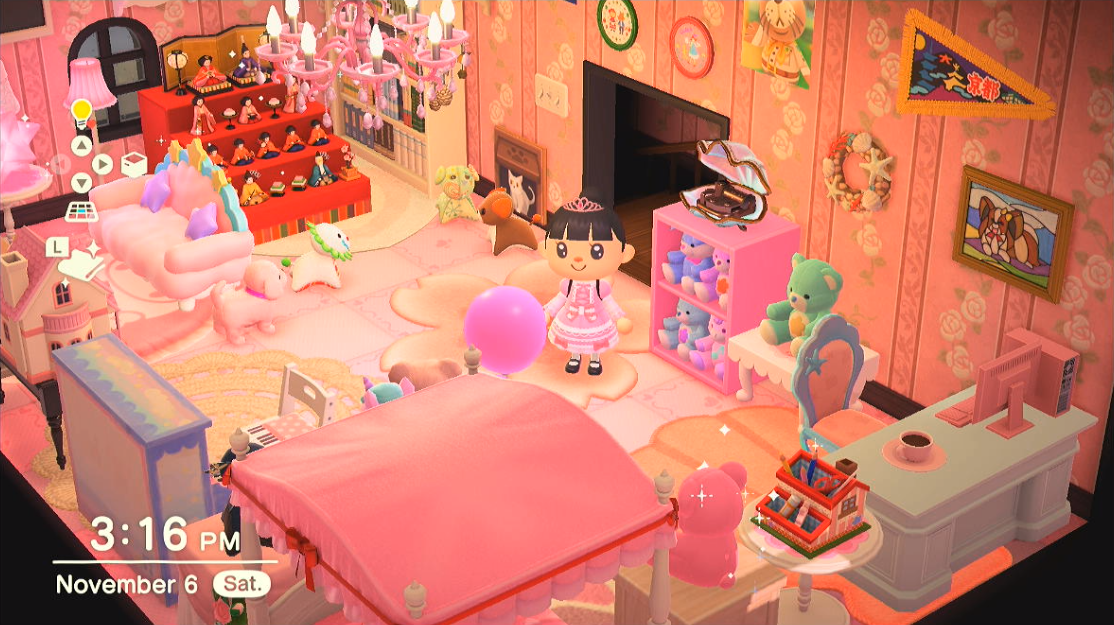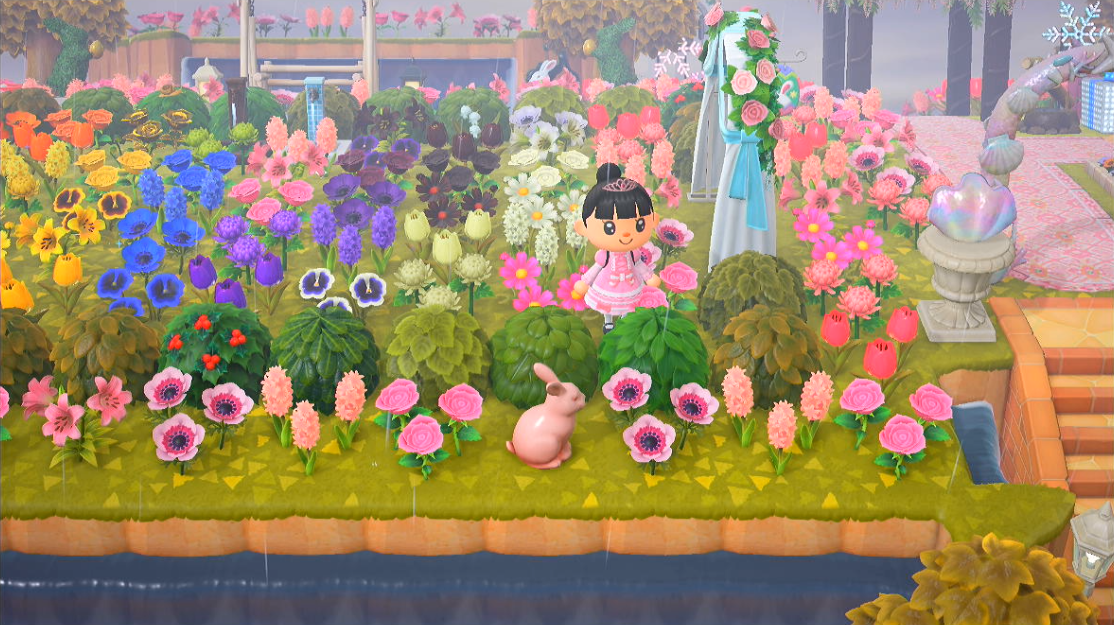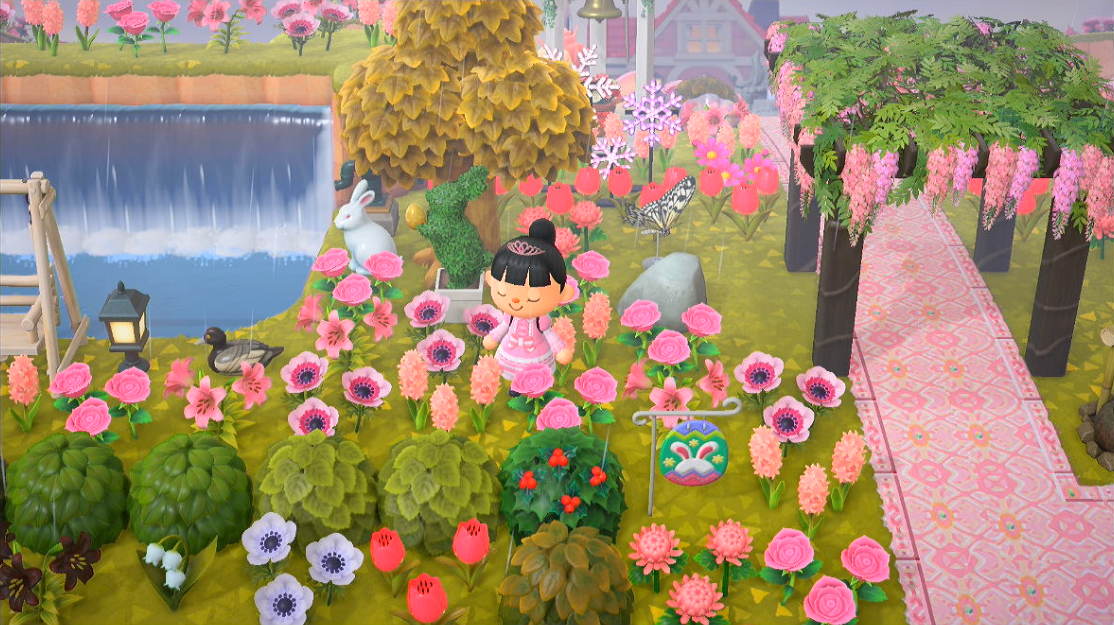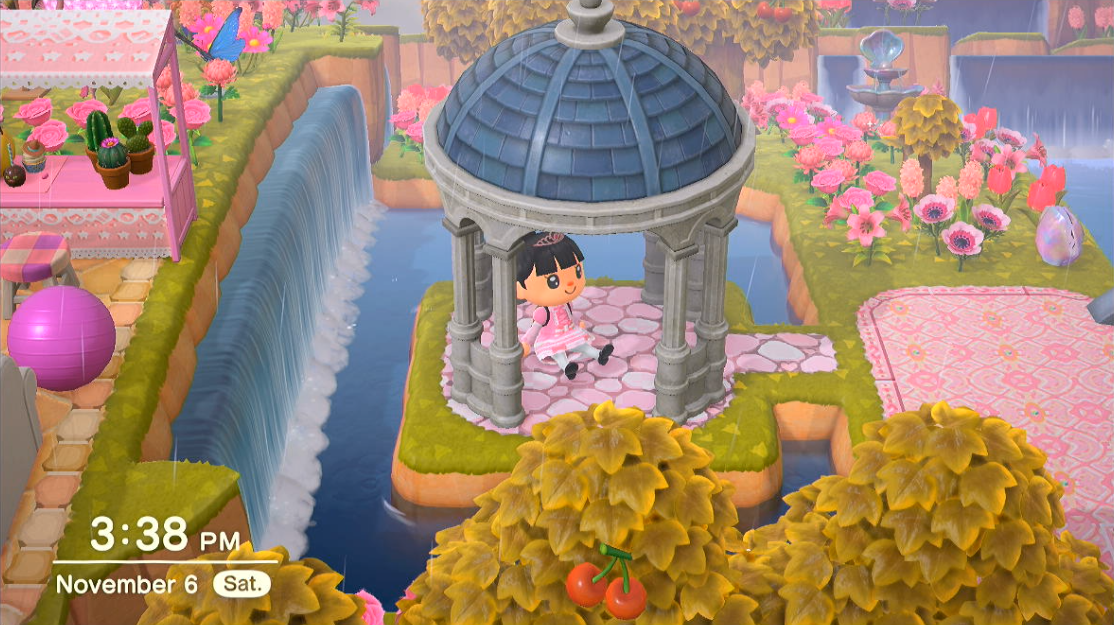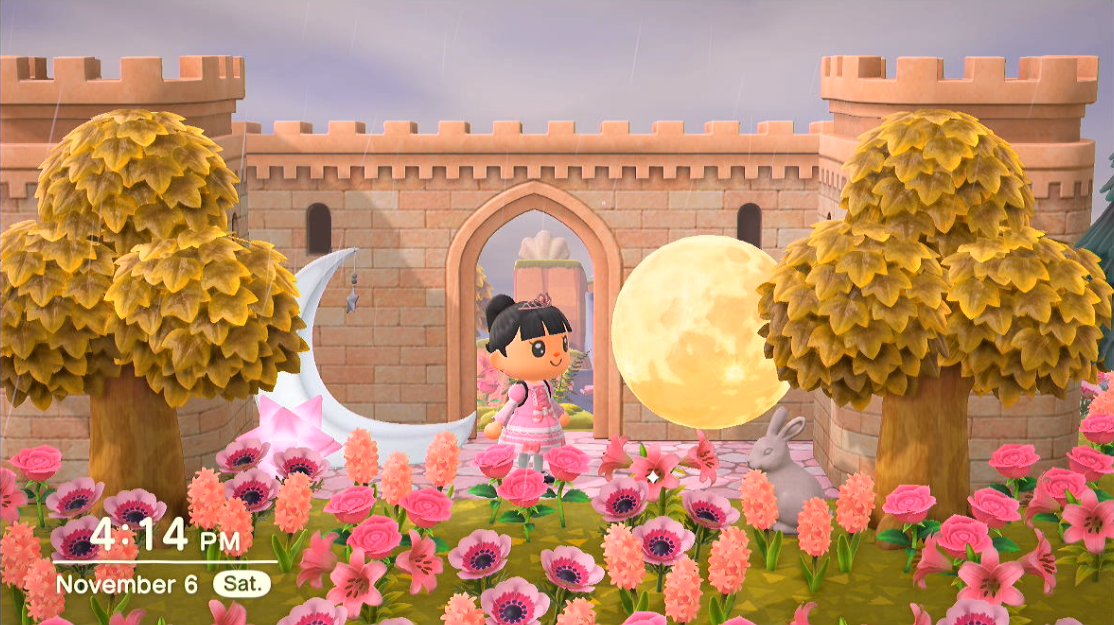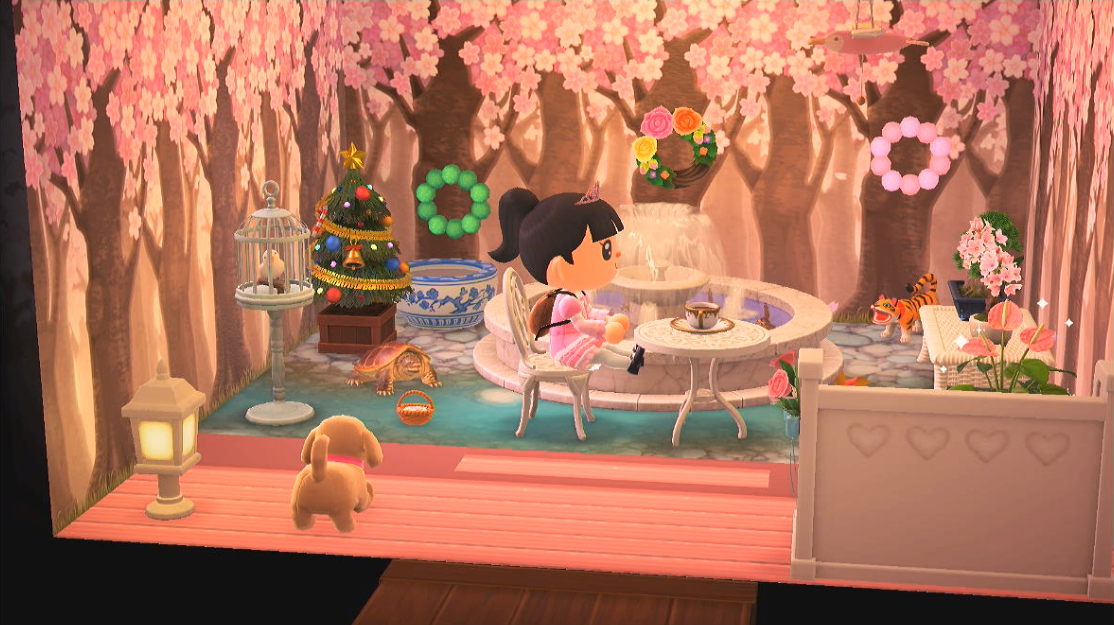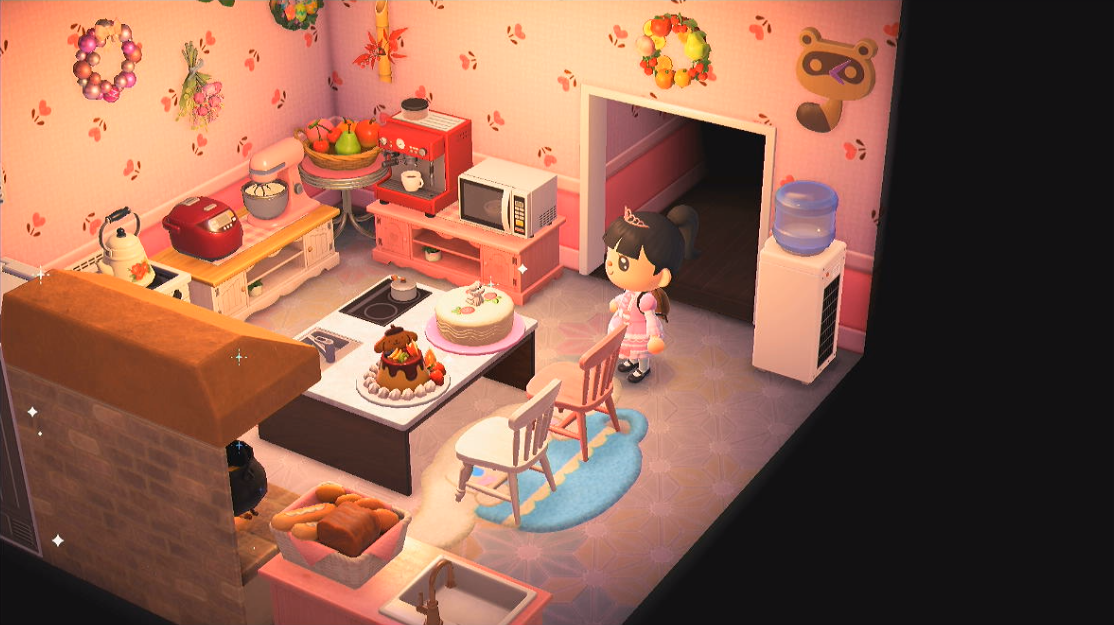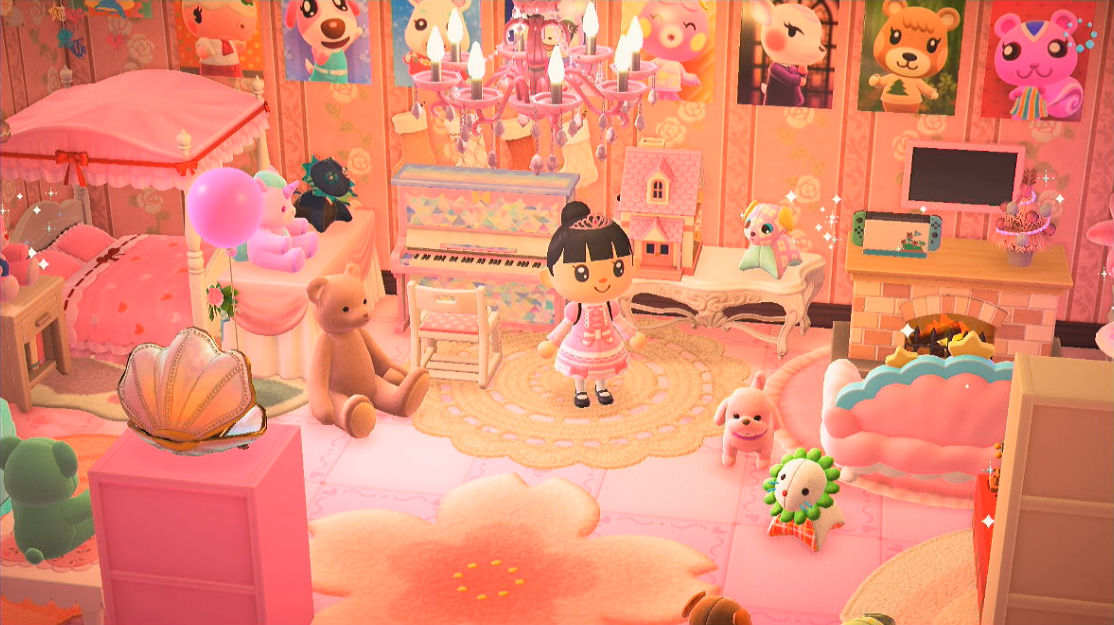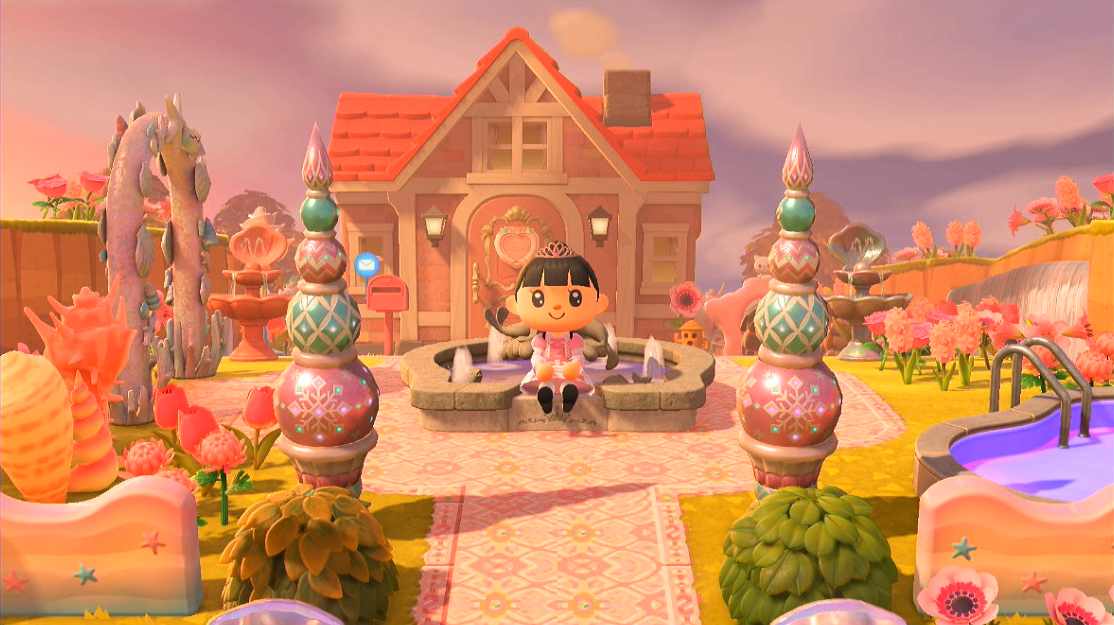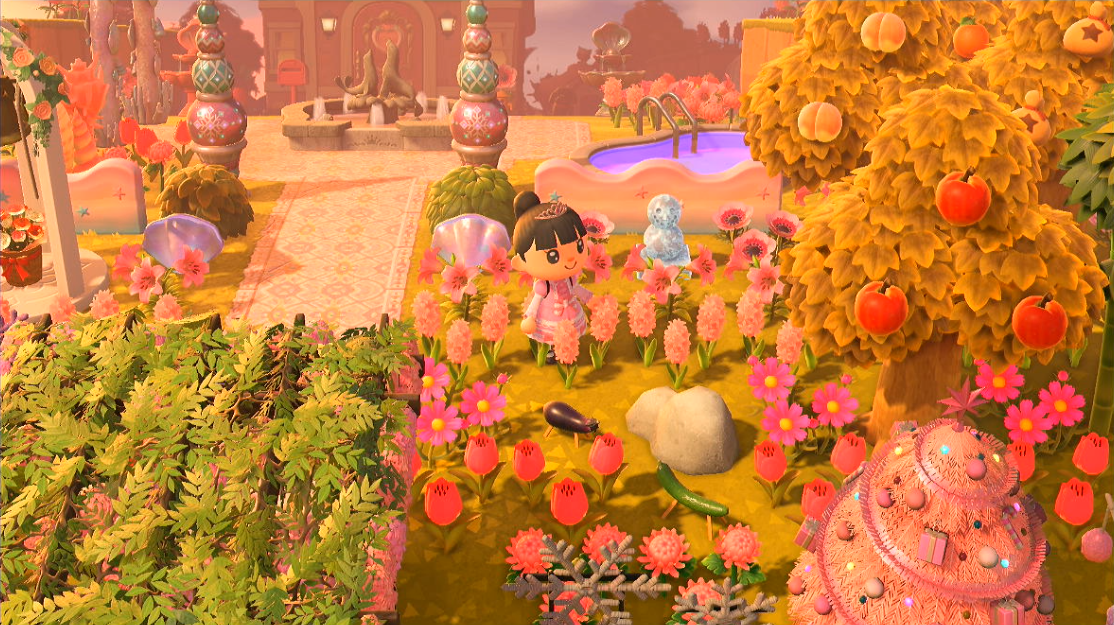 I really want to figure out how to rework two areas in specific plus figure out a couple of other things, but I have no idea where to start on those… Maybe I'll get some inspiration as I work on HHP. I mainly just keep thinking of how different my island may have been if so many items were in at the start for me to plan with. I don't really like tearing things down and starting over so it's just me trying to make things work and it's so frustrating.
In the meantime, this is essentially my quick craft set-up I carry around with me: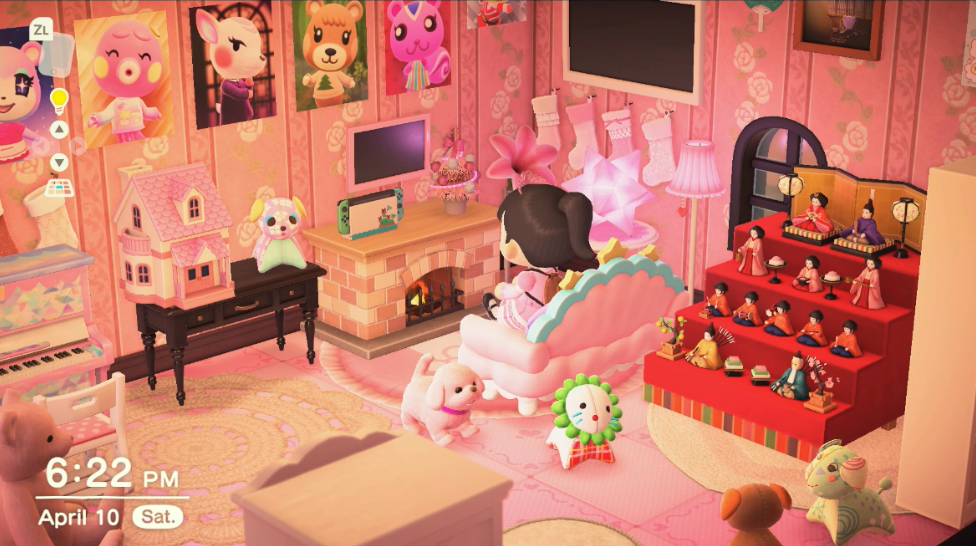 After that, it was a lot of just crafting and working on getting recipes done.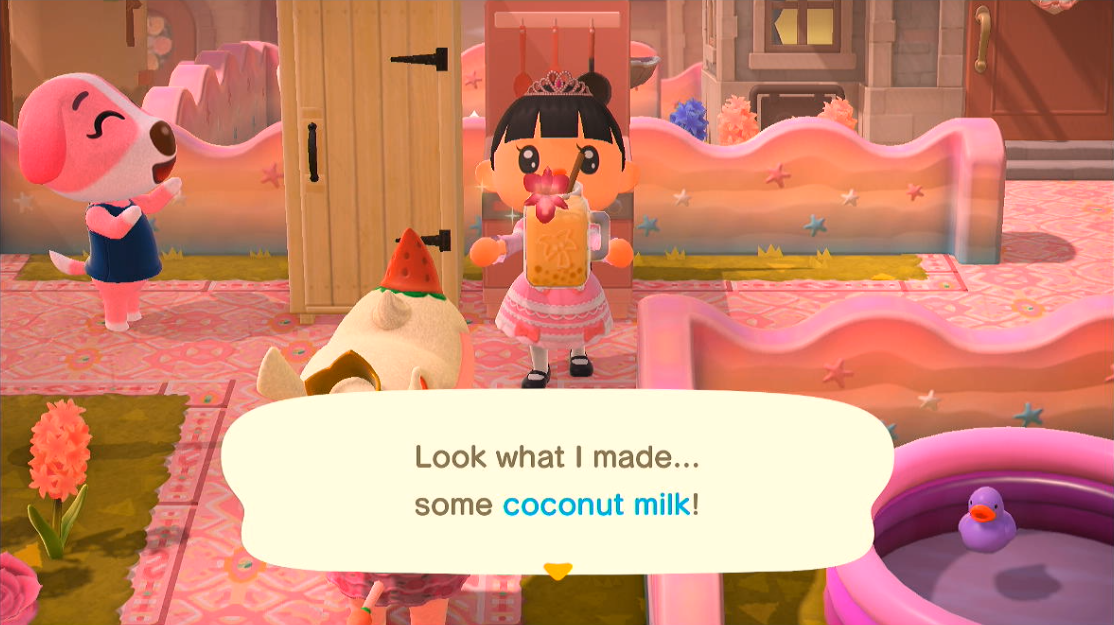 While I didn't manage to do anymore houses, I did at least stop by to do some shopping.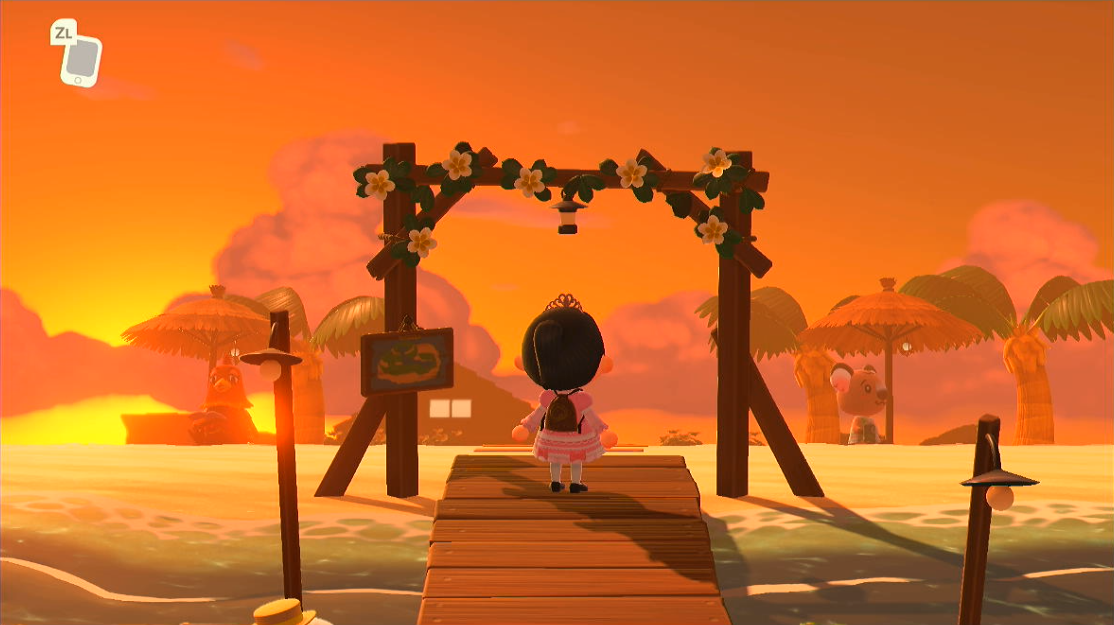 To finish off the day, K.K.'s concert! I had fun to all the new songs— I would say K.K. Bashment's is my favorite of the new batch.