Edit as of November 2022: Snowball is back up for sale! The only difference is the hang-tag colors.
If you saw my post about my favorite soft plushies or Cats vs Pickles Condo set-up video, you may at least have some inkling already about what I'm talking about, especially considering I went into a tiny bit of a tirade early in the video where I briefly address something that every single piece of merchandise hits at some point in their life: Price-gouging.
This is Snowball, a pure white cat besides the usual Screenprinted logo on the back: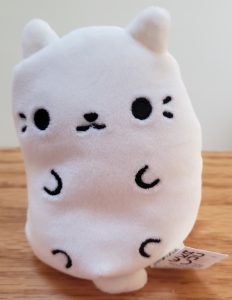 It was announced as exclusive and very limited along with how it likely would not be restocked about a day before it went up for sale on December 3rd. Snowball officially sold out in about 10 minutes, though people started seeing it saying it was sold out within 2-3 minutes due to the amount of traffic, besides just people who wanted Snowball for whatever reason whether it be personal, really liking the design, or due to collecting all Cats and Pickles (or just all the Cats), there were also those who wanted it solely because it was a limited release.
And since then, it's been rough as, unsurprisingly, some people were quickly selling them for $20-$40+, quickly hitting $50-$70, and most recently, over $100.
As for my reason for wanting to buy Snowball– it was a personal one, due to the nostalgia of me being a kid and often naming anything pure white "Snowball", the first horse I ever rode on being named Snowball, and the very first "perfect Snowball" I made that I kept in the freezer. It's a bunch of silly, but sweet, memories that upon seeing a pure white little Cat named Snowball, it was no question that I really wanted it and so as soon as it was up, I grabbed mine (pictured above).
I had considered maybe getting a second one (as there was originally a limit of three) for a personal project but decided to stick to just one so as many people could get one as possible.
Besides the initial shop stock, some were distributed to Learning Express stores which occasionally have exclusivity deals with Cats vs Pickles and another 100 were raffled off in the official Facebook Group where if your name was pulled, you'd get the option to buy one.
And of course, this brought up people asking if Snowball could ever return which always has the same usual argument: People who bought them for their "Limited Edition" moniker and/or had spent a lot to get them versus People who just wanted to see them return so others could get them (Usually those who missed out, but personally, I was also part of this group despite having one– I just like seeing more people happy).
Generally, the former is almost always catered to. I can think of one exception up to this point where, as someone who spent a lot for something, I was actually contacted if I'd be upset if the item in question was re-released and I was okay with it. And I still recall how surprised they were because they didn't expect me to be.
The official CvP account had mentioned a few times now that Snowball would come back in some way with various people discussing if it should come back with some changes (whether it be a different "form" such as a figure, chonk, jumbo, hugger, or even a reversible or a slight adjustment to expression or an addition) while others wanted it to come back exactly as is.
So, imagine my surprise when the official Cats vs Pickles account posts a statement essentially agreeing with that latter opinion– for Snowball to return due to their focus on "Inclusivity".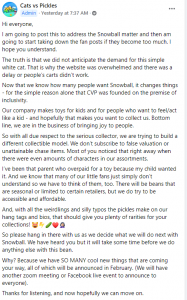 Transcript:
Hi everyone,
I am going to post this to address the Snowball matter and then am going to start taking down the fan posts if they become too much. I hope you understand.
The truth is that we did not anticipate the demand for this simple white cat. That is why the website was overwhelmed and there was a delay or people's carts didn't work.
Now that we know how many people want Snowball, it changes things – for the simple reason alone that CVP was founded on the premise of inclusivity.
Our company makes toys for kids and for people who want to feel/act like a kid – and hopefully that makes you want to collect us. Bottom line, we are in the business of bringing joy to people.
So with all due respect to the serious collector, we are trying to build a different collectible model. We don't subscribe to false valuation or unattainable chase items. Most of you noticed that right away when there were even amounts of characters in our assortments.
I've been that parent who overpaid for a toy because my child wanted it. And we know that many of our little fans just simply don't understand so we have to think of them, too. There will be beans that are seasonal or limited to certain retailers, but we do try to be accessible and affordable.
And, with all the weirdlings and silly typos the pickles make on our hang tags and bios, that should give you plenty of rarities for your collections! 😻⚡️🥒❤️🤦🏻‍♀️
So please hang in there with us as we decide what we will do next with Snowball. We have heard you but it will take some time before we do anything else with this bean.
Why? Because we have SO MANY cool new things that are coming your way, all of which will be announced in February. (We will have another zoom meeting or Facebook live event to announce to everyone).
Thanks for listening, and now hopefully we can move on.
Peace, Love and Beans!
In a world where the common thing to see is limited time stuff, whether limited in number or being a new thing every month, it's essentially a constant at this point. Even Kickstarters are often filled with some kind of Exclusive item (or several) that are only for those who backed or Patreons with monthly clubs and it's rare to not see that anymore.
And yet here is a toy company flat out saying how seeing how so many people want it, the limited moniker isn't worth it. It's so refreshing to see and such a rare stance that I REALLY hope other places look at this and realize you can make a difference and still be profitable. Seasonals are still a good compromise (and it sounds like those could return as well so those who don't want to wait can pay more, but others can hope to catch them when they come back around) and even Store Exclusives aren't awful when people work together and help one another.
Even the blind bags are confirmed to just be stocked evenly (though, only so much can be done about how the batches get produced… That's all on where they are made) there's not a single one that is rarer than the other. They are all produced in the same numbers. And it's really nice! Obviously, some will always be more popular than others, but this feels like such a nice stance to take and I really hope it could encourage other things to follow along in the future.
And it definitely encourages me to want to continue to keep an eye on the product in the future. With Toy Fair 2022 next month, I'm sure we'll see some new announcements soon and I'm looking forward to seeing who I may want next.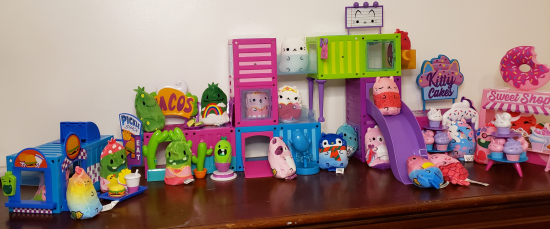 (This is maybe about a third of my actual full collection, but I love them all)
Edit as of July 14th, 2022: Cepia LLC has officially announced that Snowball truly will be back this year, just with a different tag. You'll be able to buy it at MSRP and it will be out alongside a special story on Santa.com called "How the Gherkins Stole Christmas". I am SO happy for those who initially missed out.