Brownies are probably the recipe I've cooked the most different kinds of. I can't necessarily say why–I would guess I'm looking for the perfect brownie, but I wouldn't be able to tell you what makes the perfect brownie as when it comes down to it, I just really like brownies.
Brownies are probably my favorite dessert and are often the one I choose when going out to eat (Especially if said place tends to have home-made whipped cream on their brownie sundaes). Despite that, I rarely have whipped cream on my brownies at home–I don't know if I would have whipped cream on them more often if I made whipped cream more often, but I usually just enjoy the brownie as is.
As for the brownies I made yesterday evening, I once again did the half nut, half no nuts method as it makes my entire family happy (My father and sister preferring nuts while my mother and my fiancé prefer no nuts) and since I enjoy both, it's a win-win.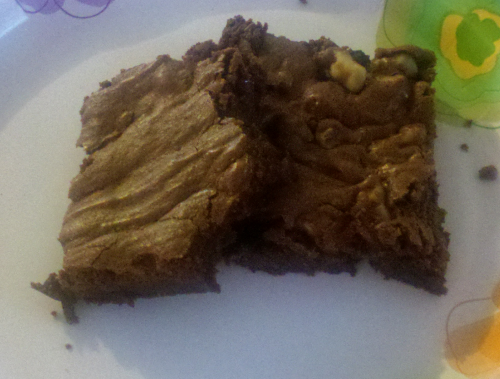 I enjoy the chocolate-y goodness of the no nuts, but also like the nuts as I feel it gives a nice break when a brownie could be too rich. I may really enjoy chocolate, but I still prefer something light to really heavy.
I have a feeling I'll make these brownies again, but whether that is the next time I feel like brownies or experimenting more, we'll have to see!
Ingredients
1 cup Butter (or 2 Sticks), softened or melted – Personally I went somewhere inbetween–some melted, but mostly softened!
1 1/2 cups Brown Sugar
1 1/2 cups White Sugar
1 tablespoon Vanilla Extract
4 Eggs
1 1/2 cups All-purpose Flour
1 cup Unsweetened Cocoa Powder
1 teaspoon Salt
1 cup Semi-sweet Chocolate Chips
1/2 Cup of Walnuts (Optional) – Feel free to use up to 1 cup of nuts or even a different kind of nut if you'd like!
Directions
Preheat the oven to 350 degrees F (175 degrees C). Lightly grease a 9×13 Pan/Baking Tray.
Combine the butter, brown sugar, white sugar, and vanilla extract in a large bowl. Once blended, beat in one egg at a time until everything is combined.
Sift the flour, cocoa powder, and salt in a bowl. Slowly stir the flour mixture into the egg mixture until blended.
Stir in the chocolate chips and, if you have chosen to include nuts, your chosen nuts.
Spread the batter evenly into the prepared baking dish.
Bake in preheated oven until an inserted toothpick comes out mostly* clean (Should be 35-40 minutes). Remove and let cool.
*Since there's chocolate chips in them, they will still be a bit gooey. Make sure to check if it's the brownie itself or the chocolate chips before putting it back in as you don't want to overcook them!
While most people recommend cooling on a Wire Rack, I actually don't have a Wire Rack so I cut it vertically (six cuts) and let it cool that way before cutting it horizontally as well.