Day 0 is partially because while it is a new week, I would say Thursday is technically the actual start. Either way, it's time for more conferences– I would say I don't have any actual things I'm hoping to see beyond maybe the date for Disney Dreamlight Valley's Early Access, but otherwise, I'm just here to enjoy the ride :)
As always, while I do watch everything, I didn't include anything where I just found I didn't have much to say.
---
Black Voices in Gaming
Grid Force – Mask of the Goddess reminded me a bit of Megaman Starforce with the gameplay style. I always find recruiting mechanics pretty fun (and feel the need to recruit everyone), though, I'm curious if there is a limit to how many you can recruit.
---
OTK Games Expo
Neodash looks really cool. I just really like racing games, okay?? I hope I can have a pink car.
ARTO seemed really interesting. I'm not sure if it's necessarily my kind of game, but the concept itself was really cool.
I was also intrigued by Below the Stone. While I'm not too big on the actual combat parts, I just… like the idea of just digging, exploring, and collecting stuff. Regardless, since it describes itself as a "punishing pixel art roguelike", it may be a bit too much for me.
Every time Dorfromantik shows up, I find it show intriguing, but I feel like I tend to be so bad at these types of games, I'm not sure how well I'd do. The graphics are so pretty though. And I do love building cute worlds.
Cat Box Paradox also looked really cute (and the name is fun to say), but I know from past experiences how bad I can be with quick switching– I just so easily panic and hit the opposite of what I need to every time.
Fueled Up looks neat, though also very hectic. Could be fun to play with my husband though. After trying the demo though, I'm kind of scared of how much harder it can get. It's definitely something that just… really does need more people despite being playable with less.
RoboCo also looked really cute. I really enjoyed the trailer music as well.
Ages of Cataria looks really interesting, though I think I'd cry every time someone passes away. I have no idea how I'll decide between Humans or Elves for the Ancestry though… Why can't I pick both? T~T Though, knowing there's Crowd-funding exclusives is really disappointing. I really hate when games do that :/ I feel like a lot of Developers just completely overlook how much people enjoy customizing things and collecting stuff and having those time limited is a huge way to alienate those players.
Still excited for Harmony's Odyssey. Have been looking forward to it since I first played the Demo.
Escape Academy was another Demo I played and really enjoyed. The only real complaint I had was that it's split screen when I think screen in screen would've worked better or being able to toggle the split screen on and off. I did like seeing what he picked up, but it just took up so much of the screen that it felt obtrusive more often than useful.
I think the biggest surprise for me though was that this Showcase was actually 5 hours. I don't think any other one will be as long unless it's a bonus gameplay showcase after the initial presentation like Nintendo Treehouse.
---
Summer Games Fest Kick-off
For the most part, there hadn't been too much I was interested in. I was surprised to see a Goat Simulator 3 though… I don't think there's even a 2. 3 feels a lot more violent though over just… silly chaos.
Midnight Suns still looks interesting, but I feel like we haven't seen enough gameplay to really see how it all works.
Still really intrigued by Zenless Zone Zero from a mystery standpoint, but no clue if the gameplay will be fun for me or not by the glimpses alone.
Even if mostly nostalgia, I honestly always love seeing Teenage Mutant Ninja Turtles pop up.
Saints Row has never really been my type of game, but I appreciate all the customization options.
---
Day of the Devs
Planet of Lana looks so pretty. I really love the music and the cute little pet.
Still really excited for Escape Academy. The rat being called Tumeric is so cute. The game comes out 4 days before my birthday so definitely probably going to pick it up for it.
A Little to the Left is another game I'm really looking forward to. I am very excited to earn badges. I hope there will be a way to unlock past daily ones though incase you like… can't play every day.
Bear & Breakfast and Naiad are still looking really great too. There's just so many good games coming out.
Roots of Pacha has actually been on my Steam Wishlist so I'm excited to try out the demo to get a better idea.
SCHiM still looks really fun too. I hope the timing won't be too tight on some of the jumps though.
Birth intrigues me for the same reasons A Little to the Left does, but it also feels a little unsettling and I'm not entirely sure how to take it just yet from the trailer alone.
Even though this was kind of short, it was honestly really solid and may be my favorite thus far.
---
Devolver Digital Direct
I will never understand Devolver Digital's skits at any point.
The Plucky Squire looked pretty interesting. I really love the art style.
Not entirely sure what I think about Skate Story, but it looked really interesting. This Penguin also looked really cute: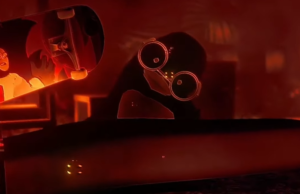 I guess I liked the Robot… And the end song was okay. This was probably the best one thus far if only because of the lack of over the top violence/gore, but these are still so weird.
---
And that finishes up the last of the first week and the beginning of Not!E3 aka Gamer Christmas. Excited to see what else this week holds.