We're officially onto Day 2 and have several presentations to look forward to today :) Tomorrow will be Day 3 and then it'll either be Day 4 or combined with Day 5 depending on how much I think there is to say and then we just have the Afterward Week to finish everything off.
---
IGN Expo
Ground Divers looks interesting, but I definitely tend to not be too great at those types of games. The graphics are so cute though and the base decorating looks fun.
SacriFire looked really pretty. I loved the art style.
Quiet Farm went off the rails so fast. I also really loved the music in the Ship of Fools trailer.
Gori Cuddly Carnage's theme constantly reminds me of Zombie Ate my Neighbors.
I really love the artstyle of Coral Island, but it also went the exclusive digital items in the Kickstarter route :(
I played Roots of Pacha's demo yesterday and really enjoyed it despite my utter failure at time management. I need to see if I can still use the code "Smiley" despite finishing the demo.
Super Zoo Story looks really neat. That said, the art style looks so similar to Stardew Valley, I'm surprised it's not the same person.
Dinkum is still looking really neat. May want to look into Early Access.
I really just want to say how nice it was to mostly just have game after game over tons of interspersed skits in between. The waiting music is all really catchy too.
---
Netflix Geeked Week: Gaming
Desta: The Memories Between looks really interesting. I'm not sure how good I'd be at the gameplay mechanics though…
Poinpy's art style is really cute.
Wild Things Animal Adventures looks very cute too, but I just… do not enjoy match 3 games and getting to decorate doesn't help bypass how exhausting that type of game mode is for me.
We finally got to hear more dialogue in Sonic Prime. It was nice to see Big and Froggy too. I hope we'll see more of the characters.
Seeing Spiritfarer just made me cry all over again.
Hello Kitty Happiness Parade looked cute, but I wish we could have seen more of it besides in the sizzle reel.
---
Epic Games Store Summer Showcase 2022
Lord of the Rings: Return to Moria looked interesting. I might just want to explore with friends.
Shoulders of Giants also looked interesting despite me not being a huge combat person.
I should consider trying out Disney Speedstorm. It looks really neat.
Fall Guys' trailer just makes me want to explore the Fall Guys world and let my bean have their own little house and stuff.
---
Freedom Games Showcase
I liked the Chicken that popped up at the end of the intro.
I really loved Monorail Stories' Demo. I'm not sure if I'd play multiplayer (maybe with my husband, but…), but I had a lot of fun even by myself. I remember my one worry being just accidentally progressing before I did everything I wanted to. Apparently, the game also has Kickstarter going for a few more days so I'll have to take a look at that too.
I really like Wipeout and Ninja Warrior so I find Against All Odds pretty interesting in theory, but not super fond of the whole torn apart and blood going everywhere part. Can there be a version censored like the Deadpool 2 family version? I'd play that one.
Chicken friend has now been joined by equally cute cow friend.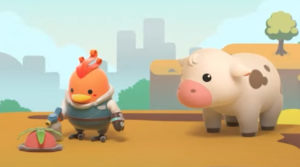 Seeing more of One Lonely Outpost continues to make me fairly interested, but some parts make me so nervous because I just expect to fail entirely.
CUTE LASER TEDDY BEAR.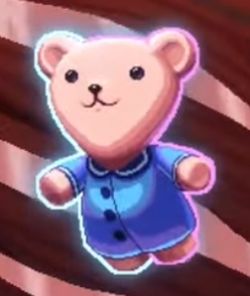 ---
And another Day all done! While today was fun, tomorrow is the day I'm especially excited for and it should be quite the packed day.