It's time for Day 3 which also includes the Showcase I am most excited for: Wholesome Games!! Sure, I play through other games too, but I think everyone can agree most of my stuff is under that label. Regardless, I'm excited for the other Showcases too :) So, let's begin!
---
Guerrilla Collective 3
South of the Circle seems interesting, but it also sounds like it may make me cry. I liked the art style a lot. Also, the carnival moment/flashback seems really cute. I really like the prizes, to no one's surprise.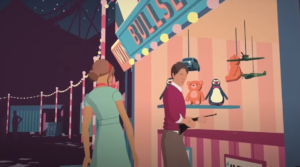 Slopecrashers looks really cool (pun not intended) and a lot of fun. I'll definitely have to try out the demo later.
Cassette Beasts has a neat art style. Rytmos also looked really neat.
ARKANOID: ETERNAL BATTLE!!!! I love Block-buster games so much. Don't care much for the Battle Royale mode, but I am so excited just to play solo, honestly. While Tetris was most people's main classic, I was actually never much of a fan of it and this has always been my favorite classic game. I love Arkanoid so much.
Nine Years of Shadows is definitely not my type of game, but I honestly love every time it comes up (and not JUST because of the Teddy bear friend). The graphics are so pretty.
I'm still somewhat interested in Spells & Secrets, but pretty much for every aspect outside of the actual combat which seems too big of a feature to actually ignore, though with co-op, maybe it wouldn't be too bad. More Kickstarter Exclusive cosmetics though :(
I'm not much of a plant person, but Garden In may be the one I've ever been most excited for. It reminds me a lot of Flower Town, from the Streetpass games, just even better.
I've been excited for Shashingo since I first saw it and seeing more footage has just increased it. I don't know if it'll help me learn Japanese or not due to most methods not seeming to work for me, but I know I'll have fun playing regardless.
---
Wholesome Games Direct
So, if you remember my "blurb" from last year about Wholesome Games, it quickly became just… a list because there was just SO MUCH so I made some handy-dandy categories this time around to lessen my chance of just saying the same things I always have– if I have any additional thoughts, I'll mention it! Essentially, anything listed I either feel like I had something neat to say and/or I'm hoping to play it:
Games I only heard about now!:
• Little Bear Chef – I LOVE HIM!!! HE'S SO CUTE!!!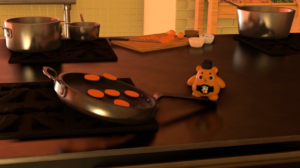 • Melodyssey – Cute music score doggy T~T The game also seems neat too.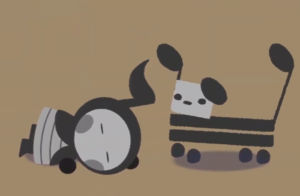 • 30 Birds – The playstyle looks really interesting. Intrigued to see more of it.
• Usagi Shima – They're so cute T~T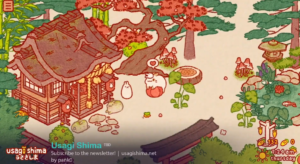 • Chicken Journey – This is looks really cute. I love the art style a lot as well.
• ODDADA – I feel like I'd be so focused on placing things, I'd forget about trying to make a nice song. That's what usually happens when I just want to place cute things.
• Bumblegum Galaxy – It seems interesting and not too… stressful? So I'd be interested to try it.
• Paper Trail – I always find these types of game mechanics interesting. I noticed there was a Demo so definitely trying it later.
• A Frog's Tale – I genuinely just adore the art style. All the characters look so cute.
• Hamster on Rails – THIS LOOKS SO CUTE.
• Potion Permit – I'm definitely intrigued (And I love the cute dog), but I have no clue how well I'd actually do at the game.


• Olliefrog Toad Skater
• MISKA
• Pine Hearts
• Super Mini Mart
• Toroa – The graphics are so pretty. I love just looking at the scenery.
• FREERIDE – I love personality tests.
• The Courier
• Skye Tales
• Lost Twins II – I love the art style a lot. Also, the cute giant teddy bear at the end. The gameplay looks like a lot of fun.
• Gaucho and the Grassland – I'm definitely intrigued at the least.
• PaperKlay – I love the style of the game a lot.
• Kulebra and the Souls of Limbo
Games I have heard about before:
• Terra Nil – I love the art style so much in this and it looks gorgeous, but I struggled a lot with balancing things even in the tutorial so I don't know how well I'd do in the full game.
• LumbearJack – I honestly loved playing the demo of this game. It was so fun and I've been excited for the main game since.
• Mika and The Witch's Mountain
• A Walk with Yiayia
• Coffee Talk 2 – I loved the original a lot and really enjoyed the demo of 2 as well so I'm super excited for its release.
• Garden Witch Life
• Snufkin: Melody of Moominvalley
• Passpartout 2
• Freshly Frosted – I always think of just how cute it looks every time I see it pop up, but I feel like I'd quickly get overwhelmed.
• Wholesome Out & About – This looks so good. I've been looking forward to it since I first heard about it and it genuinely just looks better each time.
• Paradise Marsh – Downloading the demo as we speak.
• Lil Gator Game
• We Are OFK
• Pekoe – I want the Cute Bookshelf in real life.
• Tracks of Thought
• Critter Crops – There's a lot of things I like in the game, but the battle system had me so nervous and I also run out of room too fast because I feel the need to hoard one of each and there's variants.
• The Spirit and the Mouse – Another demo I am downloading immediately.
• A Little to the Left
• Kokopa's Atlas – They said there is a Demo but there is not a Demo yet but when there is I will download it and I will play it.
• Garden of the Sea – If only it wasn't VR exclusive.
• Kity Builder
• Garden In!
• Petit Island
• Hello Goodboy
• Harmony's Odyssey
• Love, Ghostie
• Paper Animal RPG – The art style is adorable
• MELATONIN – I love the general Aesthetic and color scheme so much, but I am so bad at rhythm games.
• SCHiM
• Puzzles for Clef
• Bilkins' Folly
• Lost in Play
• san Zoolin
• Townseek – I actually played the Game Jam version about a year ago now and really enjoyed it. Super excited to see it developing into a full game.
• Bloom – I find it so interesting and it honestly makes me wonder if I should ever get a Playdate. Maybe one day.
• Mossfield Origins
Games I've already preordered/backed/own:
• Mail Time
• PuffPals Island Skies – Possibly one of games that has had me the most conflicted that I've ever backed. It was very much a "this has so many things I like and so many of my friends are getting it/recommended it", but it had some of the worst Kickstarter Exclusives I've seen with how expensive they were. And in a game that highlights collecting as a feature to the game, making it exclusive to a Kickstarter is insane to me. People act like vanity items are no big deal to make exclusive or tons of micro transactions in, but for games like these– where they're wholesome and relaxing, customizing is SUCH a huge deal, and it blows my mind that people just don't realize how much of an issue it is to keep restricting things like that. I could at least forgive microtransactions if they are at least permanent and not too pricey, but when you have $50 for a house exterior, it's hard to not be disappointed.
• Calico – I finished the game a while back now so I can't wait to check out the updates with the Pawsome Edition when it releases.
• Ooblets – I've been playing Ooblets since Early Access began. I can't wait for the full version and to hopefully finally get Rockstack!! I've already noticed so many new things. I can only imagine how much stuff 1.0 contains.
• Here Comes Niko! – I actually finished the game very recently. Super excited for the DLC. Gary's Garden looks gorgeous.
• SkateBIRD – I really need to get back to it. I'm so bad at the controls though. ALSO THAT IS NOT A BIRD, GAME.
• Kitori Academy – Still kind of bummed it also went Kickstarter Exclusives, but excited for it otherwise.
• Snacko
• Lonesome Village
Even with categories, this list is pretty insane. I was so overwhelmed in the end regardless. T~T
Also my thoughts on the cute animations in the middle in order as it went:
HOW COULD YOU PUT "TO BE CONTINUED" THERE AND LEAVE THE SAD BUNNY??? T~T
Oh… it's continuing through… hopefully we eventually get a name. I think I would just like it as one consistent thing though.
Oh thank goodness, they met up together in the end afterall and everything worked out.
---
Future of Play Direct
Intrigued by Hill Agency: Purity/Decay. Need to see more of how the game plays out.
Cook Serve Forever also looks interesting. The food looks so pretty.
I really love OU's art style and music.
Sizzle Reel time– Standouts for me were Midnight Girl and Circuit Superstars. Still intrigued by Loddlenaut too.
---
Future Games Show
Tray Racers looks really cute. I love the art style. I hope you can customize a character and also somehow have a pet Phog.
The music in Wildmender's trailer is so pretty.
The Sizzle Reel transistions feel a bit off though.
Turbo Golf Racing looks interesting. It feels like Rocket League crossed with Golf with friends.
Alaskan Truck Simulator looks neat. I'm not great at survival elements though.
I try not to mention the same game more than one per post, but I'm just really excited for Puzzles for Clef and really enjoyed playing through the demo earlier this year.
This Rain Will Never End looks really interesting as well. I do love mystery solving.
I don't even drink alcohol, but Brewmaster looks kind of fun regardless.
I loved the cute little Hedgehog in the Bramble the Mountain King trailer. I get spooked too easily to play, but it definitely sounds really interesting from a folklore perspective.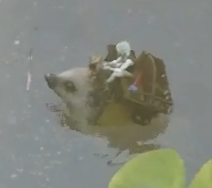 I really enjoyed when I played Once Upon a Jester a while back. Still excited for it.
Bright Memory Infinite isn't my type of game, but I appreciated the pink weapon skin option. All the outfits shown looked like downgrades though.
Tinykin was another demo I really enjoyed, though I couldn't finish due to running into a bug. I always felt bad exploding the red Tinykins since they disappear after.
Sizzle Reel Standours for me: Dinkum, MythBusters: The Game, Shadows of Doubt
F1 Manager 22 looked really interesting as well.
Planet of Lana's music continues to be super pretty.
Snufkin looks so good. Another game I'm excited for.
I genuinely love a lot of PalWorld's creature designs, but the game mechanics just aren't really for me…
---
I was already excited for today and it still blew me away. The shows were all really packed and there's just so much I'm excited for. I think the only thing that could've made today better was if Disney Dreamlight Valley showed up too. Hopefully we'll get some Early Access/Founder's Pack date/pricing news soon.
Anyway, I'm off to go play a whole bunch of game demos. I noticed some aren't up yet despite mentioning a demo, but maybe they'll be up in a few days when Steam Nextfest starts.