I'm not entirely sure what changed, but Gamescom feels bigger than ever this year so I figured I'd do a thoughts-related post similar to what I do for E3! As per usual, I'll only bring up things I had thoughts on over everything (and usually just new stuff unless I feel like I have something worth saying on something I already know about). I'll be updating this post each day as stuff happens. Be sure to check my Youtube channel for Steam demo playthroughs as well :)
---
Opening Night Live
Everywhere looks interesting, I guess? But I have no idea what it is exactly.
Moving Out 2 looks fun, but I was never able to finish the first game T~T
Even though I've never been super interested in Harry Potter, I just enjoy games with a story where I can customize a character, but honestly, I think this just goes too much into combat for me.
Sonic Frontiers got a new trailer which actually felt speedy and was the first trailer to make me actually want to get the game besides the fact that it's Sonic. I'm not sure if I'll get it Day 1 or not (Still upset about the lack of Chao. I'll buy a Chao expansion, Sega!!), but poor Amy :(
I love the little rock friend. Will also take a little Rock Garden. Still want Chao.

The open world segments and enemies themselves just still don't look particularly fun to me.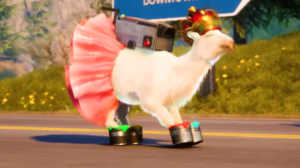 Goat Simulator 3 looks so incredibly chaotic in the best way. I had a lot of fun playing the first one, so part of me really wants to play this one too.
I'm not sure if Moonbreaker is really my thing, but I do like miniatures and the painting looks fun.
The song for Friends vs Friends is… very catchy, but honestly… I kind of hate going up against my friends. I just feel bad.
We've been playing Genshin pretty often in the last year and Sumeru looks really neat. It's crazy to think it'll be up in a few hours at the time of writing this.
Park Beyond looks really neat, though, I'm not sure how much is actual gameplay. I always kind of suck at Park Tycoons, but I always feel tempted by them anyway.
It's been a while since we've last since the Pokemon Concept Car. I'm still not entirely sure how I feel about it, but it is very cute.
I really need to get Dorf Romantik at some point.
---
Future Games Show
There's been a lot of "play a game as a cute animal" and I am happy to see playing as a Raccoon get added to that list. Snaccoon looks very cute. I'm just curious if you need to be stealthy or if you can just go wild.
Still very excited for A Little to the Left. Finally got a release date: November 8th, 2022!!
---
Xbox
Flight Simulator always makes me wish I could travel more and miss Wii Aports Resort.
It's always nice seeing new stuff for Disney Dreamlight Valley. Not too much longer until Early Access starts. I'm genuinely really excited for it despite some worries.
One of the people in the official Discord has been sharing things from the demo at Gamescom too and it's been really exciting. It sounds like there will be a lot of ways to customize including at least 8 floors of 4 rooms each for your house along.
It seems there will be no way to change the exterior style/colors of your home though, but hopefully that can be added in the future.
One day, I'd really like to get back to Sea of Thieves now that I have a better idea on how to play.
---
Nintendo
I kind of wish you could go through Splatoon's story quest with a friend. I also wish it either was the same Agent 3/your character throughout or that the number changed with each iteration.
I appreciate Small Fry's help at least.
I just really love the locker customization feature a lot. I will say knowing I will miss out on catalogs though makes it unlikely I'll ever get the game in the future once the first one is gone.
---
Awesome Indies Show
Lou's Lagoon looked interesting, but I definitely need to see more of what kind of game it is.
I really like the exploration aspects of Sandwalkers, but not sure if the battle aspects are really my thing.
DREDGE looked really intriguing as well, though I can't tell if it could veer into a more horror territory or not.
I'm not sure if Blooming Business Casino is my type of game, but I love the art style.
As an aside, I genuinely love when we get to see the showfloor. I really like seeing all the booths. Would watch a showfloor tour/showcase video.
The graphics in Kimgdom Eighties: Summer of Greed looked so pretty. Not really sure how I'd do with the Defense part though.
I've been waiting for Mineko's Night Market for such a long time, so it's always nice to see more of it.
---
And that's it! It's nice getting to hear more stuff coming out of Gamescom and I'm glad we had some of the Showfloor shown during everything too. Next up is Tokyo Game Show, though, unless some big things happen, I may just talk a bit about that on Twitter.