I initially wanted to wait until I had the video portion of this ready to go up at the same time which is why this is so much later than when I actually updated things around here, but I'm honestly not sure if I'll still share that or not just yet, so I figured with my birthday in just a few days, why not post this now? If you're curious in the sense of a content standpoint, the short version is that this post solely focuses on the design side of the situation and not anything about the Vtuber part (Which was completely unplanned is the short version and just came out of lucky circumstances– if the video does happen, it'll be explained there). For the most part though, nothing you enjoy will change due to this addition.
There isn't necessarily some big explanation of why things were changed– when it comes down to it, I had been wanting to for a long time as I wanted a more unique character that I felt better encompassed not just me, but everything I do. As much as I loved the original character design I used, it was also relatively generic (to the point where it even got picked up by some clip art sites -_-) at no fault of the artist. It was very simple with an outfit based off an existing outfit and a quick hairstyle– lots of things were not really made clear (the hair was a bit light and the body type wasn't discussed at all), it was just something to be done fast for me to use.
But it never felt like a design I could relate to and as I wanted to further connect my website, Twitch, Youtube, and everything else, I really wanted to have a character that kind of combined those aesthetics together in addition to, as I said before, encompassing me as a person. That just matched my aesthetics and everything so well, that those who know me would look at the character and think "Yeah, that's so you!".
This has been something that has been planned for a very long time– around the same time I was looking into having a proper logo made. Part of it is I wanted to have so many things redesigned– updated stream graphics, new starting/be right back/ending scenes, new animations, all of this depended on having a new character design to tie everything together.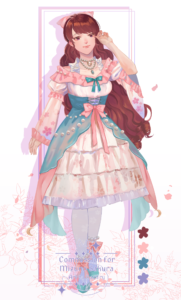 I also can't thank Nagifry enough who was kind enough to help me out with the character design, as you can see to the left, and help me untangle the mess in my head when all she really had to work with was my personality and random aesthetic things I threw at her :P I've always really liked this hairstyle for characters, partially because it's similar to my own, but it's one I don't tend to see very often actually done the same way. The closest is often a half down, half up style (or just pulled back but still down for the majority of it), but here, it's just entirely a full ponytail. For those who are used to mostly straight hair, as that's also the kind of hair most often portrayed in ponytail's in media, this is how it goes when you have really thick wavy/curly hair. It's just nice to have some parts of me, the very few I don't hate, integrated in a way.
I also want to give a huge thank you to my friend, Duck who did all the header art variations after a whole slew of other complicated circumstances. It was super kind of them and I really can't say enough how much it means to me.
There's no real deep explanation or anything, the short version is I just wanted something more me and like I said, to help tie everything together. I'm hoping to continue to save up to have everything adjusted properly for the new character design (and a thank you to those who have donated towards this– I wouldn't have been able to afford a lot of the art otherwise. Just a couple of pieces left and we're set with all the big things). Thank you for your patience.