So, it's been a bit since I last wrote despite obviously still playing. I decided to spend time getting a lot of the "grind" done (It actually was fun for the most part so it didn't feel very grindy to me). I decided before I continue the story, I wanted to get everything to Master rank and also help clear out some of the Other Quests. And I'm very happy I've managed to do both of those goals. I also finished up the story last night and started the very beginning of the DLC–we'll be continuing that later today, though, I will not be playing nearly as long as I did yesterday. Regardless, if you want to watch live I will be streaming it!
But yes, that's enough rambling–let's get on to the Playthrough Log :P
First thing that happened–I finally streetpassed my fiancé enough times to get an item: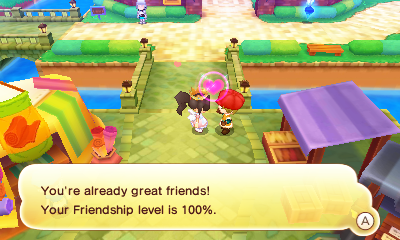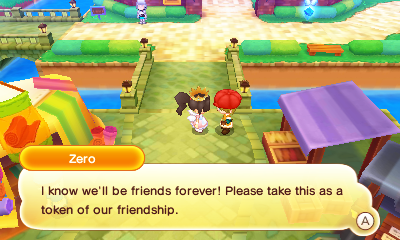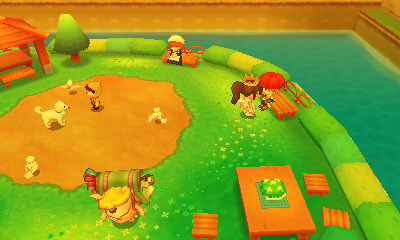 Aww. While I do like the StreetPass feature, the fact that you need to StreetPass 5 times to get, well, anything from someone is pretty bad. I rarely streetpass people more than once and if when I do, it's still rarely and just at certain events. At most, I usually get 2 on average if I ever run into someone again. It's just too high of a requirement though outside Japan.
I also finally started accomplishing new goals: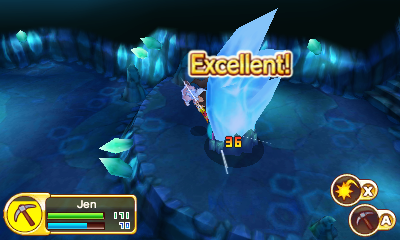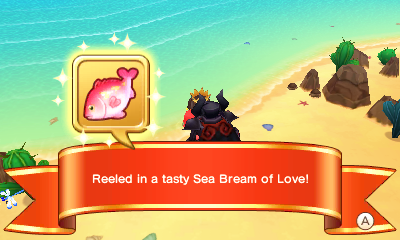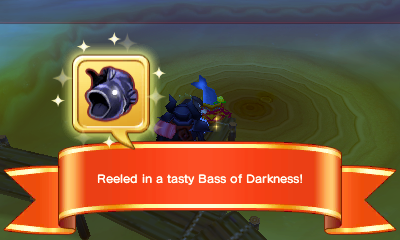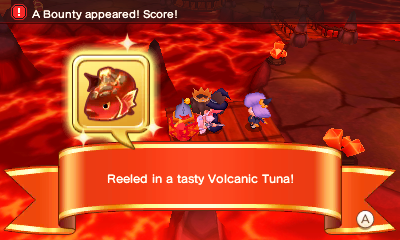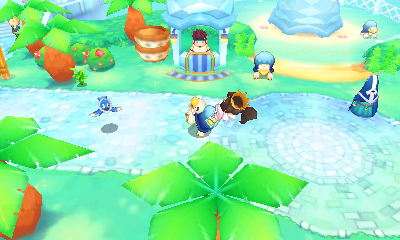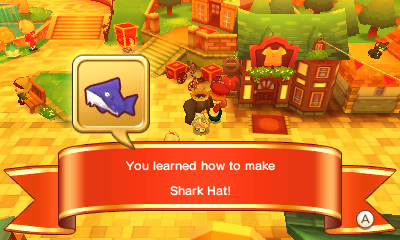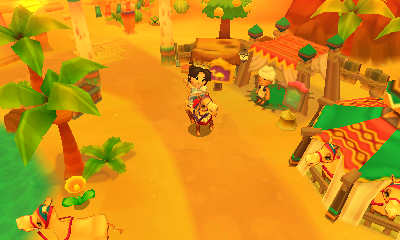 And finding new pretty places: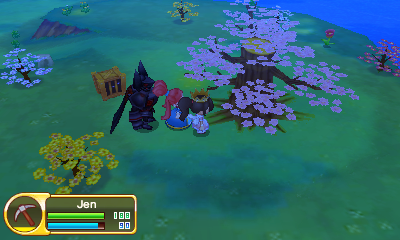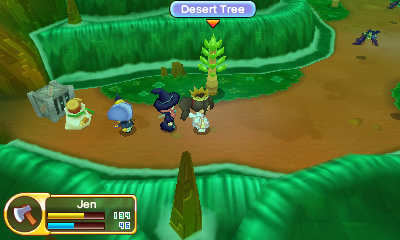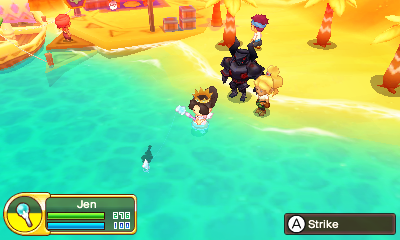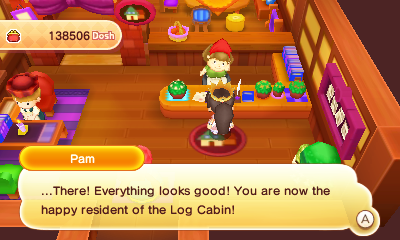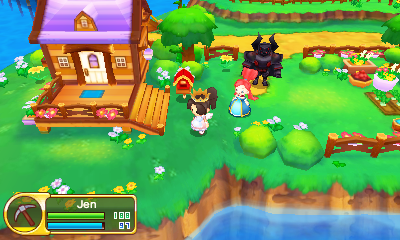 Even though I still ended up switching to the Manor (It lets me put in 15 more items).
And decorated my house. A lot: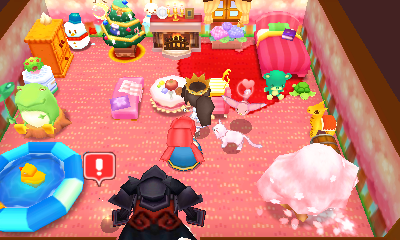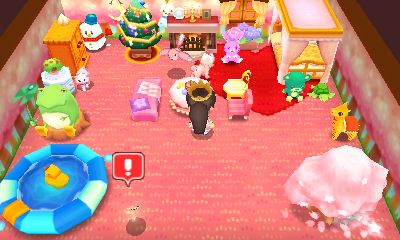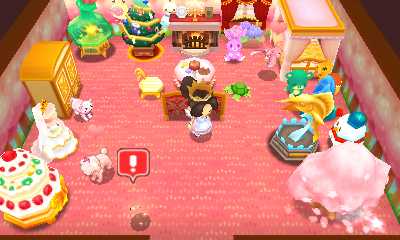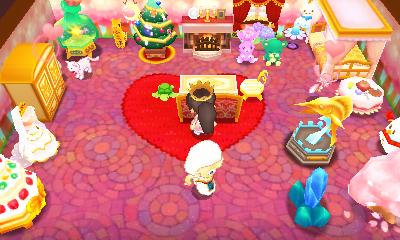 Plus I played some multiplayer: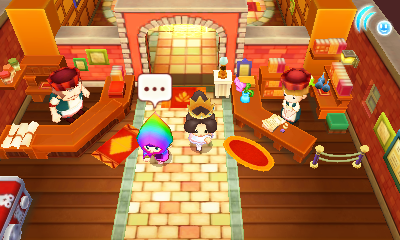 I also learned that you are not actually closed off of anything. Just they can't access stuff you haven't unlocked yet if they are in your world even if they have. Because of that, I got to do some really cool things in the Shadow Portal: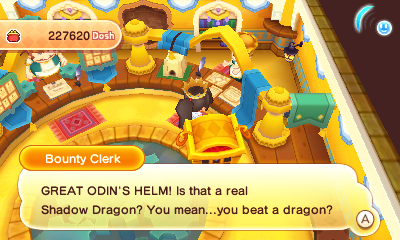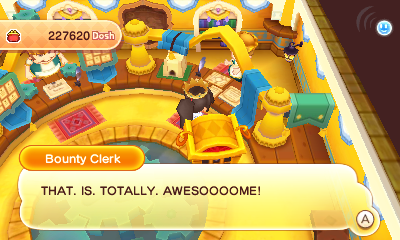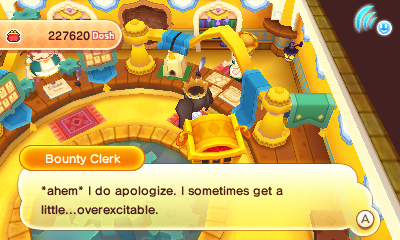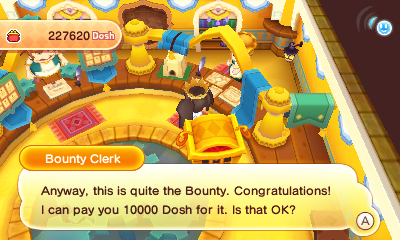 It really amuses me how exciteable the lady gets: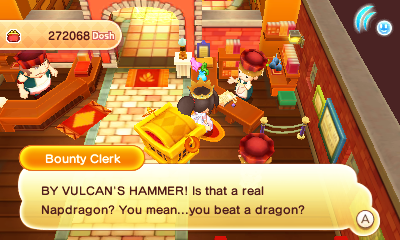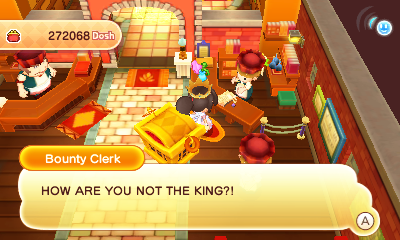 Sadly, defeating a Napdragon was actually an early Paladin challenge. Not fun.
I'm also going to take a moment to talk about the class I had the most issues with–Mercenary: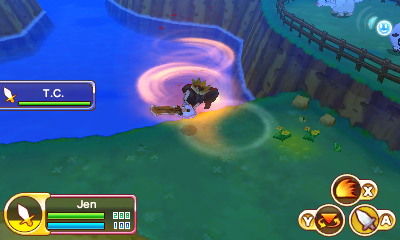 Besides just not having fun with the combat, I can't do the combos. Which means I can't complete those challenges. I've tried and tried and tried and it's pretty much pure luck on whether I manage to do it or not. It's actually really frustrating and it's not a class I tend to enjoy in the first place (not fond of big sword classes–too slow for me) and I just can't do them. If I do not manage to get everything maxed, it'll be because of this class. I can't even express how sad it makes me that I just can not seem to do them.
Going back to happy things, this made me feel a lot better: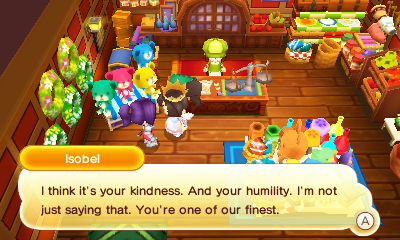 I also really love her outfit.
With everything ready, it was time for the super ultra Master everything celebration! I had already done Wizard, but it was time for the other 11 classes. Miner was first: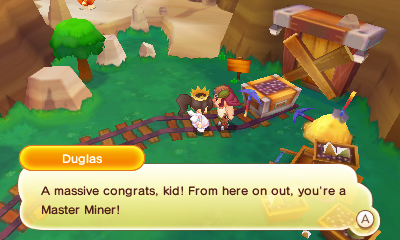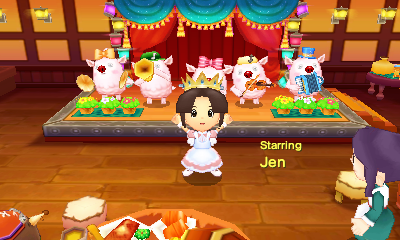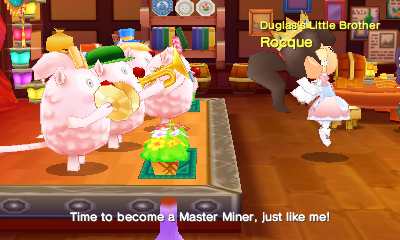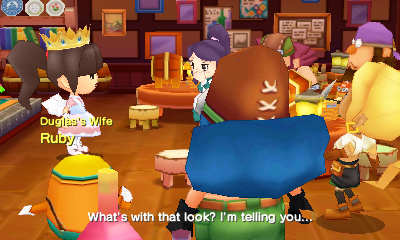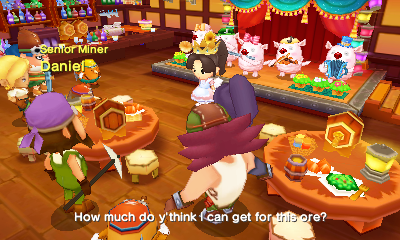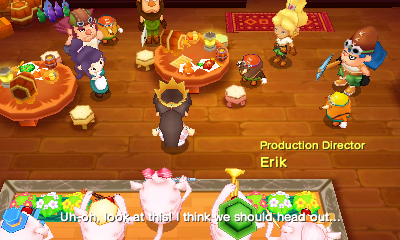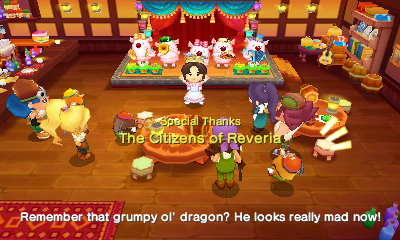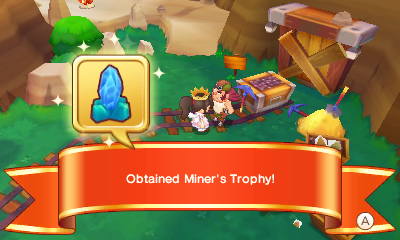 I am still sad Angela's ponytail isn't an option.
All the trophies (plus some random items gotten from those affiliated with a life):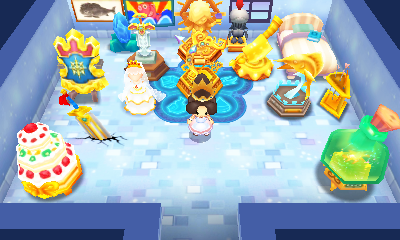 Honestly, they are all pretty nice. The only thing that makes me sad is I would've loved to see the Seamtress/Tailor trophy as an actual outfit.
Overall, I think Wizard was easily my favorite song. Followed by Cook and Tailor. I also found the Blacksmith one fairly nice/calm–I would've expected it to be a much harder song versus the soft song it is. Carpenter, Paladin, Hunter are all pretty catchy too. Hunter reminds me of Sonic music for some reason… though, it's also the only song to kill the gender neutralness and constantly use "he" for some reason. So yeah, I'd say those 7 are my favorites :P
One of the cool things I didn't really notice until Master is that when switching lives, they say different things as you become more well-known: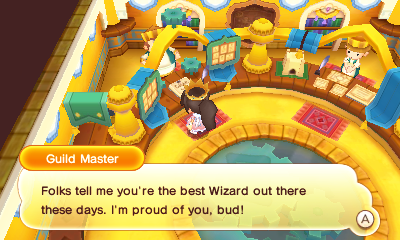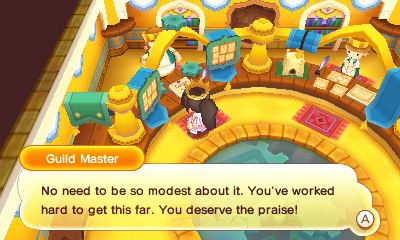 Plus, if you do decide to use a crafting table elsewhere, it stays that way: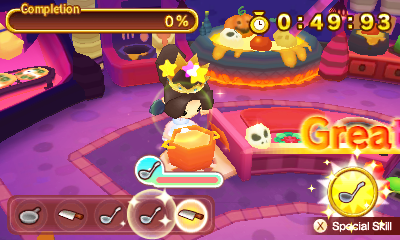 It doesn't just put you into the same one you're used to seeing. The curves of some of the tables definitely threw me off though.
Also, this guy kind of looks like he should be in a Pokemon game: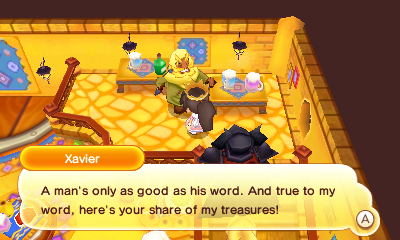 Finally, it was time to continue the story!: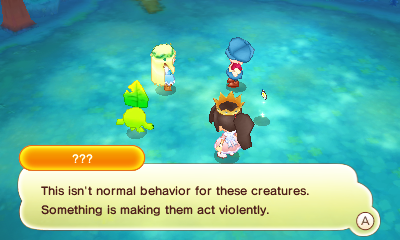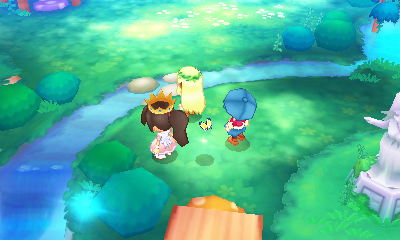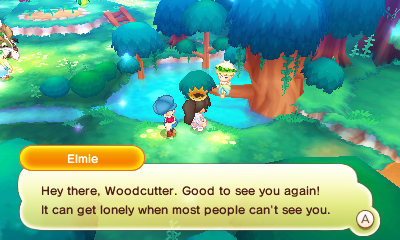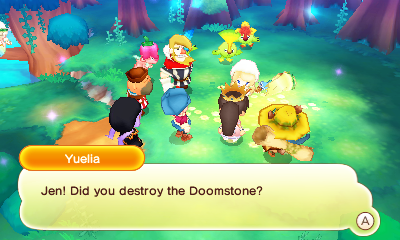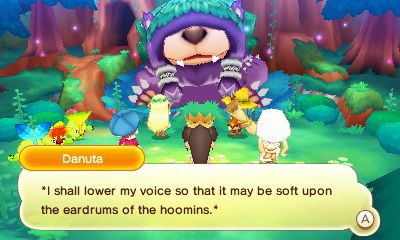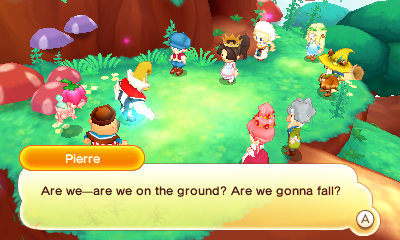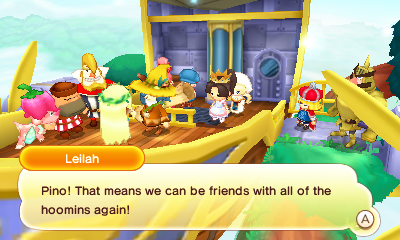 I actually really enjoyed the next few story arcs a lot. It helped explain a lot more with Noelia (her being Yuelia's sister was not surprising though–nor was Yuelia being the girl on the roof/butterfly and the two of them being related to the Goddess… in general, most of the character-related plot stuff is pretty obvious) and each place was just really beautiful. I will say the story goes pretty fast though so if you do just the story, it'll go fast.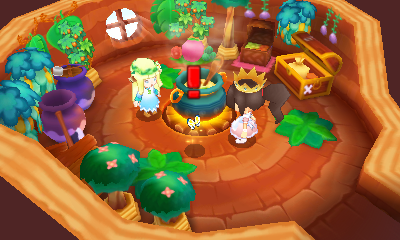 I really like her dress and their cute little house.
I also finally got my own horse! Meet Snowball.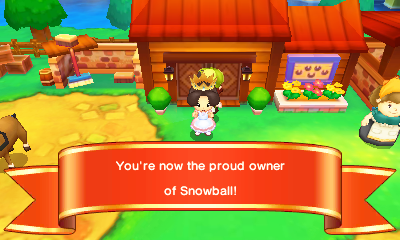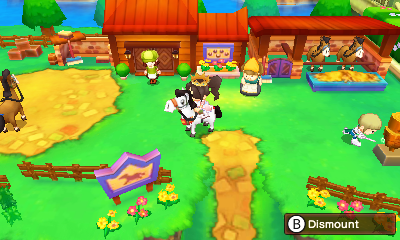 I love her, but the fact that they had 8 characters for the horse (which is good as I planned to name her Snowball) and just 6 for a Character makes me really sad.
It was then off to the meeting: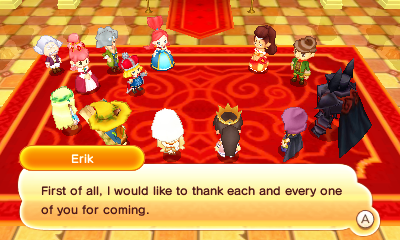 And Terra Nimbus is beautiful: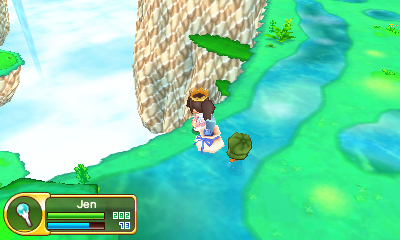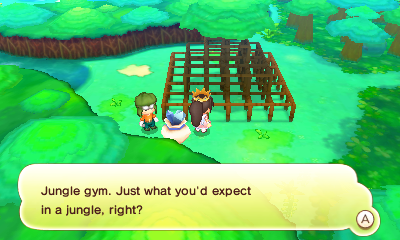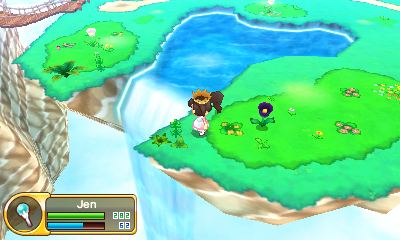 Plus this town is adorable: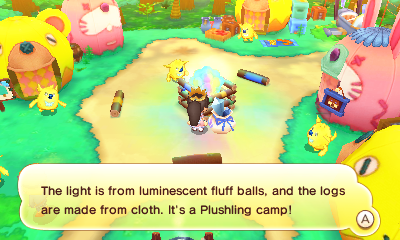 I wish I could afford the house there.
I was able to buy the house in the Elderwood though: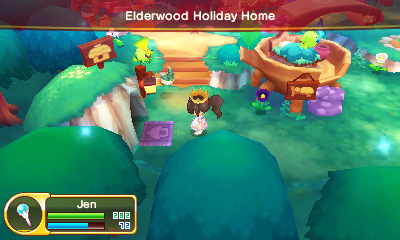 We also met the adorable Furlin and helped some dragons.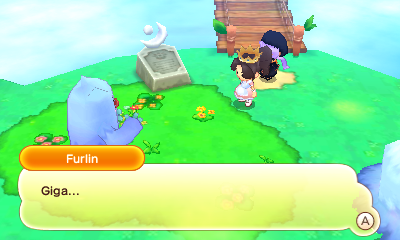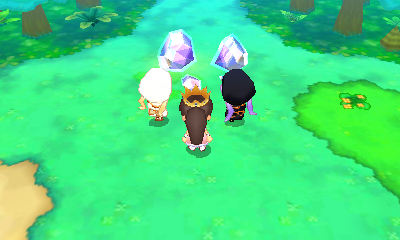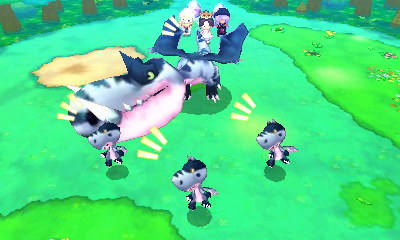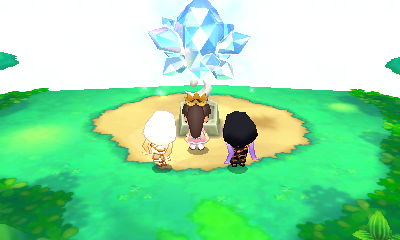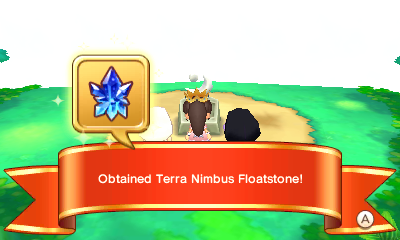 I really love the Floatstone: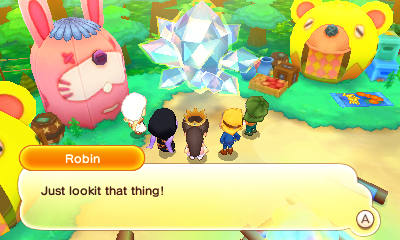 And we managed to get Larkin back to Port Puerto!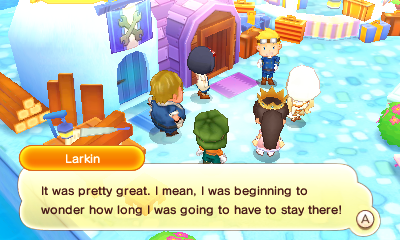 We then returned to the Castle: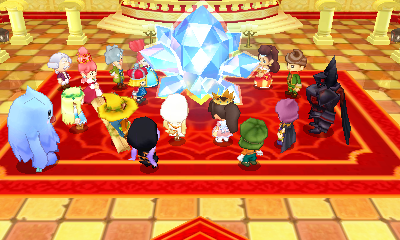 Also one of my favorite party invite opportunities thus far: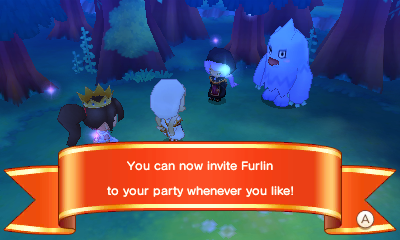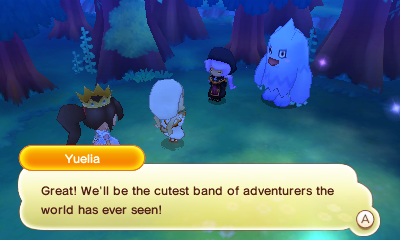 I will admit, I cried several times during these final parts: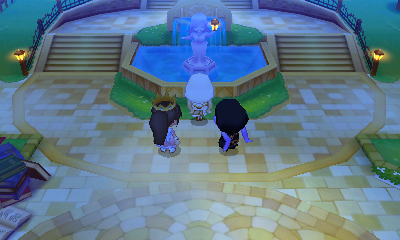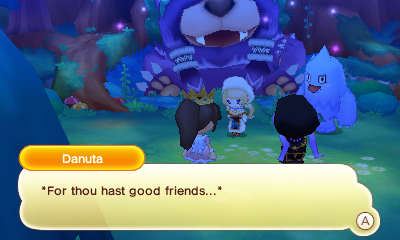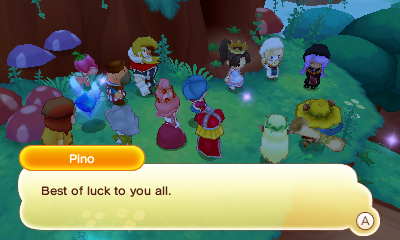 And then, we were off!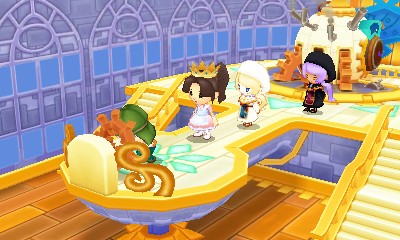 And then we were back in Reveria! Opening up special chests and finding new things.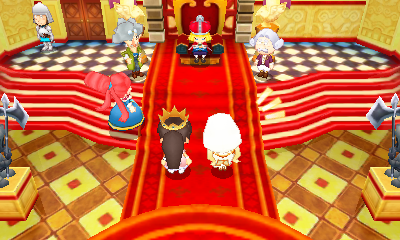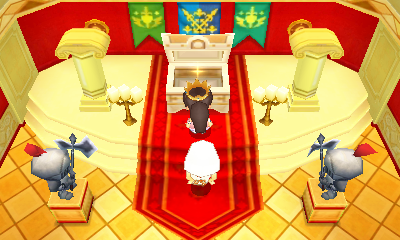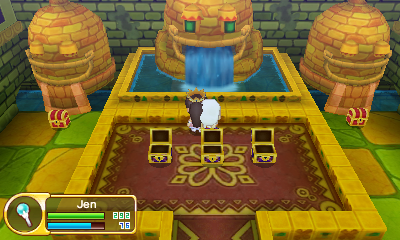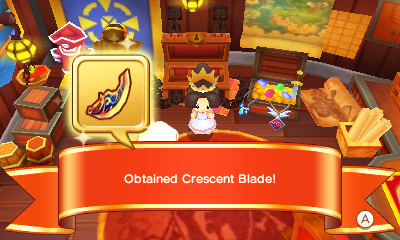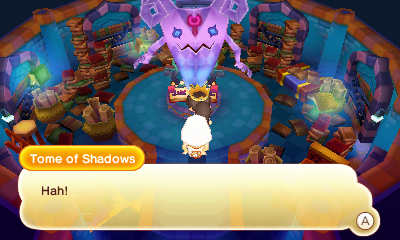 Also, this dancing Carroty in the Secret Shop of Snoots Emporium is adorable: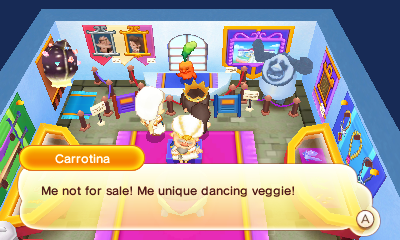 I want one.
And I unlocked the fairy under the tree finally!: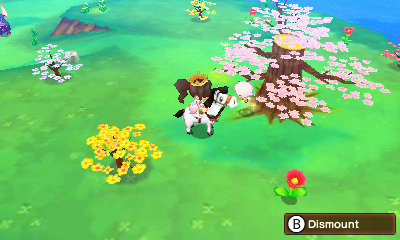 But yes, now we have DLC adventures…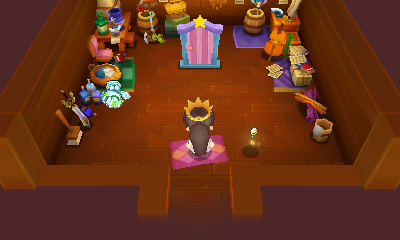 I'm looking forward to it!
Anyway, to end this off, I have updated the Fantasy Life page with how things are going. I'm still kind of mixed about my outfit to be honest. I really want a nicer dress, but the Princess Dress annoys me because the bows are still blue and I prefer lighter pink shades versus the reddish pink it becomes from dyeing. If you have gotten some nice light pink outfits that are anywhere from the DLC or can be made above Master rank (or can be dyed to look pink with red or white flowers), let me know! I'd love to see them so I can maybe finally get an outfit I really like.
I am sad it seems you do not get more hairstyles later. I know you get more from the DLC, but I was really hoping there'd be other ways as well as many of the hairstyles I really liked were not an option and the two ponytails I did like I'm just not very fond of the bangs too much (the one I'm using–slowly growing on me, but…) or like Olivia's which had a great ponytail, but the top looked terrible and I rarely use hats (nor have I seen one I care too much for) that would cover it. Please enjoy this ponytail showcase for now (note: Does not actually include them all–I mostly just put the ones I thought about):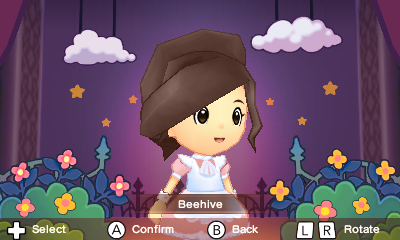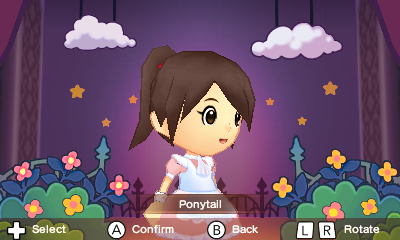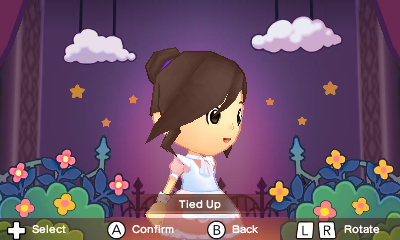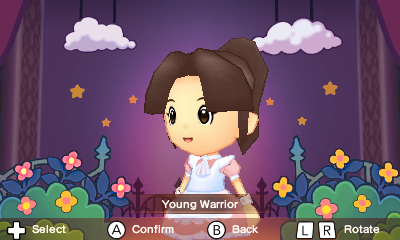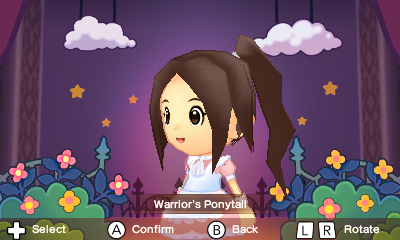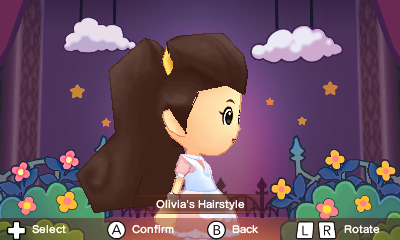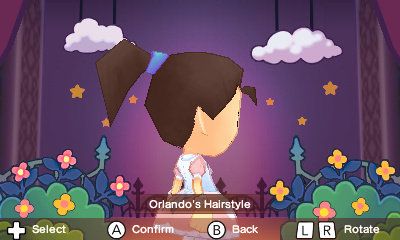 Issues in order:
Beehive: Stuck to the back–it's not even a proper Beehive hairstyle.
Ponytail: My first hairstyle! I just am so tired of the straight ponytail so if I ever get a chance to switch from it I usually take it. Also, I prefer longer hair. But most of all, the fringe over her right eye bothered me constantly.
Tied Up: I wish this was a ponytail instead of a bun because it could've been pretty cute.
Young Warrior: I love this ponytail a lot, but something about the bangs just bothers me quite a bit. Maybe I'd like them more if they didn't cover her eyelashes? I don't know. They just feel too big and blocky for me. If they made it thinner, I think I'd like it more too. Too bad hairstyles don't have an adustment option.
Warrior's Ponytail: I just find the ponytail looks really odd.
Olivia's Hairstyle: If it wasn't for the thing on the top of her head (not the yellow thing, the big poof of hair where the rest isn't), this would probably be perfect. Unless I find a nice hat to hide it though, well… (Plus, I'd never be able to wear hair accessories again)
Orlando's Hairstyle: Way too short.
If Angela's hair was an option, I'd probably have picked that. Her hairstyle is essentially the Young Warrior's with much better bangs and a very pretty hairtie and I'm so upset that wasn't an option. Isobel's and Ruby's also would've been great options, though, Angela's is definitely my favorite of the three. I would seriously pay for more hairstyles. I mean, the models are in there so I wish they did every hairstyle as an option.
Also, if you have any of the items on my list or high quality versions of any of the items that are the same color schemes as like the Destiny Bow, Whirlpool Rod, and Clam Frying Pan (especially if you know of a wand in these kinds of colors!), let me know. I'm terrible at optimizing gear and I really want the items on that list and would love to try and trade or something for them! (Warning: Chances of me having anything worthwhile are pretty low)