It's been so long since I made a baking entry on here! While I haven't baked as much as I've liked to recently (wedding plans take up a lot of time ;~;), the main issue tends to be either not making anything too new or due to things being… jumped on before I can get a chance to take many pictures of the steps.
Despite that, I decided I really wanted to make a nice cake for myself as I didn't really get a proper birthday cake on my birthday. I would've made it on the day or even Sunday, but after a very busy Saturday and the giant heatwave that started on Sunday until tonight, it ended up being pushed back… I decided not to write anything on it (I think that'd be going too far when I'm doing it for myself), but I'm at least making my favorite kind of cake :P
I've always been rather picky with birthday cakes. I'll try pretty much anything, but I've always had a favorite kind of cake–chocolate cake with vanilla/marshmallow frosting. My grandmother has made my cake for most of my life, but I know she's been busy with things and I don't really want to bother her with making my cake again this year. I dislike 90% of store bought cakes and despite living around many bakeries, I generally don't like any of their cakes. In general, most bakeries around here never taste very fresh to me and if I do like something, it's usually a cupcake specialty shop.
Going back to cakes, the only store bought cake I really enjoy (that has frosting anyway so excluding coffee cakes and crumb cakes) is this one: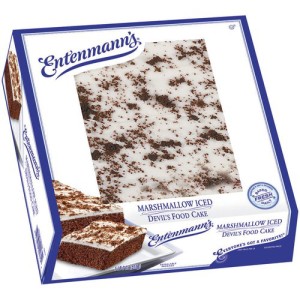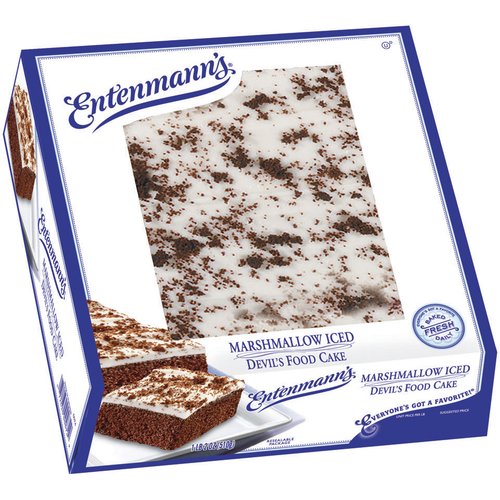 Entenmann's Marshmallow Iced Devil's Food Cake. But while I do enjoy it, I wanted to have something special–it doesn't feel right just picking up a cake from the store for my birthday.
And thus, the cake baking was commenced. I started with a cake recipe adapted from Add a Pinch while the icing is adapted from Cake Duchess.
Ingredients for Cake
2 cups All-Purpose Flour
2 cups Sugar
¾ cup Cocoa Powder
2 teaspoons Baking powder
1½ teaspoons Baking soda
1 teaspoon Salt
1 cup Milk
½ cup Vegetable Oil
2 Eggs
2 teaspoons Vanilla Extract
1 cup Hot Water

Cake Instructions
Preheat oven to 350º F (177º C)
Spray two 9-inch cake pans with a type of baking spray (like PAM) or spreading a light coat of butter around the pan and flouring lightly.
Mix together the flour, sugar, cocoa powder, baking powder, baking soda, and salt into whatever bowl you plan to mix the cake batter in (I personally use a KitchenAid Mixer Stand)
Add milk, vegetable oil, both eggs (I recommend breaking them in a separate bowl to make sure no egg shells get into the mixture), and the vanilla extract to the flour/dry mixture and mix everything together on medium speed until completely combined.
Reduce the speed to slowly add in the hot water to the cake batter.
Once everything is in, start beating the cake batter on high speed for about 1 minute to add air.
Pour cake batter evenly between the two cake pans. Bake for 30-35 minutes or until you can stick a toothpick in the center of the cake and have it come out clean.
Remove the cake from the oven and allow it to cool for about 10 minutes.
Then remove it from the pan and let it cool completely.
Once cool, add frosting.
I forgot to take a picture of the cake before frosting it, but yes, I can't stress enough about not frosting the cake until it is cool. It'll just slide off. Or melt. Or both. Either way, it won't be fun. Regardless, while the cake is cooling, it's a perfect time to start the frosting (if you didn't make it while it was in the oven anyway):
Ingredients for Frosting
1 Cup Sugar
4 Egg Whites
⅓ cup Water
½ teaspoon Cream of Tartar
1 teaspoon Vanilla Extract

Frosting Instructions
Add the water, sugar, and cream of tartar to a medium sauce pan. Do not stir. Bring it to a boil.
Leave it boiling until thick clear bubbles appear. As soon as it does, remove the pan from heat and turn the fire off.
In a glass or metal bowl, put in the 4 egg whites and beat them until the mixture becomes thick and foamy causing soft white peaks to form.
At this time, slowly add in the sugar syrup.
Once fully added and mixed, add in the vanilla extract.
Mix until nice and fluffy.
Add a few drops of red food coloring because pink is the best color.
If the cake is cool, frost it!
The lovely frosting: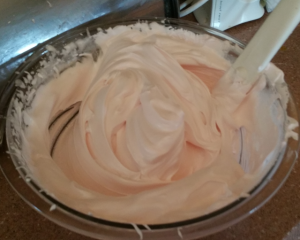 Our finished cake!: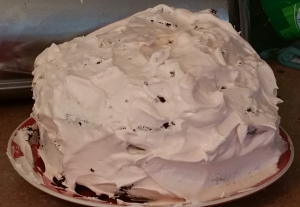 Now to enjoy a piece of belated birthday cake <3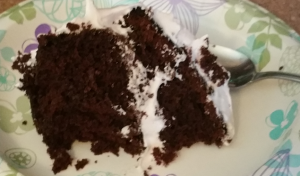 Bonus: TheDaftLynx surprised me with this lovely drawing of Mega Audino for my birthday!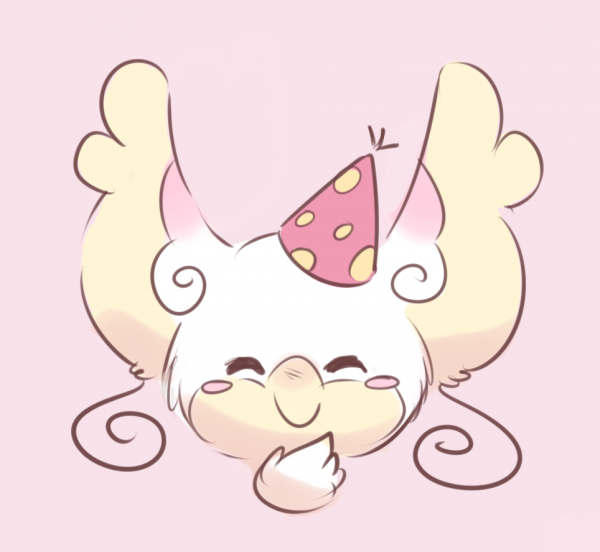 I love it so much. Thank you again!! <3