So, if you keep up with me on Twitter or read the blog pretty often, you'll know I'm currently in Disney World! Writing blog entries with photos won out on the poll so I'll be doing my best to write a summary post each day :) I'm hoping this will get me into the habit of writing more travel-related things as I really love traveling. As a note, this is probably like… my 30th or so time going to Disney World so I'm not new to Disney, but Disney is always growing so even when I come back later this year (as I'll be visiting again this October), I know there will be some new things to look forward to.
Today didn't really start off the best–I slept a bit later than I wanted to due to not feeling too well the night before and to make matters worse, my parents decided to try the long-term parking out. They have decided they will never do this again. Security was extra slow and because things weren't bad enough, when we got to our gate all the way down at the end, it turns out our gate was moved and we had to walk all the way back–getting there just in time to board.
I spent most of the flight trying to sleep and cool-off (The airport was super hot and we did way more walking than we needed to :/). We did have some snacks on the plane though–I had a cheese spread, piece of cheese, and some kind of cured sausage and crackers while Mark had some hummus and olives that I tried. He also gave me his cookie :P
The flight was rather quick at least, though, there was some waiting/traffic before the plane could pull in to let us all out. We managed to get through the airport quickly enough and they were even giving out carnations for Mother's Day…. speaking of which: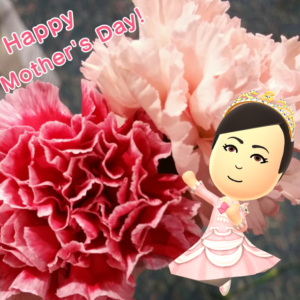 (And yes, those are the carnations we were given–even though I am not yet a mother, they seemed to be giving one to every girl).
It was then off to the Magical Express and while the wait was a bit long, it was a fairly relaxing ride and our hotel was the first stop. This is only the second time I've ever been to the Polynesian resort and the first time I've ever stayed at one. We apparently went for dinner when I was really little, but I don't remember it and my parents weren't fans of the food so they never came back. Due to all the renovations and menu updates, my parents decided we'd give it another chance. But we need to stay at the Floridian next time, please.
The hotel is really pretty and reminded me a lot of Aulani.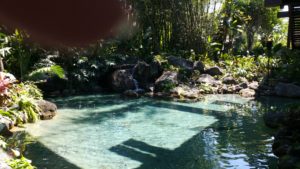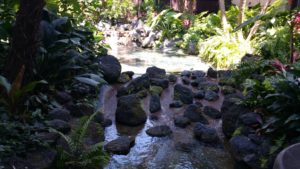 It really made Mark and I miss Hawaii. We were even given leis again: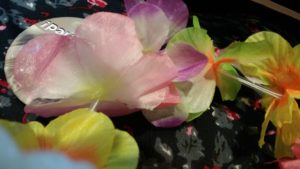 And I took a photo of the inside as well: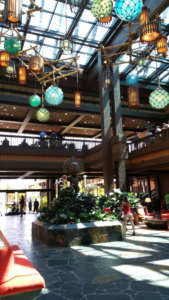 There was also this super cute Flamingo for sale: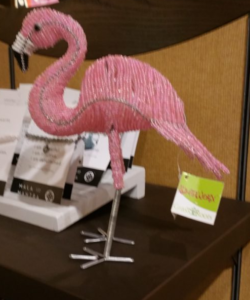 It was $30 or $40 though… maybe one day.
Our room sadly wasn't ready yet so we decided to get our few carry-ons held by the bell service and go to Downtown Disney as my parents needed to pick up their Annual Pass and we figured it could be good for lunch. While on the bus over, we got the alert our rooms were ready so at least they'd be set when we got back.
We looked around a bit while my parents got their annual pass, but didn't really get anything until we got towards the Landing Area–I bought my frozen Chai which I absolutely adore: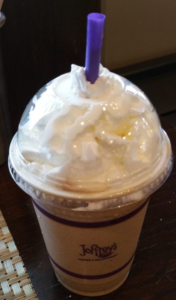 They even gave me extra whipped cream T~T <3 My parents decided they wanted to walk up ahead to check up other restaurants so Mark and I decided to go to Raglan Road as we both really enjoyed their food and have never gotten to have their Brunch before. We ended up being seated almost immediately (and then my parents came later saying they wanted to as well, but ended up being seated elsewhere) and for the first time, I wasn't in the tall seats which was nice. My feet could actually touch the ground.
But yes, going over what we actually had… While we were looking over the menus: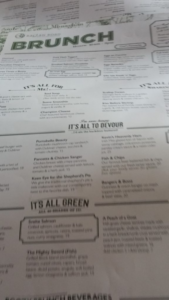 They actually brought us these Mango & Mixed Berry Smoothies to try: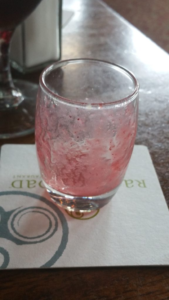 I…might have drank it before I took the picture >> It was very good.
We also got some Irish Soda Bread to have while we waited for our food with a special Guinness dipping sauce and some butter.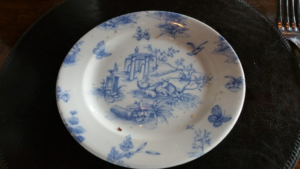 …I kind of forgot to take a picture of this too, but look how pretty the plate is!
Onto the meal itself, I got these lovely battered sausages with this really good mustard dip: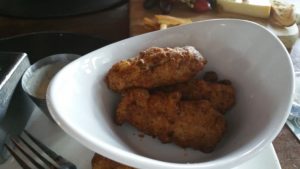 And a side of Pork Belly Hash which isn't pictured because I ate it too fast. Sorry >> But we did also get this cheese plate to share!: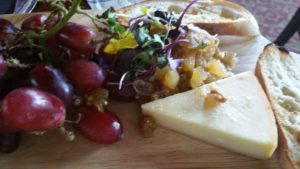 …and while most of the cheese is gone, at least some of it is left to see. We brought that last piece back to the room with us. I really want to try their dessert at some point.
The boat to head back to the main entrance of Downtown Disney (yes, I know it's Disney Springs, but old habits…) was actually straight across and as we got in line with my parents, it just arrived so perfect timing. The boat was fairly nice–I even took a picture from my seat: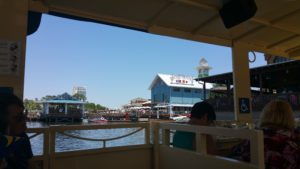 It was then off to the room to relax a bit.
Our rooms were pretty nice, though, I find it kind of dark overall if curtains are closed.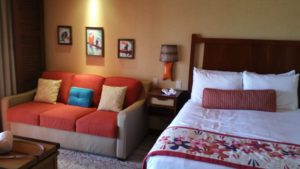 After some resting and a small nap, we headed over to Epcot as we had a reservation for all four of us for Epcot's Illumination Dessert thing. Photo from the monorail: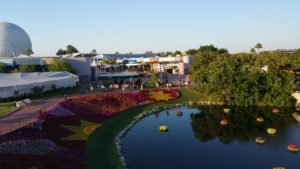 It was actually a slow ride as there was some issues with the monorail in front of us.
Once we got there, we ended towards the World Showcase to Mexico as that was where they were handing out the wristbands who were registered. Though, we did make a stop at one of the booths–La Isla Fresca. We got one of each thing to try (Jerk-spice Grouper, Jerk-spice Chicken, Braised Beef, and Tres Leches along with the non-alcoholic Frozen Simply Tropical Juice Drink) and while I forgot to take a picture due to us wanting to hurry to get our wristbands, everything was really good. I'm hoping we'll get to do the rest of the booths tomorrow as we're also having dinner in Epcot.
We managed to make it just in time and our wristbands were a lovely sparkly pink. Thanks to my parents, we got a nice seat where we could sit along the ledge and also get a pretty nice view:

They had three stations set up–one to make your own plate of nachos, one for drinks, and one for desserts. My mom brought over some nachos for everyone while I mostly just got water to drink. The dessert table was the real highlight though. I always try to have everything so I made myself a small plate of various things… but they also had big trays of my all-time favorite dessert from the Food & Wine Festival–the Warm Chocolate Pudding from Ireland. And they also had fresh whipped cream (which was more for the icecream–buttered popcorn flavor, but I used it for my Pudding to make it even more beautiful) so I was thrilled.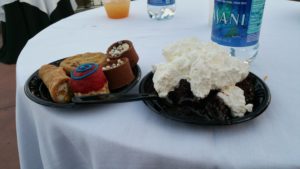 My dad also brought us over some dole whip: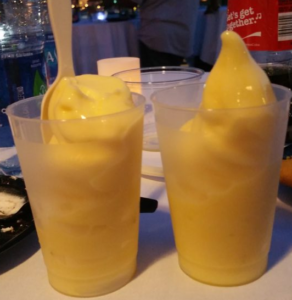 People were let in over an hour before the fireworks started so it was a long wait. We made sure to stay until the end though… I did my best to take some photos:

And also did a Periscope video:

Finally, it was time to head back to our hotel. Our monorail was Zootopia-themed: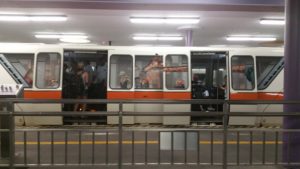 We still need to see that movie.
It was a long, painful, walk back from the monorail & main building to the building where our room was… But we at least got to see fireworks from the Magic Kingdom from here. Regardless, I'm exhausted and we have something planned each day so… time to go to bed now.
TrackBack
TrackBack URL for this entry:

Previous | Next