So, this will probably be my last Disney update! We head home tomorrow and other than having breakfast at the same place (maybe Pancakes this time, though), there won't really be much to talk about :P
We got up early today for breakfast at Kona Cafe again. I had the Somoan again today, though, I didn't manage to finish it this time due to not feeling too great unfortunately. Once we finished up with breakfast, it was time for the main events of the day–our trip to MGM (Hollywood Studios).
After waiting a bit for the bus, we managed to get there around 11:30AM. I got an ECV to try and rest my ankle and legs more today. My ankle has thankfully gone down a lot, but is still a bit swollen. The right knee is mostly okay as long as nothing touches it, but the left one is just so badly bruised and in an awful place :( It and the ankle are really going to be the ones that take a bit.
Our first fastpass was for Toy Story Mania at 11:45AM-12:45PM so we decided to go on the Great Movie Ride first. On the way, we even saw some Stormtroopers: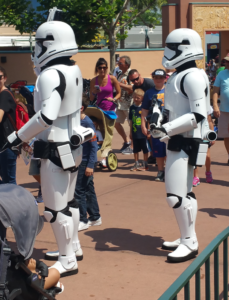 Once we got to the inside portion of the Great Movie Ride's line, Mark took a few pictures:

I miss when the ride was a bit longer though and kind of wish they'd add new (and I do mean add, not change) movies to "walk into" over just adding more clips to the end bit. That said, Mark and I can never keep a straight face at the end after the one time we went on the ride and our driver accidentally said "Take the children by the hair…. hand, I mean hand". It's hard to hear "Take the children by the hand" and not be reminded by that.
It was 11:50AM by the time we finished up so we headed straight over to Toy Story Mania and got on pretty quickly. It was a lot of fun and I got 107K! Mark got 140K though. I at least got higher than my parents. My aim is still pretty bad :( There was a small issue with the bars not rising when we got to the end to be let out, but we managed to get free. It's a really fun ride though–just rarely doesn't have a wait so if you don't have a fastpass… The line is always fun to see though–it's a really nice nostalgia run.
Once we were done at Toy Story Mania, it was about 12:15PM. Our Star Tours fastpass wasn't until 1:20PM so we decided to head over to the Star Wars Launch Bay.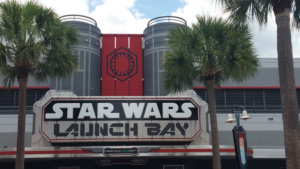 It opened in December so we've been looking forward to seeing it. It was really nice and Mark was in his glory. Some photos we took inside:


There was even Blue Milk!: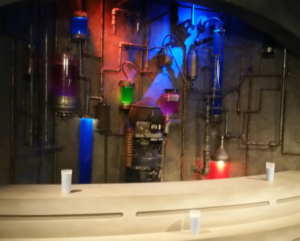 After picking up Mark's new Star Wars themed magic band he set up with the D-tech stations there, we headed to Backlot Express to try a little of the new Star Wars-themed food they had:


A lot of it had since gone, but we still got to try the Royal Guard Burger with a cup of Padawan Limeade (the darker colored drink)! They were enjoyable, but I don't know if I'd get it again. It was then time for our Star Tours fastpass so we headed over. We actually got several new scenarios this time and I was super surprised to see Finn and BB-8–I didn't expect Force Awakens characters put in so quickly.
With that, we still had a good amount of time yet before our 2:30-2:50PM Fastpass for the Indiana Jones Stunt Show so Mark and I headed back towards the front of the park to get Blue Milkshakes from the Dockside Diner and also a lovely BB-8 Drink Holder: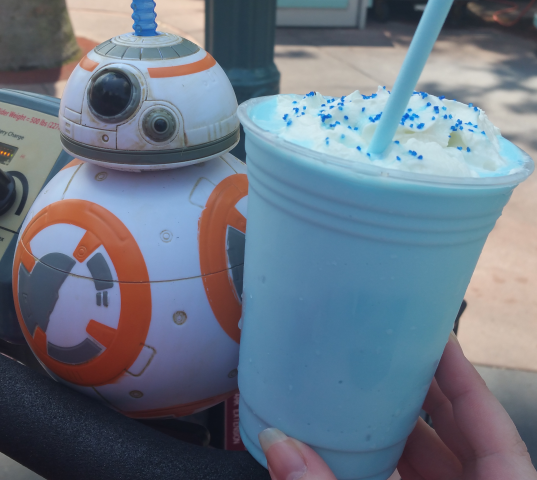 BB-8 is so cute T~T And the Blue Milkshakes were really good. We almost got the Tie Fighter Popcorn Bucket as well, but we'd have no way to pack it so we had to skip on it.
We then hurried back just in time as they had started to move the line in. While it kind of stunk to wait so long, we at least got to enjoy some mist blowing on us: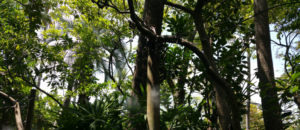 And there were cute lizards too:


Finally, we got to go into the show and even got some pretty nice seats.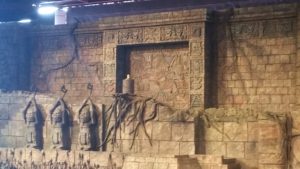 The last time I had seen the show was when I was really little (like 3 or 4–maybe 5) so I didn't remember most of it. Mark had been wanting to see it though and enjoyed it.
With that, our day at MGM was over and we headed to the bus to head back to our hotel. We arrived back at our room about 4PM so we had some time before our special Luau dinner at 5:15PM. My dad originally didn't want to go, but ended up coming anyway which was nice and we actually all enjoyed it. The first hour was essentially for food with all you can eat from each of the dishes: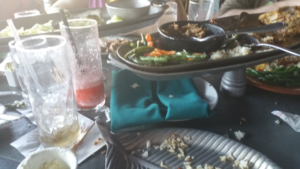 Bread, Soba Noodles, Salad, and Pineapple for an appetizer while Ribs, Pulled Pork, Sticky Coconut Rice, and some mixed Vegetables (Carrots and Green Beans) were for dinner. I was also able to get a non-alcoholic Pina Colada which is always nice.: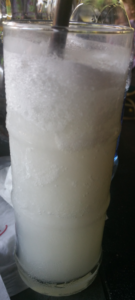 Drinks without alcohol are the best~ I liked the bread, Pulled Pork, and Rice the best out of the food. For dessert, we got to share a piece of a Pineapple-guava cake which was pretty good, though, my mom and Mark were a bit upset as the menu had mentioned Pineapple Bread Pudding (essentially a Bread pudding made with the same bread we received in the first course) and so seeing the cake instead… yeah. It was still good though.
The show itself was interesting and even showed several traditional dances which was nice. I'm not sure if I'd go again, but I'm glad we all went once.
And with that, our last full day is over~ Mark took this picture on our way back to the hotel room: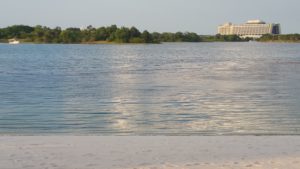 Now to just pack and get some sleep.
As for our StreetPass count… Only one all day :( And no new puzzle pieces ;~;
TrackBack
TrackBack URL for this entry:

Previous | Next