So, we arrived in San Francisco on Thursday and I wasn't feeling too great–I had pretty bad jet lag mixed with allergies from the weather change (roughly 30 degrees difference) and I was really off–not to mention tired due to not having slept well. On the bright side, there were Pokestops like everywhere–from the airport to the ride to the hotel.
Thus, we decided to mostly take it easy. Our room was upgraded for free and the Front Desk guy was super nice giving us a map, list of places in the area, and a bunch of things to help us with our first visit.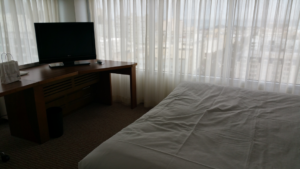 We had lunch and dinner in the restaurant. We shared a Cheese and Charcuterie Board which was great for an appetizer and then I had their Blue Cheese Burger while Mark got a Chicken Wrap. The burger was pretty good, but only places where there were a lot of cheese–it didn't feel too flavorful otherwise and was just okay where the cheese was a lot less.
For dinner, we decided to just get appetizers and dessert. We shared this… special pizza thing that was really good and chicken fingers which were also tasty. For dessert, he go their special Cookie Skillet that was all caramel and vanilla-y while I got the super amazing brownie with whipped cream and chocolate ice cream. I think the cheese plate and Brownie are my favorites.
Also the Room key is adorable: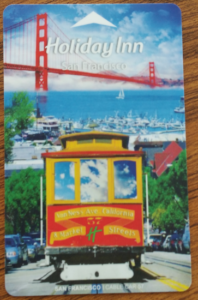 We pretty much stayed in the room otherwise, but still had fun thanks to a Pokestop we can reach from our room.
Today (Friday–though, I suppose it is after midnight now so yesterday) we really wanted to do more. Checking with some friends who we will be seeing tomorrow, we decided today we'd try a few places out and maybe go check out the hotel Worlds is taking place at despite only some things being public. I wanted to look at the store anyway (DESPITE NO MEGA AUDINO THINGS. NOT EVEN A MEGA AUDINO BANNER. I SURE HOPE THE AWESOME WINNING MEGA AUDINO DECK HAS GIVEN IT MORE LOVE AFTER THEY DIDN'T EVEN THINK THEY'D NEED A PICTURE) so we figured it'd be a good chance to explore and ride the Trolley.
We started with a Breakfast Buffet in the hotel which was kind of plain compared to lunch and dinner. Then, Mark wanted to watch the special Star Citizen Presentation that was at Gamescom. There is a free fly week too right now so it's a perfect chance to try the game's alpha.
Once it was over, after some debate, we decided we'd go to Cookie Love. We picked out 6 different cookies (I think the Campfire one was my favorite) and then went over to Spinnerie for lunch. I had Salmon with Truffle Mashed Potatoes while Mark had Mediterranean-spiced Chicken & Couscous.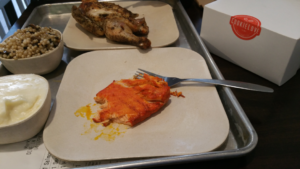 After dropping the cookies off in the Room, it was off to the Trolley!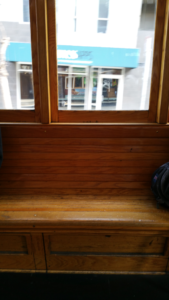 We were heading towards where Worlds was taking place to check out the store.
I kept hearing mixed things if it was public or not, but we could still try to check, right? Thankfully, with a little push, we headed on up with roughly 10 minutes to go. While some stuff was sold out (like the life-sized Charmander Plush, but we wouldn't be able to get one home anyway), we did pick up the special Pikachu plush and a screen wiper of the nice artwork: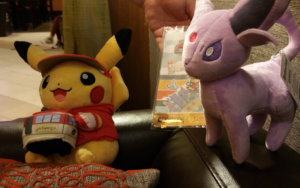 (The Espeon is Mark's :P)
I love the bag we got everything in too: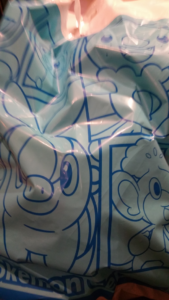 On the way out, we also said Hi to Renae and Josh which was nice–I've been moderating for them on Twitch for like… 2 years? And they are really nice so it was nice to say Hi and give them hugs and stuff before they headed out to dinner :3
We then headed to the Mall to get some Boba Tea: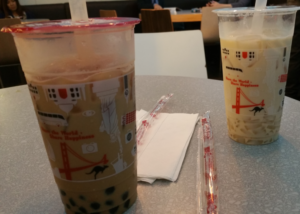 It was very tasty <3 After some debate on dinner, we decided to try this Burger place nearby called Super Duper Burgers. It reminded me a bit of Smash Burger (though, with less options) and while the Burgers were good, I feel the Milkshake and Garlic Fries outshined it.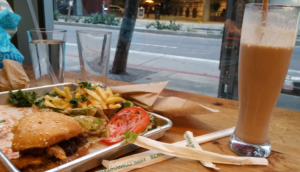 It was then a trolley ride back to the Hotel. Tomorrow is Japantown and hopefully the Disney museum too <3 Anyway, you can check more photos out on my Twitter :) And Pokemon GO-related stuff will be coming up in the Pokemon GO Log 6!
TrackBack
TrackBack URL for this entry:

Previous | Next