Today had one clear goal: Go to Japantown. Two friends of ours were coming up to meet us and so we all decided to go together. It's a really nice mall and I wish I took more pictures of it, but I was mostly distracted by Pokemon GO. We even took over a gym there: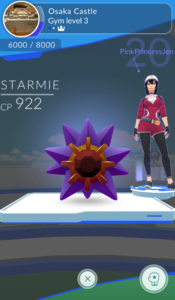 We ate at a really nice Japanese place called Izumiya. All the food was super delicious and they had the Okonomiyaki I actually had in Japan–though, I went with Salmon and it was just super amazing. They also had super good soup and best of all… TAKOYAKI. Which I wish I took a picture of, but I ate it too fast. It was definitely the best Takoyaki I've had in the US. For now, please accept this picture of some of my Salmon with some of my rice: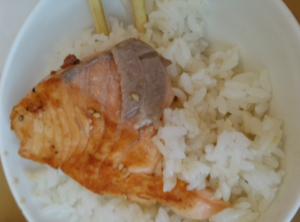 I also tried some Takoyaki at a special booth, but I actually think the Takoyaki at Izumiya was better.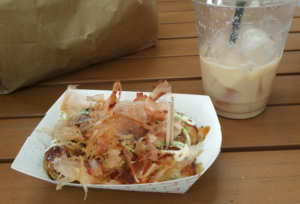 The Vanilla Chai was really good though.
As for bought stuff, we didn't get too much: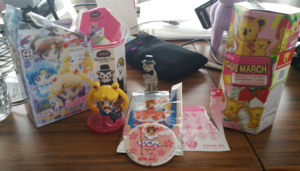 The Cookies were won from a crane game. I probably would have gotten more of the CardCaptor Sakura things too if I realized they were pins as I really like most of the options. I also wish I got a box with the option of ChibiUsa too, but I'm happy I at least got Usagi as she and ChibiUsa are my favorite Sailor Moon characters.
We then headed back to the room and after helping me get Marcie back (I'll be writing in my Animal Crossing blog about that once I'm back home :3), our friends left. This was a nice shot from our hotel room though: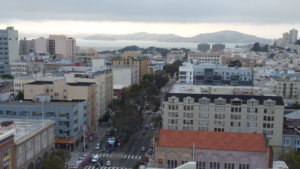 Sometime later, we decided to have dinner at Myconos Greek Restaurant and it was some of the best Greek Food we had. We got the big combo platter and everything was just amazing–the biggest surprises were things that we normally just found okay were incredibly delicious and we wished there were more: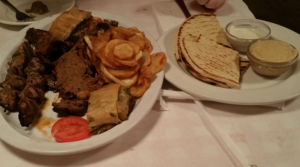 We had tea and Baklava for Dessert <3 After that, it was back to the room! Tomorrow we're hoping to do quite a bit so I hope we can get it all done before we head home on Monday.
TrackBack
TrackBack URL for this entry:

Previous | Next