One of the things I find myself having the hardest time with is just really keeping up with everything–even though I'm at 91 Stickers, I still have the Post-World episodes, some of the high level main episodes, I am no where close at crafting the better things, failing at fishing (I still need so much), and haven't done much of anything in the worlds for The Little Mermaid and Alice in Wonderland. I'm hoping to get the Little Mermaid's main episode story done today.
I don't know if I'd necessarily say the game is more challenging overall (certain aspects definitely though), but just very overwhelming. I feel like I've gotten no where yet in some way, I'm almost done which is baffling.
If there is one thing I realized with this game though, I do think it'd be immensely better without the Ghosts in it. The combat is dumb, it's not very fun, it's repetitive and kind of boring (even the new challenges get old fast), and I have a much more enjoyable time with nearly every single other thing. I like the dancing and just hanging out and doing favors and the Hundred Acre Wood and Snow White's World are just so nice and enjoyable and even some of the other worlds have episodes that just let you breathe from "keep spamming A and twirling".
The Ghosts are uncreative, frustrating, and I just don't feel they add anything. This conflict isn't even needed–you could still go up a mountain and investigate lost mail without having to defeat ghosts along the way. Like I find the episodes where I'm not doing some stupid dungeon grind so much more fulfilling.
But yes, moving onto playing recently, I feel like I'm not accomplishing much, but am earning stickers anyway. I do think I'll probably finish earning the 100 before I get even close to being done with the game. That is probably a good thing though.
After doing enough dancing at the Ballroom, I finally got the item I needed for Owl: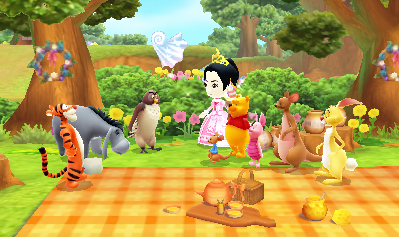 Unfortunately, my progress in this world was paused immediately again with the next episode as Kanga wants something from Wonderland and I'm not even touching Wonderland until I finish The Little Mermaid because I hate Wonderland so much. X__x
I then went off to work on getting the other balls unlocked and started up an Aladdin Party. "It's Showtime" has to be one of my favorite songs–it's so catchy.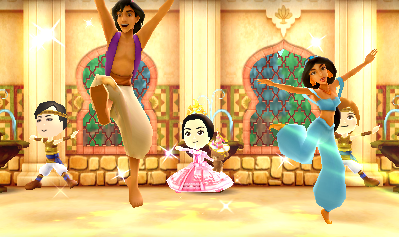 And of course, this unlocked another Ball: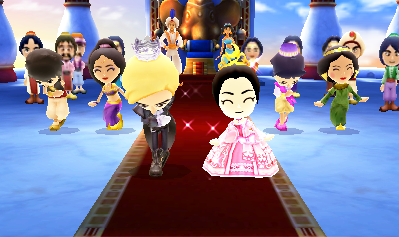 And unlocking my 5th got me a Sticker :D
I then continued working on Snow White's World and unlocked the Rainbow Cavern!: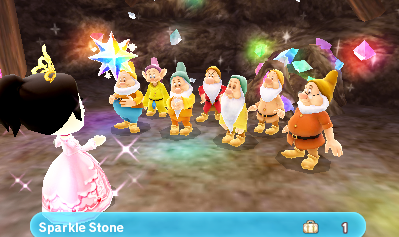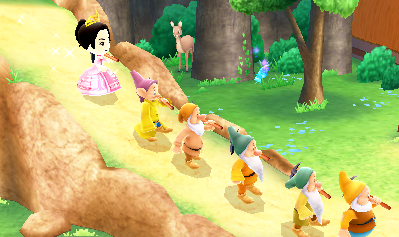 And became Sneaky the Dwarf apparently.
Meanwhile, over in Frozen's World we built a Snowman.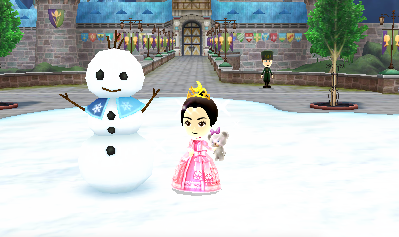 And after meeting with Marshmallow and beating the Frozen World Boss…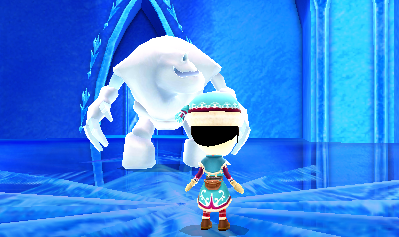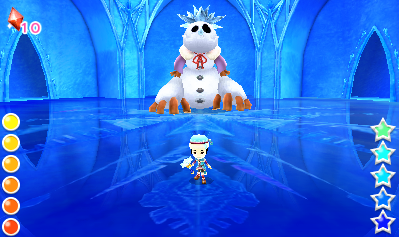 We came back to some new Snowpeople based off us (because our Snowman had to go get possessed 3):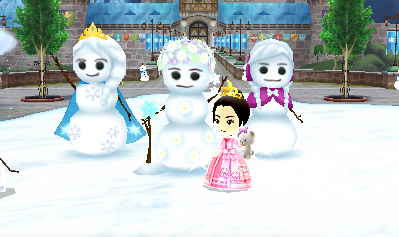 I then held my first Frozen Party to unlock the Frozen Ball: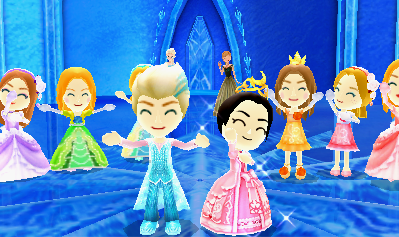 I also got to have my very first Golden Dream Parade which had different activities despite being the same setting.
After that, I mostly just worked on grinding up more materials and working on my Fish Collection. I'm hoping to start the Little Mermaid world soon and also host a Snow White Party which is the last Ball I need to unlock. I also got John's cute Teddybear: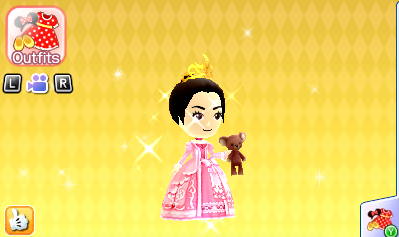 But I think I'll stick with the UniBEARsity one for now. I also finally got my Cherry blossom sparkles so yay :D
Finally, Nintendo updated their website with some Halloween themed items you can scan in from a QR code so be sure to do that if you haven't yet!
TrackBack
TrackBack URL for this entry:

Previous | Next