So, as many of you who probably read this blog and/or are subscribed to my Youtube Channel, I have been very… vocal about my upsetness that Japan and PAL regions were getting the game this month while North America had yet to hear anything. However, that changed today with an announcement that not only would we be getting Style Savvy 4–now known as Style Savvy: Styling Star, but we'll be getting it next month on Christmas Day.
Sure, it's still a month after the rest of the world, but a month is much better than over a year. I think, if anything, I'm more upset that the game will be eShop download only–I prefer physical copies of games so I'm not super thrilled with having to download it. That said, I will happily take that over not getting it at all.
There's even a demo out right now so if you haven't yet, go download it! It'll help show support for one as the game does not get advertised enough here. If you don't have a 3DS yet, I uploaded my entire demo playthrough and even the other song ending you can get on my channel :)
But yes, this is my adorable Demo character (and probably what I'll go with when the actual game comes out too):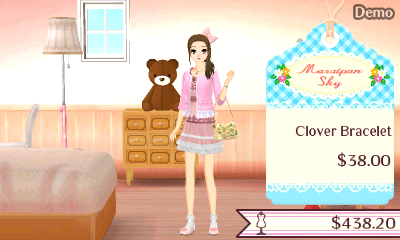 The game genuinely does feel like a combination of the best parts of both Trendsetters and Fashion Forward. I really missed seeing the room actions: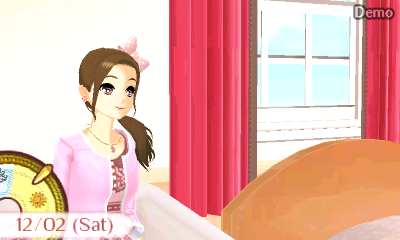 And I can't wait to decorate my room again.
We have the town interactions from 3 as well!: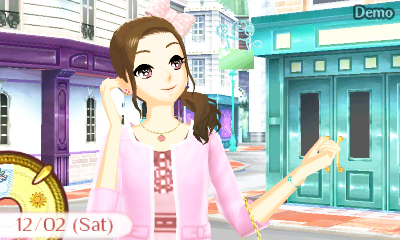 And honestly, the songs are genuinely pretty catchy so I can't wait to hear the other songs in the game. While I like the rock song more, I do think girly fits Rosie more so that's probably what I'm going to go with in the main game.
The game has its own date system which I'm actually really happy with (and hope it's not just a demo thing)–the issue with Trendsetters was that it only cared about the month real-time-wise which meant you could finish the game and never actually leave the same month. Similarly, even real-time-wise, you could usually beat the game with the first Style Savvy and Fashion Forward within the first season with only a few things needed from others. I feel like an actual separate date and time progression will fit the game much better.
I don't really have too much to say otherwise beyond that I hope checking out people's shops online won't be region locked and that we'll actually get all the DLC this time (I can dream). Regardless, I'm just so excited and knowing the game is only about 7 weeks away is super exciting.