While writing through my press conference thoughts (don't worry, it's still coming!!), I found myself deviating a lot from the main subject to really go into the current controversy in Sword and Shield with Galar's National Dex. As to not completely sideswipe my original intent, I figured it may be best to try and talk about it on its own instead.
At the initial core of the subject, I'm not really bothered if Galar only has its own dex to start… I usually try to play through each generation for the first time with Pokemon only found there so for my initial playthrough, it really doesn't effect me.
The problem I've found is everything surrounding it. Ignoring if we even got pokedex entries for every Pokemon (which, even if they could be imported in Gen 7, not all Pokemon had Pokedex entries), I usually liked to do the Elite 4 again with my favorites to get them new ribbons. And now that won't be an option unless they added the option later.
My biggest fear is more of what I'll be doing with my Pokemon. During the press conference, it was mentioned that Pokemon Home would essentially be Gen 8's "Pokemon Bank" replacement which is fine, except for one issue… You can't transfer Pokemon out of Home except to Sword and Shield: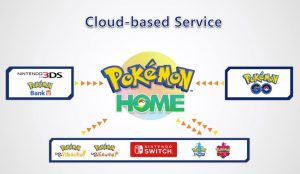 And then we learned some portion of the Pokedex will not be able to be transferred to Sword and Shield after all.
So then what? Are my Pokemon trapped there? Will they never get to be in a Pokemon game again? How long will Bank around? Out of everything, this is really what keeps popping up for me the most. I have hundreds of Pokemon (probably closer to thousands) that may just end up poofing into thin air or being trapped in some box and that sucks. While I have hopes that Pokemon Home could maybe be similar to Pokemon Ranch and/or Channel, there's no information confirming that right now or changing the issue at hand with the fact that it's a one way transfer for a large amount of Pokemon.
To make things more frustrating, my favorite Pokemon is a Mega Pokemon–Mega Audino. Now, honestly, I hate battle gimmicks. I find them uninteresting and generally don't even use them. But Megas had some pretty great designs and even with Z-Moves, some of the animations were pretty fun. While they managed to bring Megas along into Gen 7, from the sounds of things so far, it seems like Dynamaxing may be all we get in Gen 8, which, you know, fine, whatever, I really don't care at all about Dynamaxing and it's probably better to just have one battle gimmick per game, but it's also so frustrating.
I've been saying since Megas started that I wish they'd just make them form changes (Akin to Alolan forms, Deoxys, or Meloetta) or actual evolutions depending on the Pokemon. They can have different types and maybe some stat changes, but not be too different. Seeing those designs just essentially be tossed really sucks. And sure, maybe it's not the first time (We've had Spiky-eared Pichu and the Cosplay Pikachu), but there were a lot of unique designs and while I didn't care for all of them, this is still 48 (50 if you want to include Kyogre's and Groudon's primal forms) designs tossed right out the window.
And I've never even liked the idea of Mega Evolutions, but god did I really fall in love with some of the designs. And what really frustrates me with Pokemon is they keep doing this.
They keep making interesting mechanics and then tossing them for the next generation. They want to gear to hyper competitive people and keep it interesting to them (Which tournament rules exist, you can do plenty there already) while also focusing on the extra casual group of people who are maybe coming in from GO and are just… forgetting everyone there in the middle.
And it sucks. There are SO MANY cool things in the Pokemon World already, including so many amazing Pokemon, and instead of just using them to the best of their abilities, they are busy making things more convoluted or gimmicky when it's not even needed.
You know what I'd like to see as a battle gimmick? Bonds that mattered. I want the Pokemon I spent so much time with, traveled multiple regions with, to be able to have those high level stats that maybe only certain Pokemon would have. Forget EVs and IVs, let the experiences they've gone through be enough. I want to destroy those tier lists with my Dragonair, Mega Audino, Slurpuff, and Stufful, I want to show that sheer determination and effort and dedication can actually mean something.
We see it happen SO MUCH in the anime with Pikachu and other Pokemon, why can't we have THAT in a game? You want unique battles? You want to turn things on their head? Let the Pokemon we've grown up with grow up too and show them what they can do versus hatching eggs for 5,000 years to get a specific shiny natured one. There's a way to completely break the meta if connections actually mattered. Because right now, when we can't even transfer our Pokemon to Galar and possibly to anything ever again? They don't mean anything anymore.