Twitch Collection | Youtube Playlist
It's officially Earth Day and with the recent update trailer, we know a lot is upcoming, not just in the sense of with Earth Day and it bringing Redd, a Museum upgrade, and Leif with bushes, but also with upcoming events like May Day (I see you, Rover) and the Stamp Rally and even a Wedding ceremony (which those benches are beautiful…).
To my surprise, Isabelle didn't mention anything about Earth Day. It was even raining. I had a bit of mail– besides the 5 things I ordered from the catalog yesterday, I also got a Sombrero for helping Gulliver and a Mixer from Merengue. Some things I was able to switch out quickly, but others needed to wait until I redid my house.
The best thing though is I finally had my ballet slippers!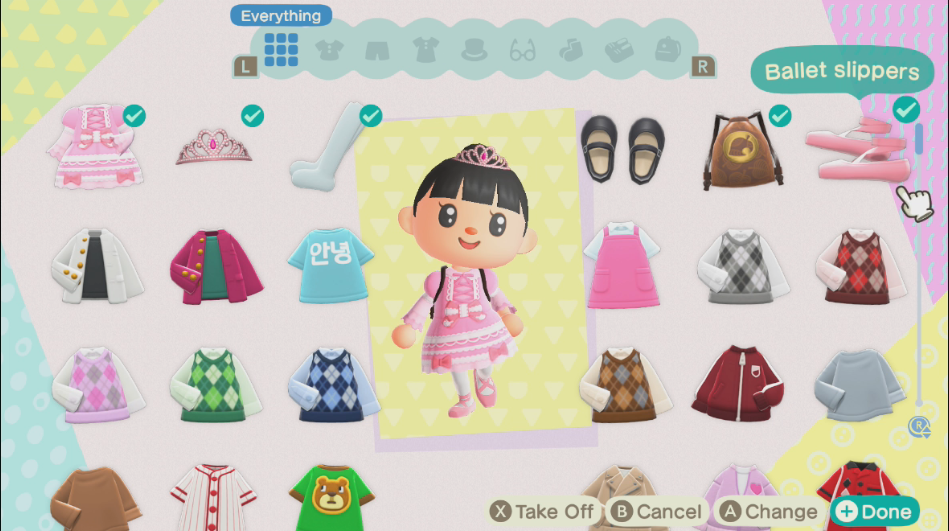 I'm not sure if I like them more than the Mary-janes or not. While Ballet Slippers were my default shoes during New Leaf, the Black Mary-Janes were my default throughout City Folk.
I will say I am so incredibly tired of picking up tree branches. Despite my tree branch frustration though, this was the fastest I've found all my fossils to date so that was nice.
I surprisingly got a Lucky Gold Cat Recipe from Bitty. Unfortunately, I had just learned it yesterday so I sent it over to my husband.
Audie also officially moved out so it was Nook Miles Island time.

Kicks was here which was a huge surprise. I bought out his stock as usual.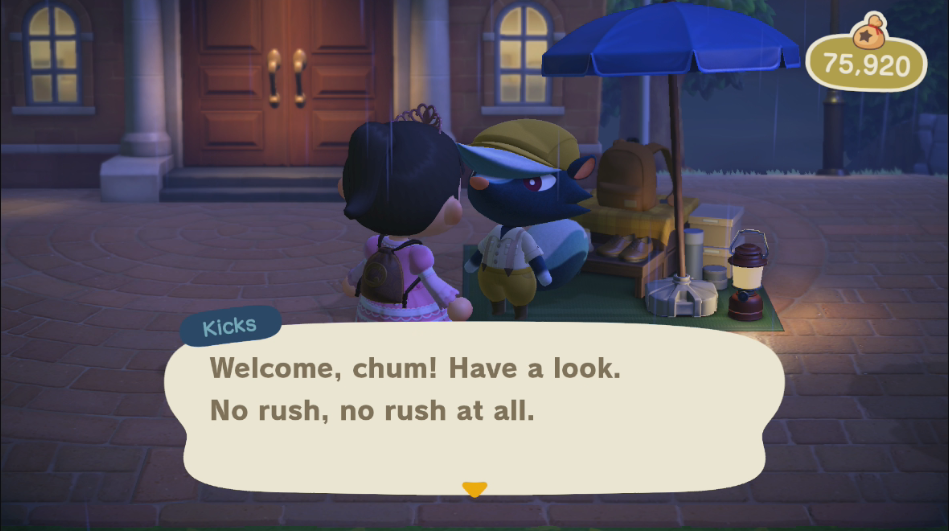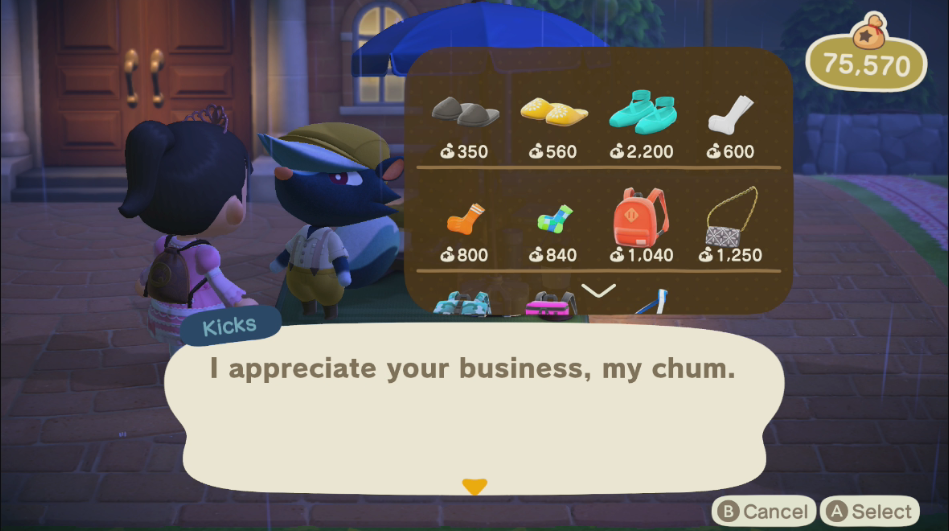 I really wish the colors were listed.
I headed into Town Hall in hopes of the Earth Day Nook Miles things, but found nothing… I did, however, notice I apparently forgot to celebrate the Nook's Cranny remodel yesterday which I feel awful about… I'm glad I was able to do so today.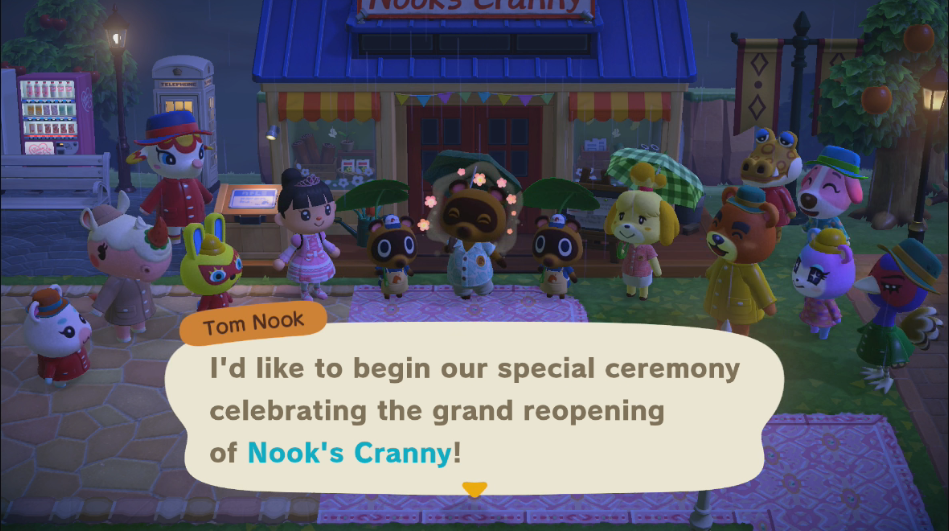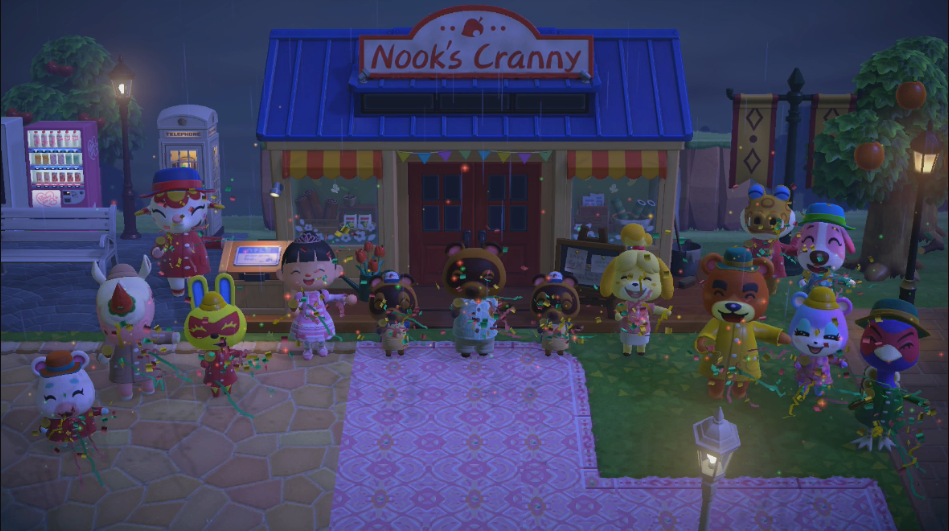 I'm really surprised though that it seems "Nook's Cranny" is being kept around this time over the name changing with the upgrade.
Regardless, with nothing else to do for now and feeling incredibly confused, I decided it was off to the Nook Miles Islands. I emptied out most of my inventory. I knew I wouldn't be fishing and I only kept the bug net for tree shaking as it's easier to do so on islands for items than it is in my own town.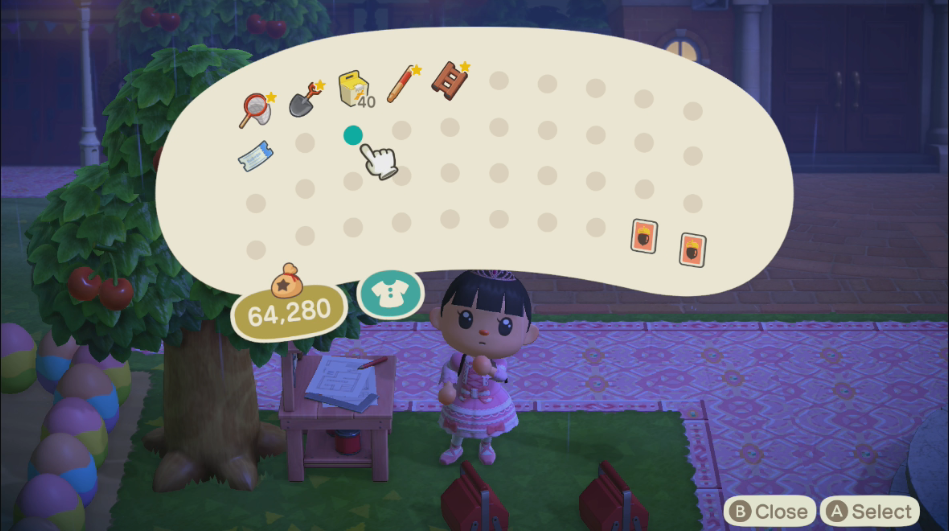 I also made sure to mail off those two recipes to my husband before I headed off. Now to just hope I run into Marina, Diana, Maple, or Peanut.
My priorities essentially were:
-Villagers
-Recipes
-Hybrid flowers
-Shaking trees
-Weeds (as I was actually getting kind of low) and loose stone (as I can always use more)
While I could do more of things, having only one day to find a new villager, I preferred to keep my trips short and sweet. I may gather a few extra peaches though for crafting recipes. I only have two left. I also decided to just catalog any items from trees, unless it was something I planned to use, and release the wasps and leave the hives behind as I had plenty of the materials and I just didn't feel like making constant drop box trips (or shop trips once Nook's Cranny opens).
Island tally:
Island 1 – A bust. Rasher. Got some weeds and stone though. Sadly, nothing new from the tree item (A baby panda), but at least it counts to the Nook Miles thing regardless.
Island 2 – Spiral Island with Rory I think? I realized I forgot to check the first island for a recipe, but hopefully there wasn't one… Sadly, there wasn't on this one either and I figured I'd save weeds and rocks for another day unless I am gathering flowers or find a villager. I got a Tissue Box from this island's trees so hopefully it's at least a new color.
Island 3 – Naomi. Tape Deck from trees. Sadly hit the tree while shaking so I got stung, but I just made some medicine. …Maybe I don't need my net. Still no recipes :(
Island 4 – Spiral island again, but this time with Goose. Still no recipe. Got a Nail-Art kit from a tree and got a fossil.
Island 5 – Hans. Whiteboard from a tree.
Island 6 – Rory again… But Peaches! So I made sure to grab a bunch. And since I was gathering all the peaches, I gathered the weeds, rocks, and some white lilies too as I love the Lily Record player. As a side note, I'm sad we can't put fruits into baskets anymore– I know there's the one crafting recipe with one of each, but it's not the same.
Island 7 – Tex. Had to make myself medicine again. Mobile from tree.
Island 8 – Flo. Painting set from a tree.
Island 9 – Hugh. Air circulator from a tree. Recipes shouldn't be this rare on islands, game T__T Returning back from this trip, I noticed the rain had slowed down a lot.
Island 10 – Waterfall Island! Tia was on it and while I like her a lot, she isn't a top favorite.


I ended up getting a document stack from a tree which was a little frustrating as I had JUST ordered some through the Nook Shop/Catalog after getting a Scattered Papers Recipe. I ended up just making and customizing it on the island. I also had gotten a recipe (Tree Standee– sadly already had it) and a fossil so I got that assessed at the museum too. It also stopped raining so at least getting up early let me get all my flowers watered.

Island 11 – Naomi again. At this point, I was feeling a bit discouraged. Not because of the amount of islands, but I never really saw duplicates before and this time, I have twice now. On the bright side, I got a new DIY recipe from "Captain Erik T. Crafter"– an Angled signpost! I also found an intercom monitor in a tree.
Island 12 – Chops. Toolbox from a tree.
Island 13 – Molly. I adore Molly a lot and she was in my New Leaf town. If we had 12 slots, she and Ruby likely would've been the last two. Anyway, I got a Surveillance camera from a tree. Which is kind of unsettling if you think too much about it.
Island 14 – Frank. Got a toilet from a tree.
Island 15 – Sally. Camp stove from a tree.
In the middle of all this, I found out the Earth Day stuff doesn't start until tomorrow… The day after Earth Day. I'm guessing this is because Thursday is their update day, but I actually found it really disappointing and not just because I woke up so early for this. I also swear during the trailer before the most recent, it said it would be on Earth Day :/
Regardless, I still managed to do some things! Taking a small pause after Island 15, Mika let me stop by her town to get the Zen-style Stone (aka a Japanese tombstone/grave) recipe from Bones. She even let me take some stone to make it (as I'm always low) and let me have an Ironwood Clock recipe too. And let me stop by again to check out Able Sisters because I forgot they were opened for her already because timezones. I even managed to get the pink Waitress Uniform that was on my wishlist!
I also explored my town a bit and Cookie taught me how to smile with the Happiness Reaction: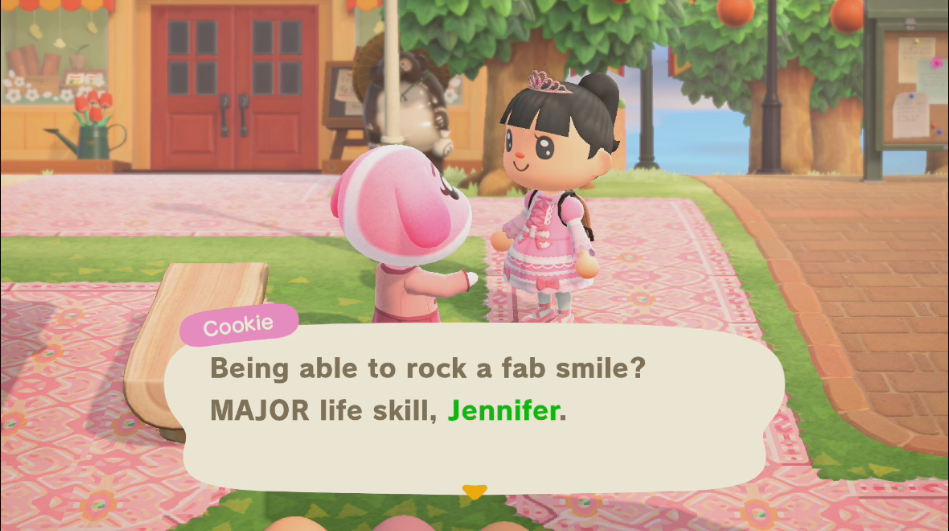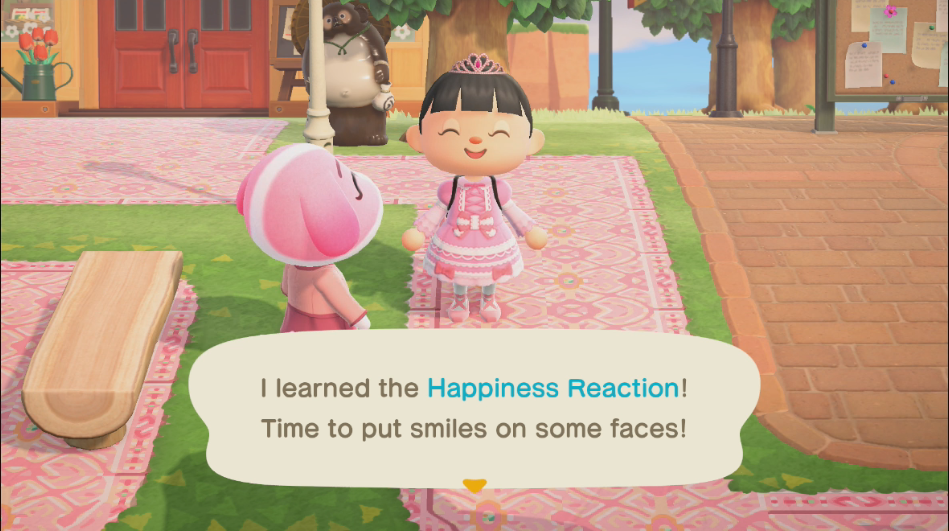 And I learned how to make a Pansy Table from Margie and got some more Nook Miles tickets from my house in preparation. I also ran into Merengue who was wearing the Mega Audino dress I made!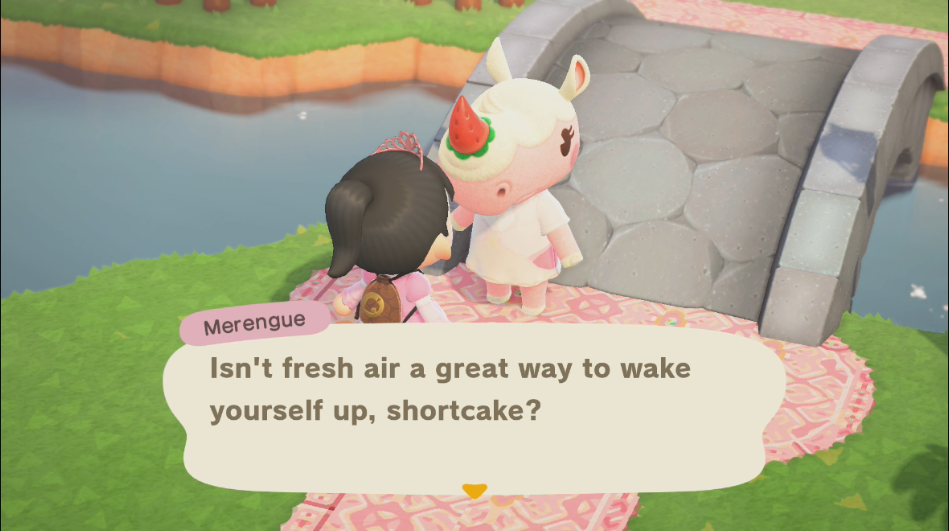 I also stopped by Nook's Cranny as it was opened now. Most of the items weren't new, but I did get an Imperial bed.
It was then back to Islanding:
Island 16 – Peaches [the horse] who I almost didn't recognize at first. She's a lot brighter-colored in this game. Metal can from a tree.
Island 17 – Lionel. Anatomical model from a tree. Also found a fossil.
Island 18 – Knox. Baby chair from a tree. Found another fossil. Also got a recipe in a bottle from Astrid and learned how to make a Cosmos shower!
Island 19 – Hybrid island!! Hybrid lilies again. I gathered as many pink as I could and petals for recipes from the rest. Alli was also here. And a Double Sofa was in a tree.
Island 20 – Bamboo island. Cranston. Found another fossil.
Island 21 – Another Peach tree island with another fossil. I gathered plenty before so I didn't get any again this time. Found a recipe from Julian– Golden candlestick which I already know. Gruff was the villager there.
Island 22 – Eugene. Another fossil and a Revolving Spice rack in a tree.
Island 23 – Bamboo island again. Puddles, who is one of my favorite frogs.
Island 24 – Peach Tree island again. Astrid.
Island 25 – Waterfall Island again. Gloria. Got a Cone from a tree.
Island 26 – Snooty. Recipe from Tipper: Bamboo Candleholder so nothing new. Found a Table lamp in a tree.
Island 27 – Lyman. High-end stereo from a tree.
Island 28 – Axel. Spiral island. Recipe from Rosie: Shell Table. Hose Reel.
In the middle of this batch of islanding, I also stopped by to check on my other villagers, gave Teddy the Hamster cage he had been eyeing in the store, and went around to see if anyone new was crafting as I noticed Margie stopped. Merengue ended up making a Knitted-grass backpack. I already had one though.
Able Sisters had also opened by now. Sadly, nothing interesting today though. Anything I would've wanted, I already had. I regret not working harder on cataloging from the shop, but not only is it just too exhausting and stressful right now, having to run all the way back to my house to grab things from storage to sell back is annoying. I think there is a lot of pros to the auto-storage thing, especially for anything you want to keep, but it's just a pain for anything you just want to catalog and I kind of wish you could choose when you want to send it to storage and when you want to bring it with you.
With Island 28, I finally hit the 100 Shady Shakedown achievement so happy to have that done. I may still shake some trees for items though as it's pretty helpful with my cataloging goal…
But our journey still continued to find Marina, Diana, Maple, or Peanut:
Island 29 – Peach island. Pinky. Another recipe from Julian surprisingly: Scattered papers this time.
Island 30 – Zucker, my second favorite Octopus– alas, we are looking for Marina (or Diana, Maple, or Peanut). Mounted blue marlin from a tree.
Island 31 – Bamboo island. Knox.
Island 32 – Peach Island. Norma. One of my favorite cows and a contender if we had more spots, but she's not in the top 8. Also a recipe from "Capt. Pudge T. Crafter": Orange dress.
Island 33 – Zucker again. Lecture-hall bench from tree.
Island 34 – Octavian. There's only 3 Octopi in the game so this kind of hurts now. Beach towel from a tree.
Island 35 – Bamboo Island again. Leonardo. A recipe from Roscoe: Tiki Torch. Which everyone has.
Island 36 – Waterfall island. Tank. Recipe from Dora: Log extra-long sofa which is a recipe I've needed. Wall clock from a tree.
Island 37 – Money rock island. Scoot. While I could use more bells, it's just not my focus right now and I'd rather save my shovel for flowers.
Island 38 – Coach. Velvet Stool from a tree. Recipe from Apollo: Bamboo hat.
Island 39 – Money rock island and Naomi again.
Island 40 – Spiral island. Tex. Mug in tree.
Island 41 – Opal. Found a Bathroom sink in a tree and also found a fossil.
Island 42 – Becky. Found a Floor sign in a tree.
Island 43 – Spiral Island. Moe. Oil barrel in a tree.
Island 44 – Peach island. T-Bone.
Island 45 – Waterfall island. Reneigh. Recipe from Astrid: Golden Dishes. Yay for a new DIY Recipe.
Island 46 – Flo. Alto Saxophone.
Island 47 – Filbert. Cypress plant from a tree, also found a fossil and got a recipe from Louie: Fossil doorplate.
Island 48 – Bamboo island. Cyrano.
Island 49 – Money tree island. Marcie, another old friend from New Leaf who I love a lot, but alas, we only have room for 8 total and I have exactly 8 top tier favorites.
Island 50 – Bamboo Island. Canberra.
Island 51 – Clyde. Standing toilet from a tree.
Island 52 – Peach tree. Norma again. Found another fossil too.
Island 53 – Astrid. Old-fashioned alarm clock. Recipe from Rizzo: Fancy Mum wreath.
Island 54 – Waterfall Island. Dotty. Rattan Wardrobe.
Island 55 – Bamboo island. Soleil.
Island 56 – Prince. Kitty Litter box.
Island 57 – Peach island. Celia.
Island 58 – Curt. Knife blog. Recipe from Twiggy: Wooden Stool.
Island 59 – Bamboo Island. Lucy, my favorite pig, but again, not who we are looking for. Recipe from Derwin:
Island 60 – Spiral Island. Rocket. Sturdy sewing box.
Island 61 – Drago. Paper Lantern.
Island 62 – Apple. Effects rack.
Island 63 – Annalisa. Simple panel.
Island 64 – Bamboo Island. Willow.
Island 65 – Plucky. Toy box.
Island 66 – Waterfall Island. Boyd. Fortune-telling set. Recipe from Sheldon:
Island 67 – Kevin. Cute floor lamp.
Island 68 – Waterfall island. Mathilda. Ironing board.
Island 69 – Peach Island. Pietro.
Island 70 – Pango. Squat toilet.
Island 71 – Chester. Vacuum Cleaner. Recipe from Flo: Iron Garden Bench.
Island 72 – Annalisa again. At this point, I'm only going to check for recipes as it's faster and it's been 7 hours now of me playing, most of it doing these islands.
Island 73 – Yuka.
Island 74 – Sprocket
Island 75 – Peach Island. Soleil. Recipe from Kody: Pear Wardrobe
Island 76 – Waterfall Island. Big Top. Also found a fossil.
Island 77 – Clay. Recipe from Tia: Peach dress.
Island 78 – Eunice. Recipe from Mint: Timber doorplate.
Island 79 – June. Another favorite, but not a top 8 favorite.
Island 80 – Tybalt. Recipe from Baabara: Garden Bench. I've been wanting this recipe too.
Island 81 – Bamboo Island. Nate.
Island 82 – Peach Island. Plucky. Recipe from Kabuki: Kettle Bathtub. I didn't even know this existed. It looks more like a cauldron.
Island 83 – Tiffany.
Island 84 – Waterfall Island. Bruce.
Island 85 – Coach. Recipe from Violet: Golden dishes.
Island 86 – Peach island. Pierce. Also found a fossil.
Island 87 – Alli.
Island 88 – Baabara. Recipe from Buck: Iron frame. At least I'm getting some new recipes through all this.
Island 89 – Bamboo Island. T-bone again.
Island 90 – Baabara. Recipe from Prince: Cardboard bed.
Island 91 – Waterfall Island. Lobo.
Island 92 – Tangy.
At this point, I was just too exhausted to keep going and also a bit too discouraged. I didn't really keep track of how fast I found Merengue, Cookie, and Flurry, but it definitely wasn't even close to this and it makes me nervous for finding any of the other four. I do have the Amiibo, but hearing such mixed things on then, I'm nervous about messing things up for someone or glitching my game. And it's part of what has made me nervous about reaching out to others too.
In the end though, I did try and someone was nice enough to trade me their Marina for some DIYs and Bells: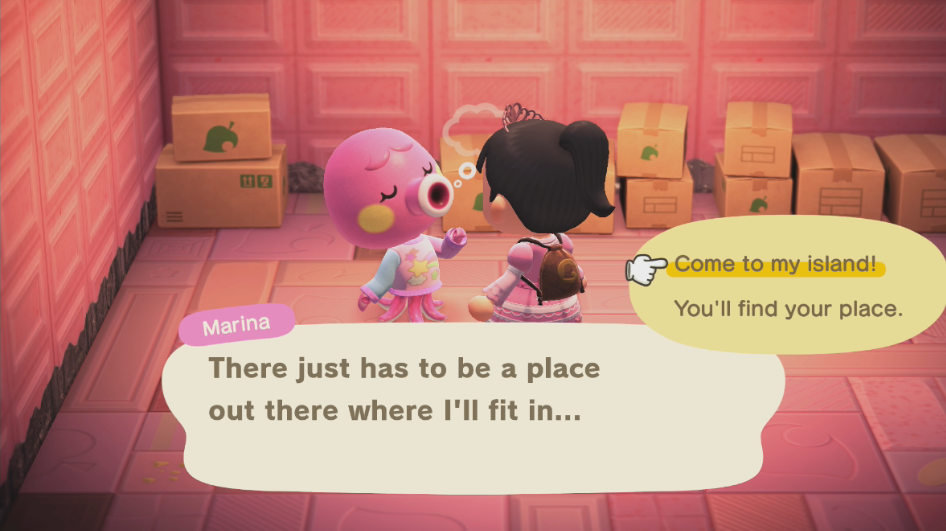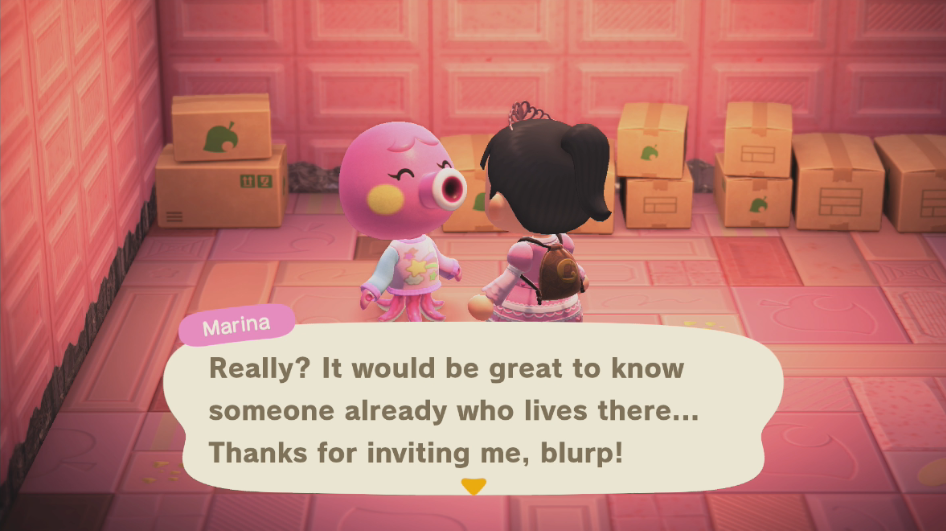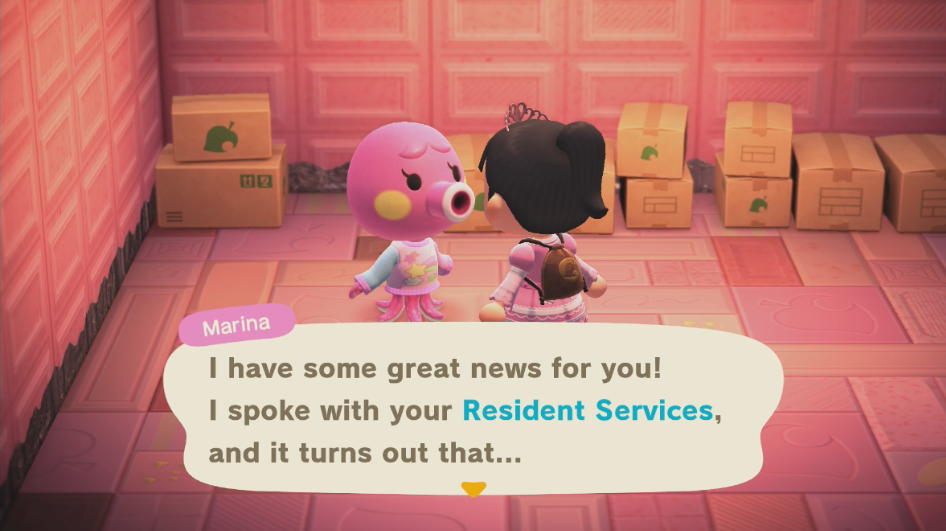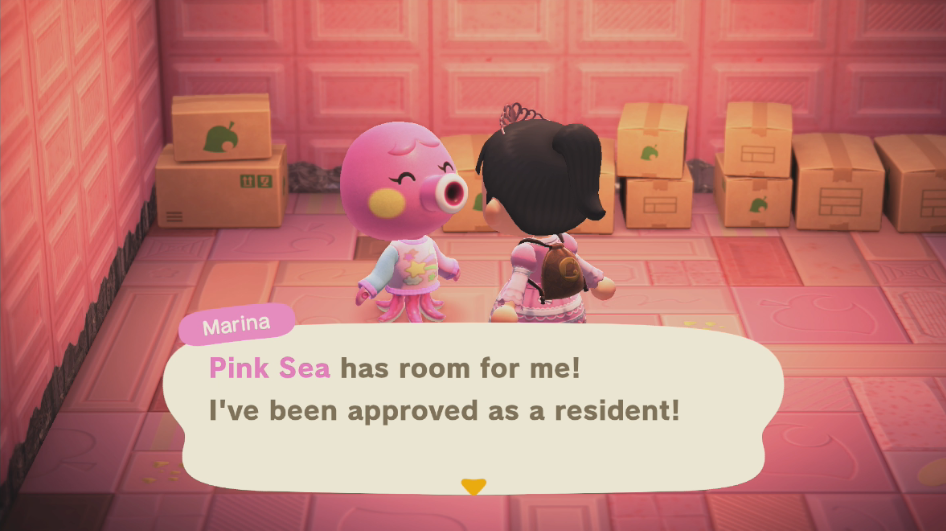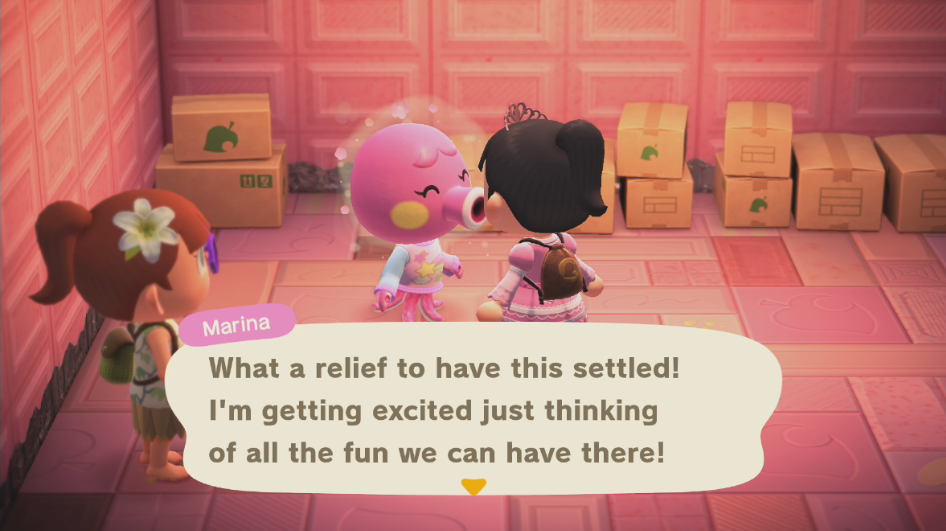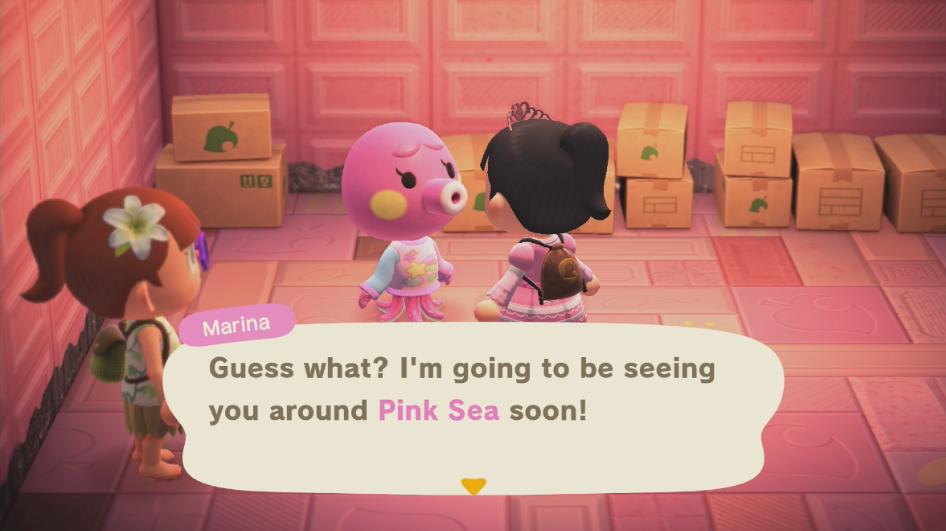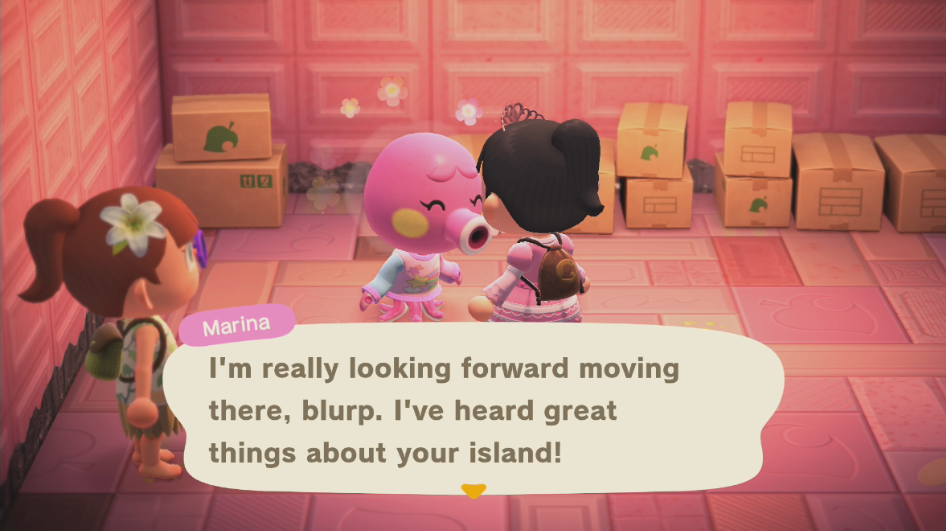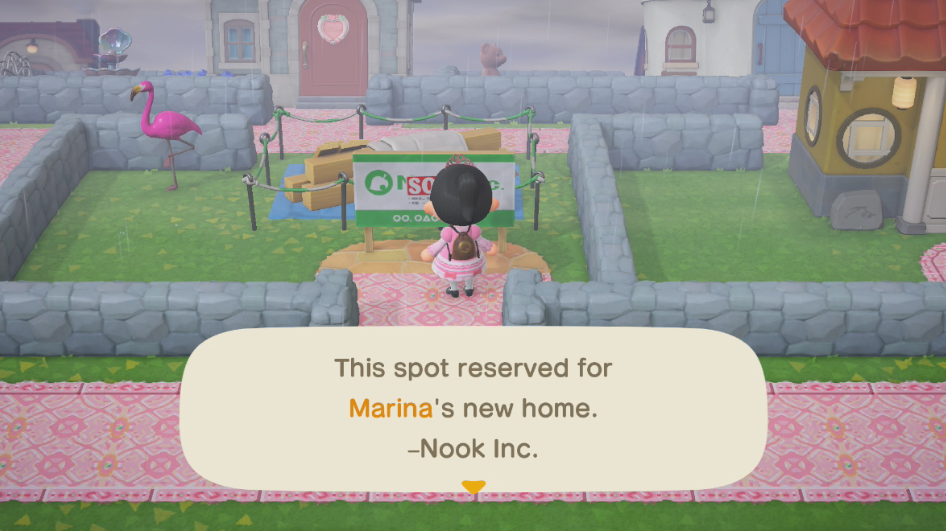 I'm so happy to have another villager from my Dream Villager list and while I would've been happy with Diana, Maple, or Peanut as well, I think this house plot is perfect for Marina. I can't wait to decorate some stuff into her yard tomorrow.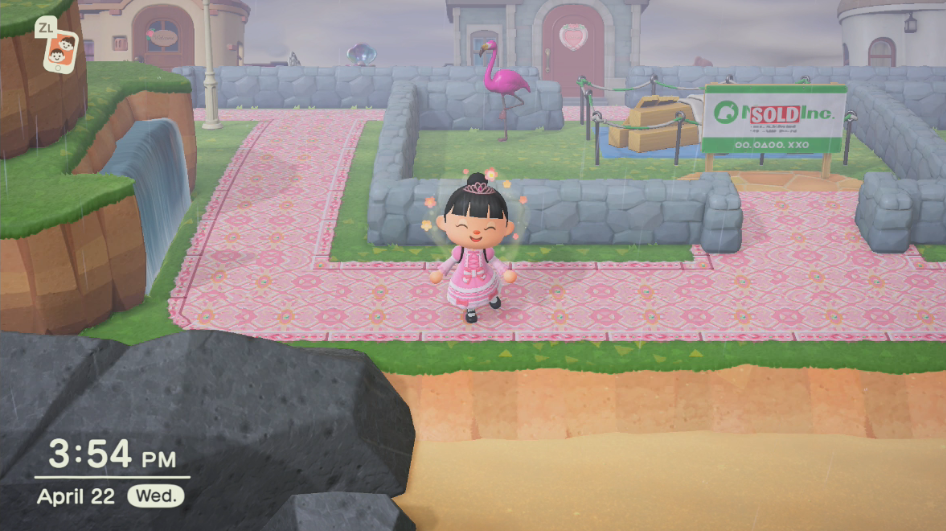 As some bonuses, Mika sent me the spring version of the Train Station! I'd love to get the Autumn and Summer versions too at some point, but they were low priority compared to Spring and Winter so I'm happy I have both of those now.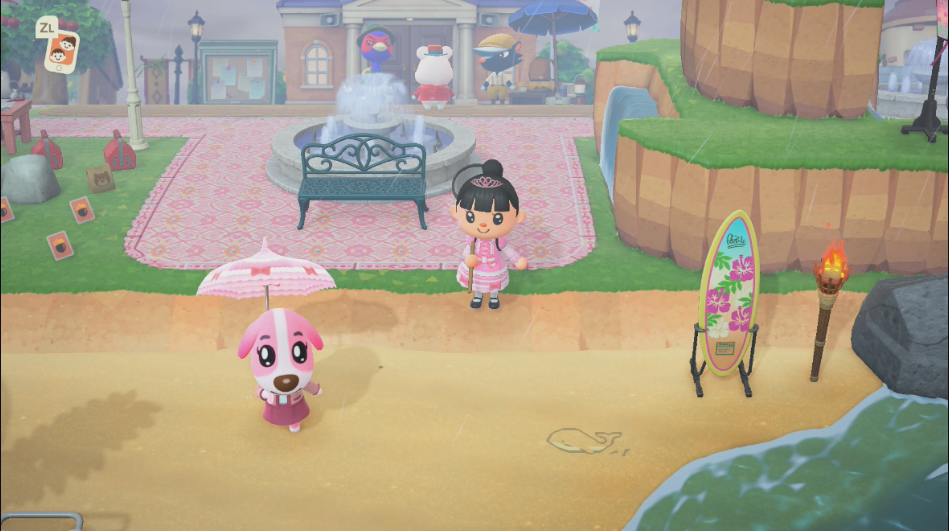 I also really love how villagers will use clothing and things you give them occasionally. Cookie will sometimes wear the outfit and use the umbrella I gave her and she looks adorable.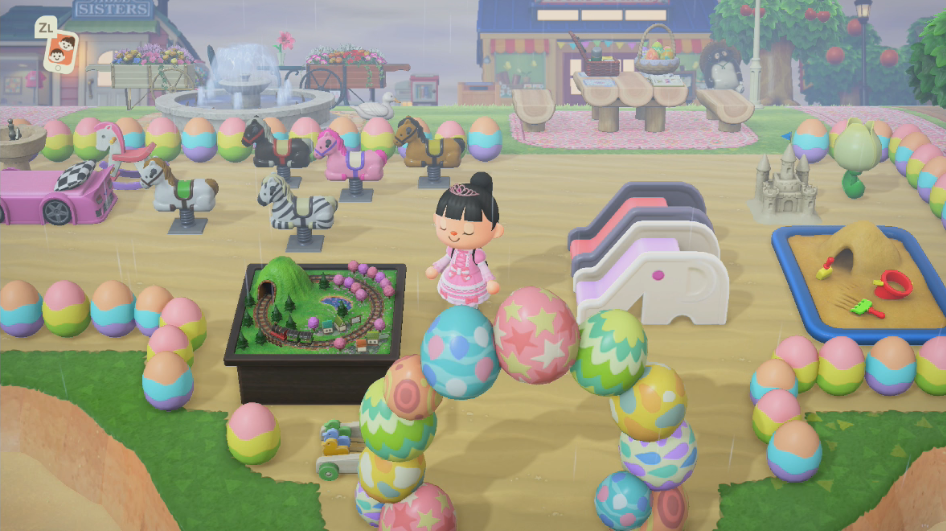 It's definitely been a crazy day. But now I'm going to get some sleep before the big update tomorrow!
—–
Edit: Late night additions! So, the update is officially out and of course, it's best to patch early so I quickly took care of that. I was a little nervous when the "Updating Saved data" thing popped up, but thankfully everything seems okay.
As soon as I checked my mail, I was greeted with a letter from Nintendo! But I also noticed a mail from "Bank of Nook" which was interesting to me.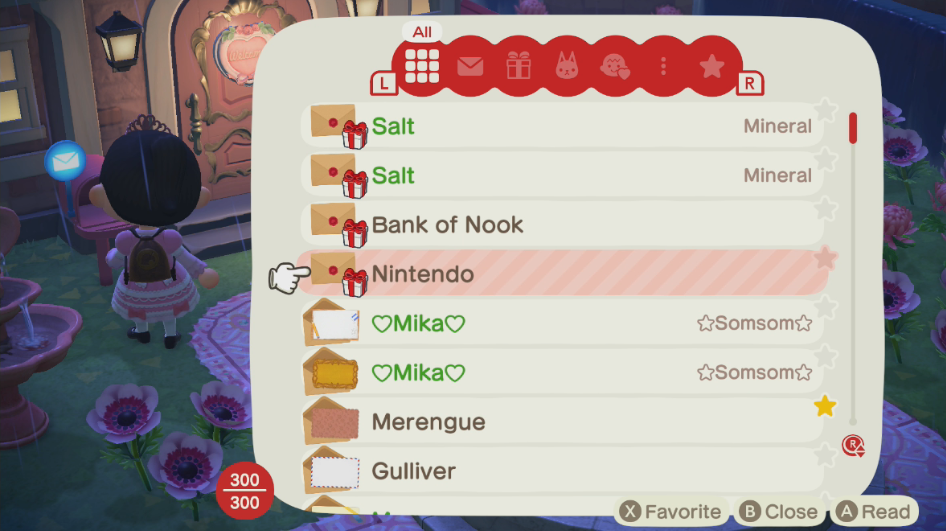 The letter from Nintendo came with a World Map while the letter from "Bank of Nook" came with a Bell-bag rug. What throws me off with the Bank of Nook letter is it feels like… a really weird letter?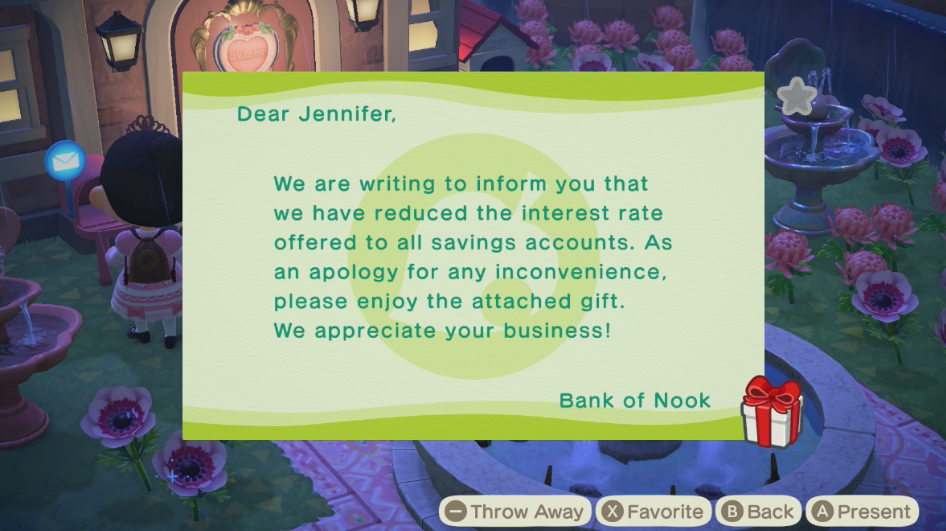 I think it's essentially saying there's no bank interest in this game (or bank gifts) which while I don't mind the latter as much (Earning bells has never been my strong suit and I'm already struggling), it's disappointing if there's no bank interest as my bells are quickly running out with the new prices. (Edit: Turns out there was a 1% monthly interest and now it's .5% because I wasn't struggling enough I guess)
As I was putting stuff away though, it turns out my storage is full… I'm going to have to start emptying it out and quickly :/ I just hope I won't have to get rid of anything I didn't want to. For now, I took out a bunch of my tree branches and quickly did a lot of tool crafting due to the Nook Miles achievement.

Sadly, 180 tree branches (6 stacks of them for 36 tools) barely made a dent in the 1,000 Nook Miles goal.
On the way, I also ran into Wisp!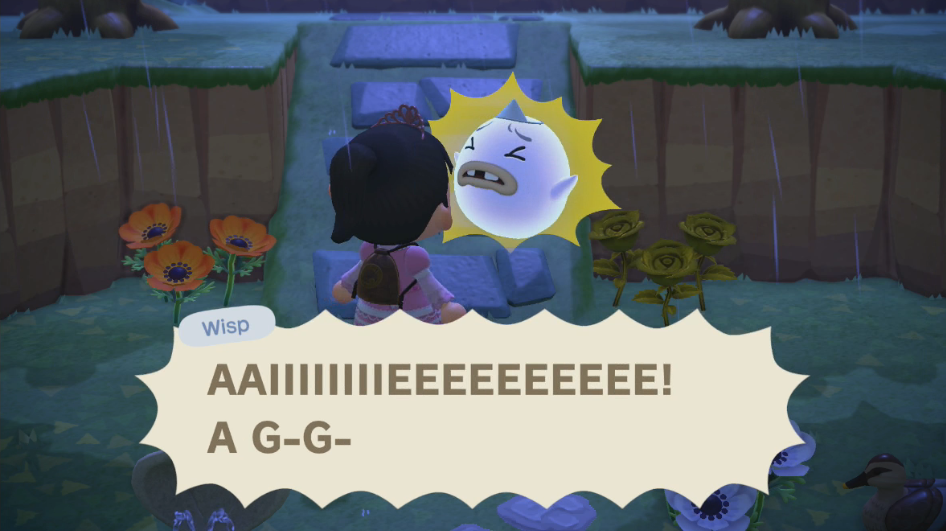 I always feel so bad for startling him… He ended up giving me a Wall fan.
After, I stopped by the Nook Stop to pick up the new shirts available for Nook Miles. I also ended up visiting some people!
I got a lovely new recipe (and some of these villager's houses are so nice, I swear…):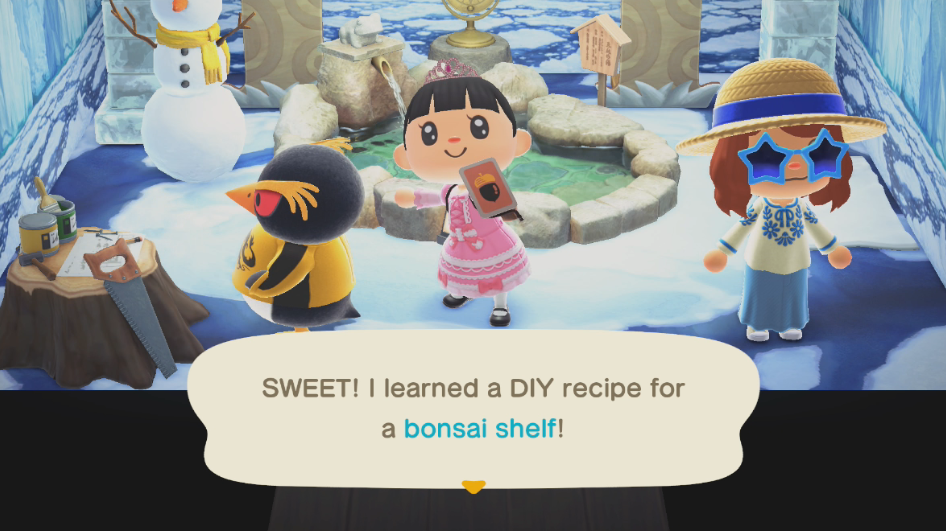 I also made a new friend and got to tour her town, catalog a lot of stuff, and even got some blue roses!! Plus even more pink flowers!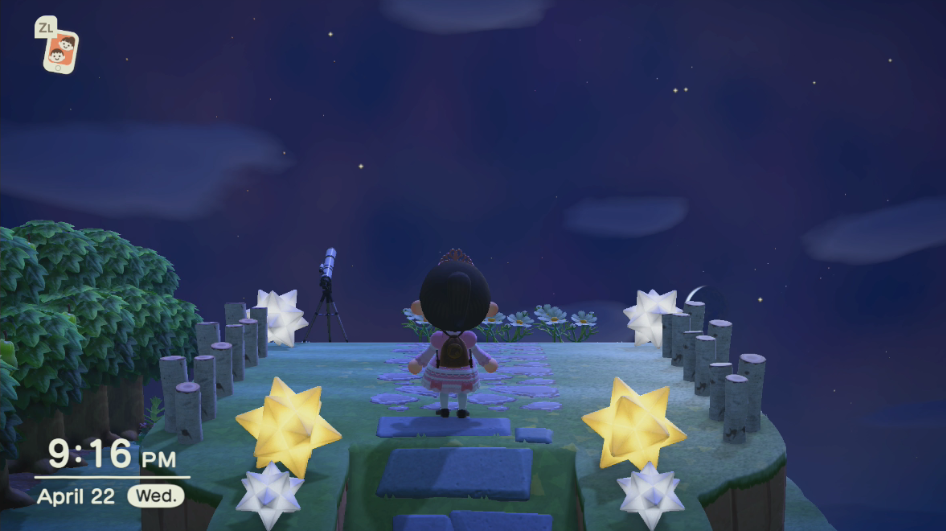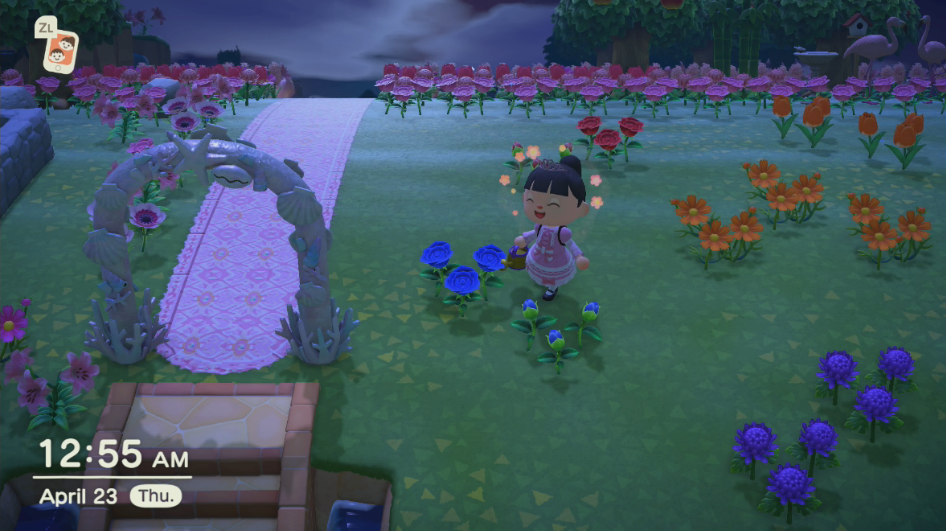 I only need one more Blue Rose now and then it's just the Green Mums and Black Cosmos left to go! Also the lovely little Stargazing area just reminded me how much I hope to eventually get those recipes.
She also sent over the Pink Box Sofa items so now my bathroom is even pinker. I need to order the Simple Panels in a different color eventually.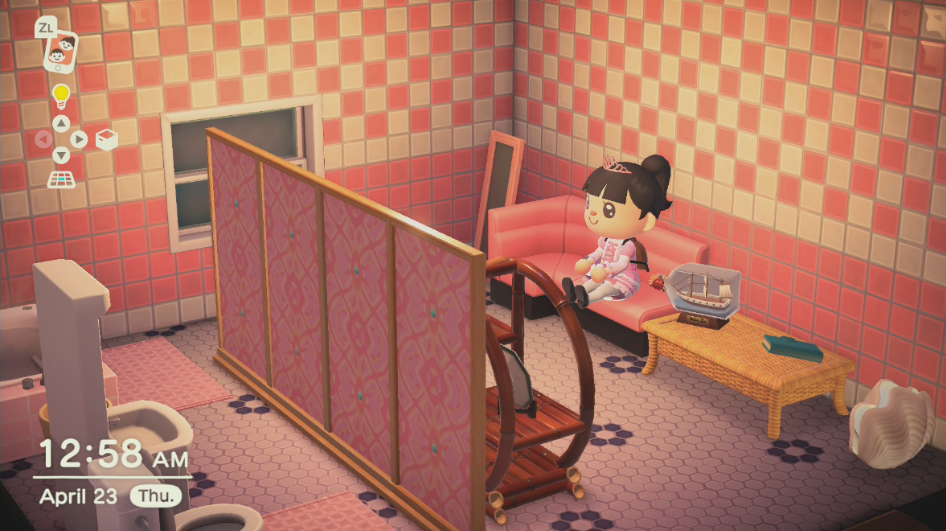 Meanwhile, Blathers is all set up for Art… and I sure hope I find Redd quickly because I want to upgrade the museum ASAP!