Twitch Collection | Youtube Playlist
I didn't have many plans today with things being a bit more slow, but I did hope to stop by some friends' towns only to end up sleeping late and ruining everything so that kicked off the day on the wrong foot entirely v-v
Regardless, Isabelle let us know someone was in the Campsite and I got my call from Nook's Cranny about the ~244K of things I deposited in the drop box. I try not to think about the 20% that was lost. I also got mail– my painting from Redd, a sweet message from Merengue, and some gifts from friends which allowed me to cross off some wish-list items and learn a new recipe: the Windflower fan. (Thank you Meg and Mika!!)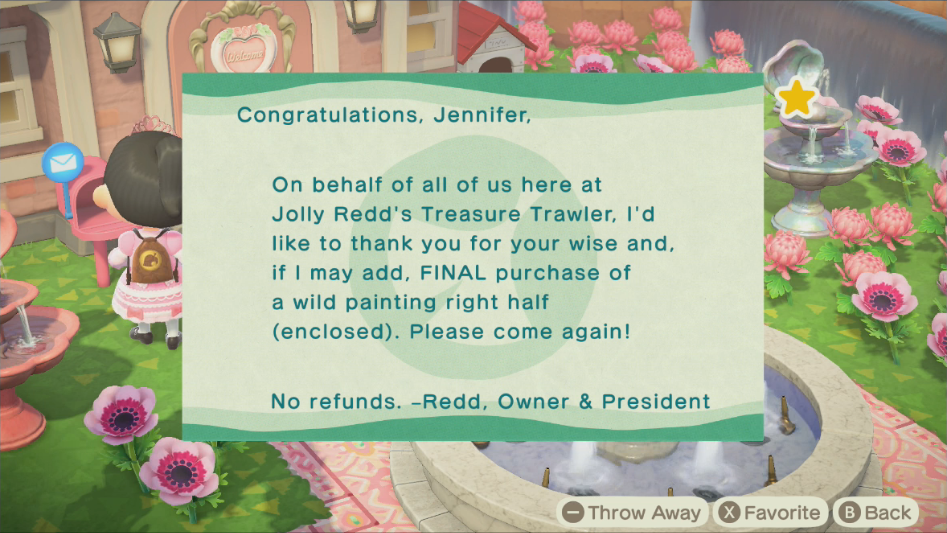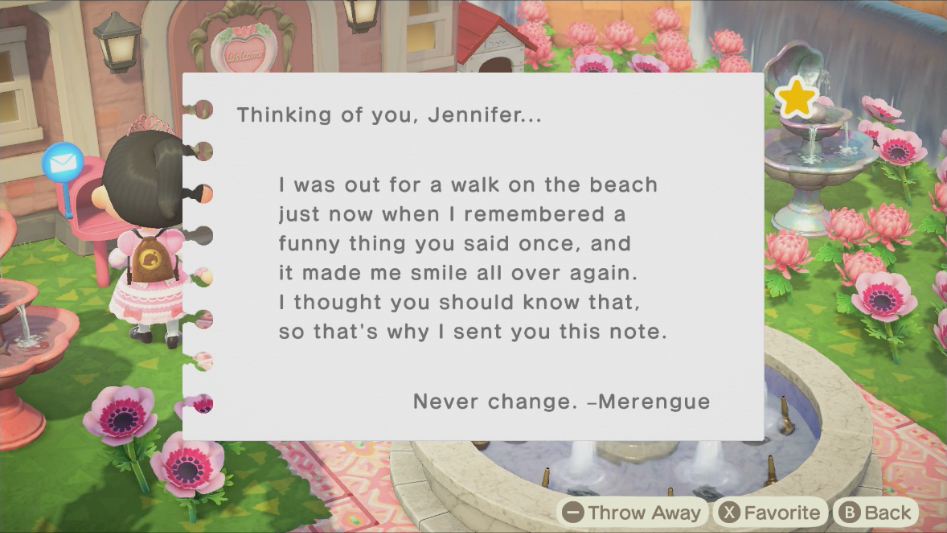 The bushes started growing and at least it looks somewhat nice. Maybe I should've put dirt under the flowers though. Oh well.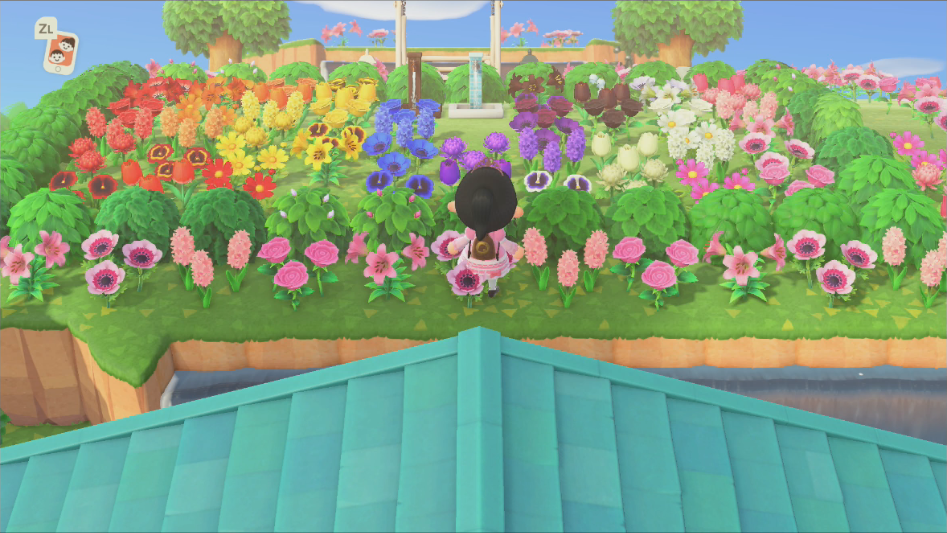 I quickly stopped by the museum to drop off the painting and then worked to get my dailies done. I found a Recipe in a Bottle from Stella– Log decorative shelves which I already have sadly.
During my fossil search, I stopped by my campsite, and I can never tell if I'm more relieved or disappointed when it's not a villager I'm looking for.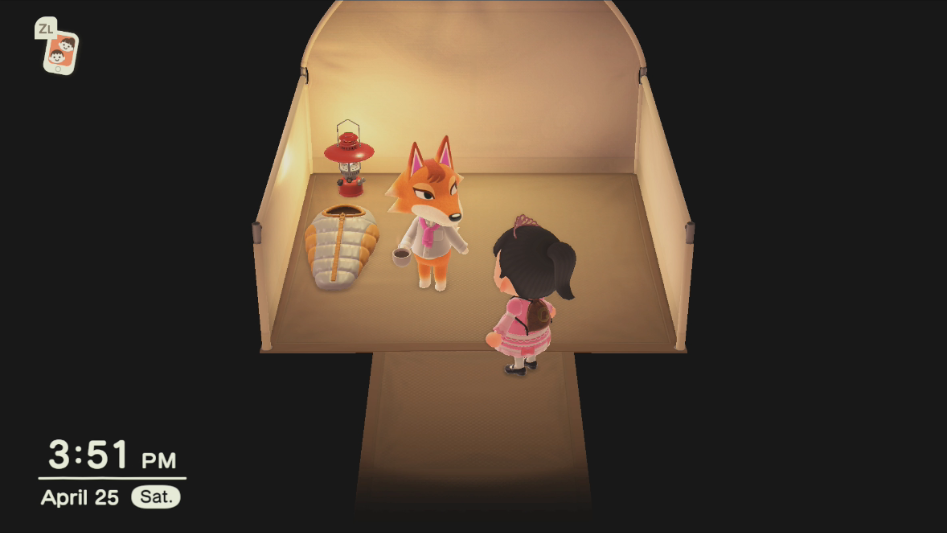 I also popped into the shops, but Able Sisters had really nothing I was looking for nor did Nook's Cranny (the harp wasn't the right color), but at least it was good for cataloging. I haven't really been cataloging in the Able Sisters which I feel really bad about– partially as it's a HUGE pain to go through everything due to the lack of a cart feature (so at most, you can get ~5 items at a time), but also since everything will go to storage, I will have to go back and forth selling things and it just gets tiring. And it feels like a waste to not try and buy one of each color then so I just end up not getting anything at all unless it's something I want :/ I wish I had a better way of going about it.
My Nature Day Nooks Mile+ thing today ended up being to make a Flower crown which was a bit frustrating as I don't have many flower crown recipes and I HATE picking flowers. In the end, I made another of the hybrid lily crowns as that's what I had the most available. I only have one pink lily already picked left for crafting though before I have to start picking them and I really do not want to. I ended up giving it to Cookie after as I already had one in my own closet.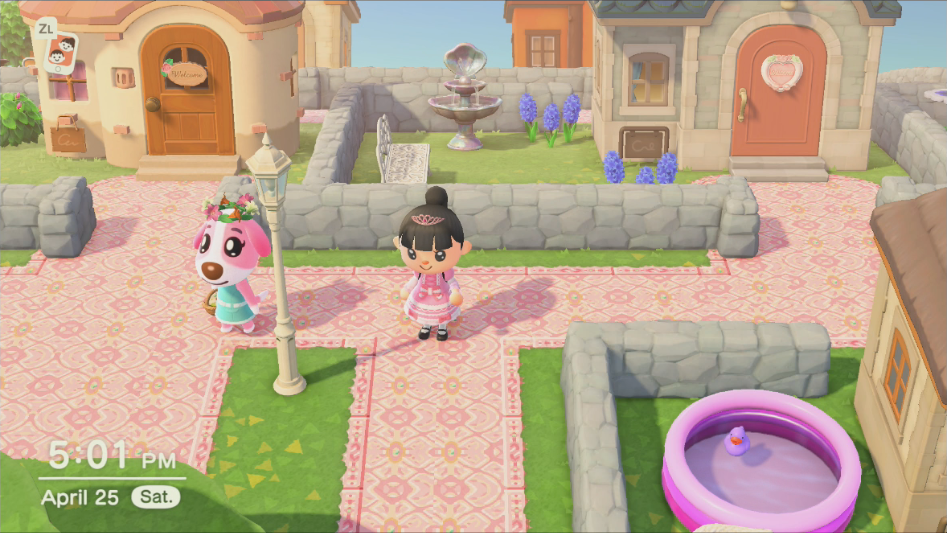 Not too much else happened– a friend of a friend was nice enough to let me stop by to their cataloging party despite being late which was really nice of them. Cataloging parties take a lot of time, effort, and trust so it was an honor to be invited.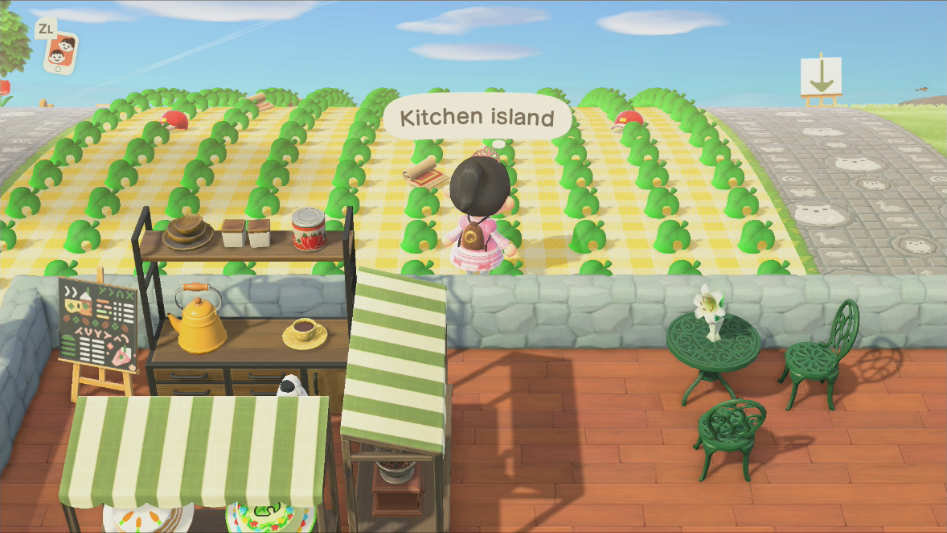 I always feel bad about how slow I go. At least in New Leaf, it was really easy to keep track of what I had and what I didn't, but with the way colors work for items in this game, it's SO hard to keep up with and I wish everything was just possible to change the colors of and you could just switch to what you wanted. I do my best though.
My husband finally mailed the painting off so I went to finish off the day with the fake-art submission– to my surprise on the way to my mailbox though, shooting stars!! It seemed I was finally having my first proper meteor shower!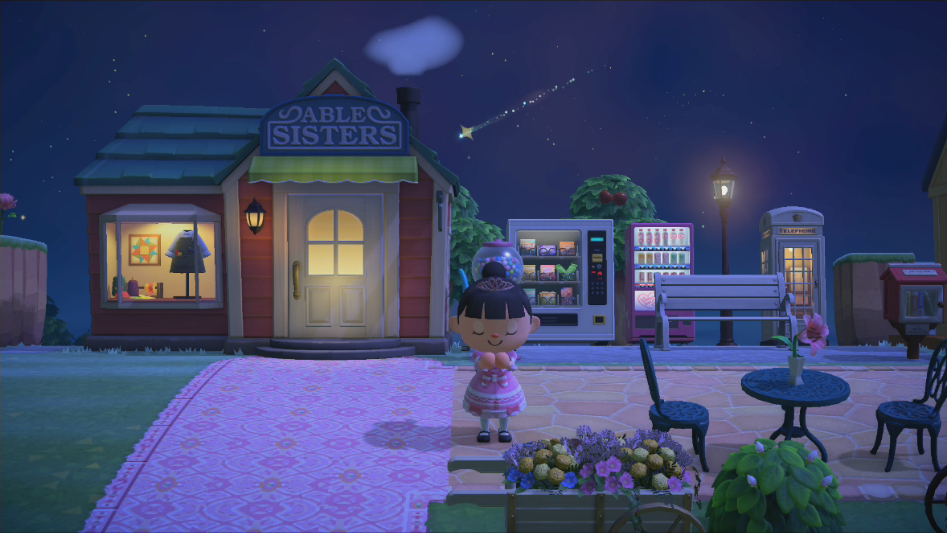 I then headed to the museum to donate the fake painting. I always hated doing this as it breaks my heart to do so, but I was right– Nook Miles achievement :/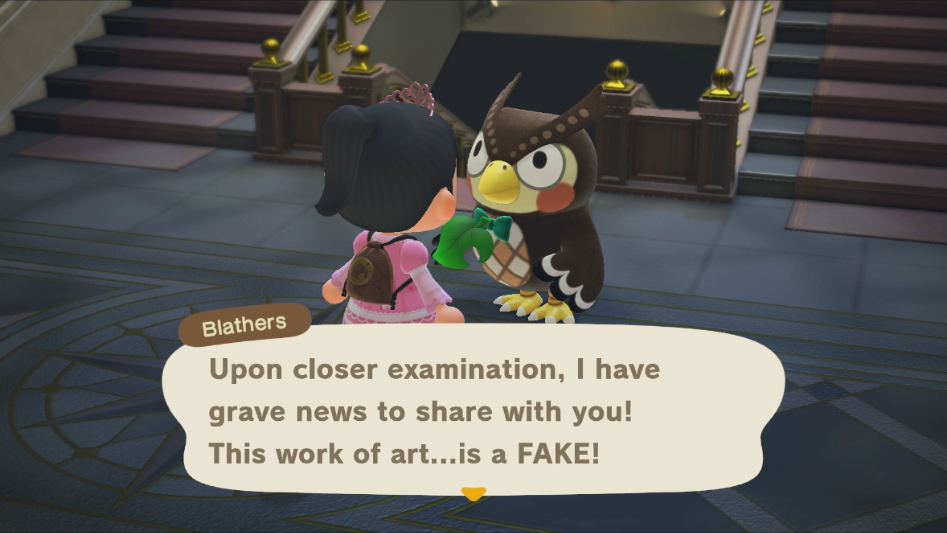 I did technically notice the fakeness so less of a fake-out as at least as I identified it properly then.
Finally, a K.K. concert– this time with "Farewell", the other request only song. I'll probably just go in alphabetical order now (with saving Birthday for my birthday in July).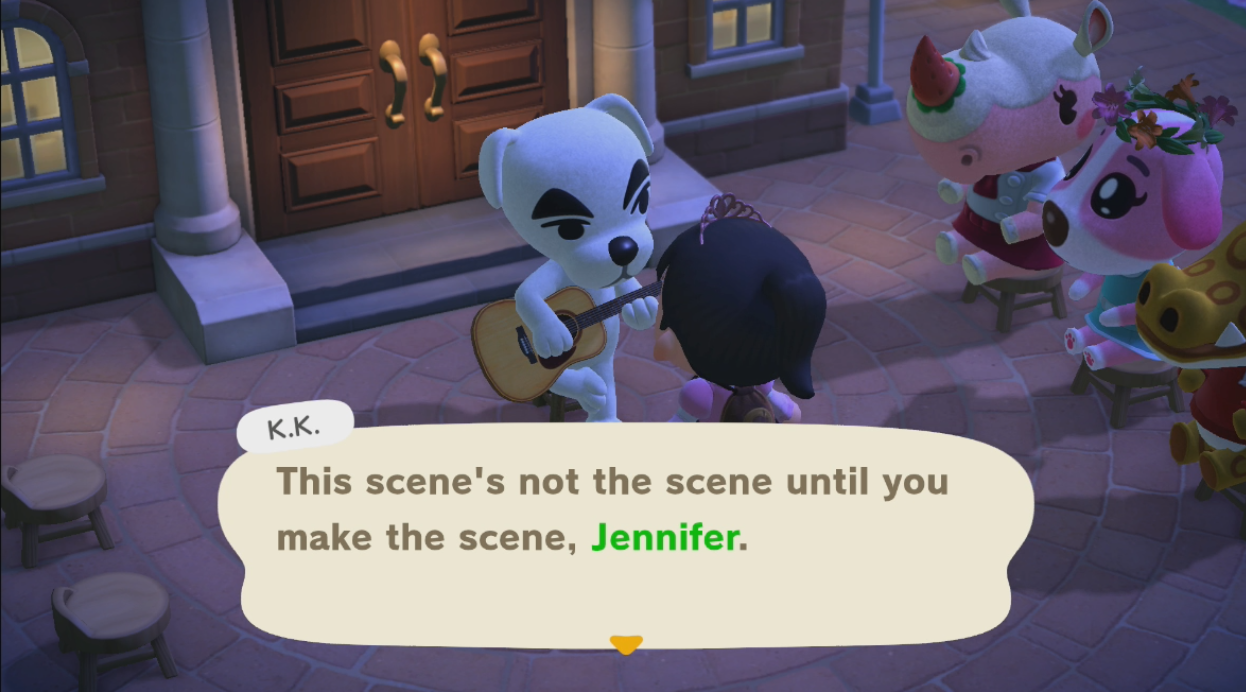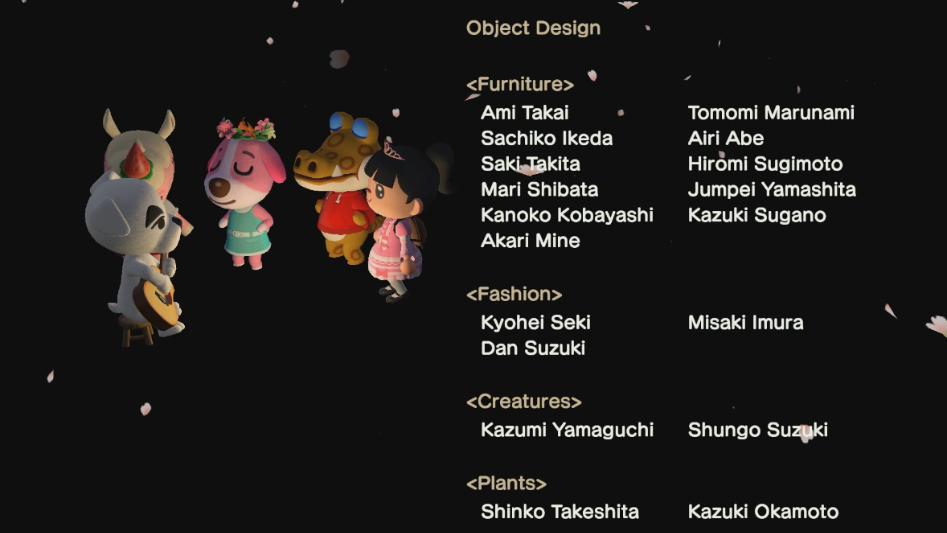 I also went and made a Windflower fan for Flurry's yard: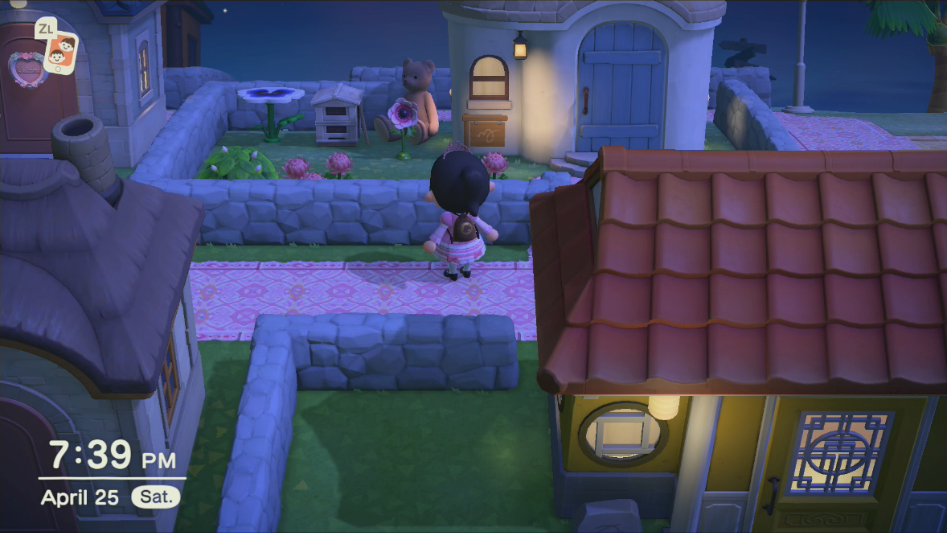 And finally crafted an extra-long sofa for this little area. I don't know if I'll add much more (maybe some fences? Who nows), but I really want to clean up the flowers everywhere or make it more concise @-x;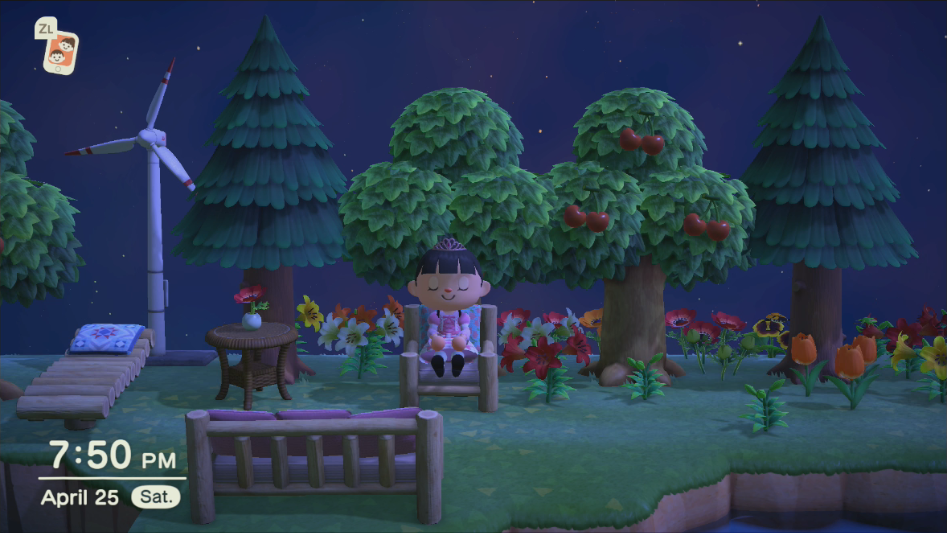 Anyway, I'm off to spend a whole bunch of bells on catalog stuff now while continuing to hate the prices of things (260K for a Piano ;~; ) and also spend a ridiculous amount of time wishing on stars because I need so many Star fragments.