Twitch Collection | Youtube Playlist | ACNH Overview
Day 93
Saharah was here. Judy picked up Teddy's new catchphrase so I immediately ran to Isabelle to revert that. And the only thing I really did of any consequence was adjust some things on the path here– I think while a little still spills in Cookie's yard, it overall looks better than how it did.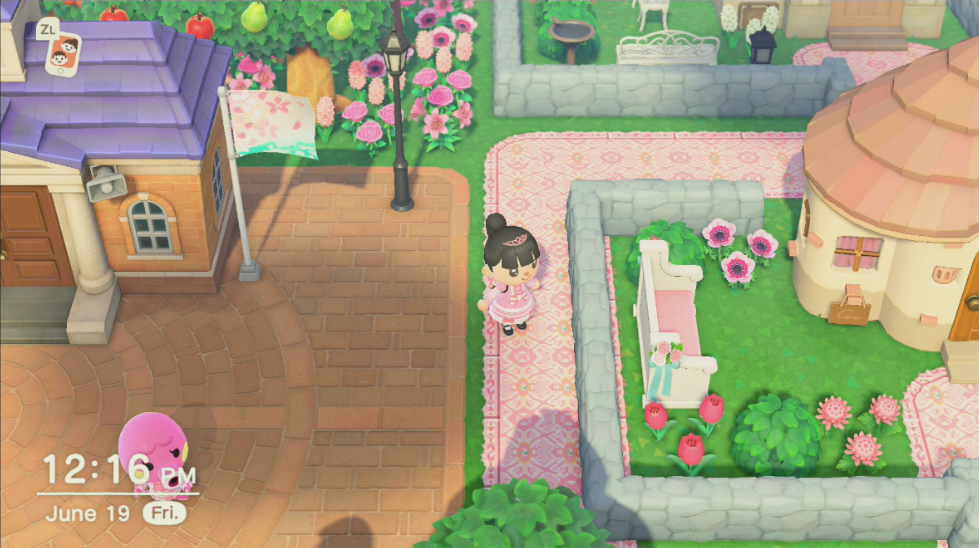 Besides that, I just gave some of my villagers some new clothing gifts today…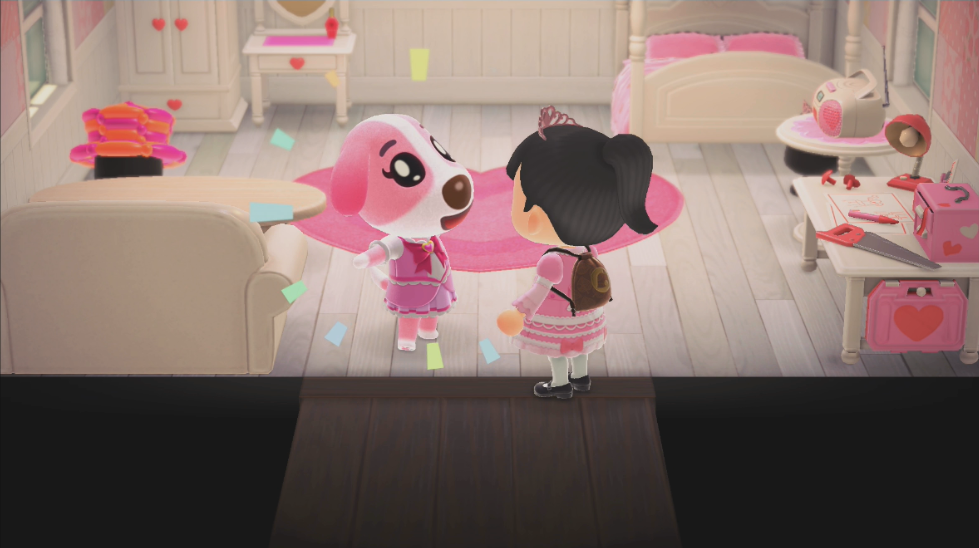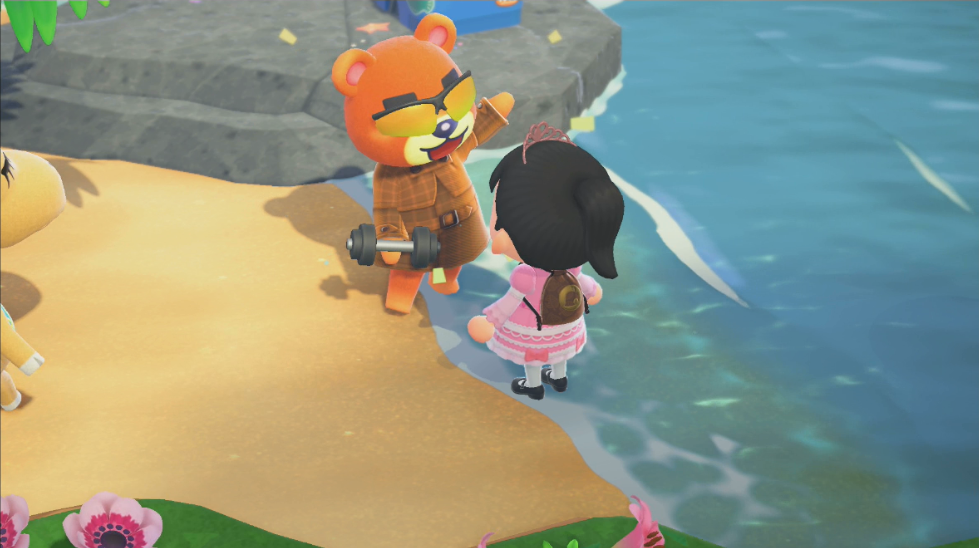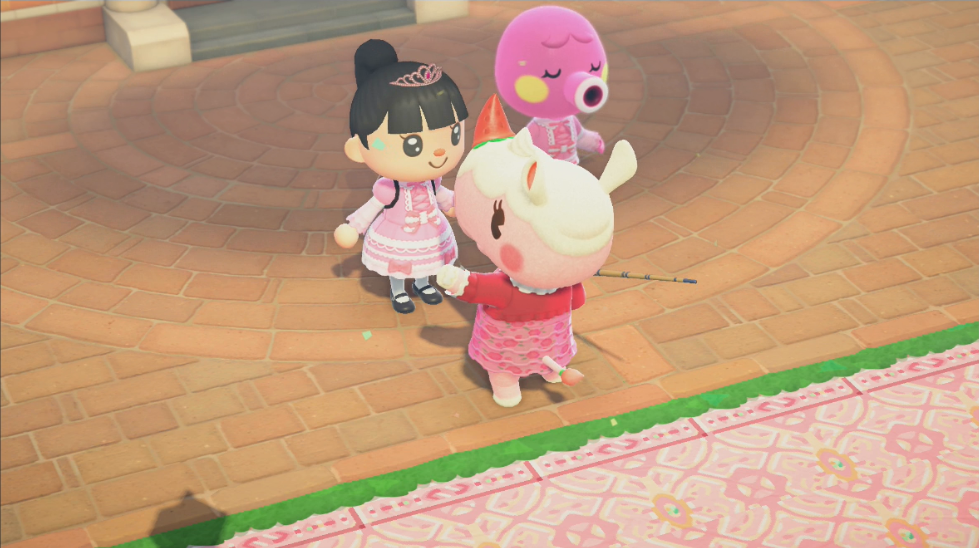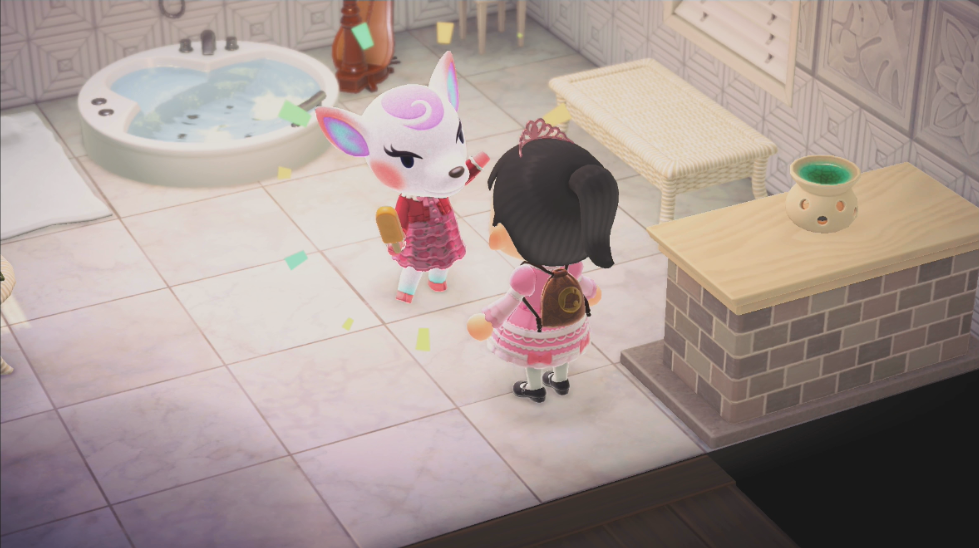 I did get a request from Cookie though later that evening– she wanted a new greeting. It was my first time getting that request.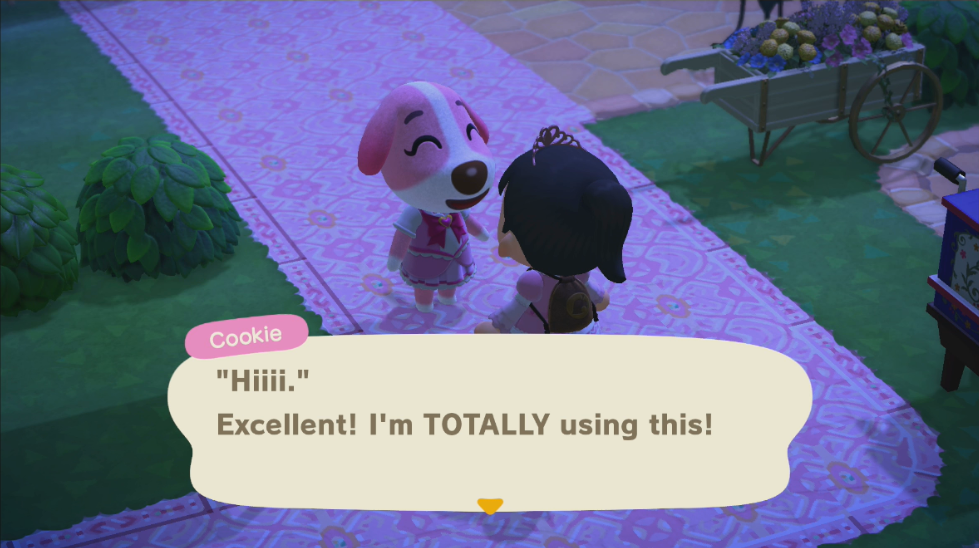 I also finally got the pillars I wanted which does finish up the grove area completely now. I think it helps add that old temple feel. At least I hope so.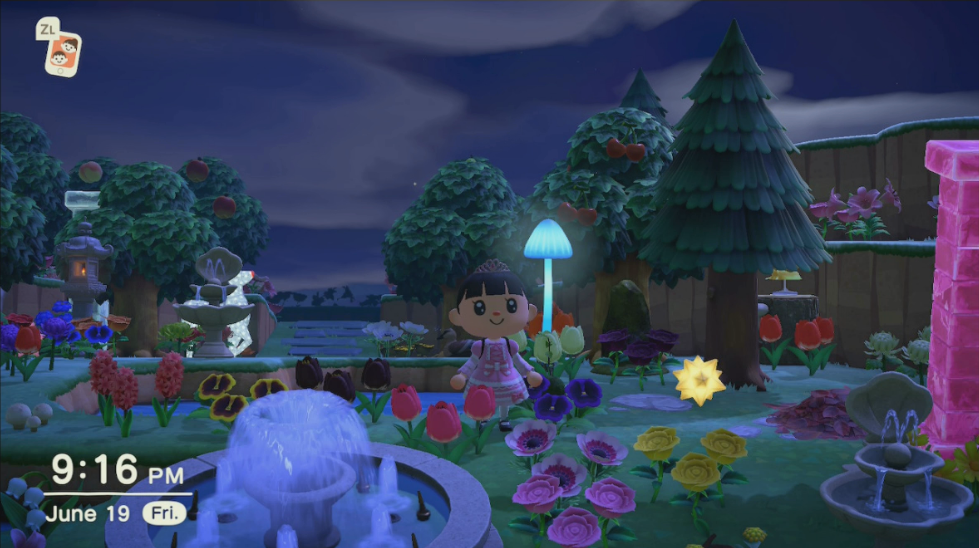 I saw a nice pattern that could possibly work a bit, but I just don't have space for more designs unfortunately.
———-
Day 94
We had a new Camper today.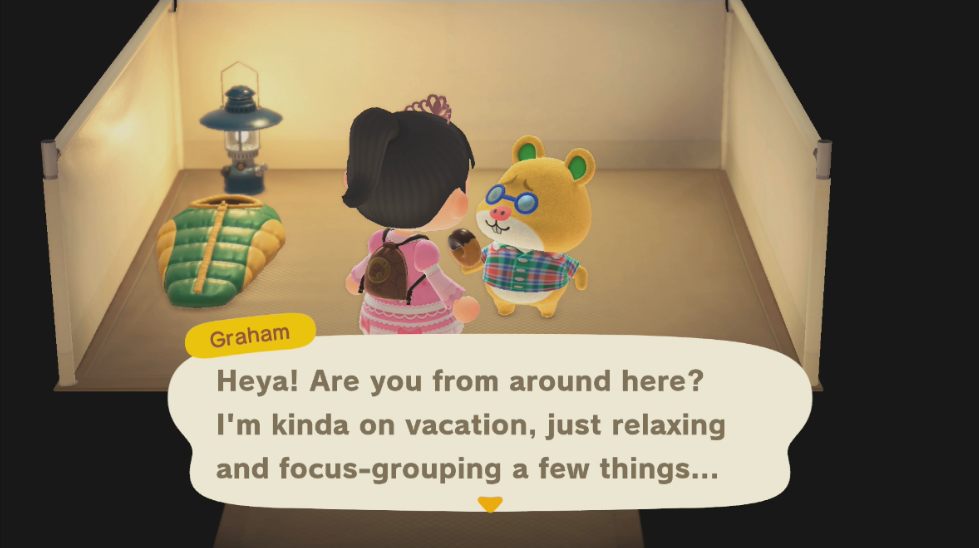 Judy asked to move. I told her no, obviously. Hopefully Margie may ask soon…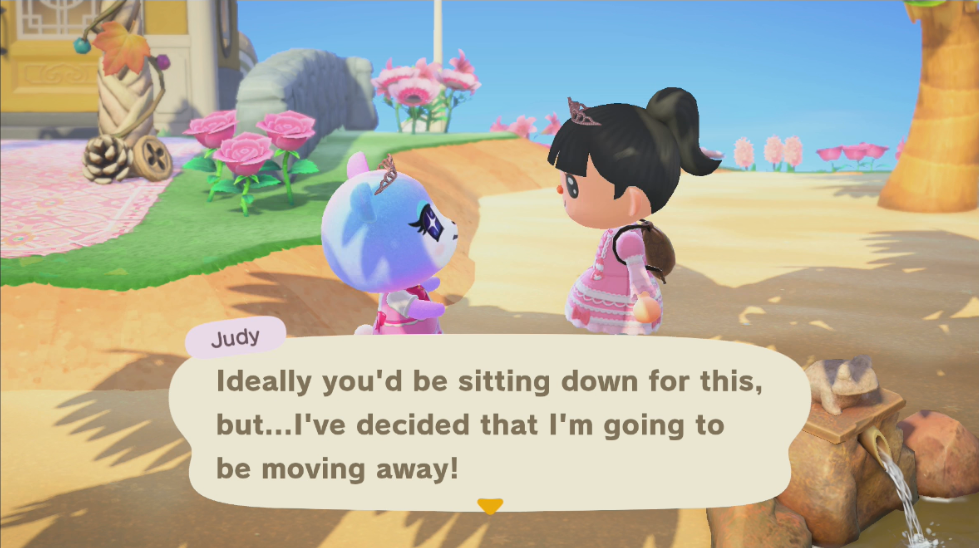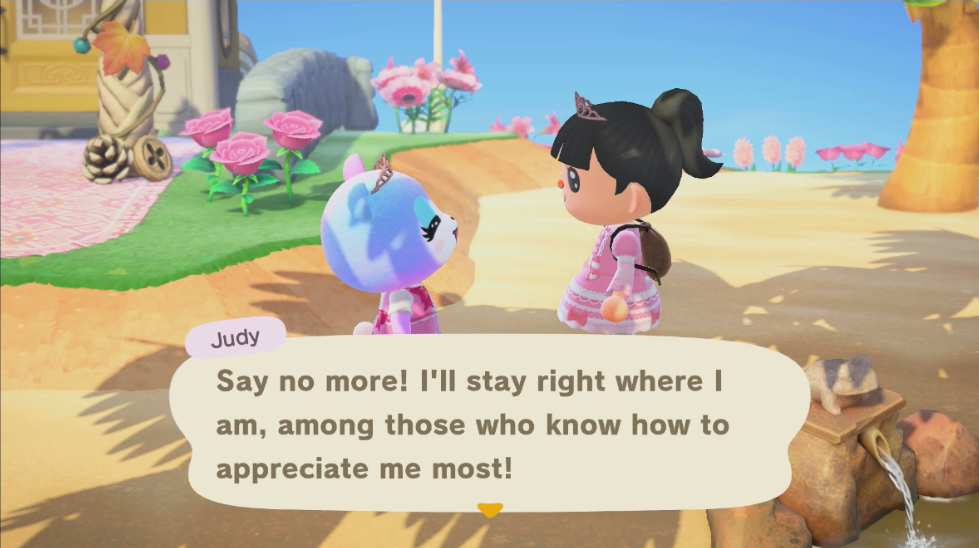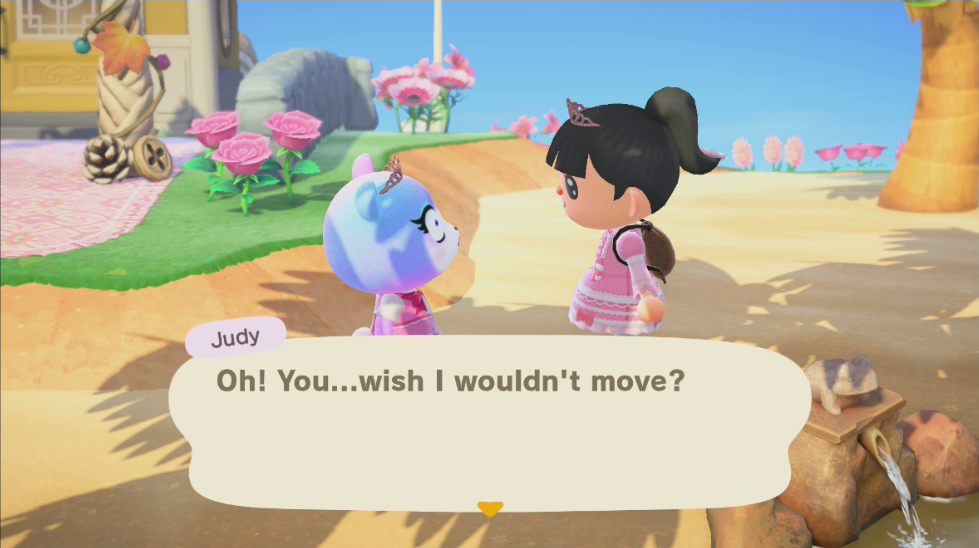 ———-
Day 95
The Bulletin Board let us know the Bug-Off is next week. It still kills me how little this board is used and how pointless the daily announcements are most of the time.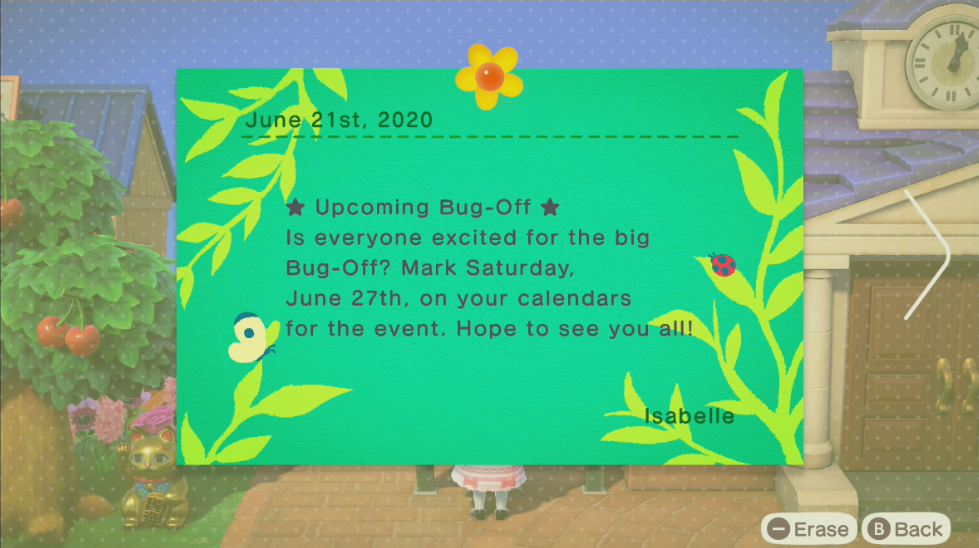 While talking to a friend, it really hit me how little I genuinely enjoy about New Horizons and that makes me really sad. With all the "creative" freedom, the game play itself feels so much more restrictive and it's just not a lot of fun.
———-
Day 96
C.J. was here. While I didn't feel up to his challenge, I did at least get a third Cherry Salmon for the model of it.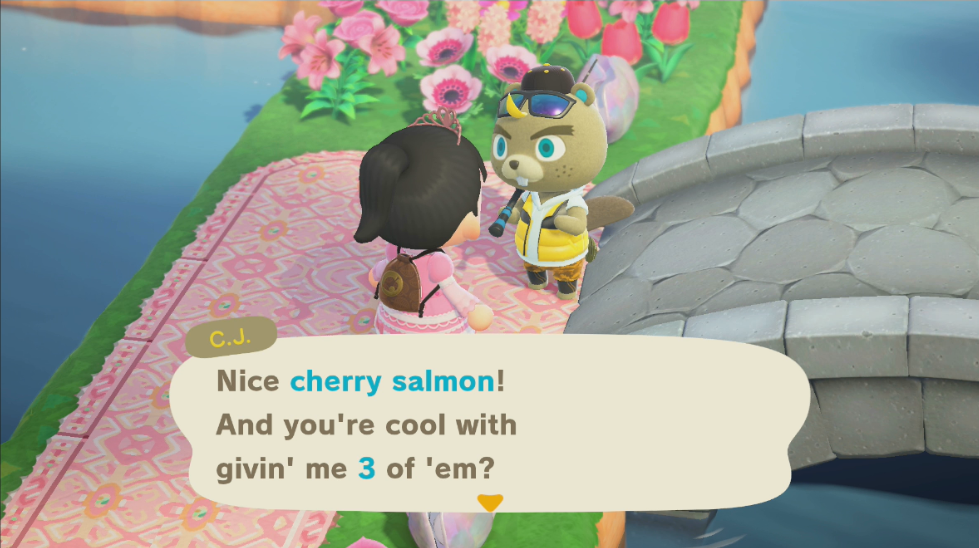 And that was it today.
———-
Day 97
I found a Lost Item. Unfortunately, Investigation wasn't super helpful as all it did was narrow down it being a Snooty… But I have two snooties I'm close to: Judy and Diana. I decided to check with Judy as her house is closer and she's been here longer, but alas, it turned out it was Diana's…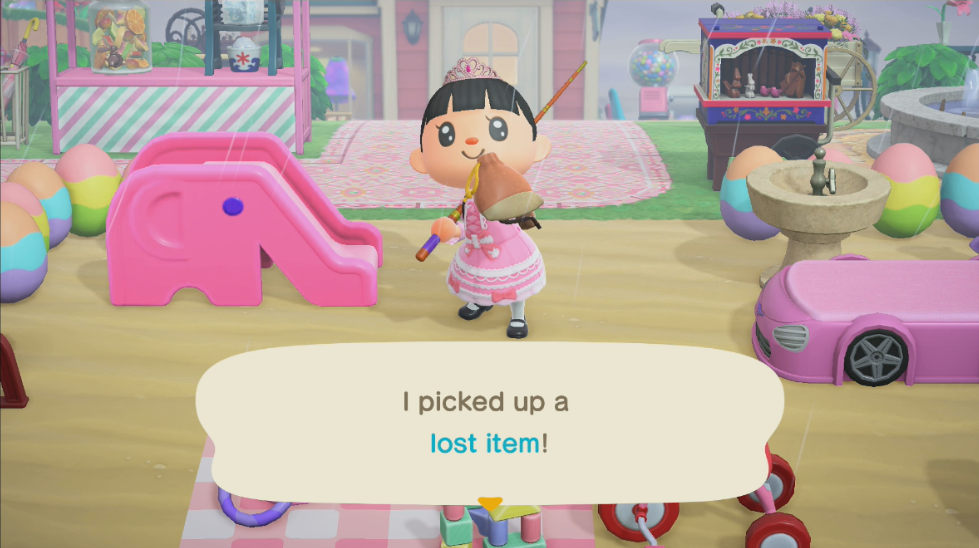 Meanwhile, Leif was here and it was raining again, but that was really it today. I did end up poking in that evening to go wish on stars at Sami's though. Fingers crossed for three Cancer star fragments tomorrow.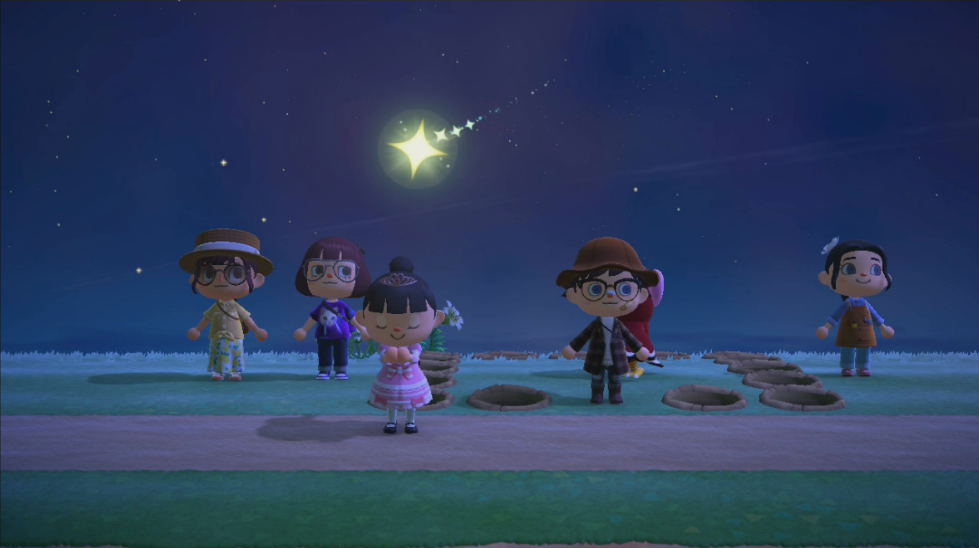 ———-
Day 98
Kicks was here today.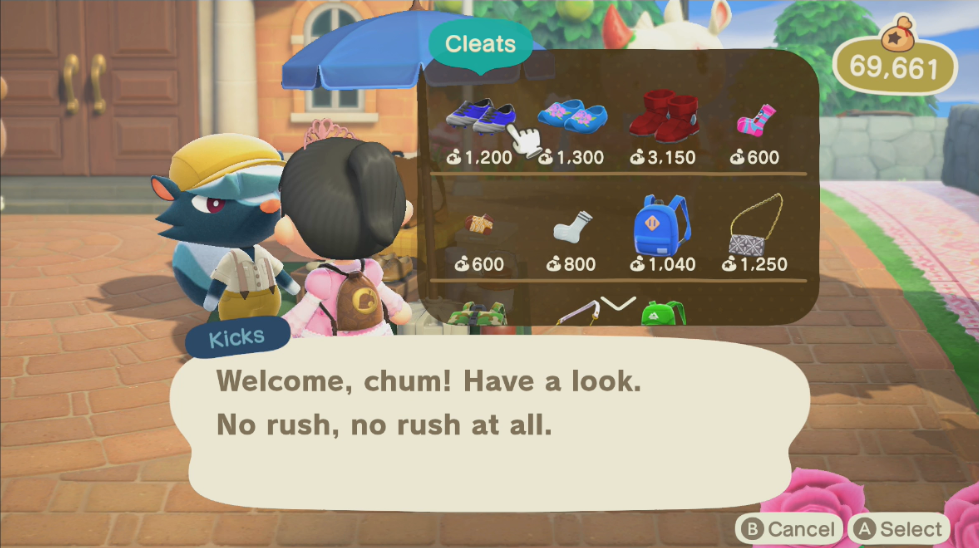 But more importantly, I did manage to get a Cancer Fragment!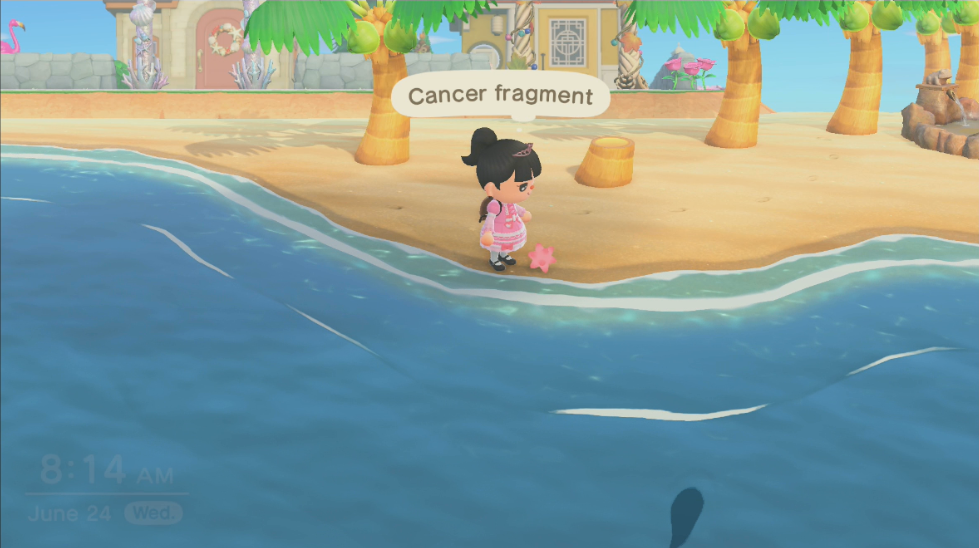 I actually got three so I had enough to craft a Cancer Table plus one for outside…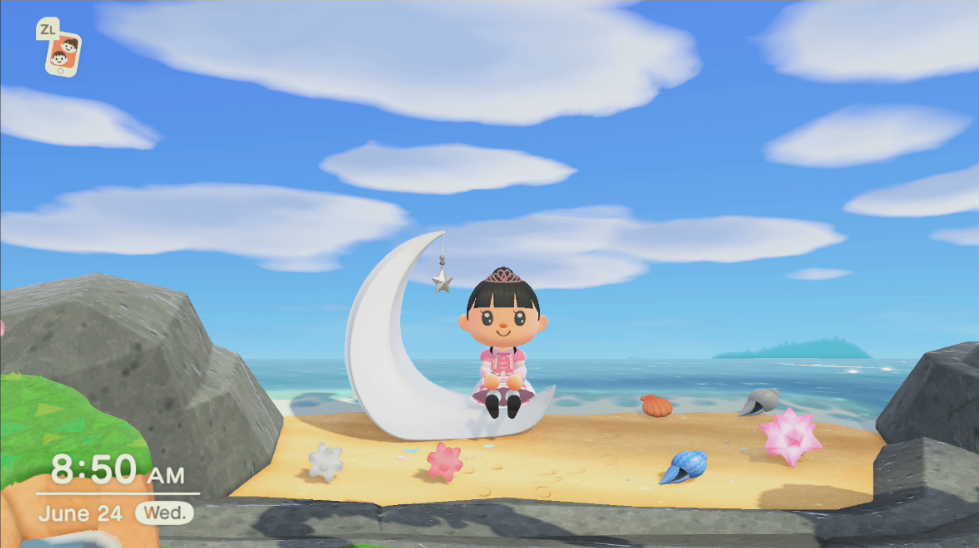 I would like to get one more for my house though…
———-
Day 99
It was raining again today. And Saharah was here. I didn't even take any screenshots as there was nothing to show, so instead I'm going to talk about the upcoming update:

I already ranted a bit over on Twitter, but it's just… hard to be excited for small updates like this. I like being able to get a good idea on planning my time and this just leaves too much up in the air. I also don't enjoy constantly redoing things.
Not to mention that these are mostly just returning features over anything new :/ And Swimming and Diving were kind of frustrating… Maybe if they fixed the issues from New Leaf, it won't be so bad, but I can't say I missed them.
And as happy as I am to see the return of the Mermaid set, I've been struggling tons with storage space (1,600 is not enough– especially when you have a crafting mechanic) and it's just makes the whole situation harder.
I wish I didn't feel as disappointed with New Horizons as I do.
Regardless, with the Mermaid furniture being through recipes from Pascal, I would guess, especially considering Gulliver's outfit in the update video, the pirate furniture will be through Gulliver. What about his other rewards though? I hope this at least still counts to the 30 needed, but I have so many questions and they just skipped over the Gulliver thing entirely.
We got a small preview about more Summer stuff coming in August and I'm assuming it'll be the fireworks event back with fortune cookies (maybe also bringing the Nintendo items back?), but I just can't find myself being excited for updates set-up like this.
———-
Day 100
It's Marina's birthday! Also K.K. was here? I guess a day early due to the Bug-off…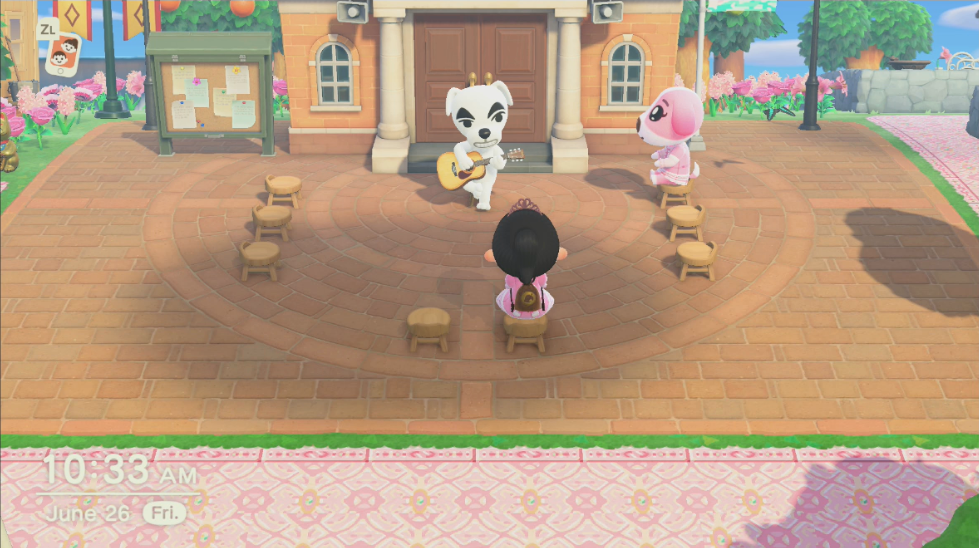 I then made my way over to Marina's. I'm glad she liked her gift, but she's also picked up Teddy's Bud and it's killing me.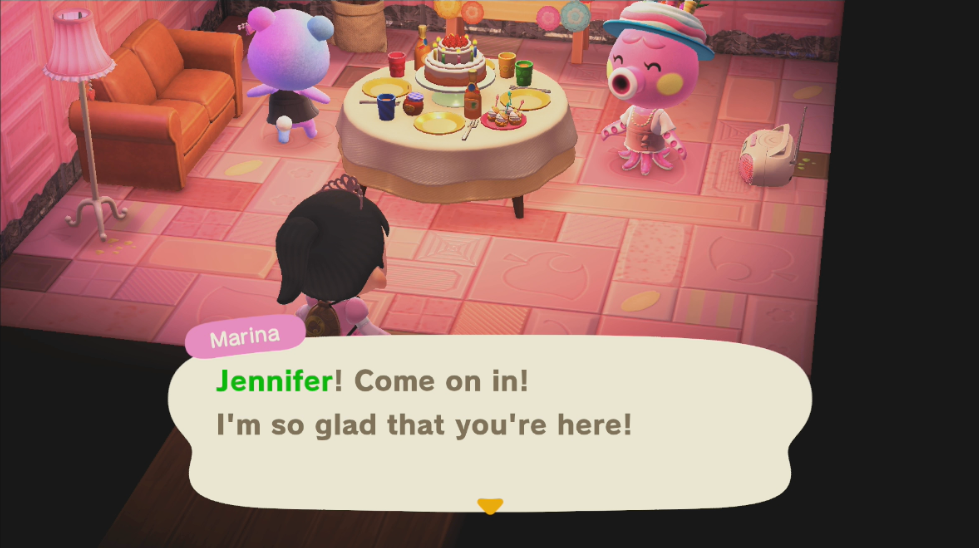 I'm only not resetting them with Isabelle right now because I'm paranoid that contributed to Judy being my first move prompt. I'm still hoping Margie will ask, but it's been raining or events and I don't even know when I'll get a new move prompt at this rate… I really want Peanut moved in before my birthday :(
———-
Day 101
It's the Bug-off!! Also I got this lovely letter from Marina.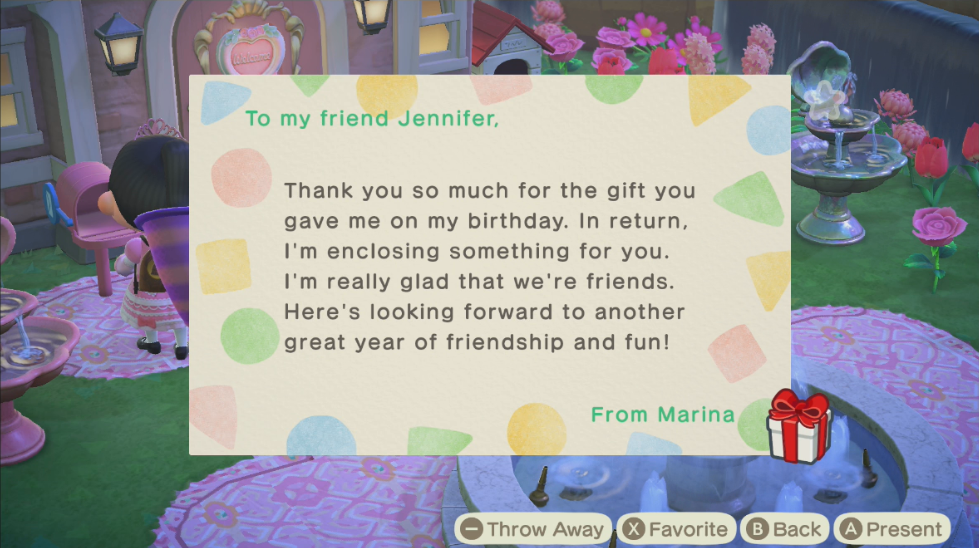 Regardless, I had gotten up bright and early for the fist Bug-off, though, possibly a little too early…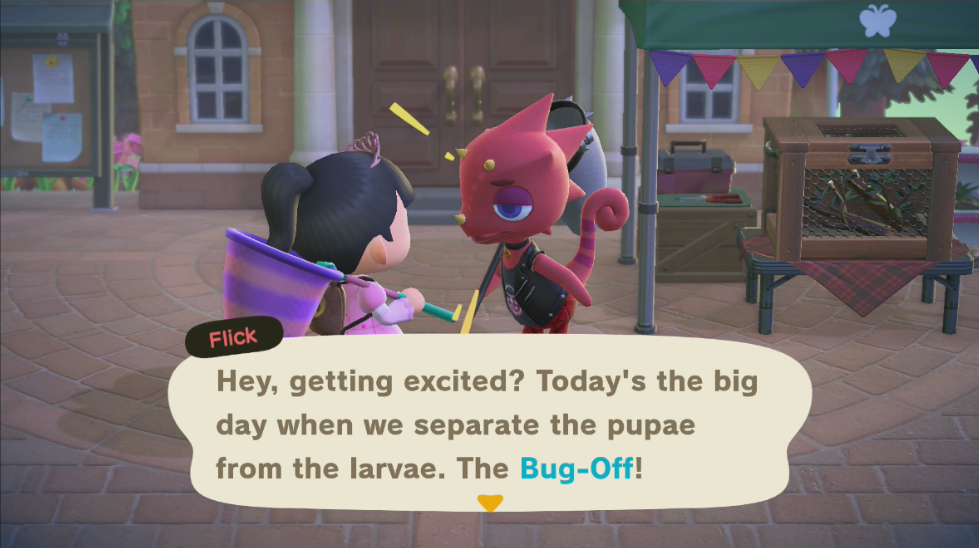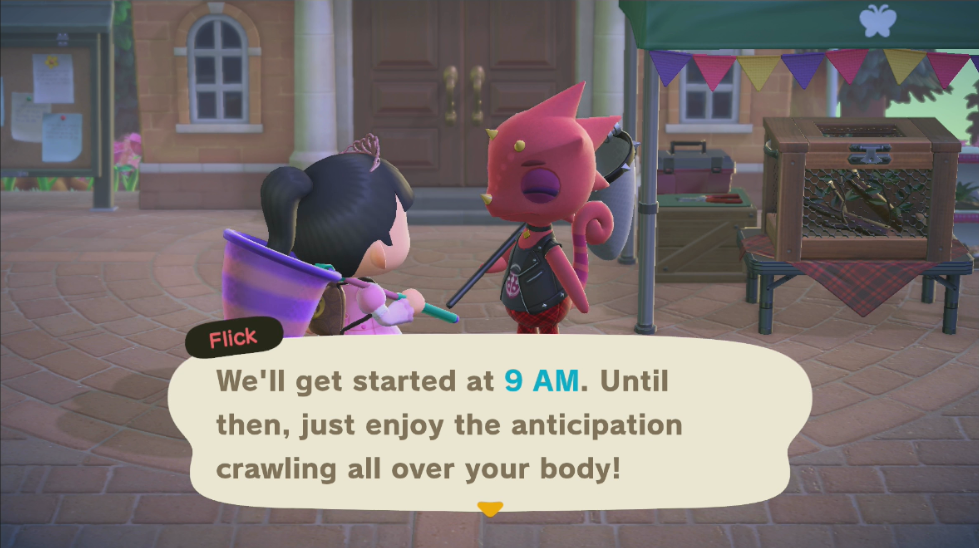 I forgot it didn't start until 9AM despite the date rolling over at 5AM. Due to my early rising, I ended up stopping at Mika's and Meg's to catch bugs. It took about 3-4 hours, but we did it!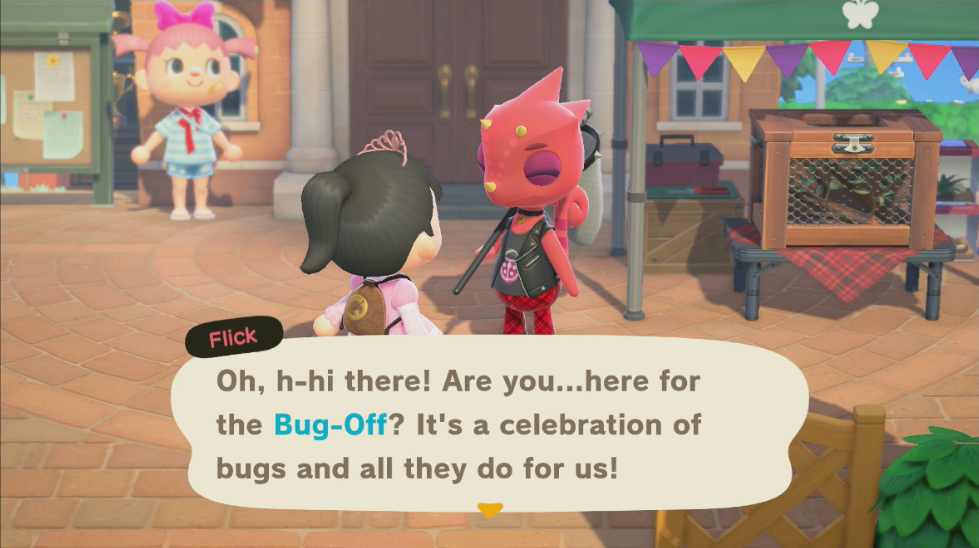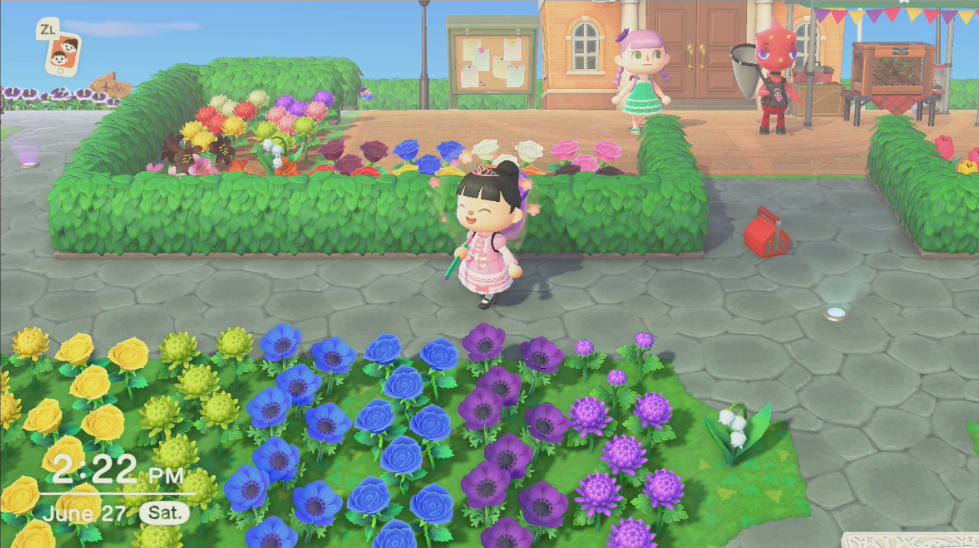 It took about 3-4 hours, but I did manage to get to 300 Points at the end.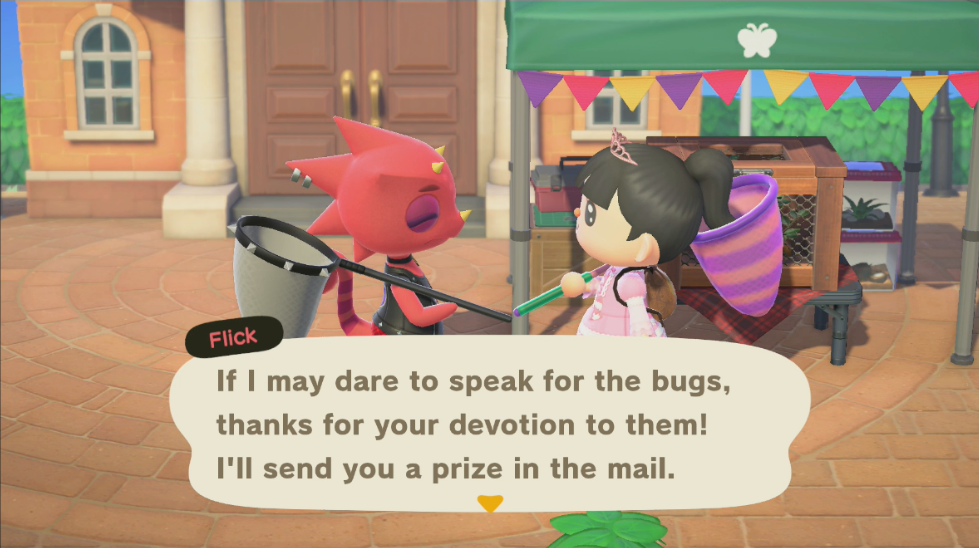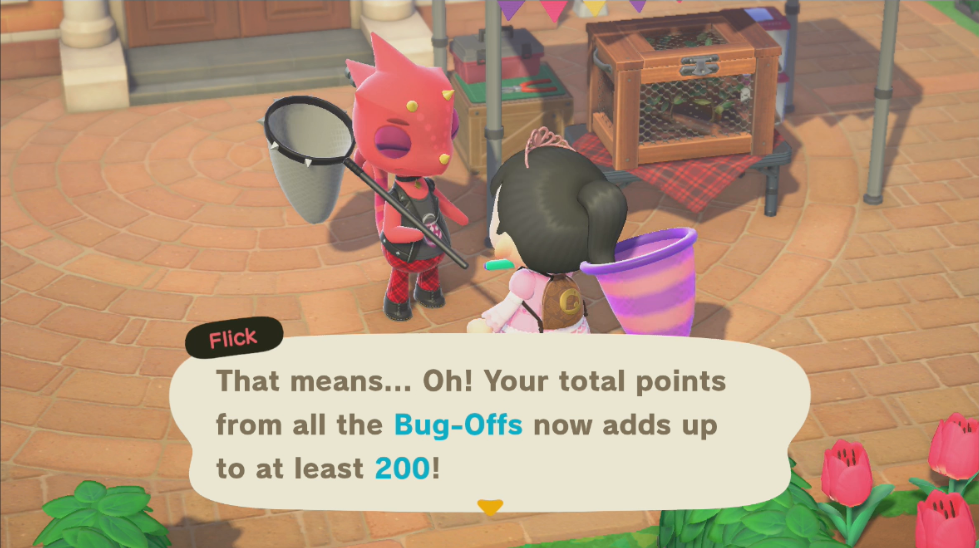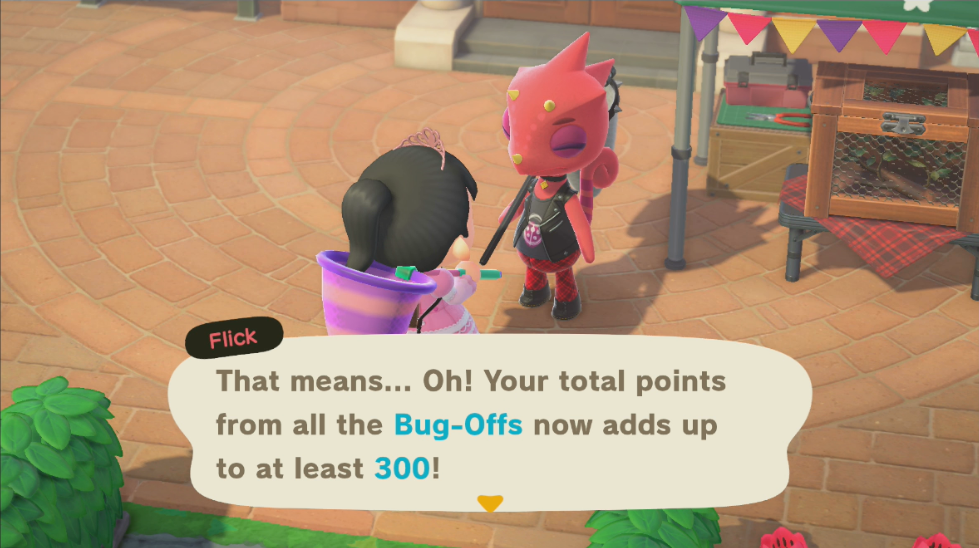 I had planned to play with more friends later too, but ended up feeling really dizzy so I took a pause from the game after finishing up in my own town a bit.
Bug Spawns were absolutely atrocious as usual, but the bonus still made it the better way to play. I never got more than 7 Bugs at a time and usually struggled just to hit the 3 minimum. Nintendo really needs to adjust how spawns work. My best guess is since the game tries to spawn things near us, but they also don't last long, we just constantly end up missing the small spawns as we're all over the place, but it shouldn't be this hectic or stressful.
Anyway, I had this delight from Teddy who will be very happy to know I did, indeed, go for Gold.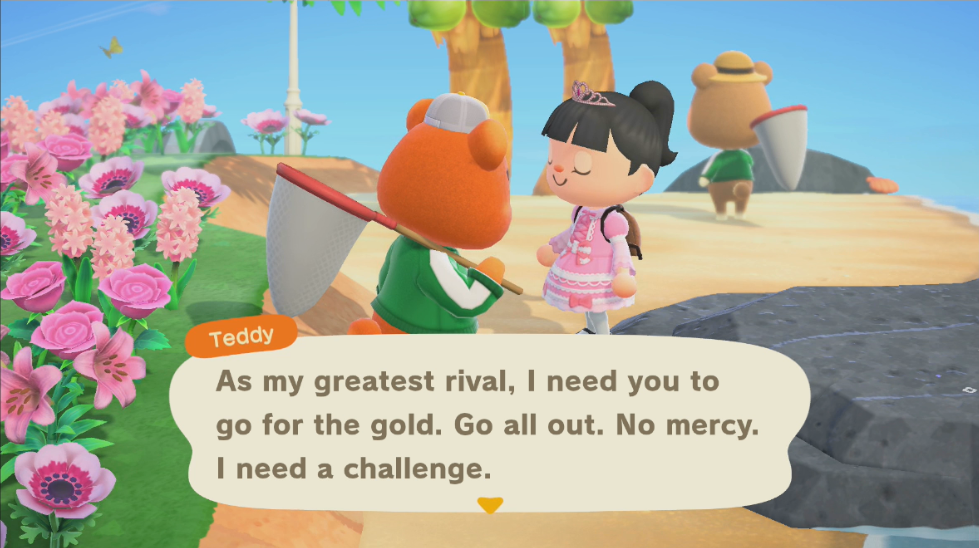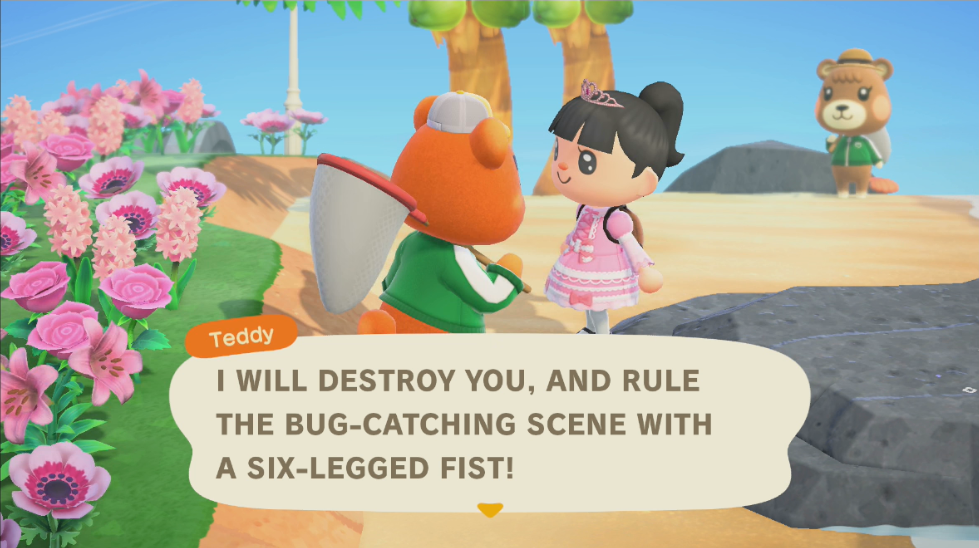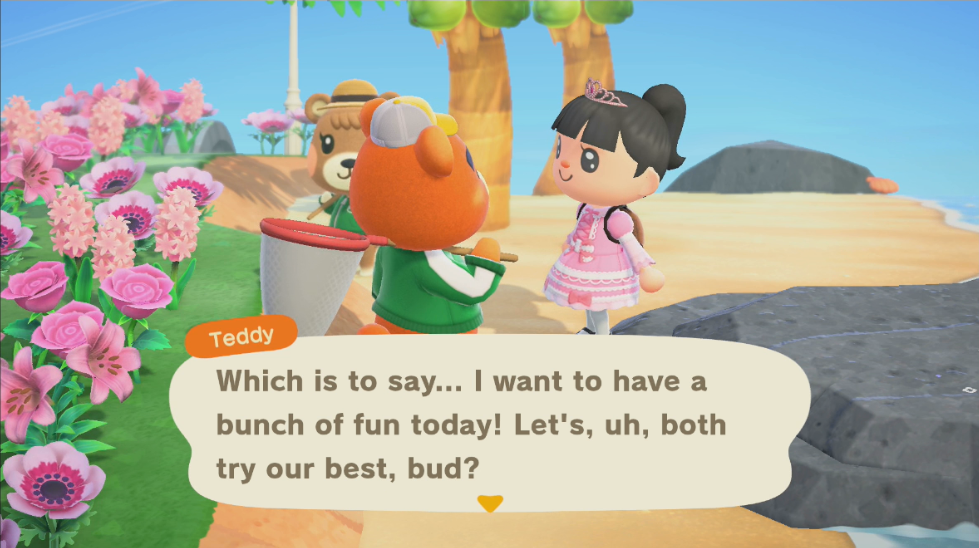 You were too slow, Teddy. Too. Slow.
TrackBack
TrackBack URL for this entry:

Previous | Next