Twitch Collection | Youtube Playlist | ACNH Overview
Day 109
Well, it's Sunday so Daisy Mae was here. There was also an announcement on the bulletin board about how the next Fishing Tourney will be this upcoming Saturday. I'm glad all I have to do is participate for the Nook Miles stamp this time at least.
Even if I no longer need the Mermaid DIYs, I still want the clothes so I made sure to find another Scallop today.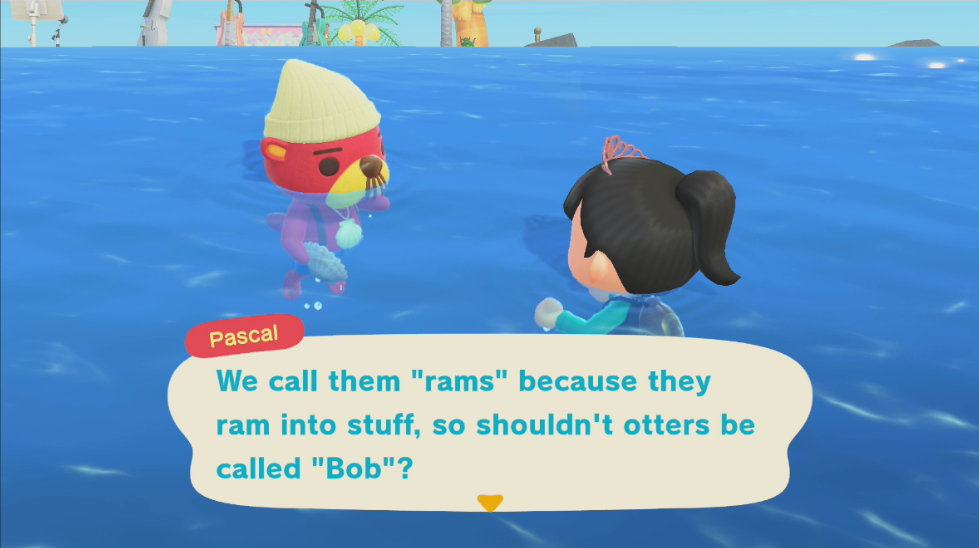 HE GAVE ME THE MERMAID TIARA. I quickly put together a loose Princess dress… I still wish it had sleeves. There is a version someone made on the Wavy dress base which looks nice too, but I don't think it gets all the details enough.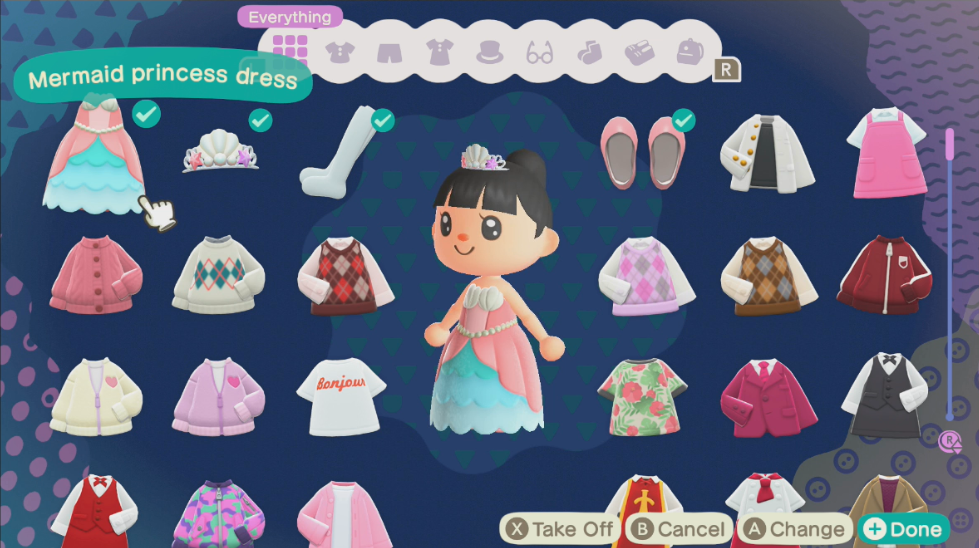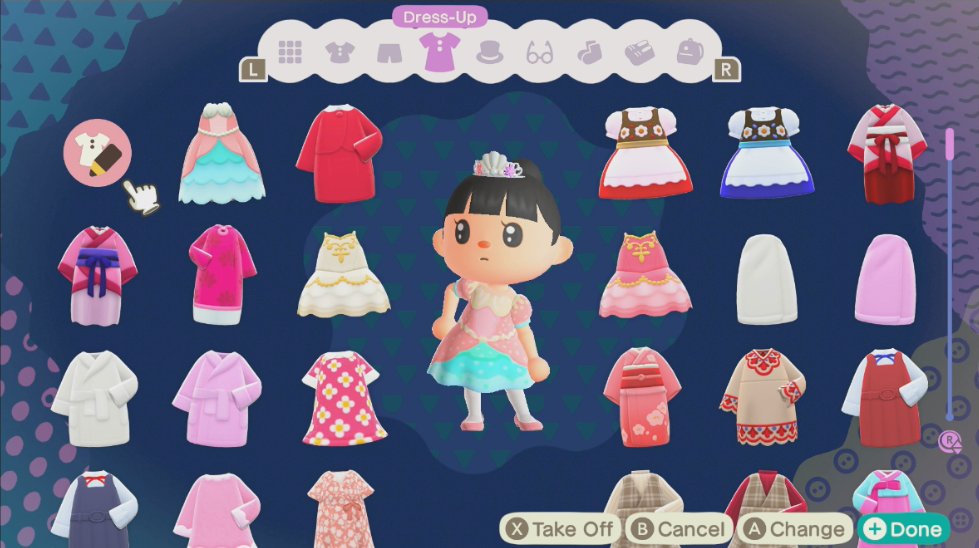 I ended up going to Meg's Southern Hemisphere island again later in hopes of the final three Sea Creatures I needed this month… and I got them! I had accidentally sold the first Red King Crab, but thankfully found another an hour or so later T~T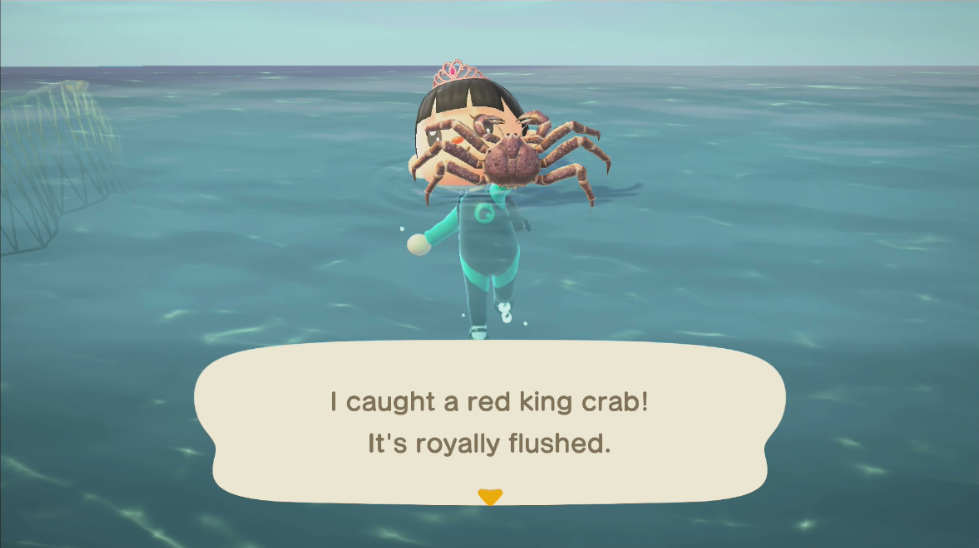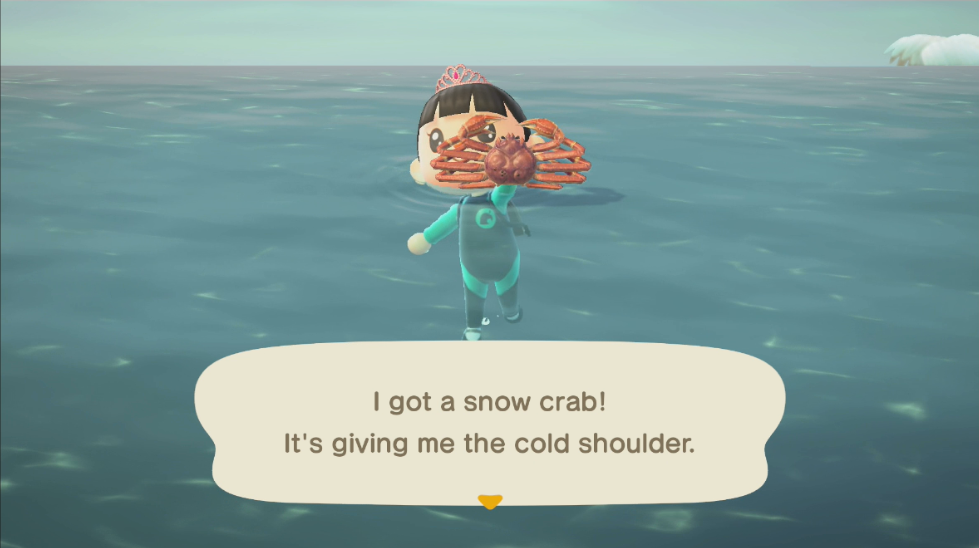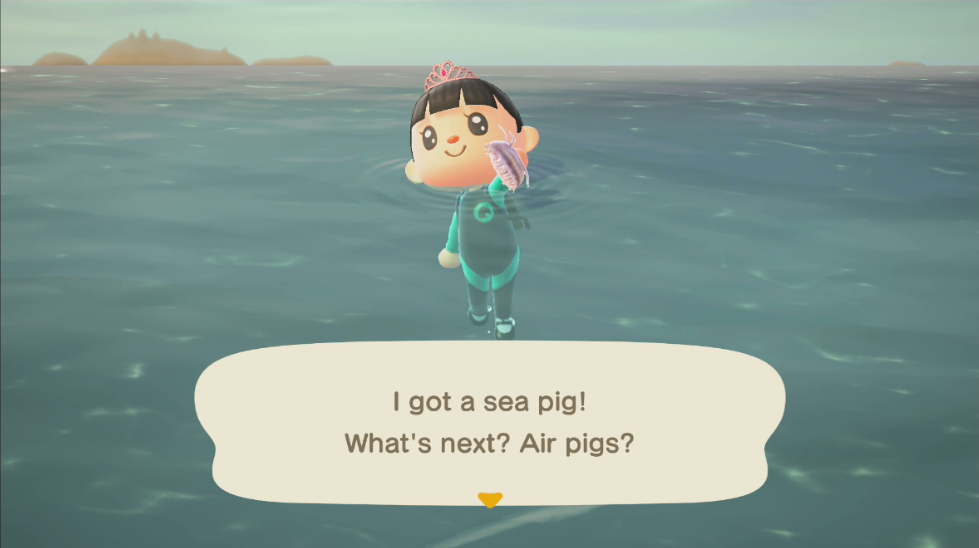 I'm now set until August where I believe the only new thing will be a Flatworm which I can try to catch in my own town after 4PM. I have just 6 Sea Creatures left now (so I'm at 34/40) and have caught over 800 total so far @-@
————
Day 110
Today was Mira's birthday so I quickly made my way over there.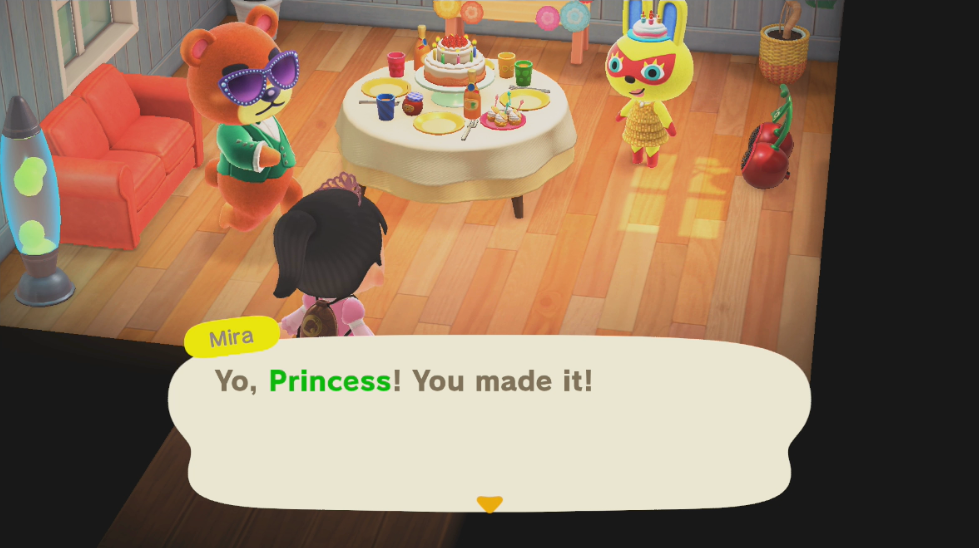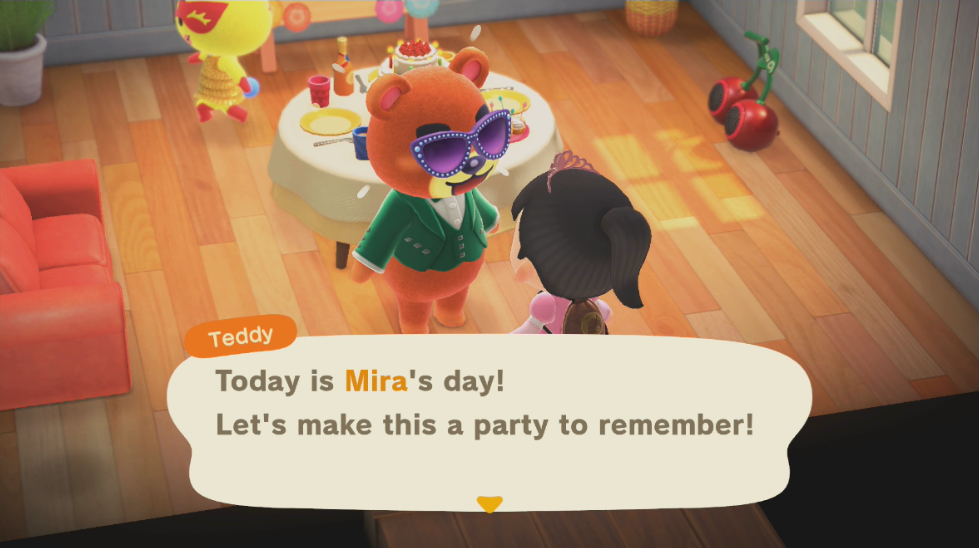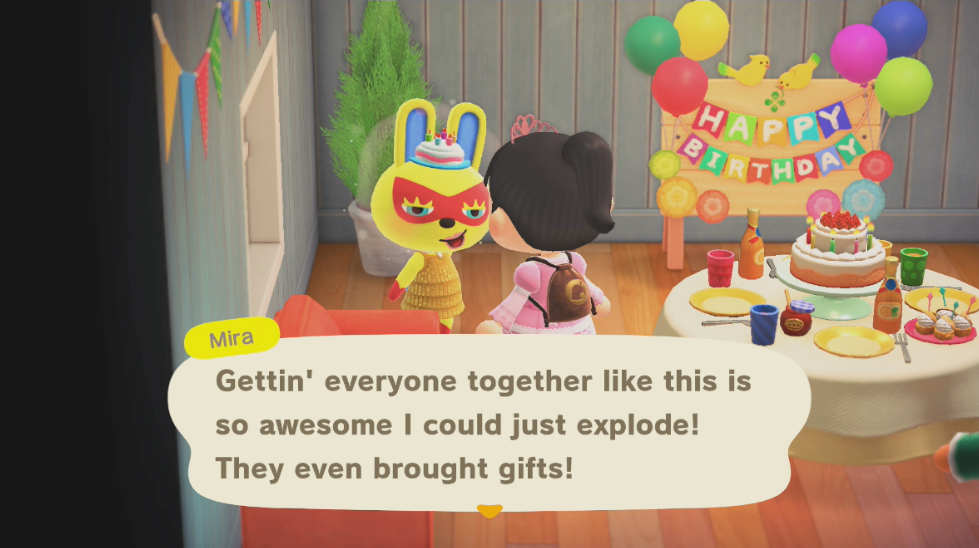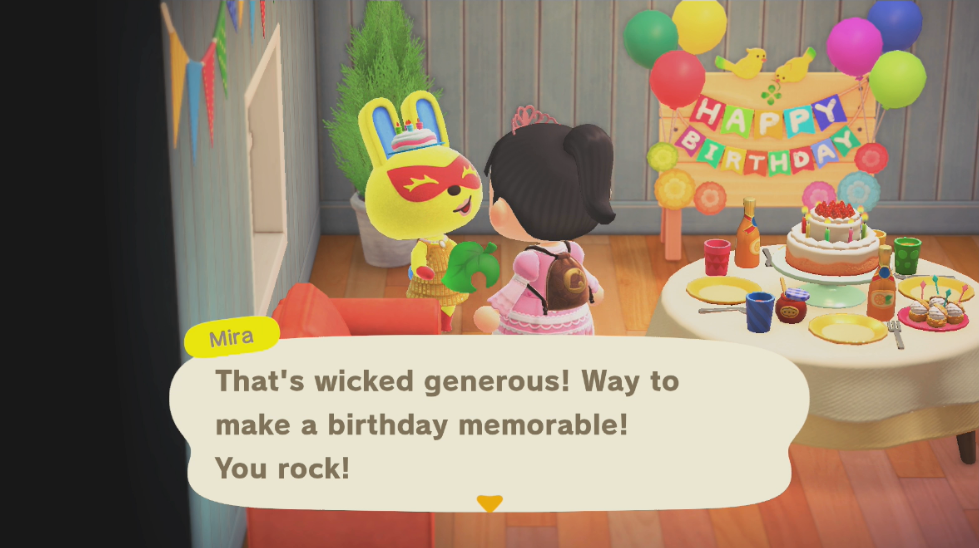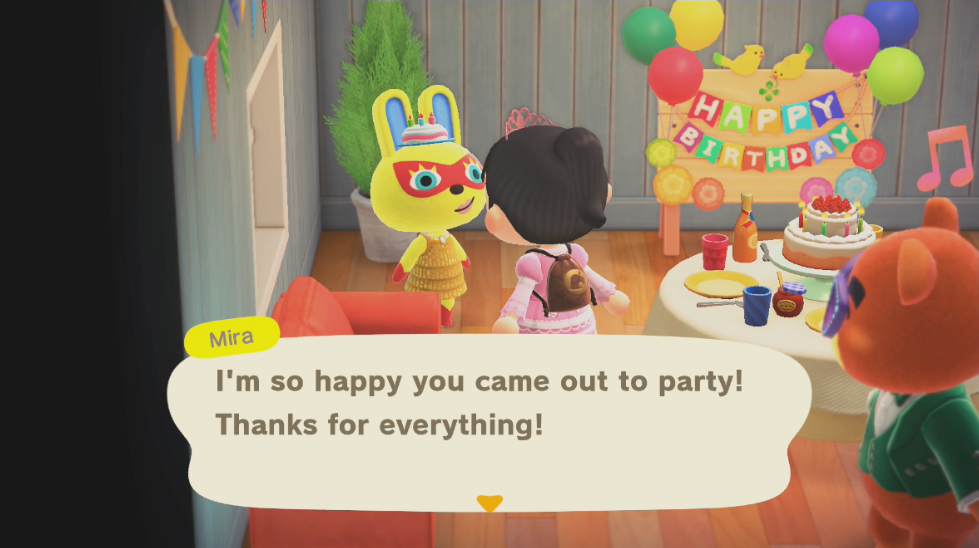 I found it really sweet that Teddy was there celebrating with her as they were my first two villagers.
I've been continuing to find a scallop for Pascal only to get a Pearl again… At this point, I'm kind of glad I just traded for the DIYs v-v But it'd be nice to get all the clothes… I still really want the pink shoes.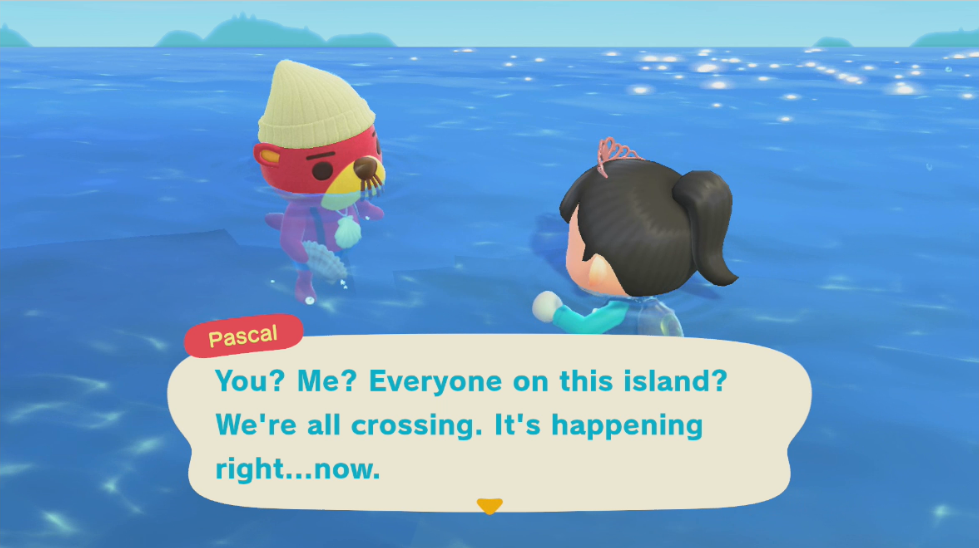 I ended up using the Pearl to make another Mermaid Lamp to put near my house. I think it looks nice, but am considering maybe moving it back a space…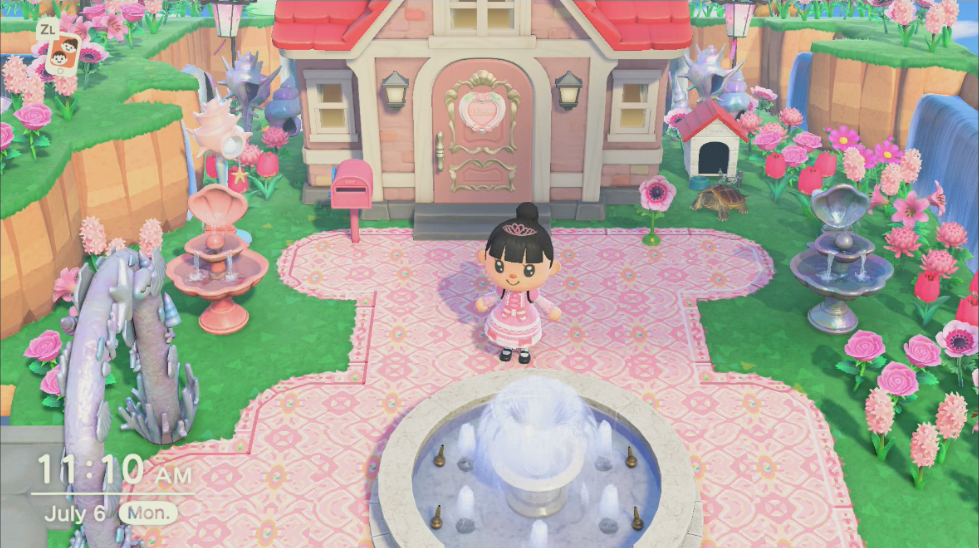 I then ended up over to Risha's that evening and managed to get a few new things.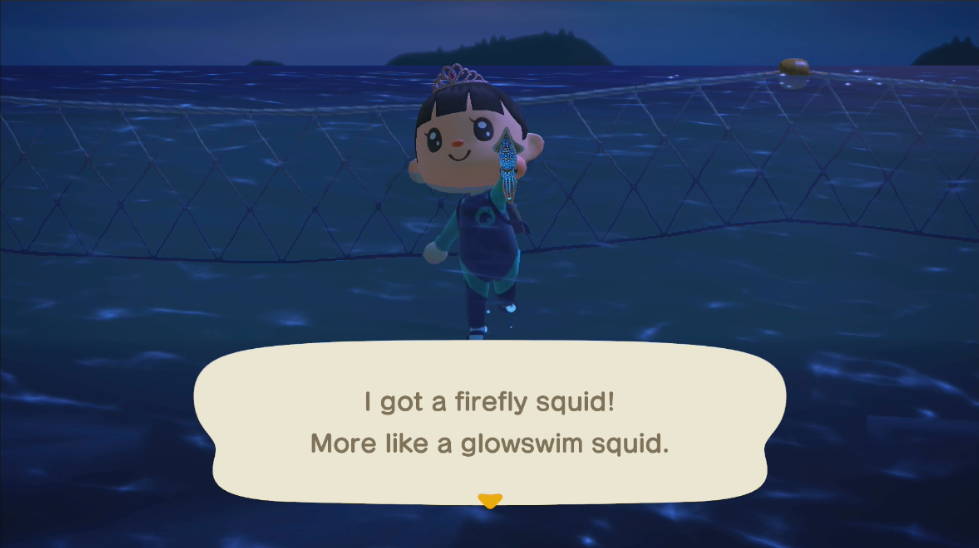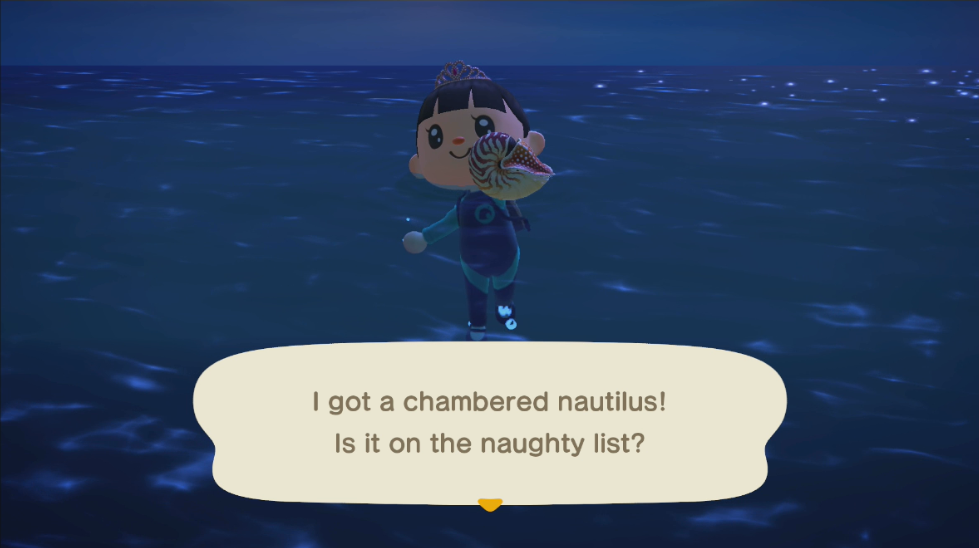 When I got back to my town, I may have had a bit too much fun flipping into water.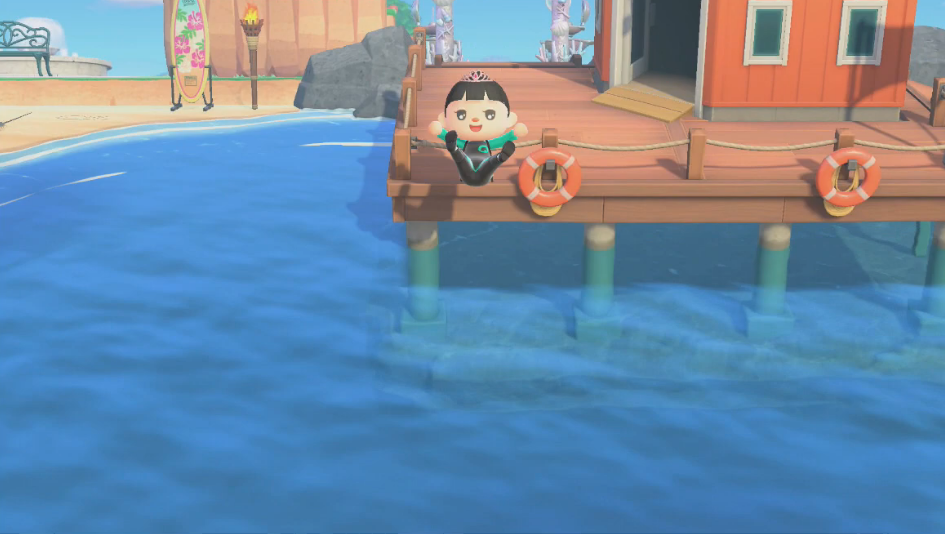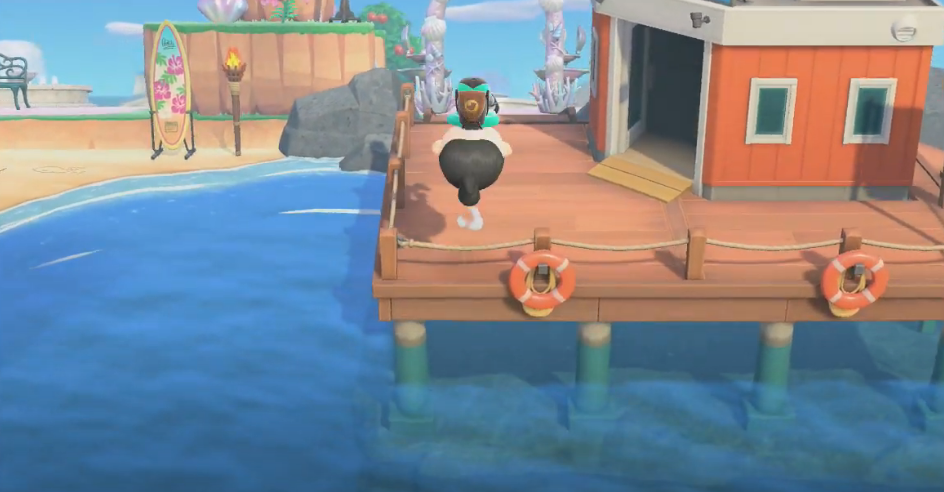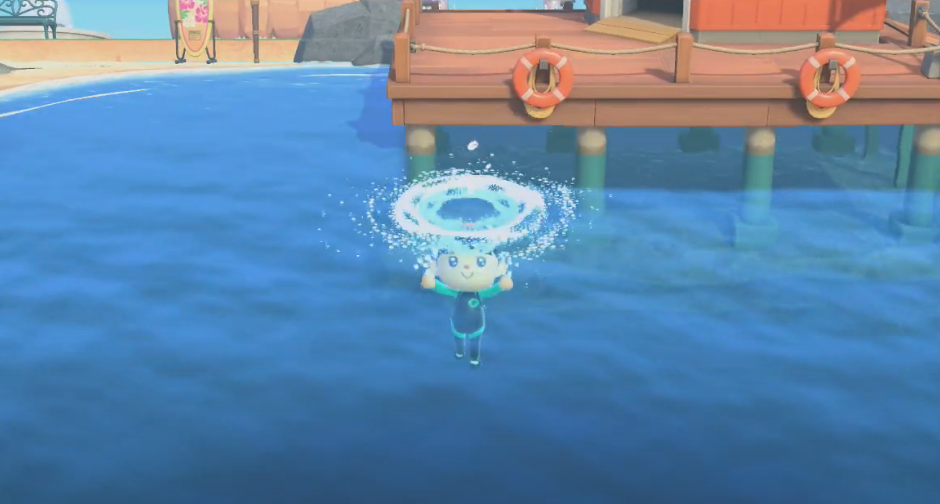 That evening, the mysterious plaza bench returned. I still don't understand why seats suddenly appear here. I wish I could add some seats myself…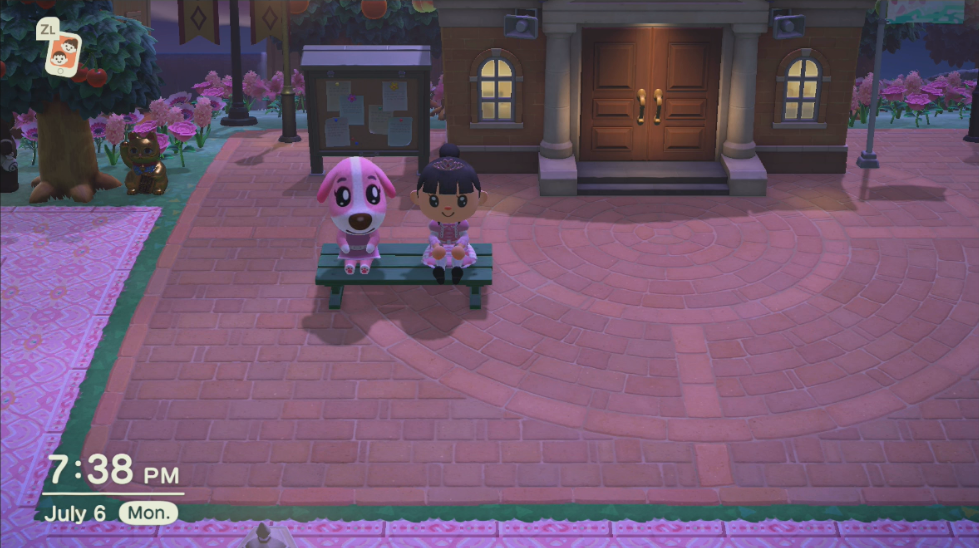 The biggest surprise though? Celeste's sudden appearance!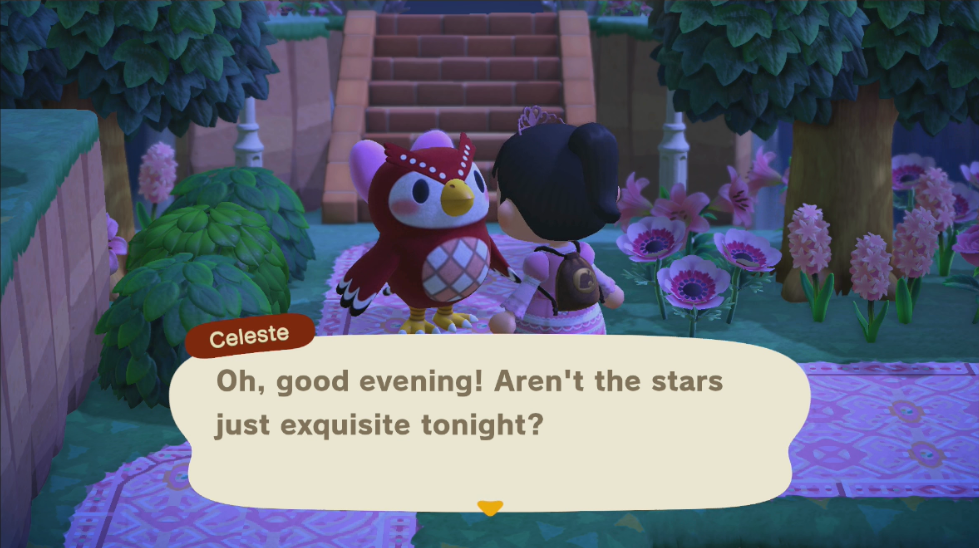 I had noticed a few shooting stars, but it was still a surprise to run into her. With all my zodiac gathering, I too the opportunity to listen to all of her Zodiac tales.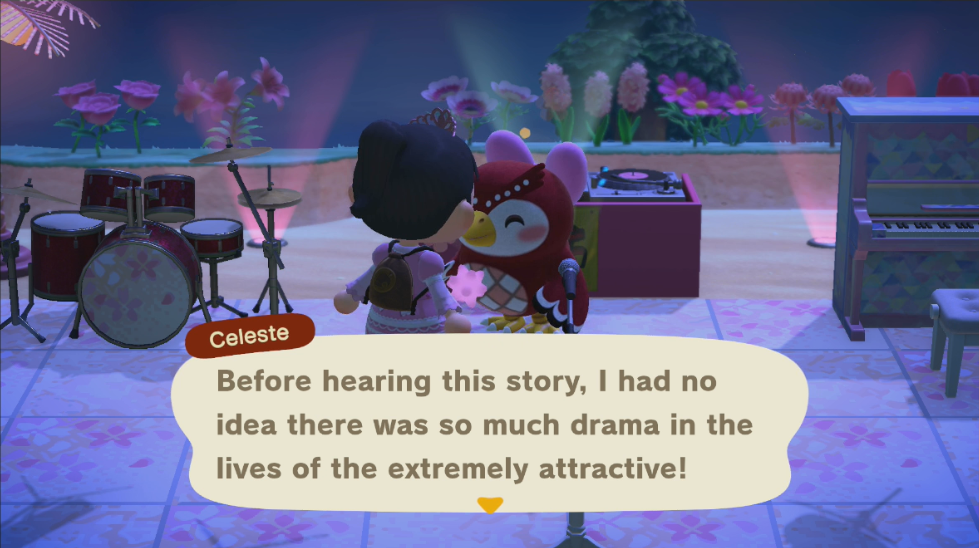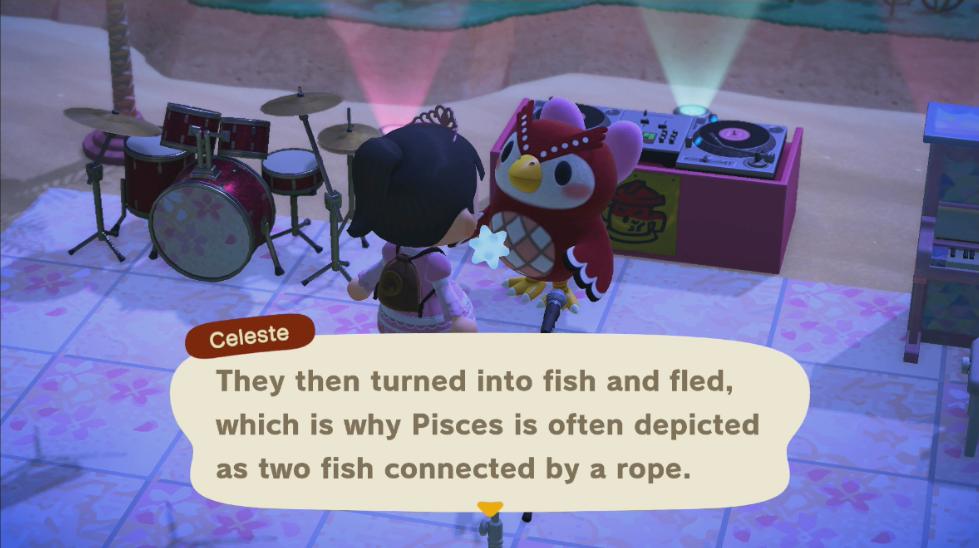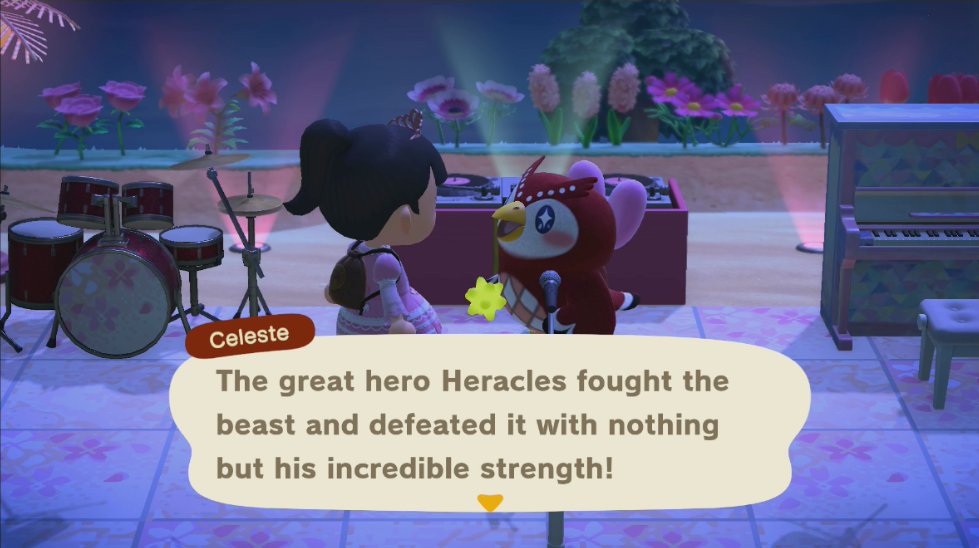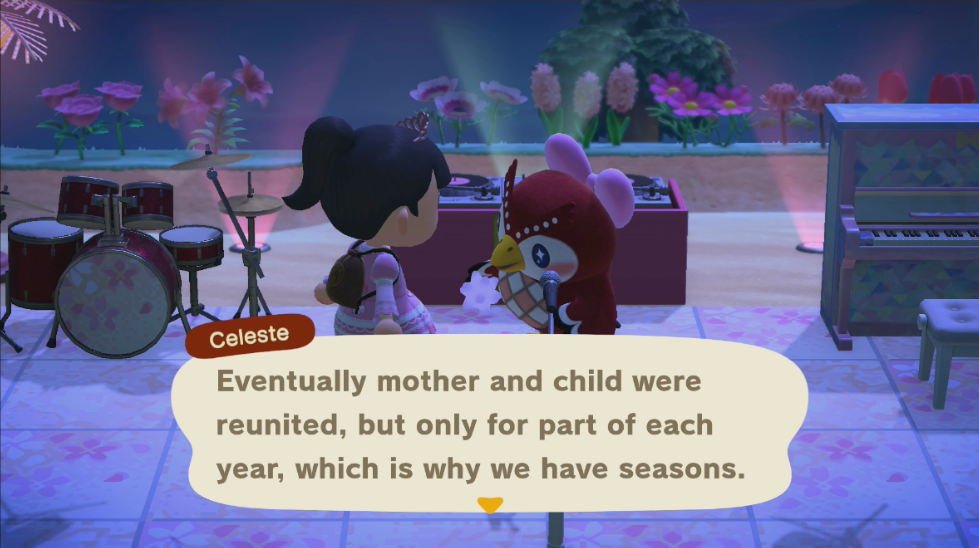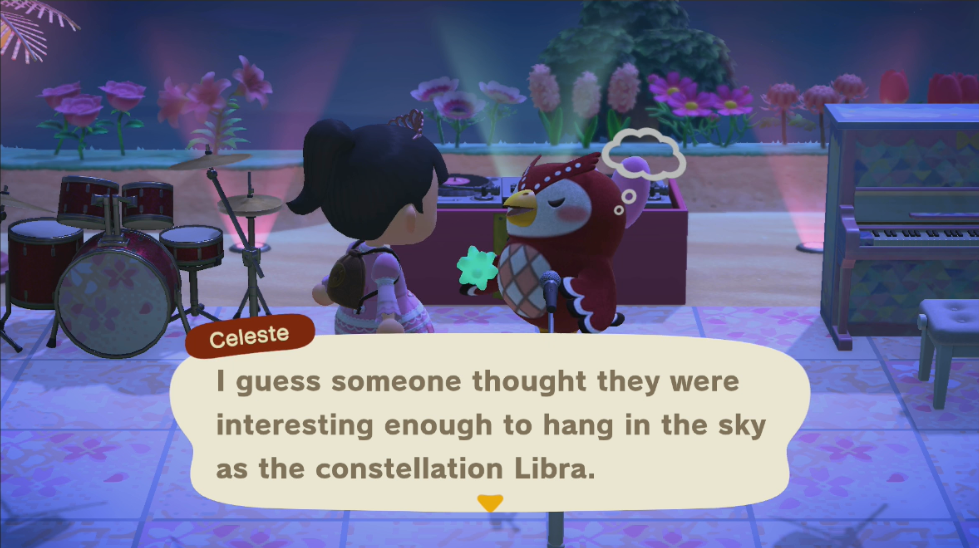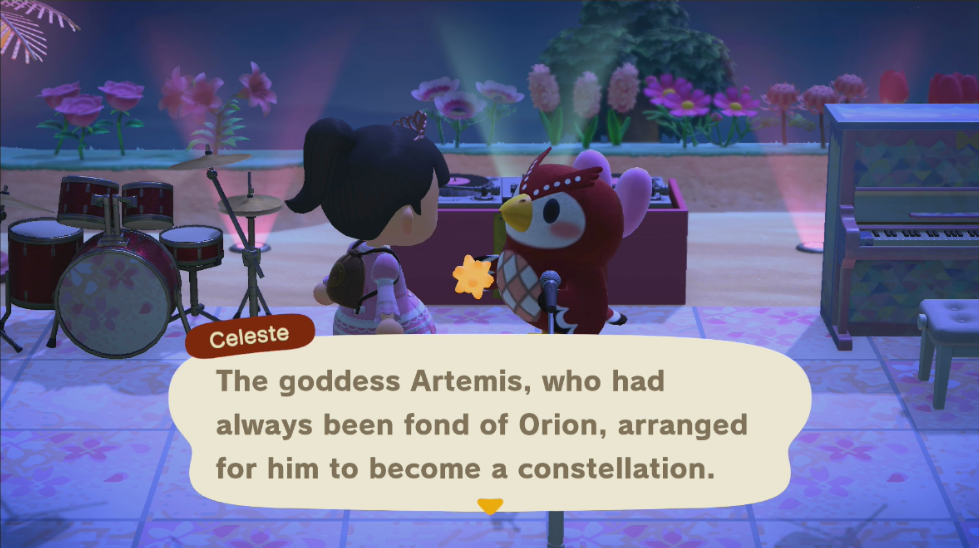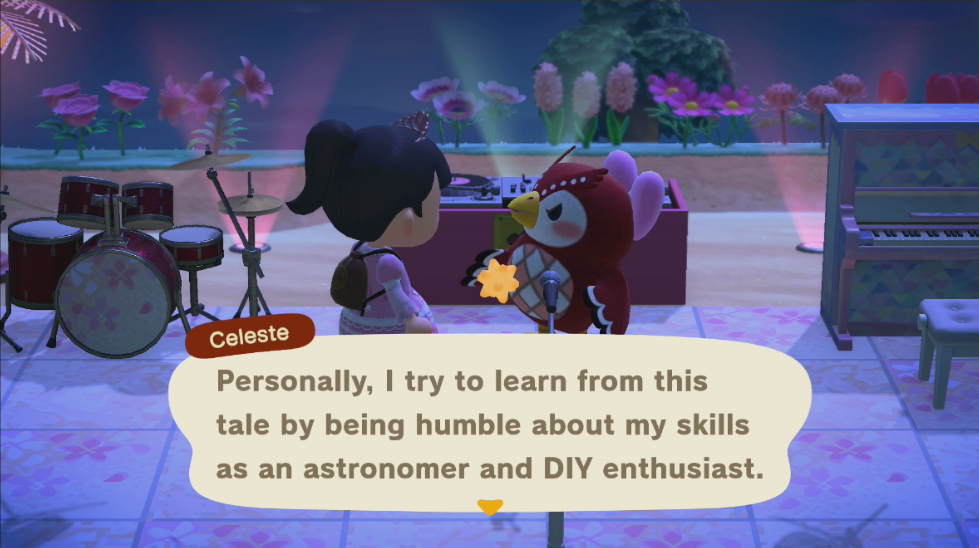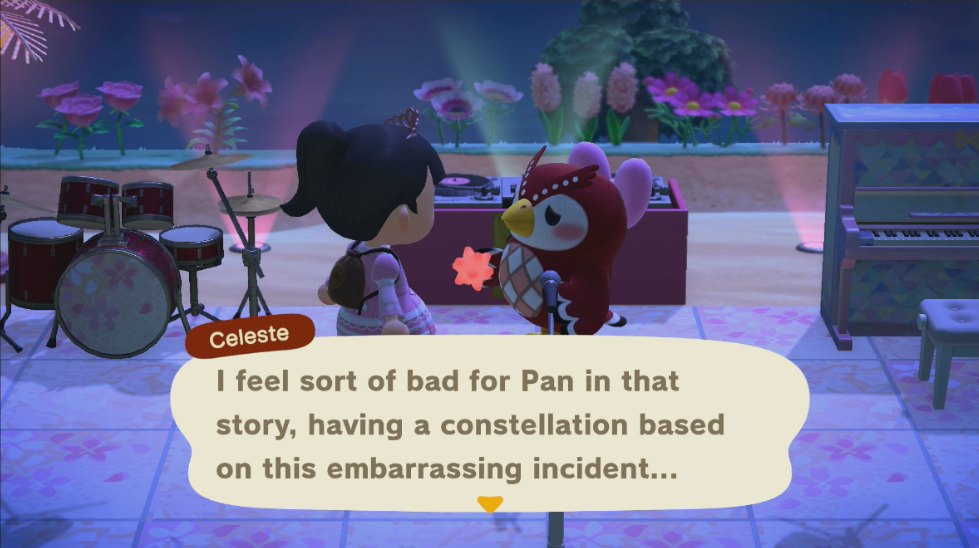 I have to say, I'm having incredibly conflicted feelings on how to feel on my own zodiac's tale.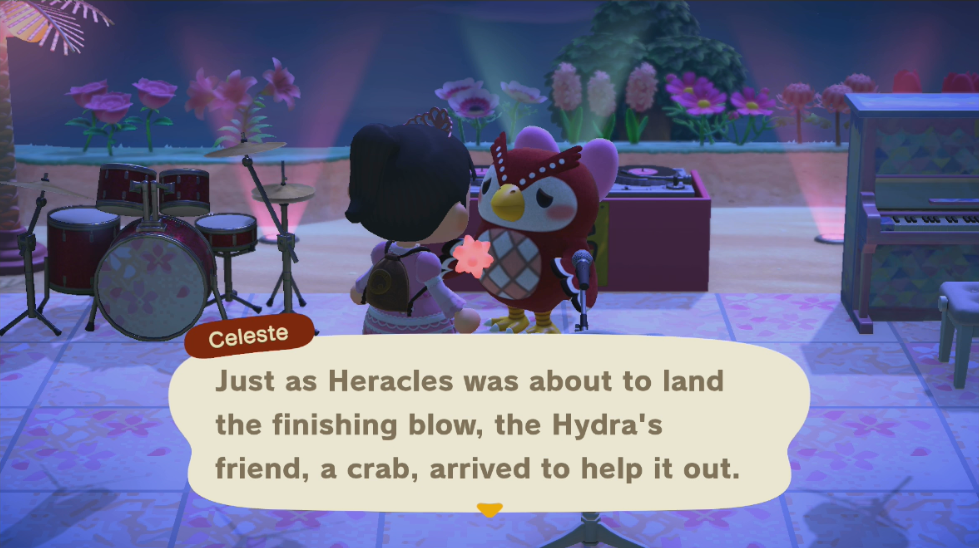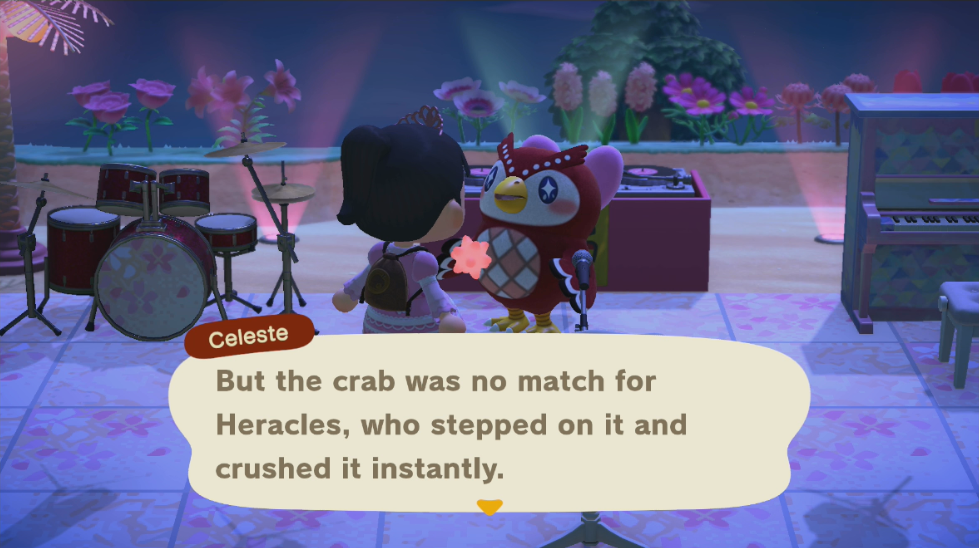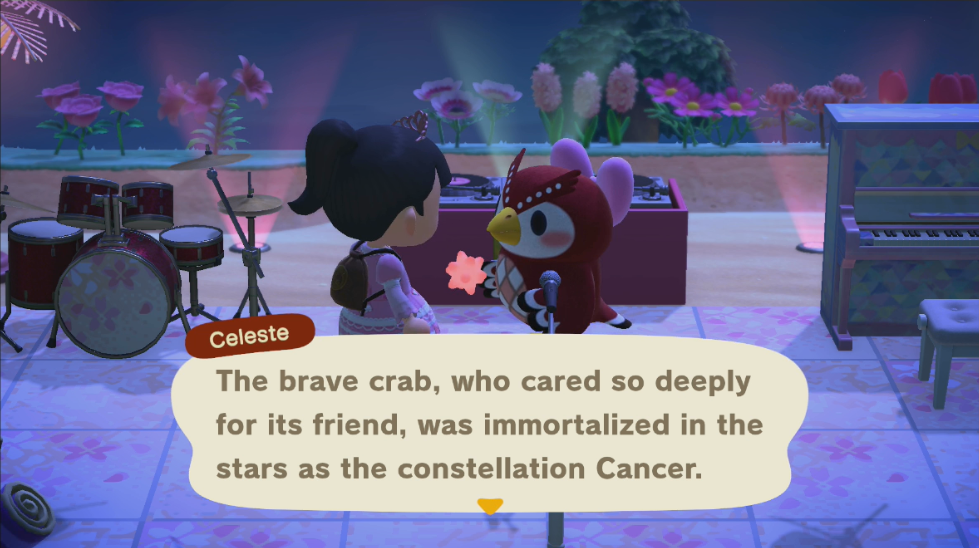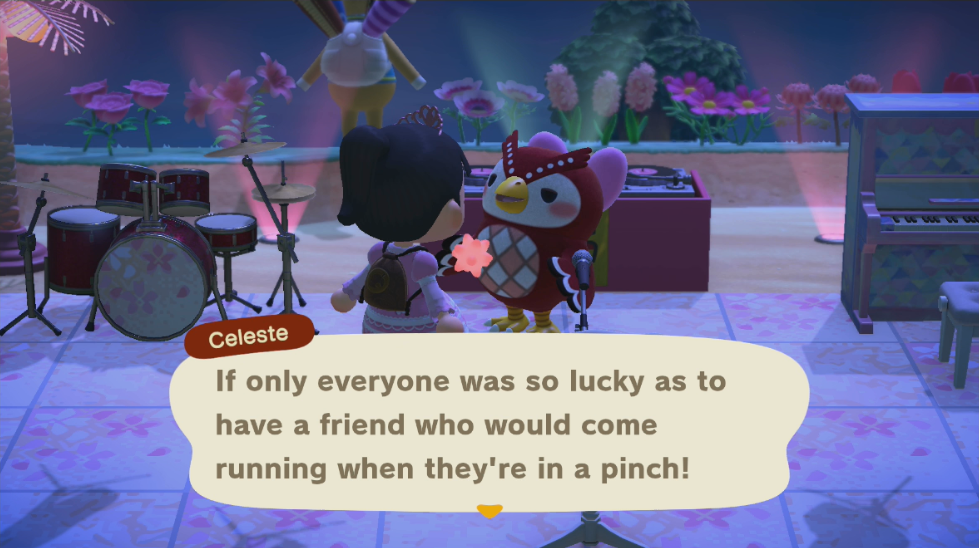 A friend of mine ended up giving me some of the Pirate furniture and after having put a pearl over on this rock, I thought maybe I could make it into a little cove-esque theme. You can see how quickly it began to evolve as I worked on it.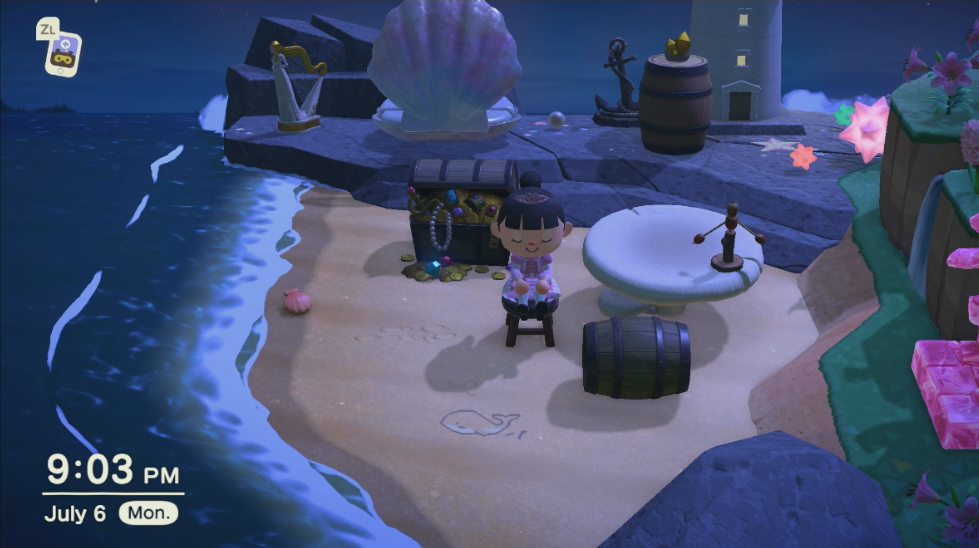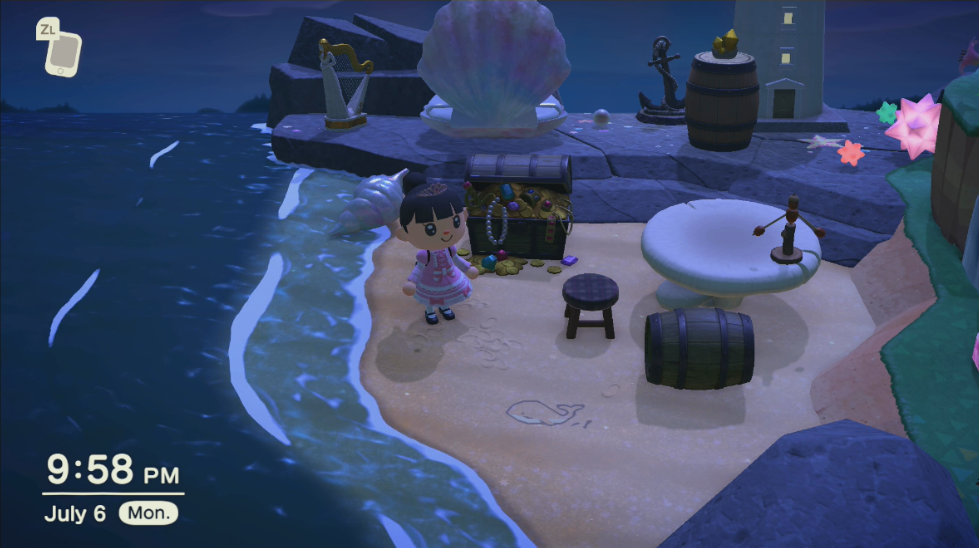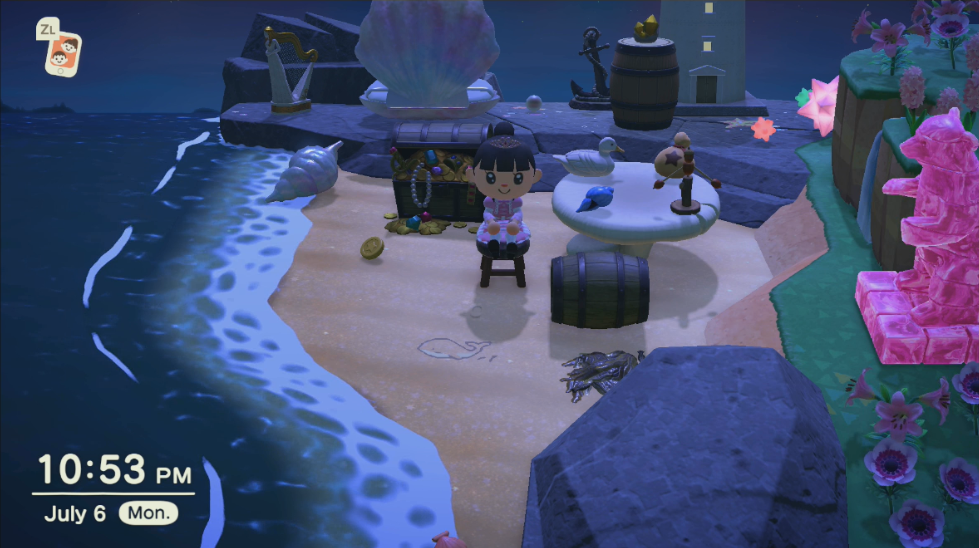 I think the finishing touch would be a Spider Crab, but I guess we'll see how it goes.
————
Day 111
I received a sweet thank you letter from Mira.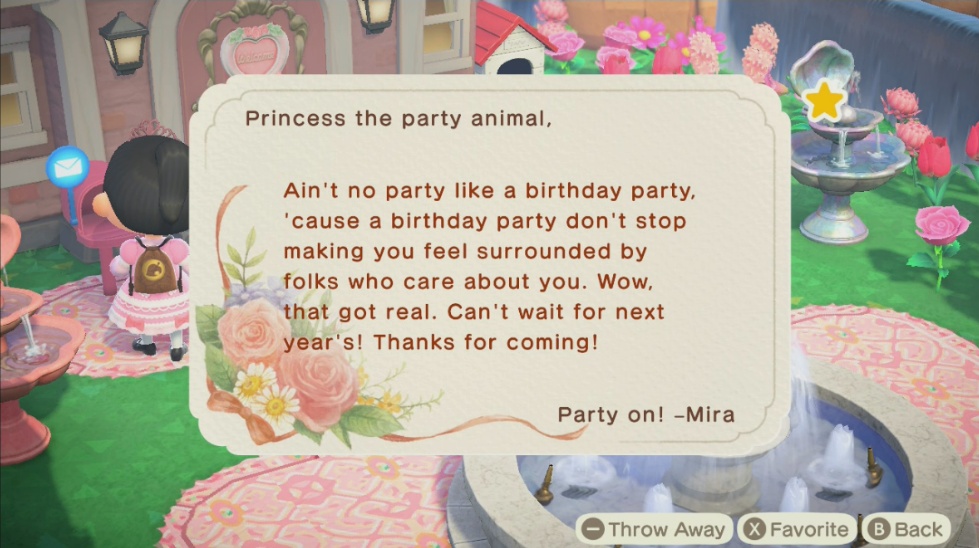 We also had a new campsite villager: Velma.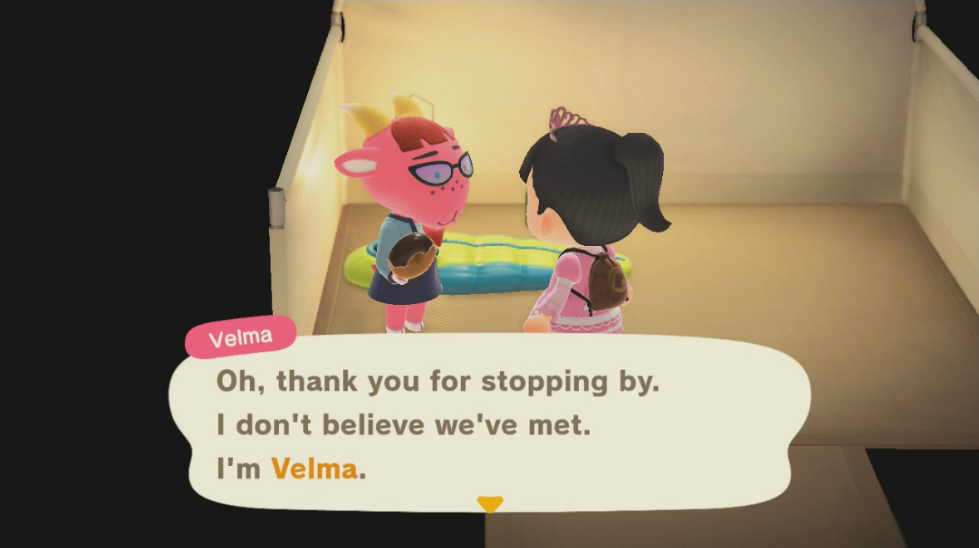 But the best thing was I ended up getting another double rainbow today!!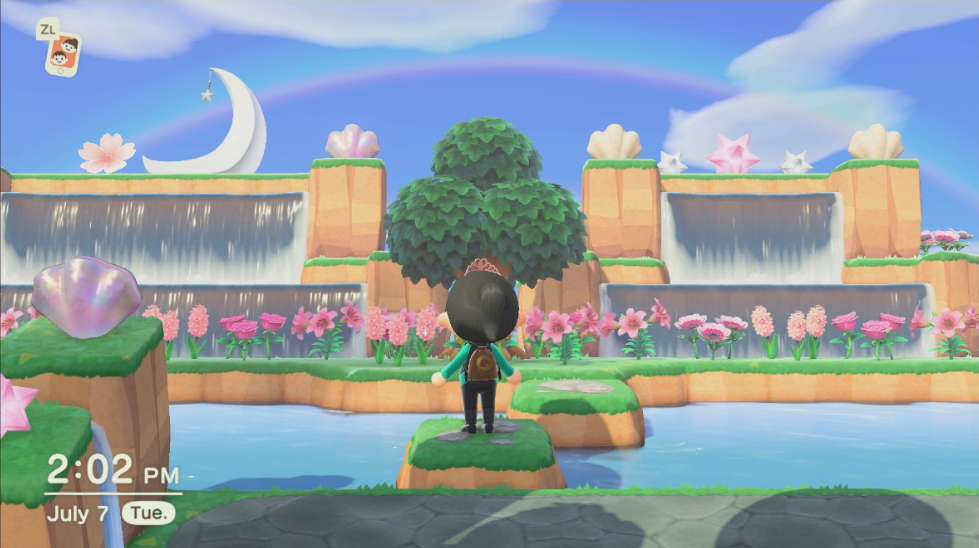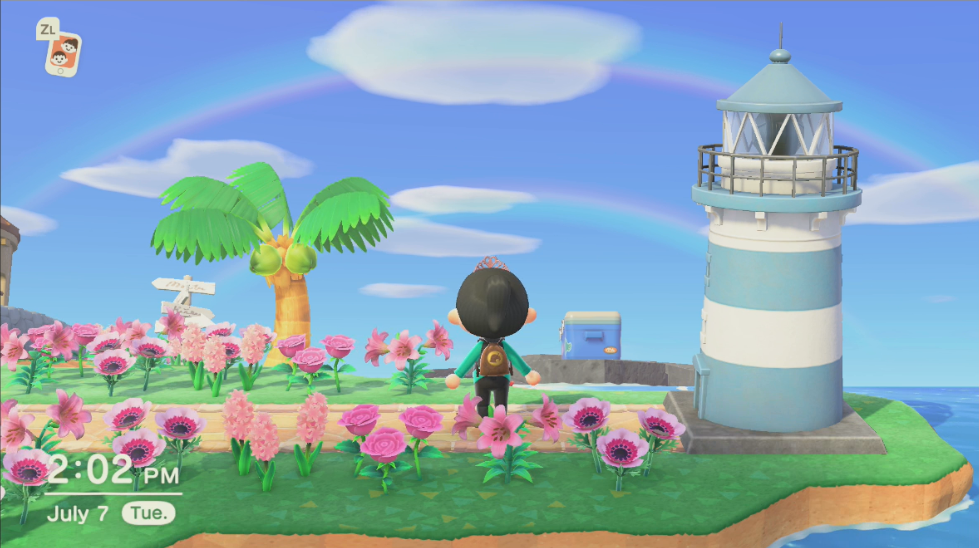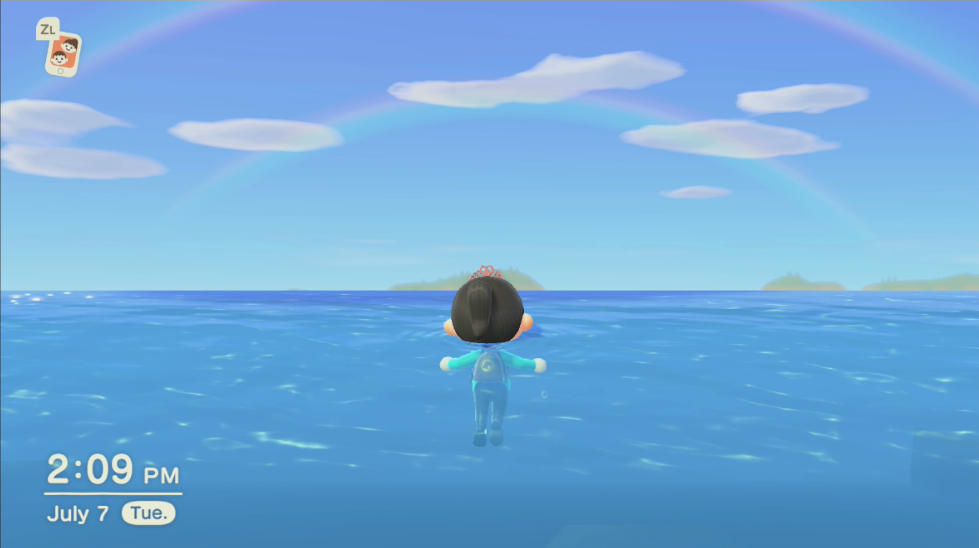 I continued my Scallop hunt for Pascal, but it was another Pearl today…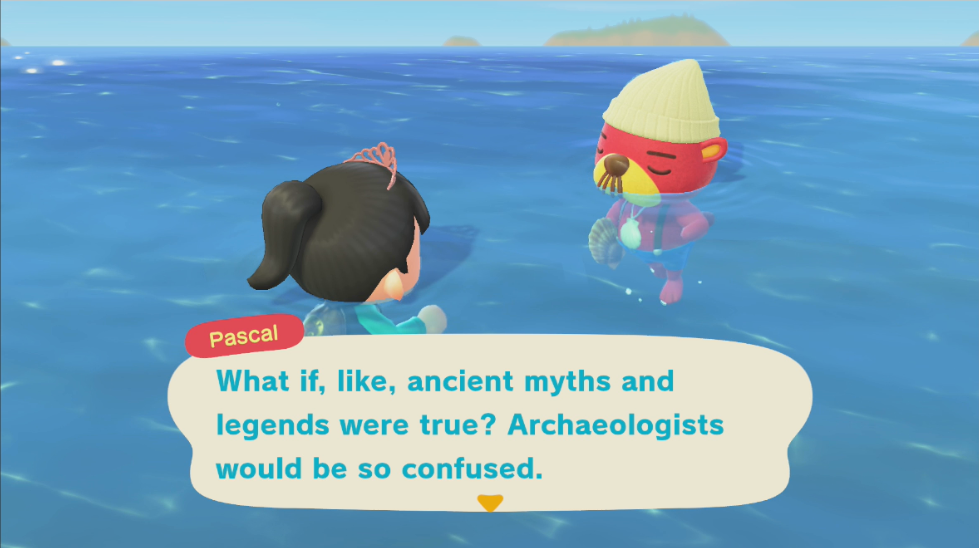 As I was finishing up, I ended up running into Wisp… It took a while (and heck, he even changed locations due to my break), but I did manage to find all 5… Unfortunately, he gave me wallpaper (which I already have all of) so there wasn't much to do with the Blue Blossoming Wall he gave me.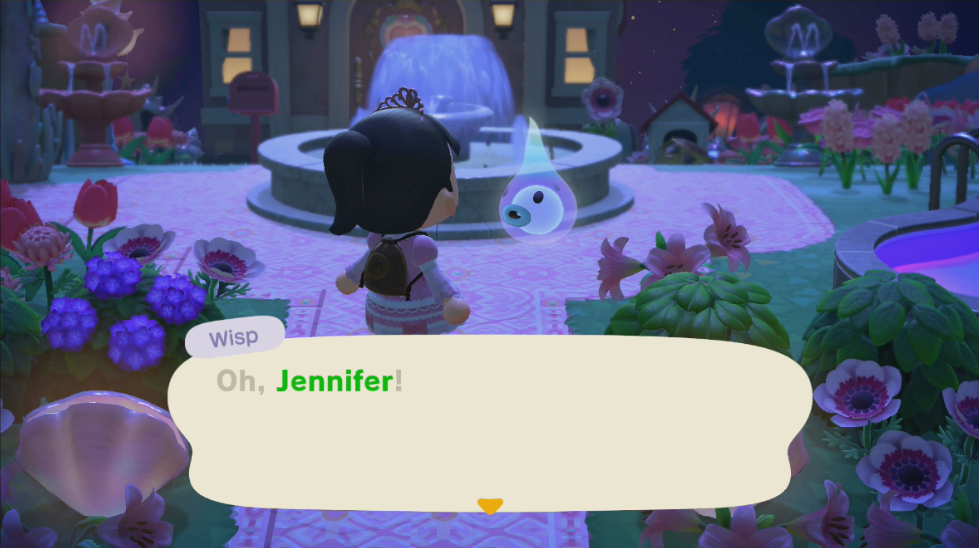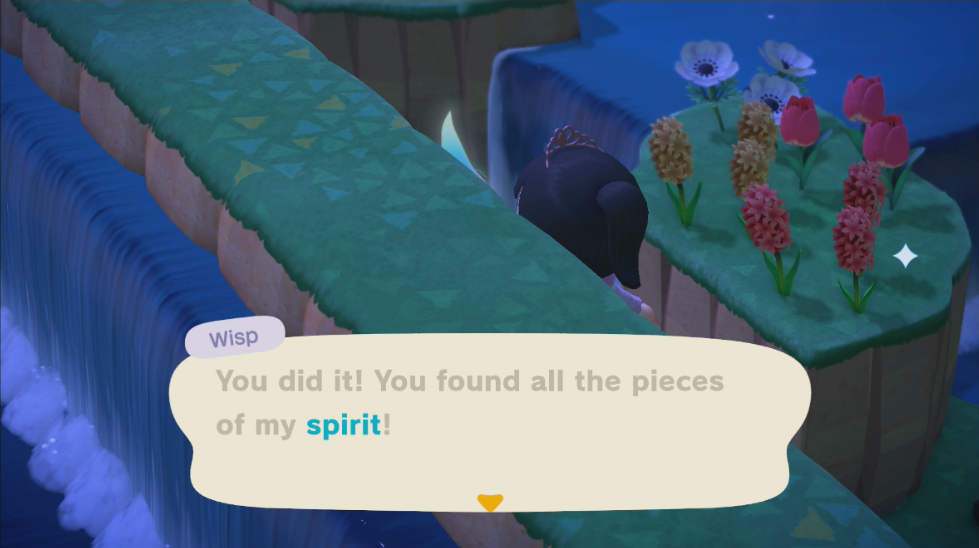 I also took the time to finally add some dirt around the fires at the camp area. I saw so many people doing it and realized maybe that actually makes sense to do as you wouldn't want to set the grass on fire (can you tell I've never been camping?) so I finally got around to adjust it.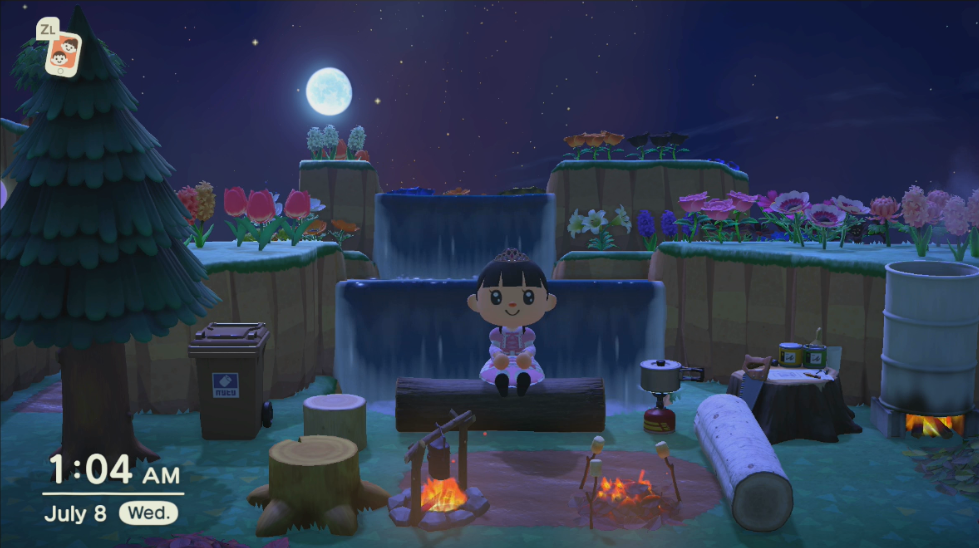 ————
Day 112
Another day, another Pearl.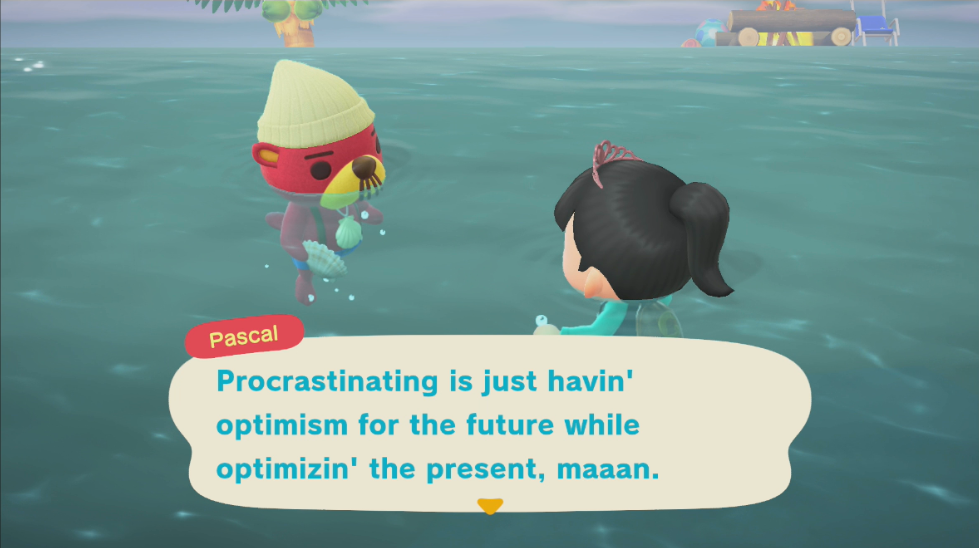 I can't say I agree with this, Pascal XP
Regardless, the Plaza was actually pretty busy today. I was surprised to see Label again so soon. I was a bit worried at first about the theme, but then I remembered I had a great outfit to go with it… She gave me the Labelle Coat. It kills me that my town seems to get the Twilight coloration from her. The Passion color is my favorite :( (Followed by Love, but the pink looks too purple sometimes).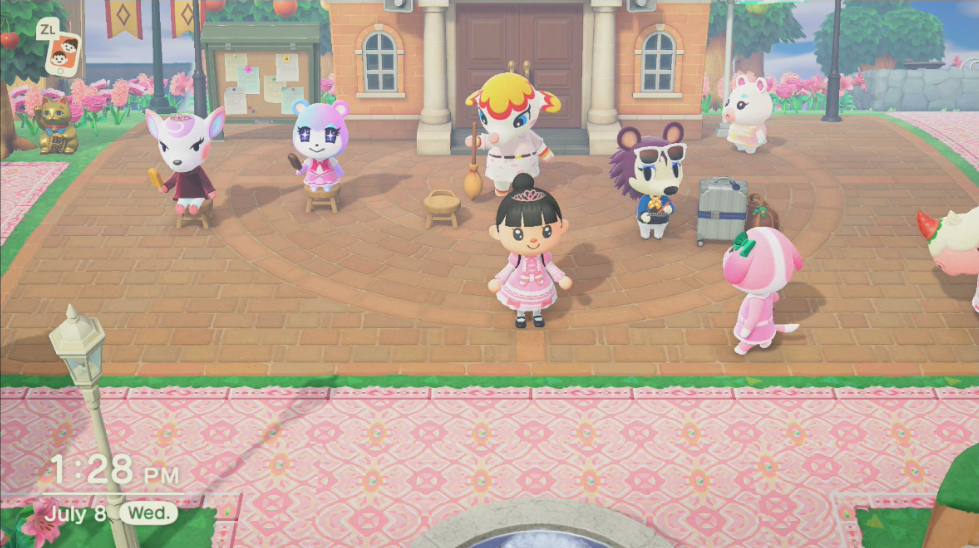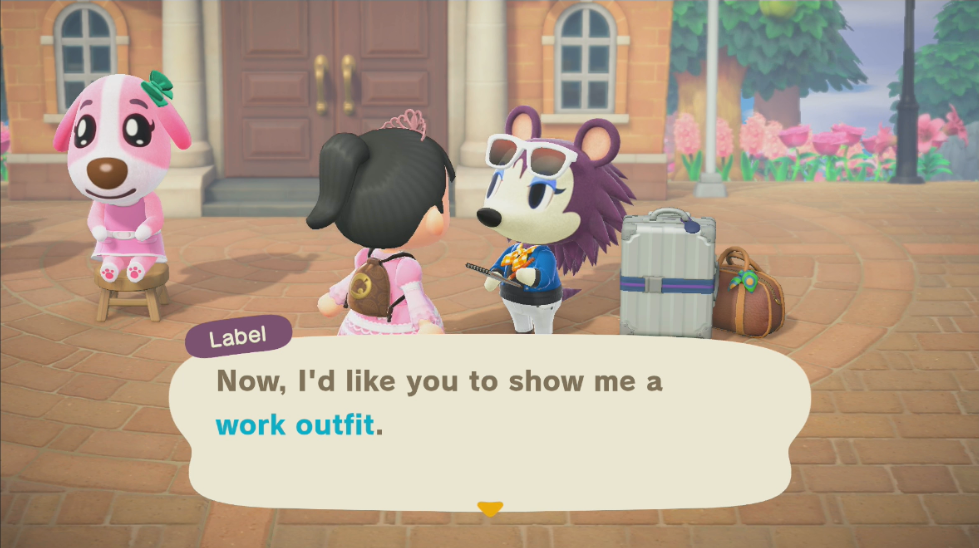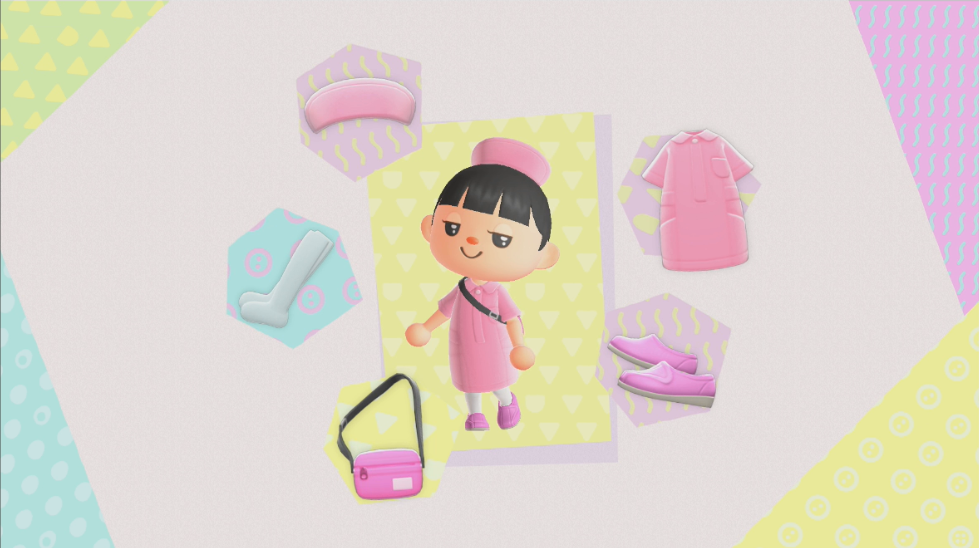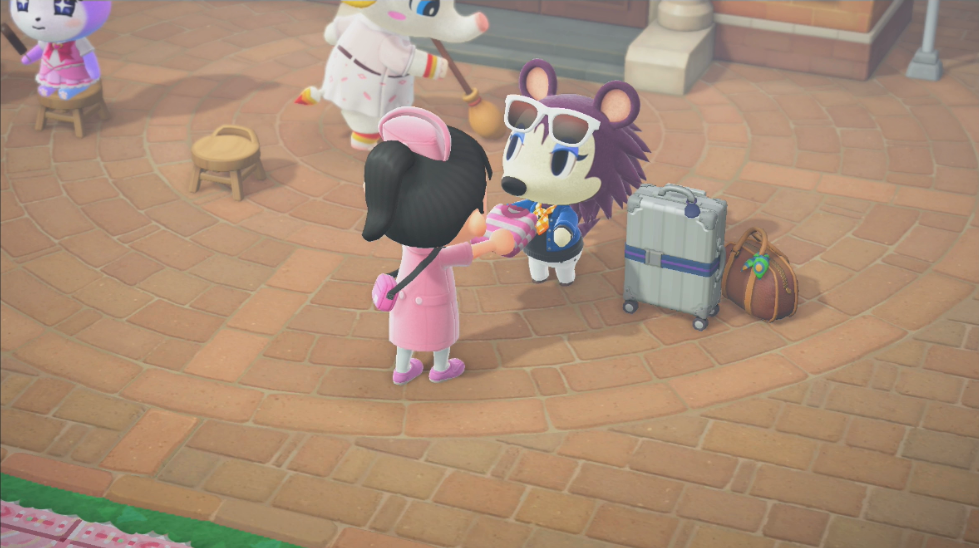 I had been debating on giving Merengue one of the Soft-serve hats thinking it could maybe look like whipped cream to further her aesthetic, but the color didn't match up enough unfortunately.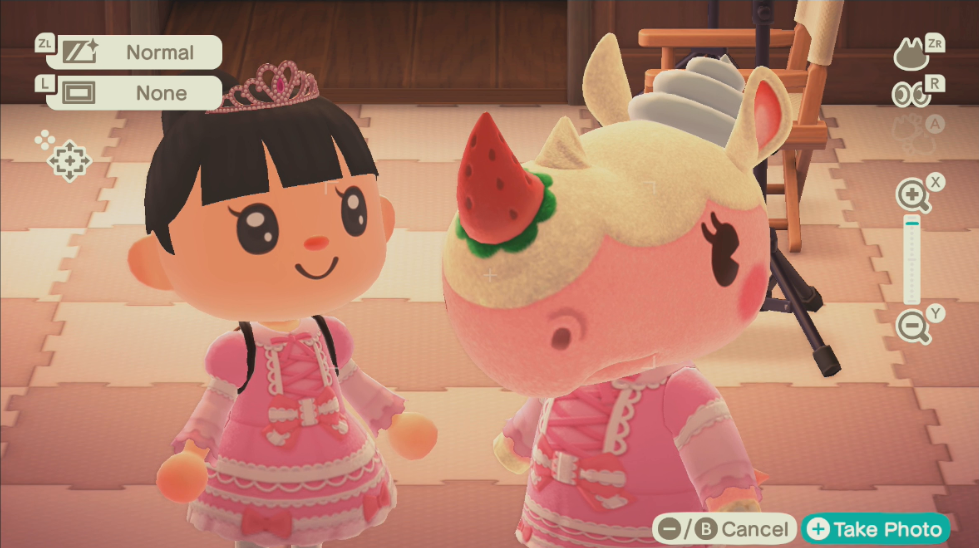 A friend also ended up surprising me with a Mermaid Tiara so I gave it to Marina as I felt it fit her pretty well.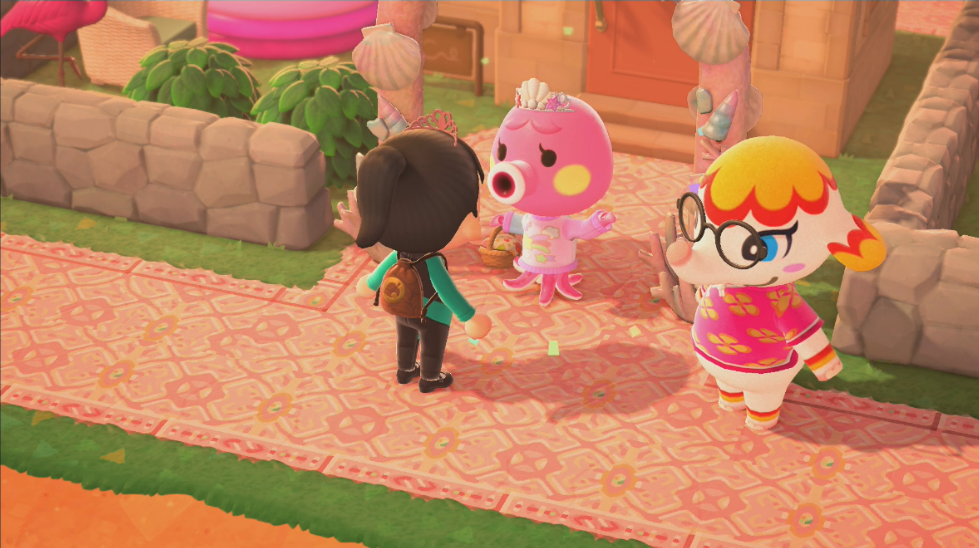 I then stopped by Meg's Southern Hemisphere town as she was celebrating her birthday a bit early. It was so cute and we could submit birthday wishes.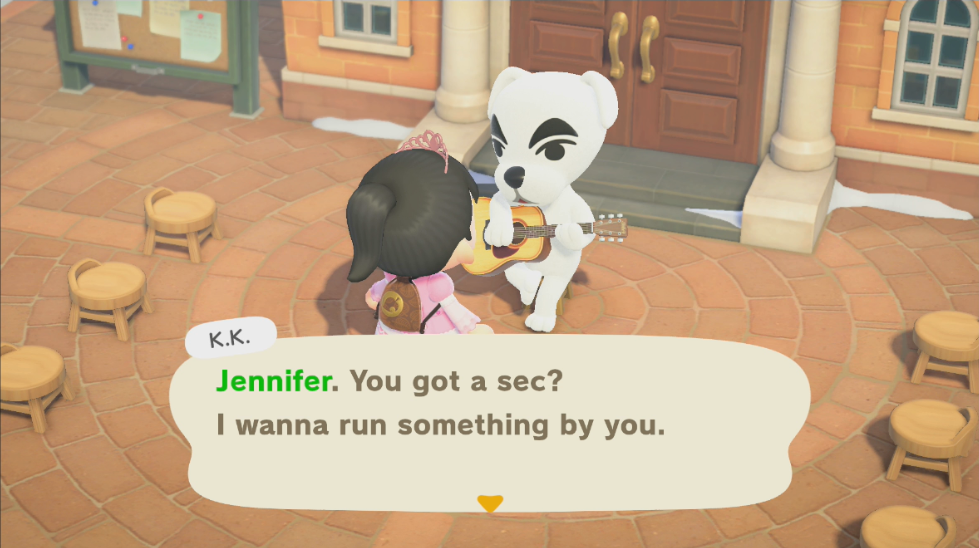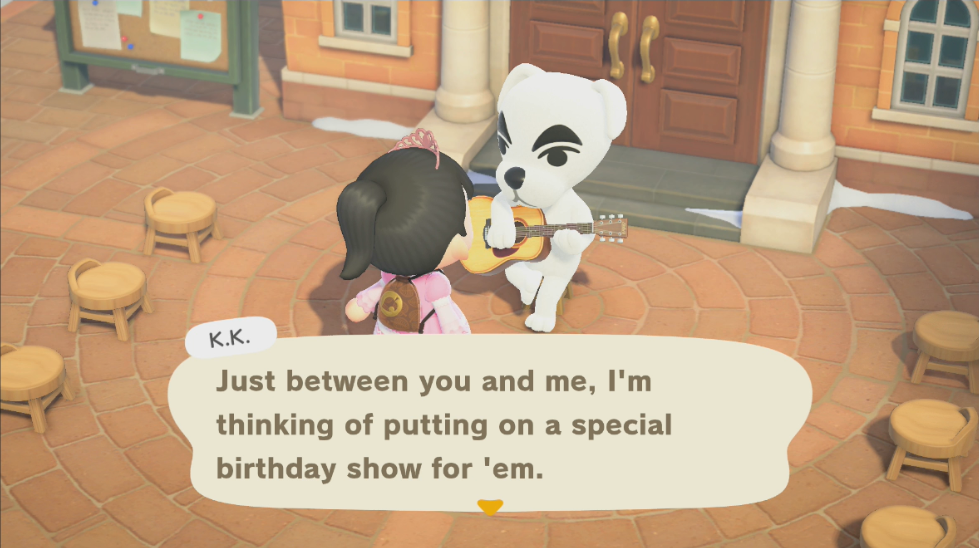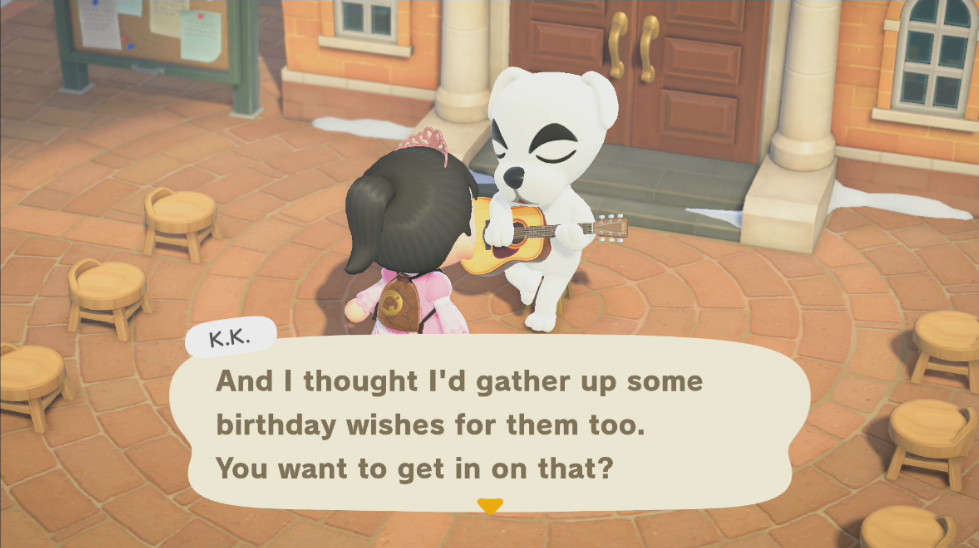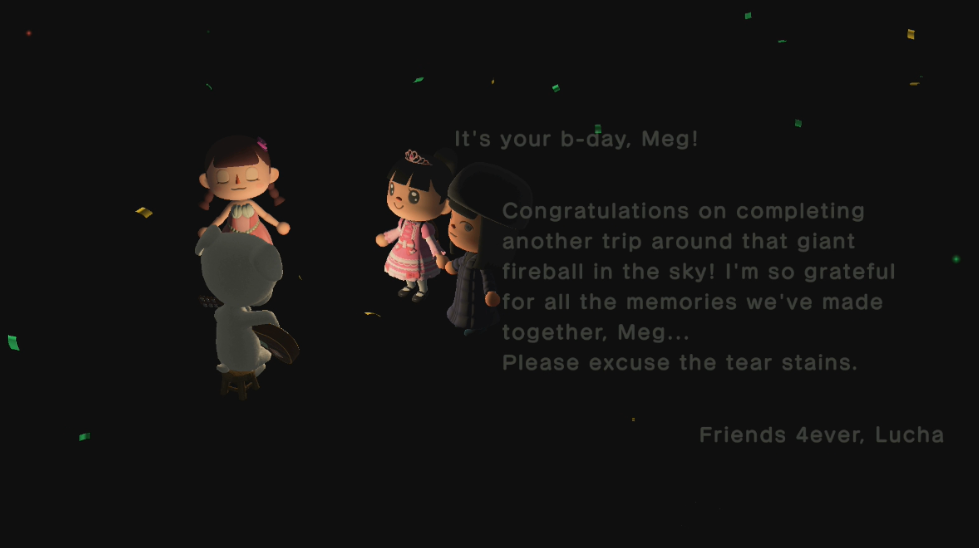 It makes me really excited for my own birthday, though, I wish it was possible to submit wishes through your own K.K. to help increase the surprise factor, especially as I don't open my town much, let alone for K.K. who everyone has the same day.
To finish off the day, we then had a little afterparty over at Risha's island where I got another new Diving creature: The Spiny Lobster!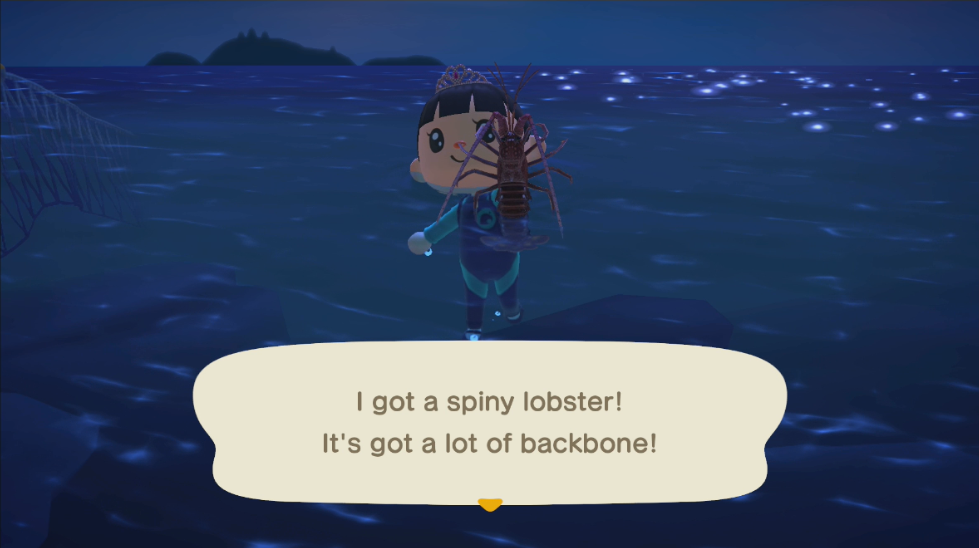 Her islands are in June right now while she catches back up with dailies, but now I'm essentially set until August and September. If I'm lucky, I should be able to have all the Sea Creatures done by September :D Fingers crossed at least.
TrackBack
TrackBack URL for this entry:

Previous | Next