Twitch Collection | Youtube Playlist | ACNH Overview
Days up to this point where anything in particular happened…
Day 139 – Teddy and Peanut got in a fight. He gave her a Desert Princess Dress to make it up to her. I was also able to catalog all the Morning Glory Yukatas thanks to Mika. Gulliver was our special visitor for the day. It took way longer than it should've to find all the parts… But we're up to 16/20 for the Nook Miles achievement now. While I need to catalog more than four more pieces of clothing, I don't think I'm going to bother after the last four as it's just so annoying to find everything.
Day 140 – Saharah was here today.
Day 142 – Labelle was here today. She wanted a Work Outfit. Both Diana and Marina asked for unique greetings and Marina tried to give me a new nickname. I tried to give gifts with my inventory full in hopes of photos. I miss being able to just do favors for them. Especially as I already accidentally ruined Judy's house with gifts :(
Day 143 – K.K. Slider was here today, of course. I still have so many concerts to do which is kind of tiring when I already have all the songs now… I sadly didn't get any photo, though the letters were sweet.
Day 146 – I managed to get two photos today thanks to Leo's Peach contribution!! I now have Cookie's and Diana's =D Halfway there to having all 10… Still not sure what I want to do with the photos of Villagers I don't have though. I also had Joey as a camper today.
Day 147 – Marina's and Merengue's photos gotten! Gullivarrr was also here. I don't need any pirate stuff, but at least that puts me at 17/20. Mira asked for a Horse Mackerel and she gave me a new Terry Night-cap color as thanks.
Day 151 – Thanks to a lot of friends, I've made great cataloging progress and now have catalogged all the Nook Miles items, Birthday Hats/Shades, and all of Kicks stuff.
And some screenshots to go with the above, plus a few things I didn't note.
My work outfit for Labelle: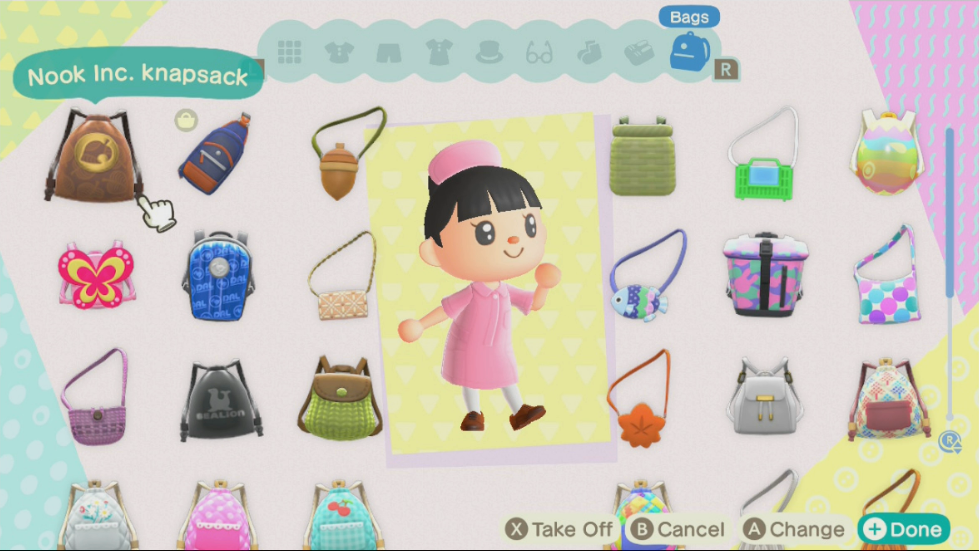 It might have different shoes this time, but that's really it.
I got to visit Katie's town which was fun. Her town is really nice.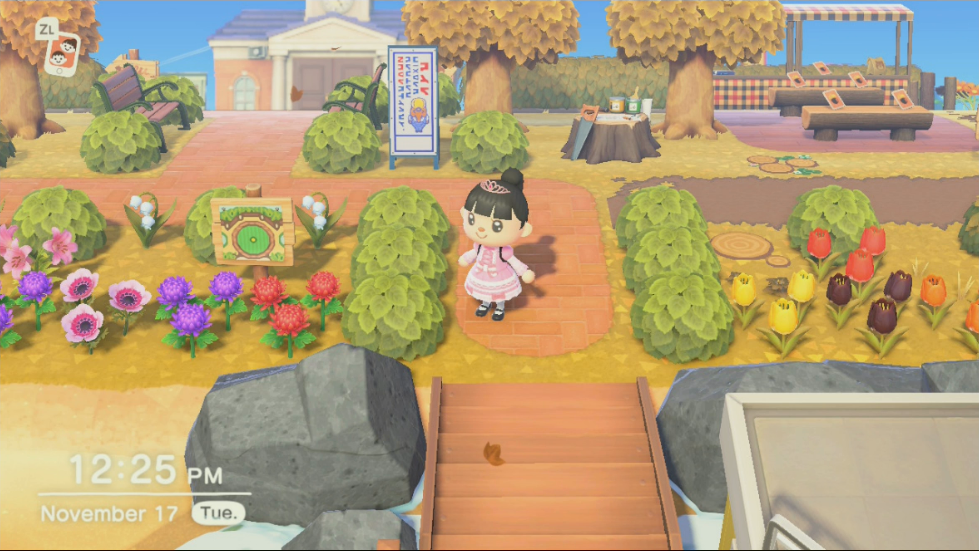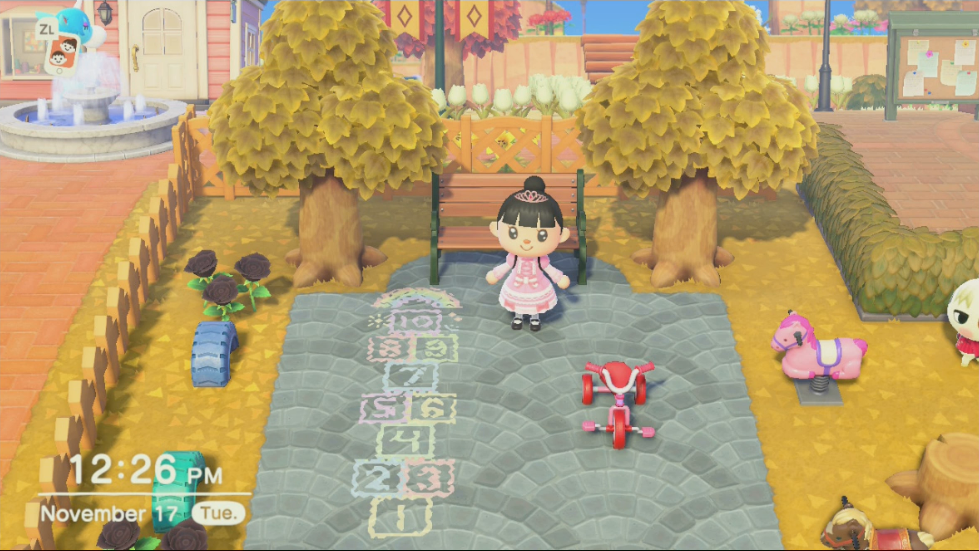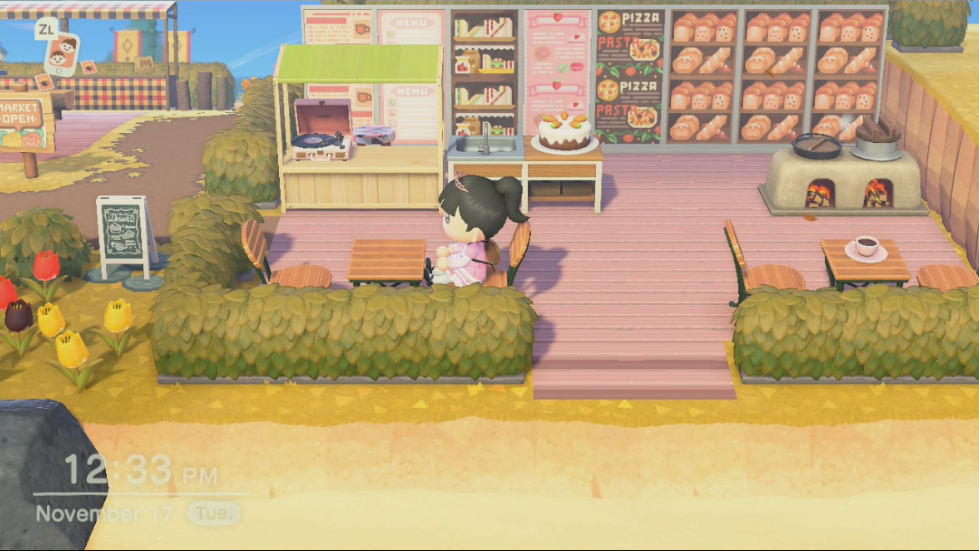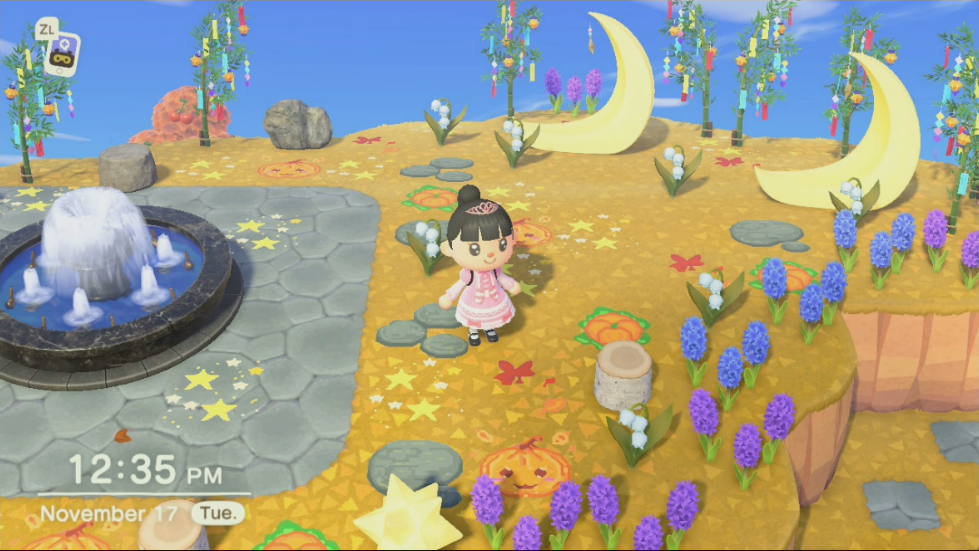 I wish we could send gifts even if we haven't visited each other yet though. It's so frustrating.
I always have a hard time thinking of greetings, but I do my best.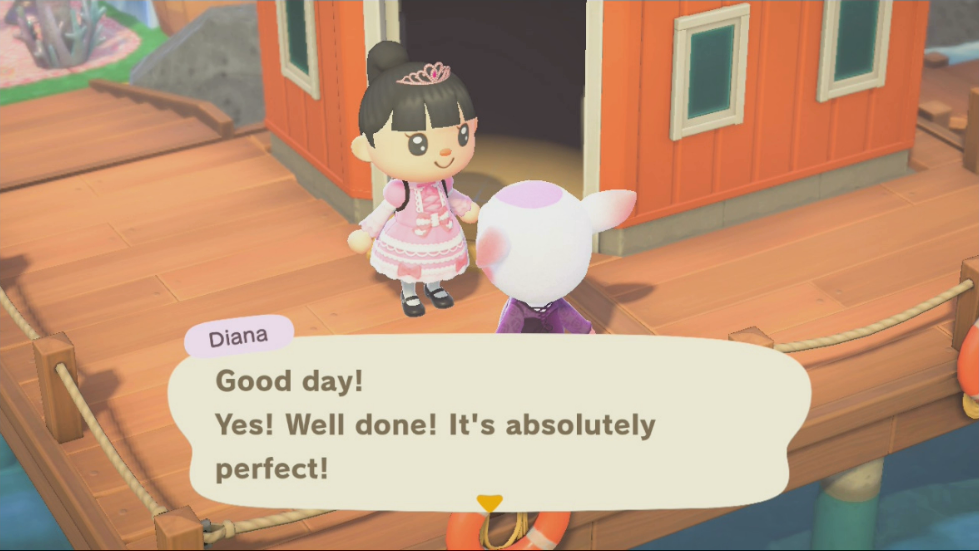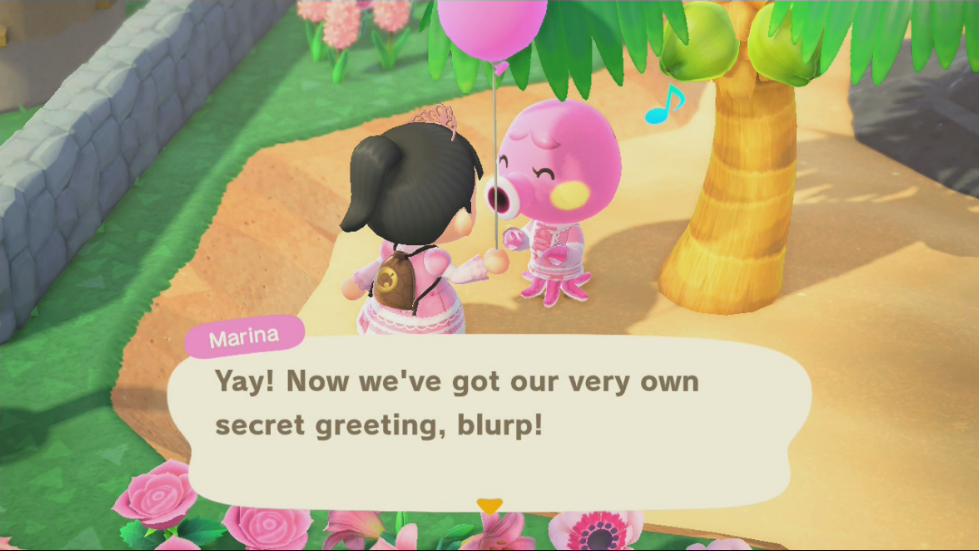 And the really nice letters I received.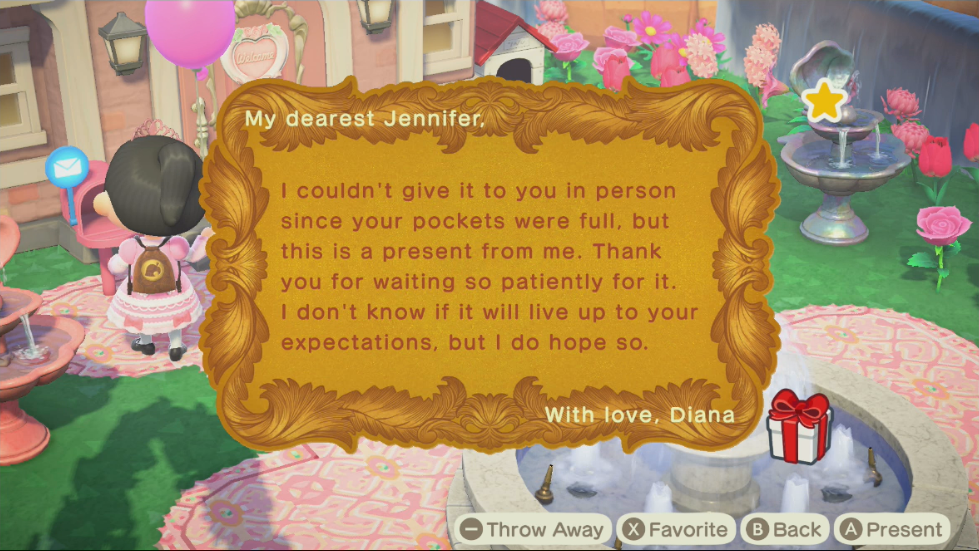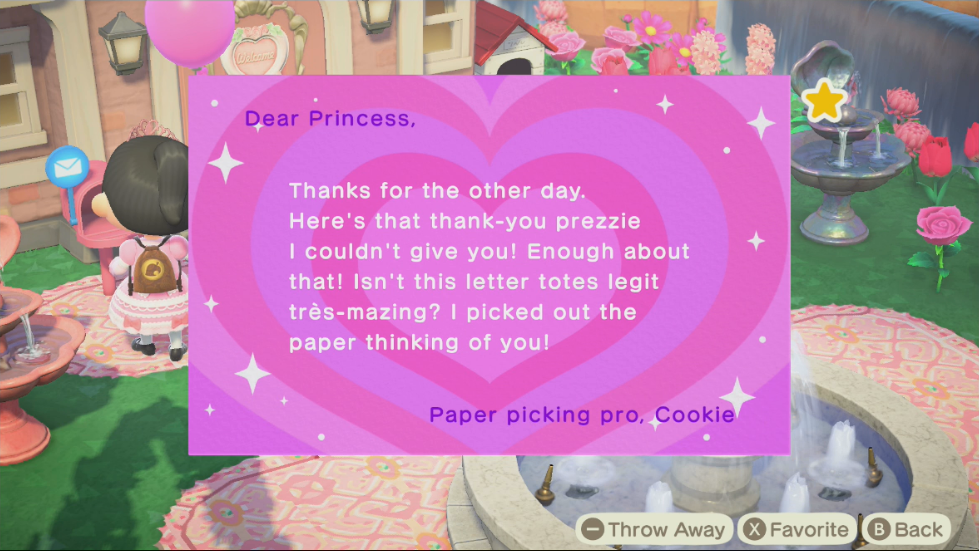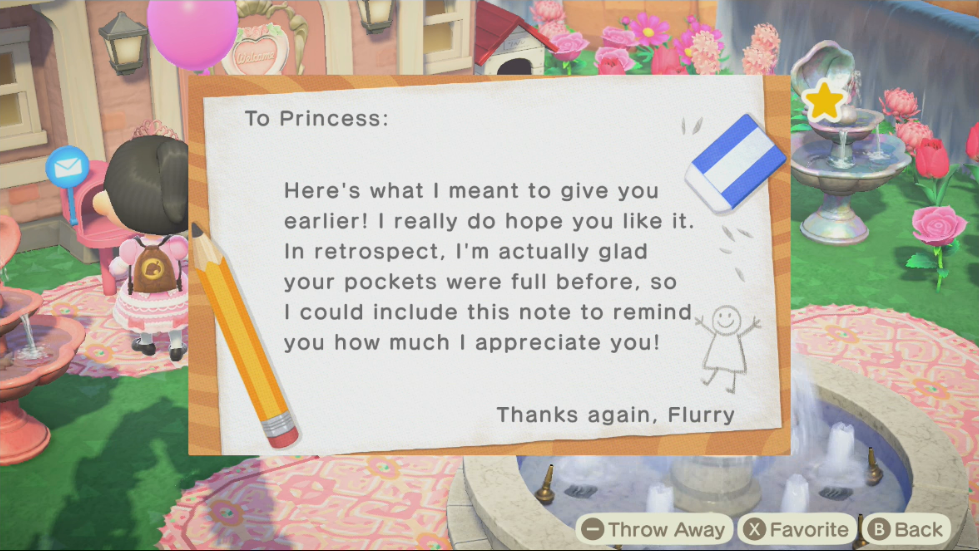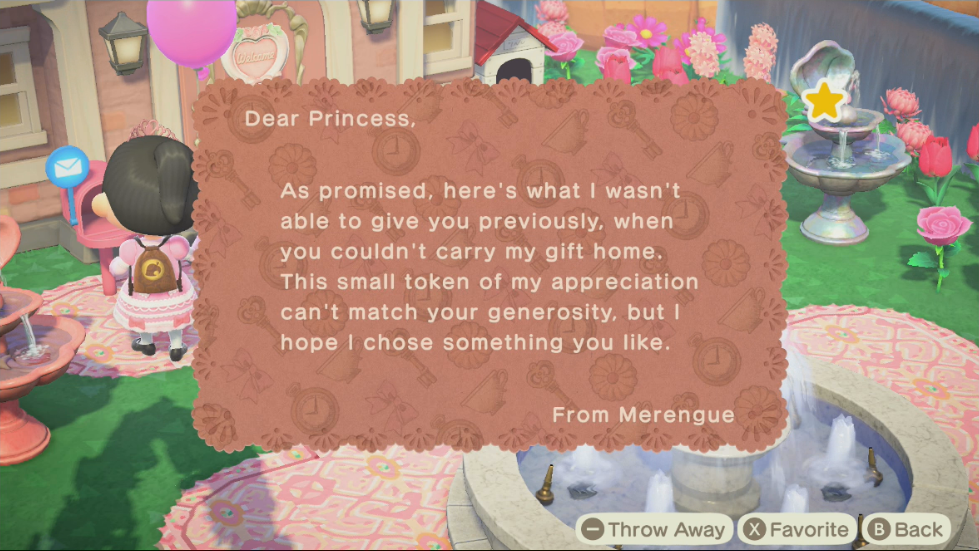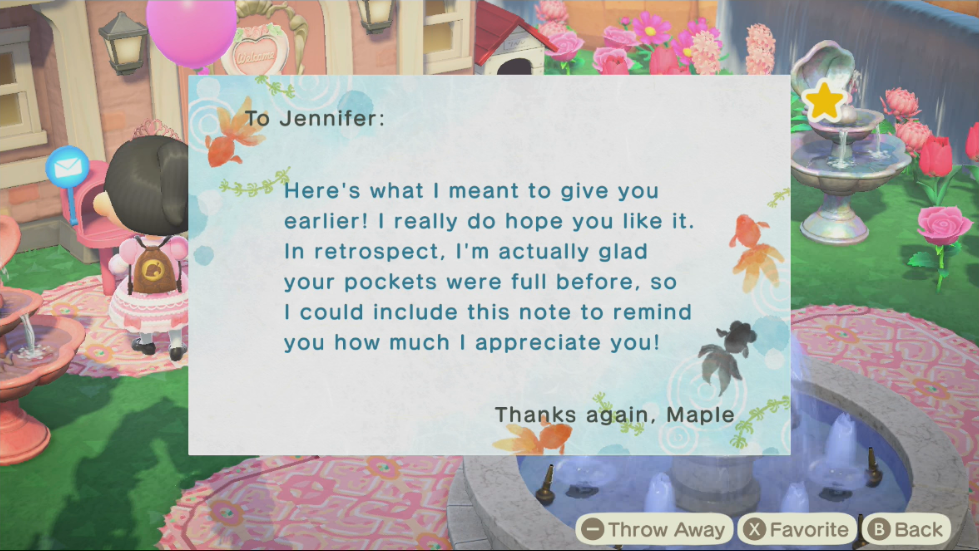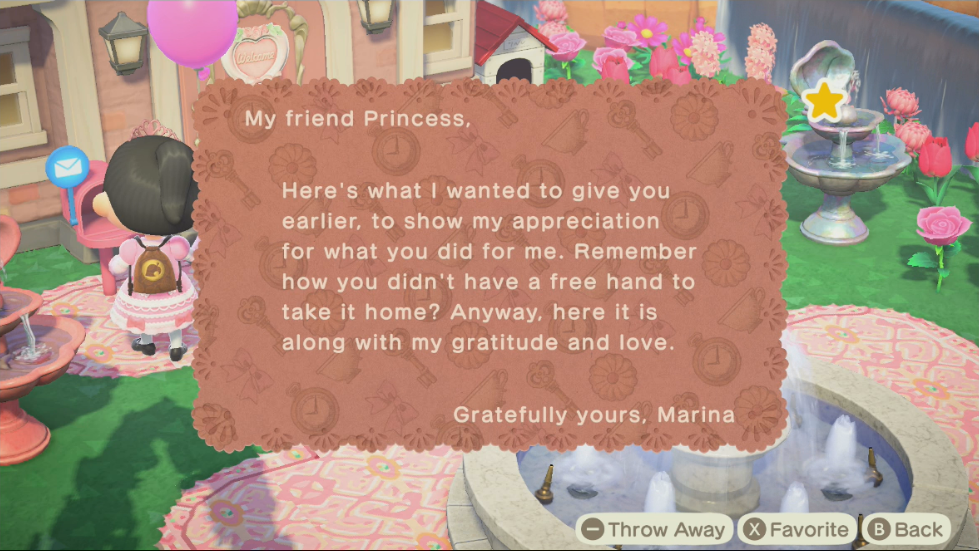 While none of them resulted in photos, the gifting batches of 10 fruit seemed to work really well.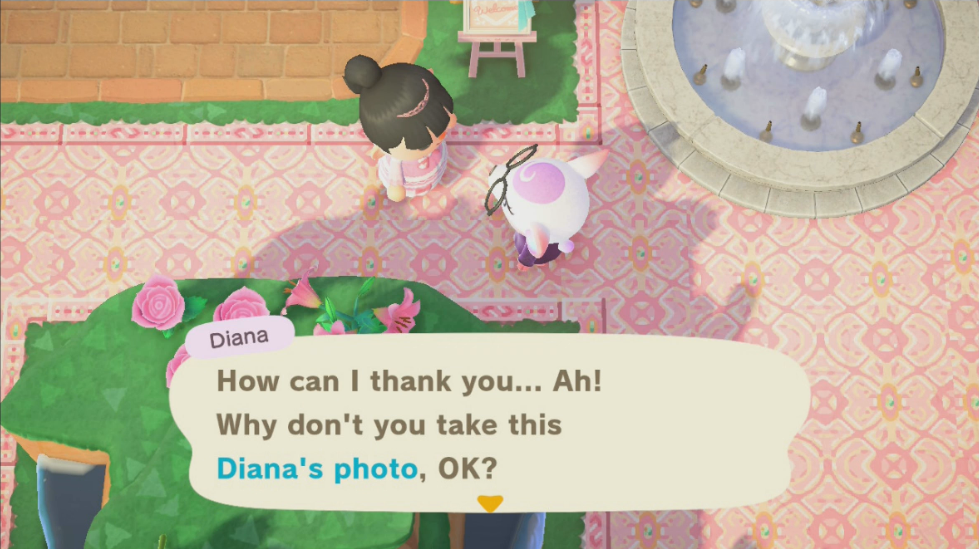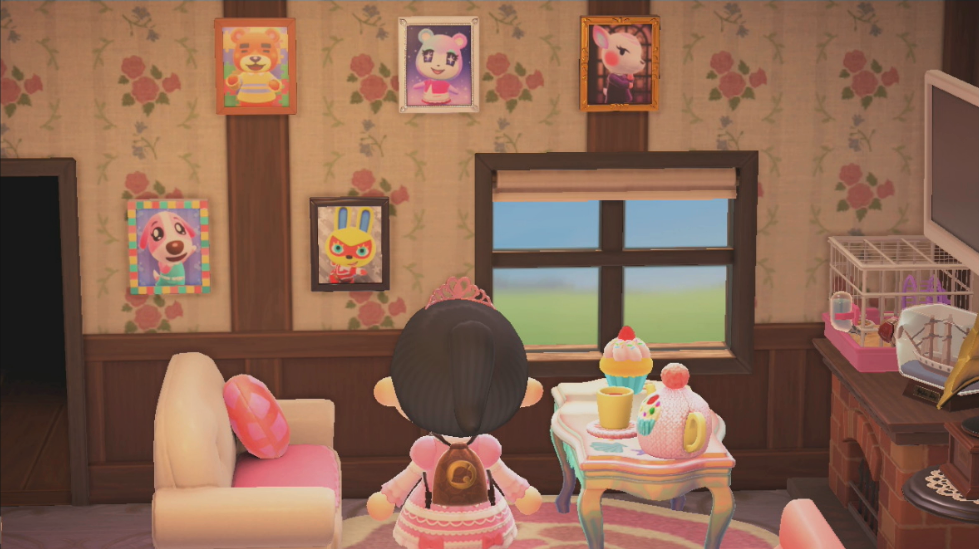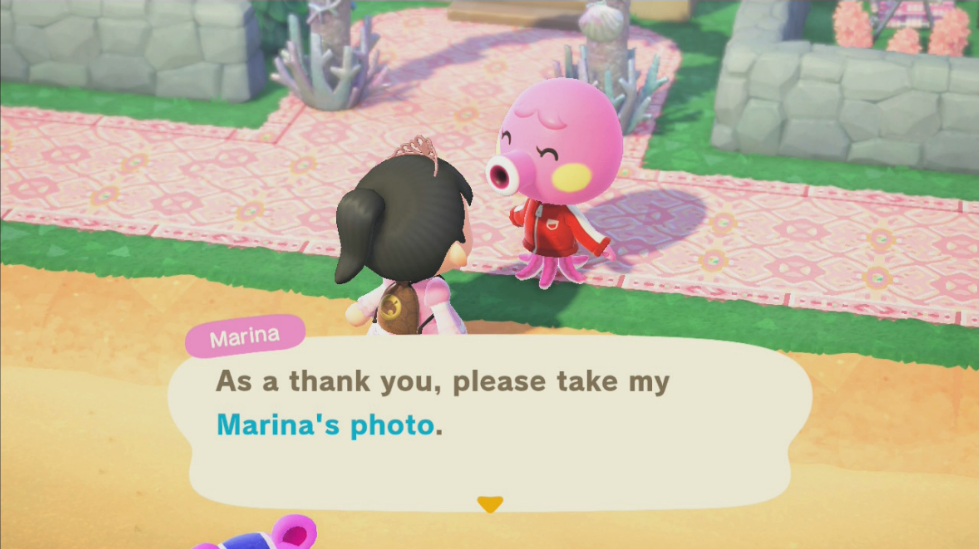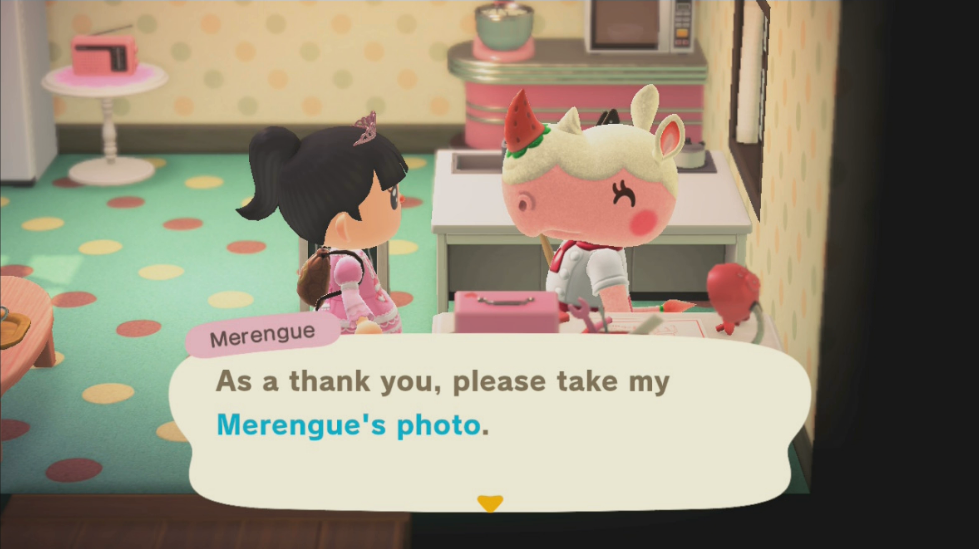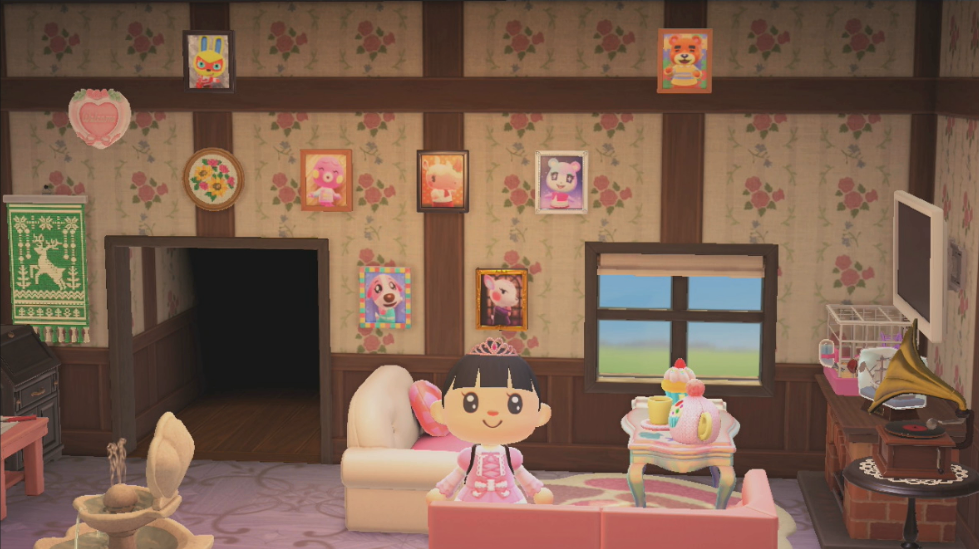 I just have Flurry, Maple, and Peanut left. I guess I've been the least close with Flurry (out of my long term villagers– I'm sure Maple and Peanut are less, but they're also my two newest) which I didn't realize :( At the very least, I'm boosting up her friendship…
I also made some small adjustments to the overlook area.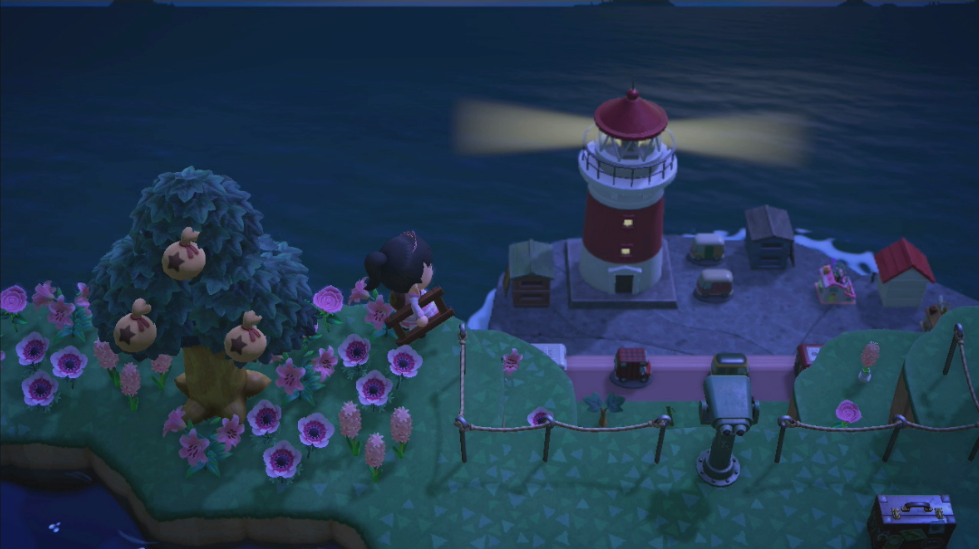 As a side note, the fireworks actually look really nice near my house.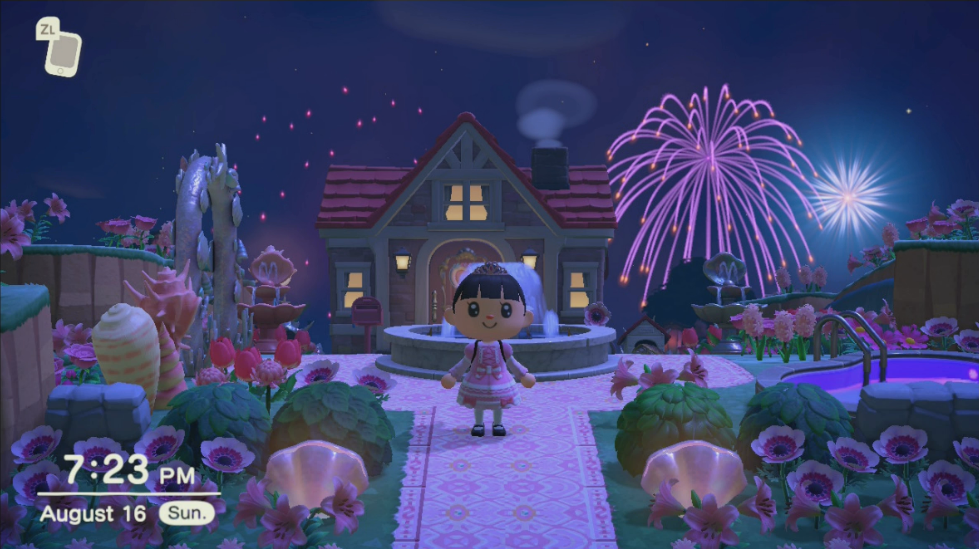 —
Day 153
With a lot of my cataloging goals done and knowing I mainly have clothing left, I've been doing my best to try and section off what I can to make it a bit less overwhelming (unfortunately, even dealing with Able Sister's is overwhelming in itself, but…). At this point, the only furniture-esque items I'm missing are the bug/fish models which aren't really fun to get and the Moon Rug which won't be available until next month. That's only 38 items (37 of which are the models) out of 2,113 items total… Less than 2%. The rest are all clothing.
Breaking the clothing down further, we essentially have:
7 Nook Shopping exclusives (8 if we include the Moon Rug)
30 Gulliver clothing items
32 Labelle items
And then it's all just… Able Sisters stuff. I do still technically need most posters soon, but as I have all the Amiibo Cards, I just want to scan them all myself.
I ended up getting a letter from DAL with the final DAL item– the Plane model!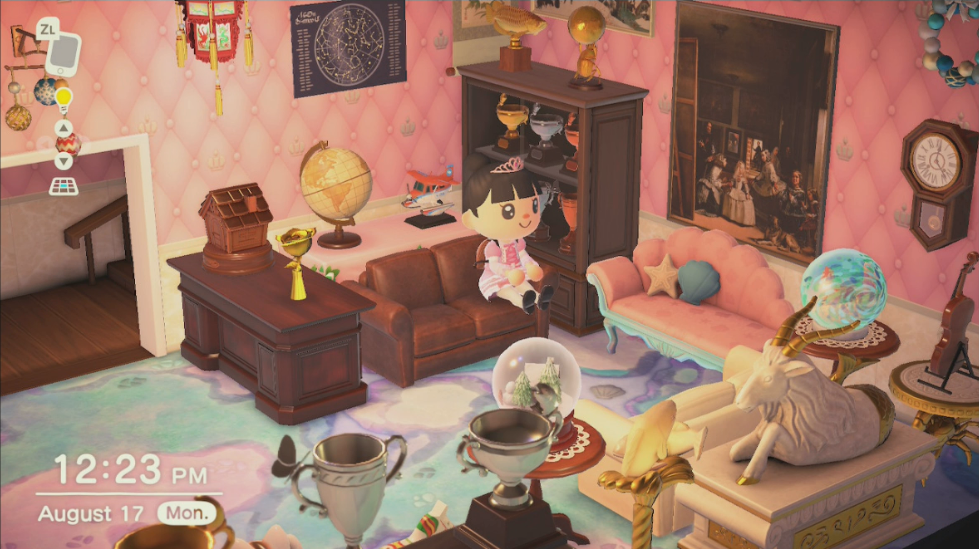 I kind of wish the letters were different each time or at least the one with the final item said something different. Regardless, I'm just excited to have that done. (As a note, I already accounted for the Plane Model in the above
I ended up updating my dream suite too for it.
But the main goal for today was getting a chance to do something for Charity!
Hellmann's started a campaign where every spoiled turnip given would be one meal donated to Second Harvest. So, I emptied out my inventory and filled my pockets with some spoiled turnips.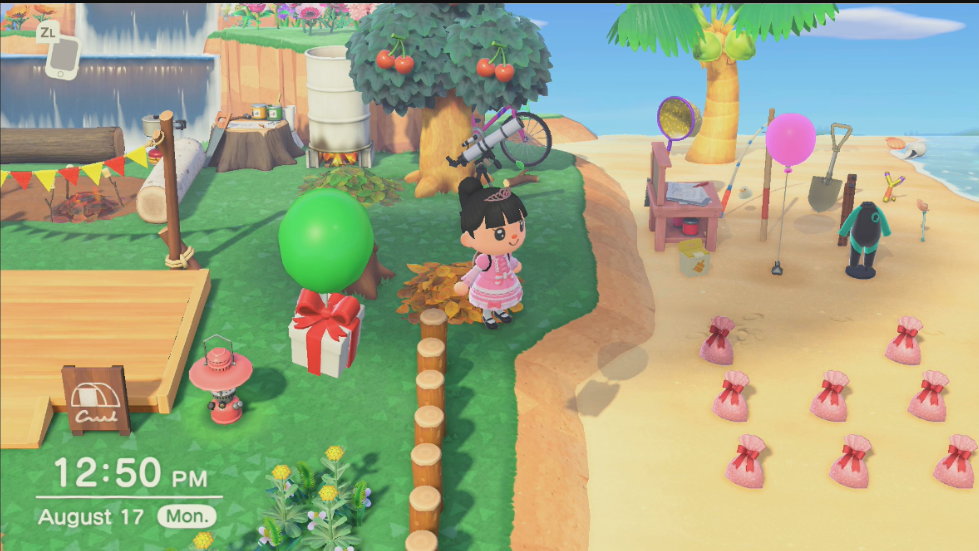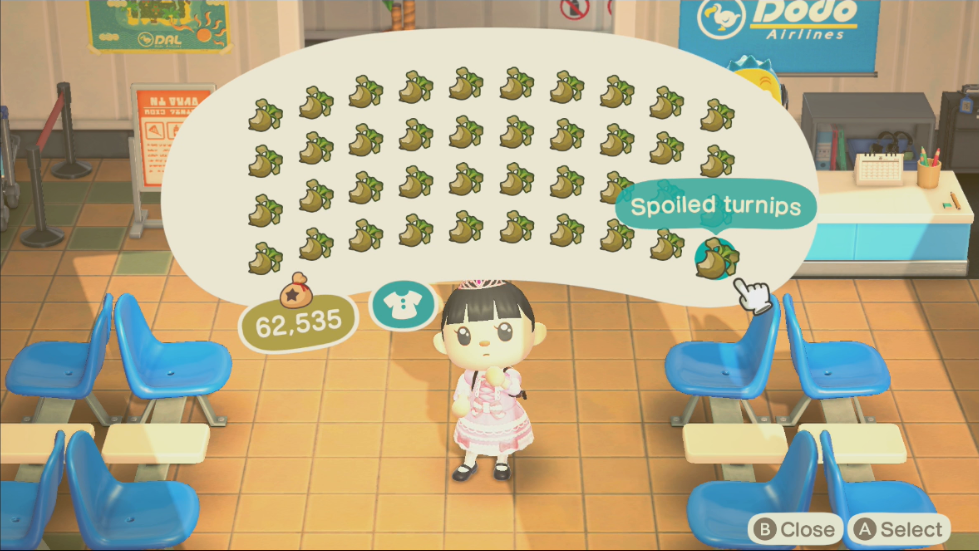 I was thankfully fast enough to get into the queue and thus, got a tour along with two others and was able to drop off all my spoiled turnips.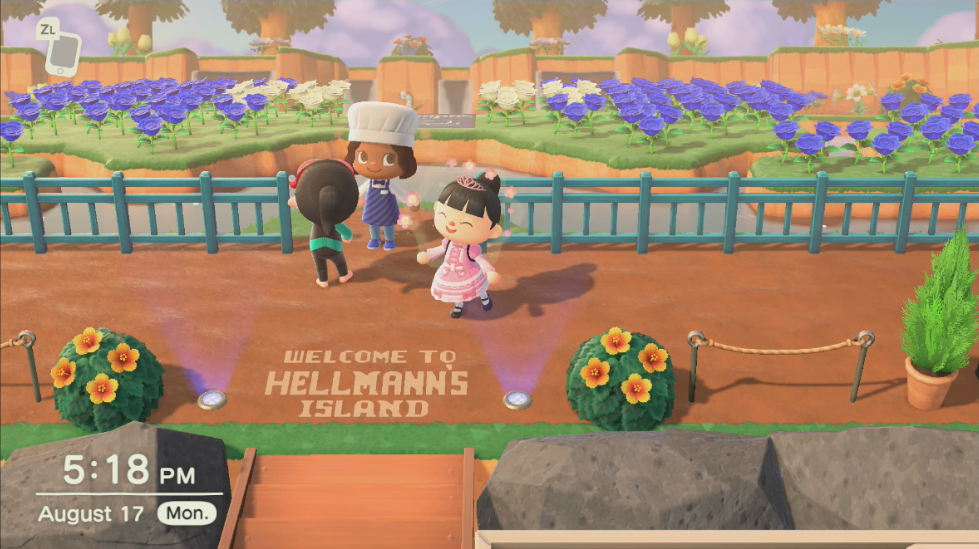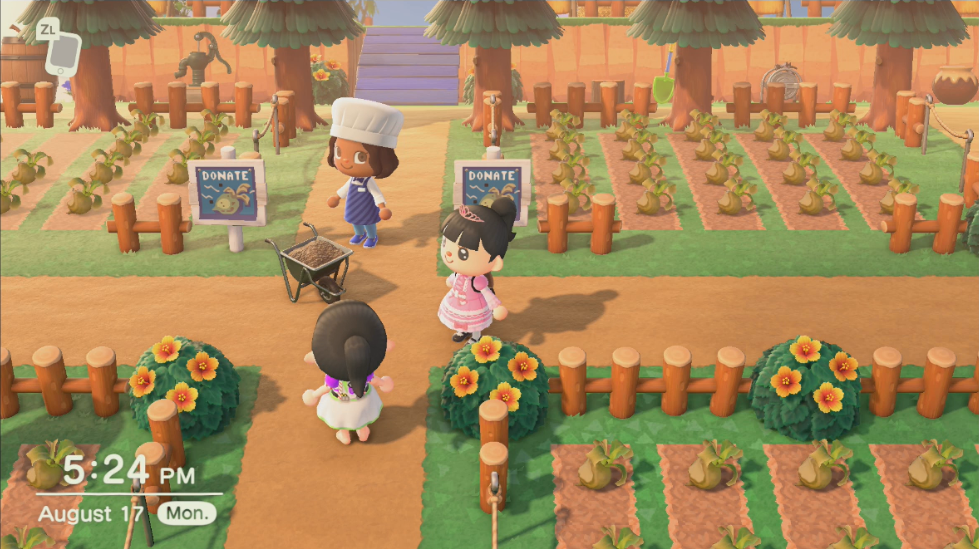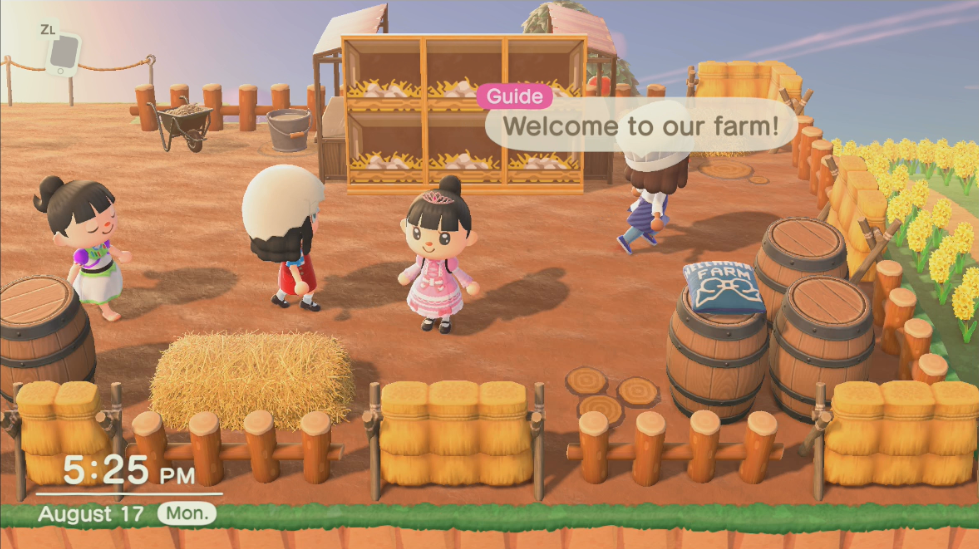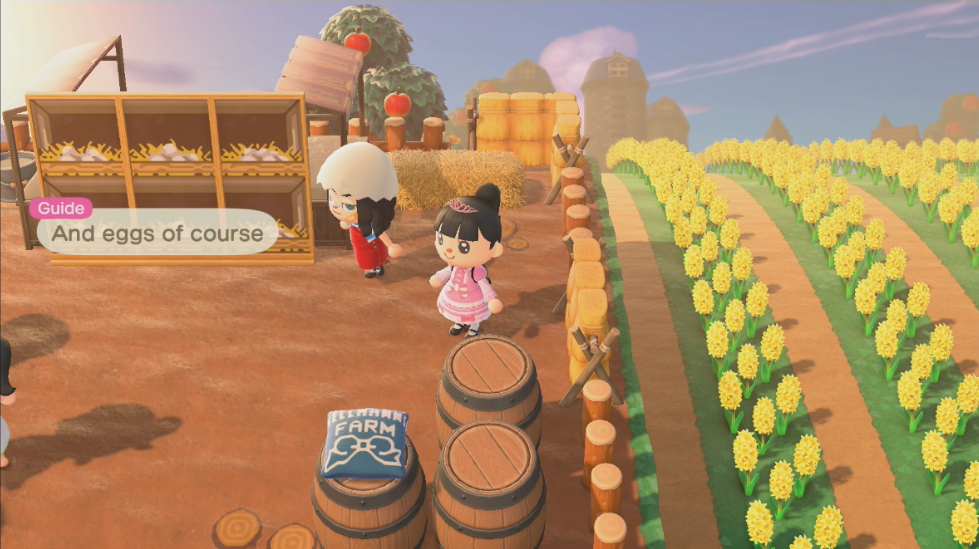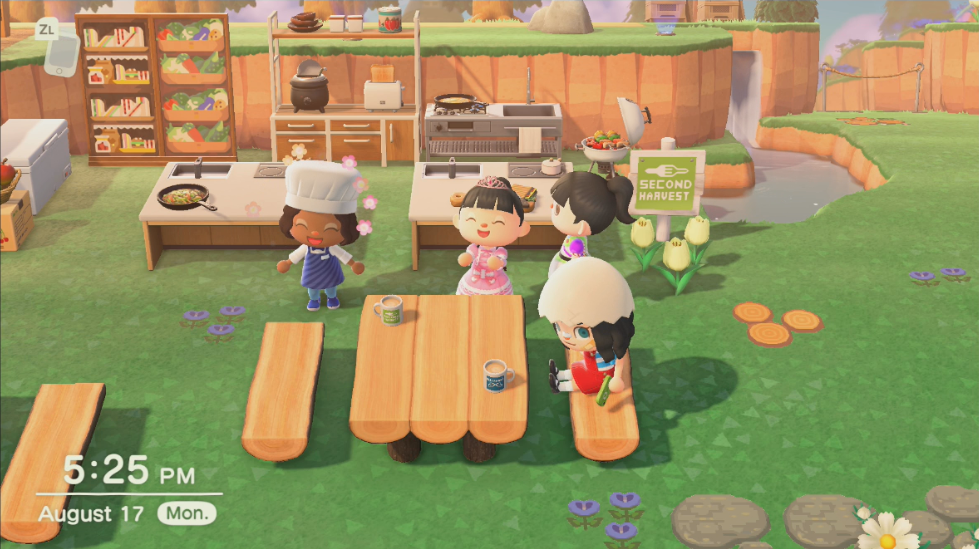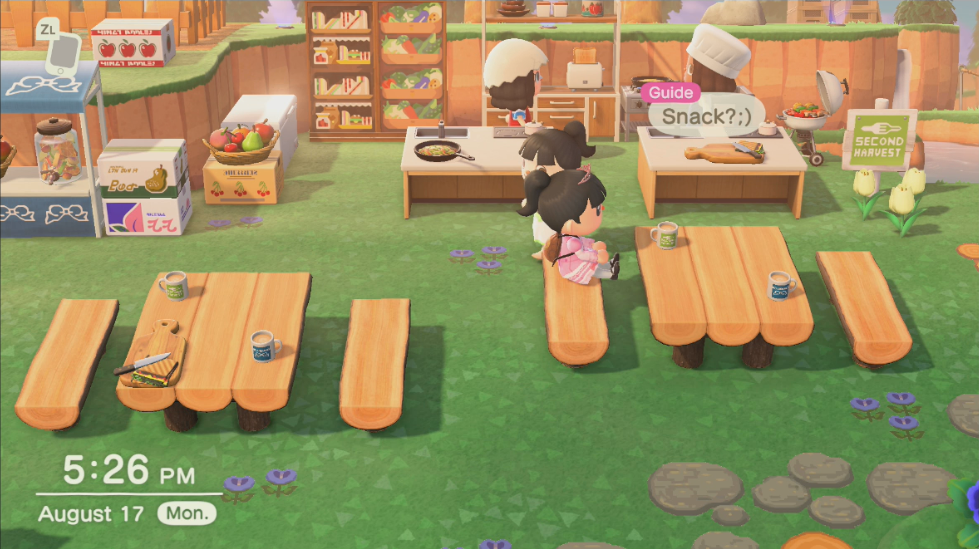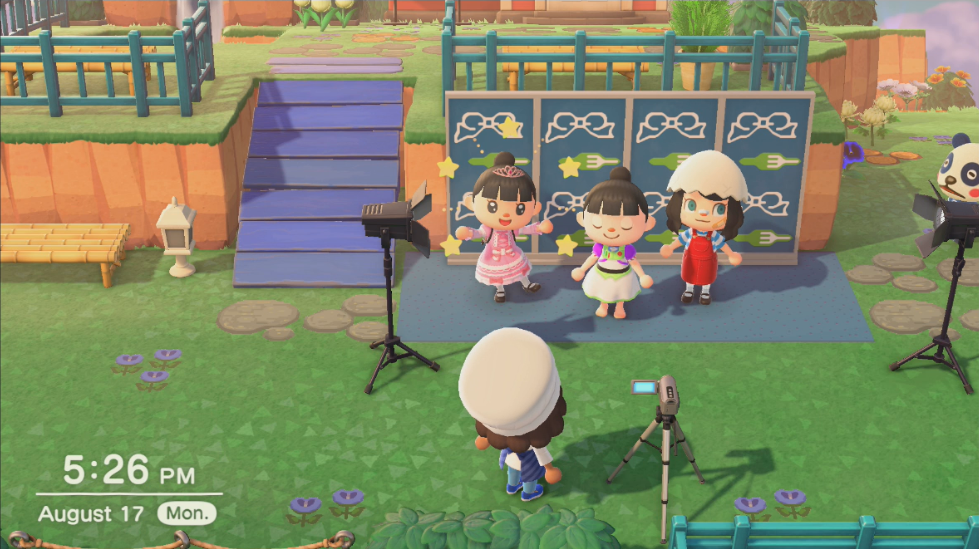 While we had to get a bit of an abridged tour due to things getting delayed, I still had a nice time and it was a really nice island. Maybe one day they'll put up the Dream Address. At the very least, they did put up their design code (MA-7806-9624-2330), so I got some late souvenirs.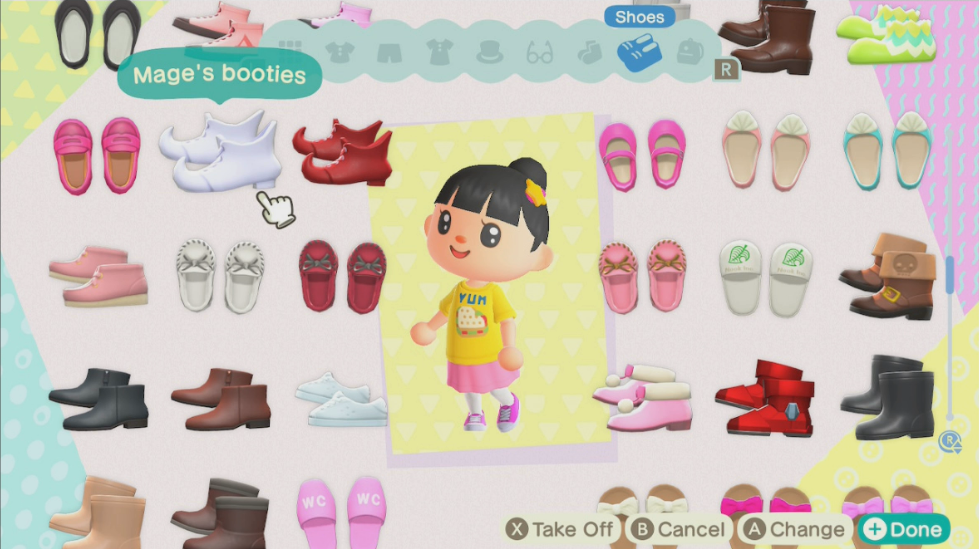 If you're interested in also contributing some Spoiled Turnips for charity, Hellmann's is accepting 100 visitors a day this business week (so until Saturday– Friday is the last day). They open up their Twitter DMs at 2:30PM EST each day for people to try and queue. Or, you can donate directly to Second Harvest here!
I hope we may see more things like this from brands in the future. It's a really sweet gesture and a great thing to do. And as a nice bonus, it definitely helps make the game a bit more fun too.