So, I actually thought I had written an entry about like… half the stuff we'll be talking about here, but apparently I haven't so let's get started!
Before I do though, I will admit that I am debating on no longer playing Pocket Camp. I really wanted to love the game, but the game is incredibly stressful with all the events, rarely relaxing, and just feels too overwhelming. The only thing I had to worry about with New Leaf were villagers moving and that's due to an issue in coding that I hope will be fixed next game.
Anything else, I knew would be back next year or I could trade with friends or, while I didn't do it, there was always the option to time travel.
But with Pocket Camp it's just based on what they want to throw at us, limited, solo-mode, and requires a lot of constant playing and it just isn't fun. It's really not. And while we get our villagers and nice decorated camp, I feel the game largely misses the entire charm of Animal Crossing with how it works.
Not to mention when collecting is literally one of the main features of Animal Crossing, having many things behind a pay wall isn't fun. It's not fun in the slightest. Literally having game mechanics you can't complete without using their real money currency loot boxes is absolutely awful. I wish I could be like "well, it's not that bad" but it really is. And sure, I'm sure there's a good amount of people who have maybe managed to never buy any Leaf Tickets and saved everything, but not everyone has time to constantly check the game to get everything done in the time allocated. Not to mention due to hitting walls (waiting 3 hours for flowers to bloom or villagers to cycle), maybe you have a bunch of time in the morning, but suddenly are out of things to do unless you speed them up somehow.
And these are such classic sleezy mobile tactics. One of the most common things "adventure"-type games do is they have you tapping things for a certain amount of energy points to fill up a bar. You need a certain amount to pass with some being bonuses, but the bonuses often determine how you do in the plot so they're not really as optional as they're presented. You usually have anywhere from an hour to 8 hours to do these things where, unless you pay for energy to get it done while you actually have time or so you don't forget about it, you will be having this game up for that amount of time tapping each time you get a single energy point every 3-5 minutes and praying for a level-up.
It's not fun, it's a huge wall, and it's discouraging to anyone who wants to play a large chunk of a game in a time.
And that's the thing with Animal Crossing. Not many people pick it up to play for a little while and then are done. People enjoy sinking time into it. It's supposed to be a relaxing game. There's all kinds of things for you to do. But Pocket Camp has these walls up and it sucks. It really does.
If it wasn't for the fact that there might be connectivity in a future AC game, I don't think I'd still be playing it. But I think, unless there's a big chance to the Fortune Cookies or I hit the lottery and can afford to suffer trying to get the grand prize, I will end up no longer playing once the current run of Fortune Cookies end. I've always been a huge completionist with Animal Crossing. It's one of my favorite series. So failing at the fortune cookies means I fail at two things: One, the catalog, which I have never failed to complete, and two, the new memory system that I had actually been really excited for before seeing how it worked.
So yeah, I'm bitter, but I think I have a right to be too. Anyway, I doubt anyone is actually here to hear me rant, so lets move onto what I have been doing in Pocket Camp!
For one, thanks to some help, I finally paid off my RV: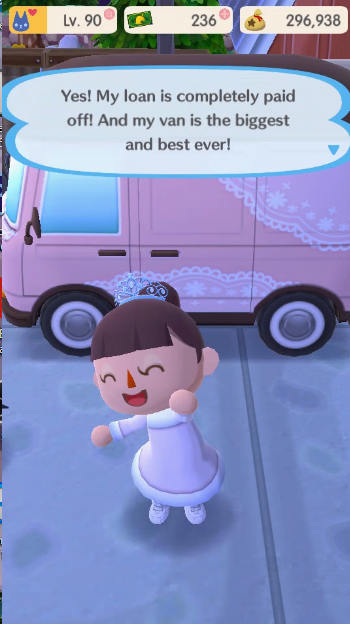 Unfortunately, it was pretty unsatisfying. At least it's done though, I guess.
And Celeste's item came out and despite it being 350 Leaf Tickets, I had to get it because she's actually one of my favorite Special Villagers in the game: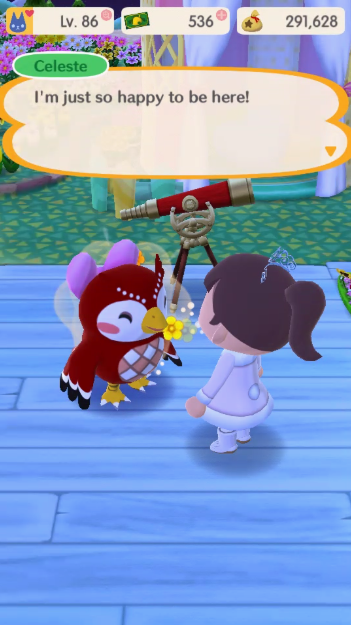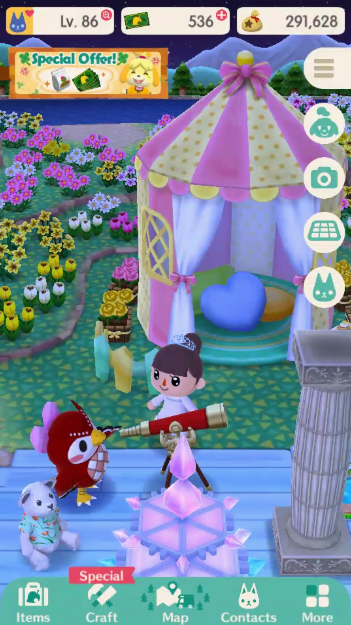 And this gets long and image heavy so…
» Read the rest of this entry …