So, I had some fun things that I preordered ages ago arrive today which was pretty exciting. Firstly, the GEM series Mimi Tachikawa & Palmon figure arrived!: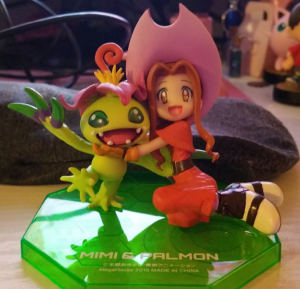 Back view: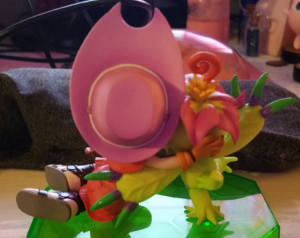 She comes with a stand, an extra face (not pictured, but it honestly looks just like the official photos as shown below):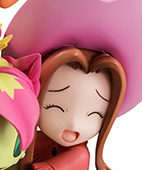 And a ponytail: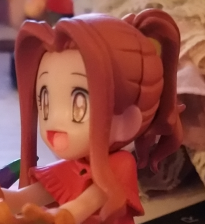 Which was replaced for her hat in the first two pictures. I honestly had a bit of a hard time setting her up and they are only about 3 inches and aren't poseable any other way.
Mimi is my favorite Digimon character, but the product itself is honestly a bit overpriced considering. :( I do like it, but I'm not entirely sure why it ended up costing about 6,000 Yen (and that doesn't even count overseas shipping and buying service fees).
Moving onto the Sakura figma, you may recall my post on the Sakura Figuart. I will say that both figures are great. I think I prefer the face of the Figuart more, but there is a lot I like more about the Figma.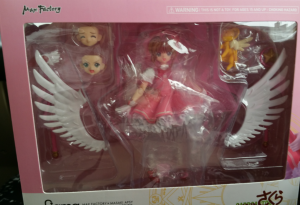 To start, a good way to explain them is the Figma has a bit more accessories while the Figuart seems to have more poseability (though, the Figma also feels a lot more sturdy than the Figuart because of this). The Figuart has an extra face and set of hands while the Figma has 2 extra cards (A Clow Card, a card being summoned/caught, and a Sakura Card), both wands, two sets of wings (The smaller ones that are part of the costume and the big ones for if you have Sakura using the Fly card). While the Figuart's Clow Card is blank, all three of the Figma ones are of the Fly card.
While I may prefer the Sakura Figuart appearance/face-wise, I easily prefer the Kero that comes with the Figma: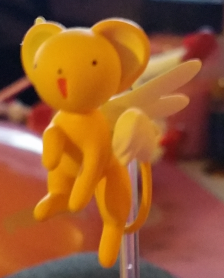 He's much more dynamic, comes with a stand, and even if his tail isn't bendable, I just really like this Kero.
As for Sakura herself out of the box: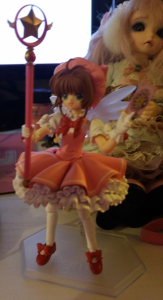 As you can see, there are several minor differences. As I have the Figuart with the Sealing Wand and a Clow Card, I gave the Figma the Star Wand and Sakura Card. I also just want to point out the stands–Figma stand is much sturdier, but the Figuart stand is much nicer looking and I still love the detail of it.
Here is a front and back comparison of the Figma (Left) and Figuart (right) side by side: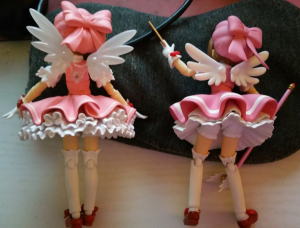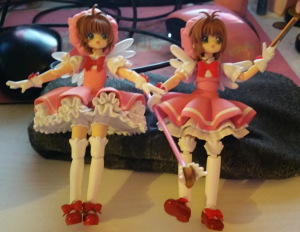 Both are great and pretty similar so it's really just which you'd rather go with/like more personally :) I'm not sure if I'd have been able to decide if I waited and just picked up one.
And both are cheaper than the GEM Series Mimi and Palmon XP