So, as you guys may have noticed, there was no day 2 yesterday! Sadly, something happened (which you got an idea on if you read my twitter) which we will talk about today, but that is essentially why the delay.
It was a bit of a late start–we were so tired from our day yesterday that we slept in a bit and didn't leave for Epcot (We wanted to try all the booths as soon as we could) until about 12-ish~ If that wasn't enough, we were getting more delays. Regardless, we got there by like 1:30PM and were off. We made a stop by Club Cool to try the current set of sodas: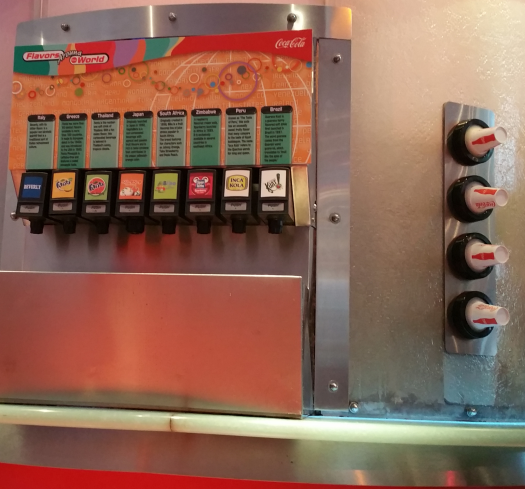 Mark enjoys it more than I do (I'm not a big soda person), but I feel like the flavors are a lot better this year. His favorite was South America's.
From Club Cool, it was off to the first booth of the day on our list–Urban Farm Eats. We got the Watermelon Salad, the Naanwich, and the Seared Pork Tenderloin. I forgot to take a picture again though ;~; This will probably be a theme of the trip… Regardless, the Tenderloin was okay, but nothing spectacular. Mark loved the salad though and I found the Naanwich really tasty despite not really sure what I'd think of it. While I forgot to take a picture of the food, we did at least take this picture of the display next to the booth:
:D
We then stopped by Pineapple Promenade for their Spicy Hotdog with Pineapple Chutney & Taro Chips. We already had some Dole Whip on Monday so we skipped it this time, but did get the Frozen Desert Violet Lemonade:


The hot dog was good, but too spicy for me. The Lemonade was nice though!
Next stop was Mexico with their Tacos de Camaron, Quesadilla with mushrooms & Zuchinni, and Flan de Rosas: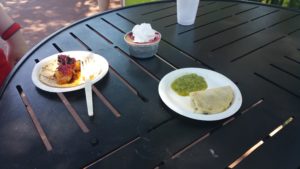 Mark really loved the taco, but I just found it okay. The Quesadilla was decent too. Mark found the flan a bit bland, but I actually thought it was pretty tasty.
After that, it was China which is honestly our favorite booth of the festival. While I didn't take a picture, they had Gaoli Beef Buns, Beijing-style Candied Strawberries, Spring Rolls, and Oolong Peach Bubble Tea. While I only had a tiny bite of the Strawberries (I'm not super big on candied fruit), it was still good and Mark loved it. And honestly, we both loved the rest entirely. If we could only get one booth the rest of the trip, it'd be China's. I'd love to get everything again. It was just really good and China did an amazing job–I feel like China's booth has been getting better each year. I really hope we can stop there again before we leave.
Next up was Germany with their Chicken Fricassee, Currywurst, and Armer Ritter (similar to French Toast). I love German Sausage so I enjoyed the Currywurst despite not being my favorite. The Chicken Fricassee was also better than I expected it to be–tasting almost like Chicken and Dumplings… just with vegetables instead of dumpling. The Armer Ritter was good too, but I'm not a huge French Toast person.
Italy was next and honestly, we've been a bit unlucky with it. The Chicken Parm has sold out everytime we've checked. I would like to try theirs (though, I've had Chicken Parm before), but I'm not sure we'll get the chance. Italy is roughly halfway through and I don't know if we would run there just to try it. We did get the Mezze Lune Primavera and Cremoso al Pistacchio though. I found the vegetables in the first dish a bit too overpowering of any of the other flavors. The pasta itself felt flavorless and cheese felt more like it was just there for texture. The latter Mark ended up liking a lot more than I did, but it was still tasty.
America (and the actual halfway point) was up next with The Smokehouse. They had a Pulled Pork Slider, Beef Brisket Burnt Ends, Smoked Pork Ribs, and a Warm Chocolate Cake–plus Sweet Tea and Frozen Lemonade to drink.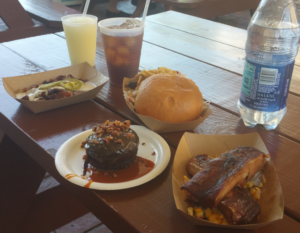 Both drinks were great, but the food was a bit mixed. The Pulled Pork Slider, while good, wasn't really anything special. It was just decent. The Warm Chocolate Cake was similar and actually felt a bit bland–I think it was too dry and the sauce really didn't help it. The Beef Brisket Burnt ends (in White Cheddar fondue) was my favorite of the batch and definitely on the "would totally have again" list with China and two other dishes we'll get to later. I would say my only complaint with it is that it wasn't burnt enough which left some parts kind of fatty, unfortunately. If it was cooked a bit longer, it'd have been perfect. Meanwhile, Mark's favorite were the ribs which while I did enjoy them, aren't one of my favorite things.
Unfortunately, we then hit a bit of an issue–we picked the hottest day of the week to try and do the booths and neither of us were doing well. I was hit by heat stroke pretty badly, we had made lots of stops, and we had dinner reservations at Le Cellier for 6PM. They usually recommend you checking in ~45 minutes early and it was nearly 5PM, so we wouldn't have time to do more booths and due to the heat stroke, I'm not sure if we'd have been able to. We still made sure to stop in Japan's store to pick up some goodies. I got a cute Cherry Blossom bamboo towel & some chocolate-covered macadamia nuts while Mark got some other candy. Also a cute keychain of ChibiUsa riding Pegasus.
With that, we headed towards Morocco to catch the boat which would take us right over to Canada. We managed to get super lucky and caught it just as they were getting ready to board people so we were off. Meanwhile, my parents had just gotten to Canada shortly before and were waiting for us.
We headed to check in and took some pictures along the way: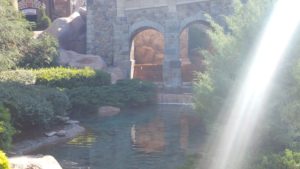 But it turns out there were delays and so they told us to come back 5-15 minutes before. Right by the check-in desk was a way to O Canada!–Disney's Circle-vision movie showing off, well, Canada. We figured it'd give us something to do (still having like 30-40 minutes to wait) and since it started in 10 minutes and was only about 15 minutes long… Well, perfect! Plus we could sit somewhere nice and cool? Even better! And there was a waterfall along the way so yay: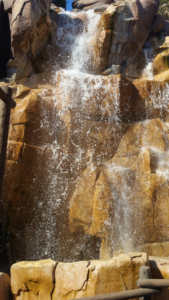 So we sat down and waited for it to start and got ushered inside… only there were no seats in the actual theater. You just stood there. With banisters. While watching screens all around you. The chairs could have just swiveled ;~; it'd have been fine. Regardless, the movie was nice. I've only been to Canada a few times and 2/3 were to Niagara Falls and once was outside Toronto for a conference. It really made me want to see more of Canada.
We headed back to the restaurant and were instructed to sit down inside as our table should be ready soon. They even brought out a cute little appetizer for everyone waiting (it was cheese, some kind of meat, and some vegetables on a stick. It was tasty). It wasn't too long until we got seated and our waiter was really nice. To start of, we got the cheese plate, the charcuterie plate, and a French Onion Poutine: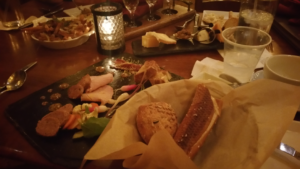 I also got to have a nice Chai Tea :D And the bread (I really liked the Pretzel bread) came with a Brown Sugar Maple Butter.
As for dinner, I had the filet mignon while Mark chose the bison. We split them and both were super tasty. My parents had gotten sides of Creamed Spinach and Loaded Mashed Potatoes for the table which were also quite good. Finally, it was time for dessert so Mark and I got the Camembert Cheesecake to share.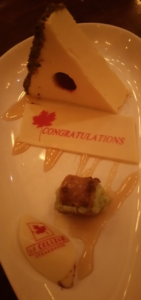 I'm not a super big cheesecake person, but it was especially tasty when eaten with the cherry jelly in the center. Plus they even gave us a special Congratulations piece of white chocolate (We had been wearing our "Just married" pins my mother had gotten me as it's our first trip back to Disney since getting married :3). We then headed out and even got to see a bunny!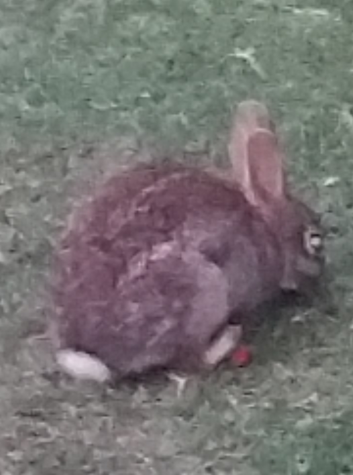 And yes, there are more pictures :) You can see them in the gallery at the end.
On the way out of Epcot, we briefly went on Spaceship Earth~ Maybe I'll upload our video from the future… maybe :P
We then headed back to the hotel and well, that's when things went a bit downhill (no pun intended) and also the reason Day 2 was delayed. More or less, the Polynesian… is not well-lit outside. Most likely for ambiance, but unless you are near a building, the lighting is rather dim. We were tired. I already had heatstroke. That just made it worse. So, we continue along and well… I trip. I trip badly.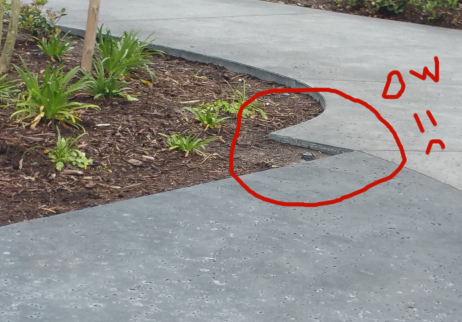 (This was taken the next day, just incase that wasn't clear)
More or less, it's cut rather oddly/suddenly–I couldn't see it in the dark and I stepped full force. I twisted my ankle and badly bruised and scraped up both my knees/legs. We got lucky that a staff member was coming by in a cart shortly after and was able to drive me to the room while my parents got a wheelchair.
Sleeping was hard due to the pain, sadly :( As for today, after excitement from the Pokemon news, we used the wheelchair to head off to breakfast at Kona Cafe. It was really tasty–I got the Samoan.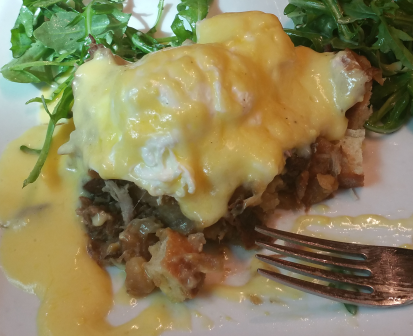 We have reservations for tomorrow… or well, the actual today now since it's become after midnight and I'll probably get this again.
Unfortunately, we then noticed my MagicBand had fallen off somewhere :( And it was the nice Pretty Princess one too. My mother went to the lost and found while we headed back to the room. While they didn't have it, Mark and I noticed a message on our phone and it turns out someone found it while we were at breakfast and had brought it to concierge and it was in a mailbox. My MagicBand was returned and we decided to return the wheelchair as we were about to head out to the Grand Floridian for Afternoon Tea and the wheelchair couldn't leave the hotel. Walking sadly is super hard–I can't put too much pressure on either leg for long or straighten out my left leg due to where the bruising and scrapes are. It's really frustrating and painful :(
Regardless, we made it to tea and actually got sat right away–nearly 40 minutes before our reservation! Unexpected, but exciting nonetheless. I was a little sad we didn't get the same server as the last few times (I didn't see Kit at all actually–I wonder if Kit is still working there ;~; ), but everything was still quite tasty. Was surprised me most though is apparently they switched tea brands and thus, my Princess Breakfast Tea was gone… While the new tea was good, I didn't find I enjoyed it as much. I'll definitely try other tea and hopefully I can find a new one I enjoy just as much. At the very least, maybe I can buy some Princess Breakfast Tea for home. Some lovely pictures from Afternoon Tea:

After that, Mark headed back to the room, but I went with my parents to the Magic Kingdom. Unfortunately, they ran out of EVCs right before me and we forgot about just getting a normal wheelchair… so it was a painful walk to the train as we headed to Fantasyland. We ended up only going on Peter Pan which had a huge redesign for the line. It's really nice and honestly, I think the line looked nicer than the ride itself now. Still fun though. Sadly, we didn't get to go on It's a Small World too. It was then time for a painful walk back, but I made it and I'm glad I still did something today.
My parents went back out to Epcot for dinner and were nice enough to bring us back some food from the various booths we weren't able to get to (and unfortunately, might not have time to do when it comes down to it).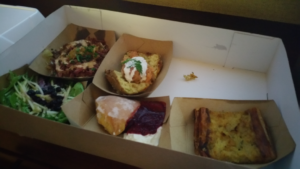 While we didn't get everything from each booth (I would have felt bad asking for even more), I did ask for the things we wanted to try the most. Unfortunately, as mentioned above, Italy was out of Chicken Parm again >_> From Japan, we got the Chicken Edamame Bun which was just okay. I was really expecting it to be better. While we didn't get the Frushi this time, Mark has had it in the past and really enjoyed it. From Morocco, we got the Chicken Kebab with couscous which was quite good. We got the Watermelon & Cucumber Slushy and the Shrimp & Grits with Andouille Sausage from Florida Fresh. The Slushy was actually really tasty. The sausage was barely there though, shrimp was a bit too spicy, and grits were just okay–Mark really enjoyed it though.
Next up were our two larger picks with everything from France and the UK. From France we got the Onion Tart, Duck Confit, and a Raspberry Chocolate Macaron. The Duck dish could have been better, but was still okay. The Macaron was nice, but I think I liked one of the past flavors more. The Onion Tart was really good though and my favorite for France along with also making me "would totally get again" list. As for the UK, there was a Salad (which Mark had–I just ate some cheese off it), some Corned Beef, Smoked Salmon Tartare on a Potato & Cheddar Cheese Biscuit, and finally, a Lemon Scone with Creme Fraiche and Mixed Berries.
I absolutely love the Corned Beef. It was easily my favorite of the batch and is also on my "must have again" list (for a total of 5 items). The Smoked Salmon was actually really salty–I've had Smoked Salmon before and usually really enjoy it so I don't know. Meanwhile, the Lemon Scone was just… very overpowering with the amount of lemon used for it–the berries just made it worse. The Creme Fraiche helped balance it out more (and improved the taste), but unfortunately, there were way more berries than the Creme and a good amount of the Creme was mixed in with the berries.
In general, I'd love to try everything we couldn't get (that we haven't had in the past), but I'm glad we got to have a lot of what we wanted to try. Still kind of hoping we can find a way to stop by China again though.
Finally, for a fun gallery, here are some scenery pictures we took (PLUS ANIMALS :D) of the Garden Festival and some other things:

And as a last ending note… StreetPass! I had planned to write an update each day, but forgot… So, in the past 3 days I've gotten 24 StreetPasses. Of those 24, I've gotten 3 pink pieces and 2 normal pieces. I wish you could use play coins to bring someone back–I hate when I see someone with so many pieces I need (and every person I've gotten where they had pink pieces, has had all the ones I still need) and there's nothing I can do about it :/
Anyway, tomorrow (or well, later I suppose) is MGM (Hollywood Studios) day! We have some Fastpasses lined up and are looking forward to seeing the new Star Wars stuff, then we have our Luau Dinner back at the hotel :)
TrackBack
TrackBack URL for this entry:

Previous | Next