So, it came out yesterday and well, I have a lot I want to say about it :P To start, I'll admit, my excitement is mixed! I'm happy to see more Pokemon and more people playing again (and less people referring to something as "dead" just because less people are playing), but as someone who always tries to complete a Living Dex of each gen since I first played my Pokemon Blue game, I'm kind of bummed because I essentially failed.
Ignoring that it was impossible to even get some Pokemon (Mew, Mewtwo, Articuno, Zapdos, and Moltres aren't even out yet) and for anyone who doesn't have the money to travel or somehow gets sponsored to do so, they're out of luck for up to 4 other Pokemon as well. And this trend of regional Pokemon might be continuing with this new generation… and I'll be honest, it's kind of dumb. The Pokemon currently have no actual affiliation with most places they are spawning. Gen 5, which took place in New York and New Jersey had nearly all new Pokemon and very little returning old ones, yet here we have tons of Pokemon. We're just missing three. Central Park is practically its own Safari Zone.
There's just… no reason for it and without trading in the game still, there's even less reason for it. It's randomly chosen and a bit discouraging right out the door.
For now, I'll still be doing my best to catch what I can, but I wouldn't be surprised if I still haven't finished my Gen 1 Pokedex, let alone my Gen 2 one, before Gen 3 comes out. It's not like I wouldn't still be playing even if I did though. I'd be working on medals, gathering more candy for later evolutions (especially as I wouldn't be surprised if a Mega Evolution costs candy), and just working hard on getting as much done as I can so just having the Pokedex kind of cut off in a way is pretty discouraging.
Heck, I never even managed to hatch a Baby Pokemon. Regardless, all the new Pokemon is making me really want to go out more again, which isn't entirely possible with how the weather is right now. Maybe once it warms up…
Besides new Pokemon, new UI additions and items were added as well, such as some Evolution Items. I do find it a bit odd that they've added a Sun Stone, but never bothered with a Fire/Thunder/Water/Moon Stone. I mean, I'd rather items than more random evolutions at least though… I have yet to find any items from Pokestops, however :( Hopefully they show up more soon and aren't actually super rare or something.
Meanwhile, Eevee is still random. Thankfully, they did include a name trick again to guarantee Espeon and Umbreon–Sakura for Espeon and Tamao for Umbreon which were names of two of the trainers/Kimono Girls in one of the Anime episodes. I'm not entirely sure what Glaceon and Leafeon could be called once Gen 4 is in… Every episode where they appear together, both Pokemon have the same trainer or no trainer at all.
I haven't been able to do too many evolutions just yet. Most of the ones where I've saved up enough Candy, I need a specific item to actually fully evolve them. I at least evolved a Zubat up into a Crobat which was nice.
Finally, and one of things I was most excited about with the news, new clothing!: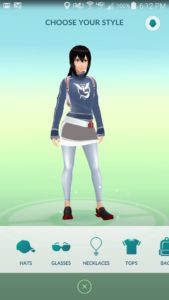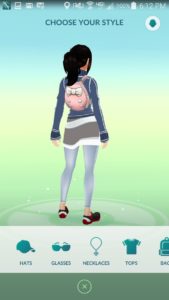 I'm happy about skirts and my lovely backpack! :D And that's it.
I wish… more things matched the backpack. The only thing that currently is in the store that matches is a big knit hat that would only be appropriate for like… another month at most and I prefer not wearing a hat. I also wish there were some actual necklaces because currently, all the options are chokers.
I hope we eventually get more matching items, some new shoes, possibly some dresses, and I'd also really like to see some tights/stockings besides just leggings and thigh-highs. I just hope we see clothing updates much sooner rather than just every new generation.
That said, I'm a bit apprehensive on the prices. Items cost anywhere from 80-500 Coins. If you only can get one gym a day, that's 80 days of getting that gym to get just the simplest items and at least 8 days minimum no matter what. It's incredibly limited to needing to pay for coins unless you can easily get A LOT of gyms and often do so. While I already mentioned it in my last entry, Pokemon GO desperately needs another way to earn Poke Coins.
I was also saddened that rather than any free storage upgrade just for the new generation, they only made it so the boxes are discounted for a limited time… If I had the money, I'd have to look into trying to buy them all before the discount is gone because I know I'll need the space eventually and I'm not even sure it'll be enough space.
Right now, there are a total of 802 Pokemon. 99 of them have Gender Differences. Ignoring special forms (which could still appear for events–we did just get a Santa Pikachu, afterall, and battle forms with the exception of Megas), there are 27 other forms of Unown, 3 other forms of Castform, 3 other forms of Deoxys, 2 other forms of both Burmy and Wormadam, an addition form of Cherrim, Shellos, Gastrodon, Basculin, Darmanitan, Giratina, Shaymin, Tornadus, Thundurus, Landurus, Keldeo, Meloetta, Aegislash, Xerneas, Hoopa, and Lycanroc, 5 additional Rotom forms, 17 Arceus forms, 3 additional forms of Deerling and Sawsbuck, 2 additional forms of Kyurem, 4 additional forms of Genesect, 19 additional Vivillon forms, 4 additional forms of Flabebe, Floette, and Florges, 9 additional looks for Furfrou, 3 additional sizes each for Pumpkaboo and Gourgeist, 4 additional Zygarde forms, 3 additional Oricorio forms, 17 additional Silvally forms, 8 Minior forms, 18 Alolan forms, and 48 Megas. That brings us up to 1,132. We're already 132 over. And if Shinies are in the game, just one of each Shiny and normal, forms ignored, gives us a grand total of 1,604.
Currently, max storage is 1,000. You start with 250 Storage (which isn't even enough for one of each Pokemon in Gen 1 and 2, ignoring that they aren't all up yet). It costs 200 Coins per 50 storage expansion. To max out at 1,000 slots, you would need to purchase this 15 times. That is 3,000 Coins normally or 1,500 Coins with the current discount. I've already gone into the whole gym issue so you're more likely going to be spending at least $10 if you want to get everything. And if you want everything, you're one of those people who catch tons of Pokemon for quick level-ups and/or are trying for the best possible amount of CP… You'll need the space.
And just… we need more storage and we need more ways to earn coins more than anything. We need to be able to buy things besides just getting them at Pokestops. There's so much this game could do better that would make people play longer even as Gens are spaced out and maybe it's just me, but I prefer them being spaced out by a large margin.
Regardless, I'm still playing and having fun. I just hope they work on these things soon.