So, I'm still a bit out of it, but I wanted to go ahead and write up about our trip about two weeks ago! In general, it seems I'm still kind of hit or miss when it comes to going to Worlds… but we'll get to that more later.
We left early Thursday morning. I took a picture because I thought the sky looked pretty, but the picture kind of sucks. You get to see it anyway though :P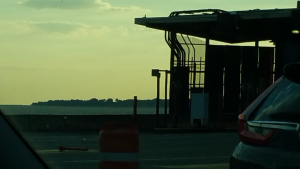 The flight was… not too great, unfortunately. It was bumpy, our allergies were sent into a mess due to someone wearing too much perfume, and we ended up getting off exhausted.
To make matters worse, we took the wrong shuttle to the hotel and after driving around for nearly an hour around the airport because the driver wanted to find another party first, we finally headed to the hotel. Thankfully, there wasn't much traffic, but that didn't stop them from charging us a ridiculous amount… It was nice to reach the hotel since we were both just… exhausted between how the day had gone so far.
The hotel itself was really nice:

Once we got things set up, we decided to head to Downtown Disney to get some lunch and look around. The Lego Store had this really nice display with Belle and the Beast: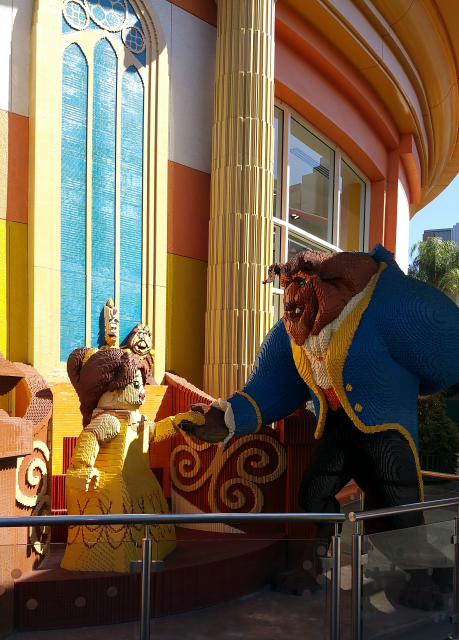 In the end, we decided to eat at a New Orlean's-styled restaurant called Ralph Brennan's Jazz Kitchen:

Everything was really good. We had wanted to actually go back for dinner after enjoying their lunch so much, but never really had the time due to… various other issues.
After that, we met up with our friends and headed over to the hotel in the evening to pick up our Worlds Badges.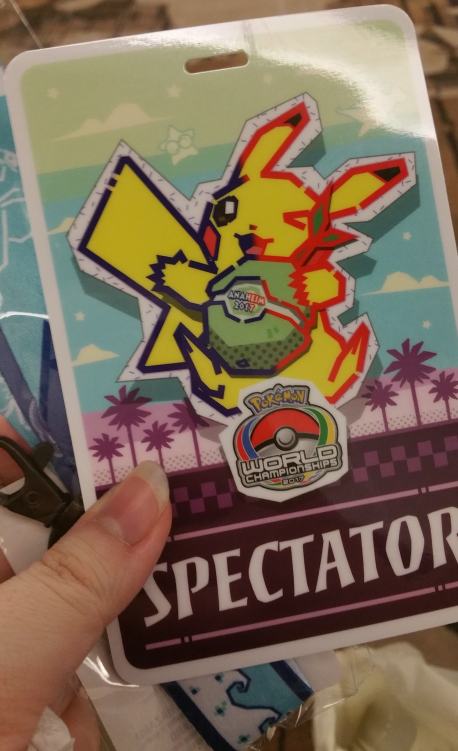 I mentioned it a bit on Twitter already, but I love the Seafoam/Mint, Teal, + Pink Sunset with the wave design which is pretty much the entire inspiration for Celina's design and several of the things for this Worlds reminded me of her.
We then made our way to the convention center where the Pokemon Center shop was: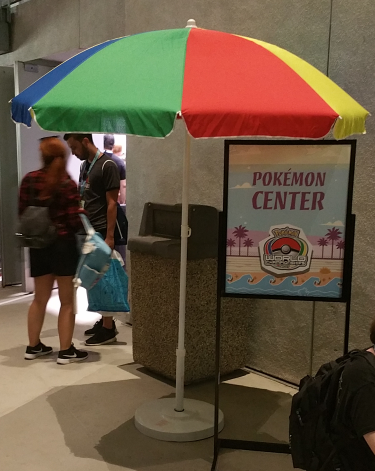 It took us… forever to get in. We were lucky to get on the line before it was closed off too, but it was just… very slow and compared to how quickly we got the badges, it was just… tiring. I only bought a few things: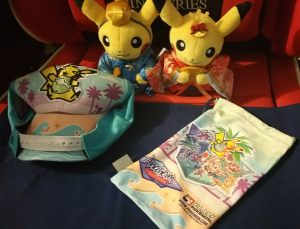 The next day started off even more awkward because our hotel was in lockdown for most of the morning… We ended up getting sandwiches from Earl of Sandwich for Brunch and then headed over to Worlds for… well, the only day we actually went to Worlds:

After meeting up with a friend and getting this very lovely gift from one of the latest Pokemon campaigns (along with several other things from it too which I'll be updating my Mega Audino Collection site with more)…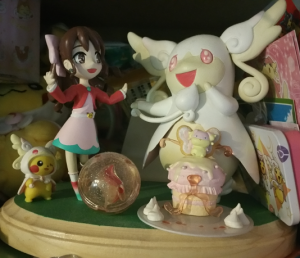 (Look at that adorable Cupcake)
…We headed out of the center to try and find something to eat. There were a bunch of food trucks set up along with someone actually playing their guitar and singing live.
It was really nice and peaceful, honestly, despite the mass amount of people. While I didn't get a chance to take a picture of the food, we ended up getting sausages from one of the trucks and they were very tasty.
With that done, we headed back to the hotel for a while and then went back out to Downtown Disney to actually shop around a bit this time.

We went to dinner at Tortilla Jo's which was good, but I don't think I necessarily liked as much as the Jazz Kitchen for a few reasons even though everything we ate was great. You're given chips and salsa to start and you can get tableside guacamole (which we did, though, more because the server asked before we noticed it on the menu and I kind of wish she… mentioned the price, though, considering the amount it was worth it–just would've liked to know). I'm not much of a salsa person so I was glad we could get guacamole for the chips. We ended up both getting smoothies–I got Peach while my husband got a Lime one. They were good, but a bit too… icy for me, personally.

I apparently completely forgot to take pictures of dinner, but my husband got the Tostada Salad while I got the Enchiladas de Mole… The only real issue was it was a bit too spicy for me and considering what was described for it, I expected it not to be even close to as spicy as it was… The Coconut Flan we had for dessert was really good though and ignoring the spiciness of my own food, it was really good. The restaurant itself was really nice too.
My only real issue was just… I guess the coming around? The prompting the tableside guacamole immediately before we even got a chance to find it on the menu for the price, the "complimentary" photo which, while yes, you did get a complimentary photo, it was like… a little bigger than wallet-sized, randomly picked from the amount they'd have you take, and then any bigger ones you'd have to pay for… Not to mention if you had kids with you, there were those going around making balloon animals and just, it felt a bit money grubby to me? I just felt kind of uncomfortable after the photo thing and it kind of dampened the experience a bit for me.
The next day, we ended up having a quick breakfast from Tangaroa Terrace as our original breakfast plans didn't really work out. I got a fairly normal breakfast platter while my husband got a breakfast burrito.

Both were okay.
What I was really excited for though was our lunch which was Afternoon Tea at Steakhouse 55. I love Afternoon Tea. I wish I could always have a fancy Afternoon Tea lunch.

And it was honestly amazing. Everything tasted great and we were even able to get Sparkling Cider instead of the wine for the special package. If we get to go to Disneyland again, I know I want to have Afternoon Tea again. This was genuinely probably the biggest highlight of our trip.
Finally, we ACTUALLY made it to the parks… We spent some of the Evening over at Disneyland:

The next day, we had breakfast at Steakhouse 55 (which was so good, we also had it before we headed to the airport):

And then went to California Adventure for a bit:

There was honestly a lot more I wanted to do, but it just… didn't happen. I blame part of it due to how tiring our arrival was paired with Jetlag and being trapped in our hotel for nearly half a day. We spent our last evening back at Downtown Disney where we did a bit more shopping and got dinner at the quick service area at Ralph Brennan's Jazz Kitchen.

Then it was just an early morning breakfast before we headed to the airport… We ate at Skewers before we got on our plane:

And sadly, got back feeling even worse than we arrived so bleh. Hopefully our trip to Florida in November is nicer.
Finally, some Pokemon GO stuff! So, we fought both Lugia and Articuno, but while we won, I was unable to catch either…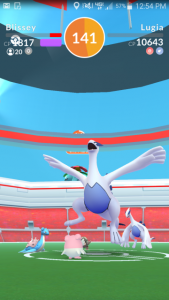 My husband got Lugia, but we're both bitter about Articuno as not only is it our favorite legendary bird, but we're in Team Mystic for crying out loud.
We also fought Zapdos which I DID catch, but he sadly didn't: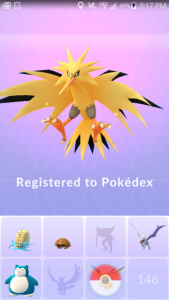 I really hate how the Raid catch system works. It just sucks a lot and even if I get great/excellent curveball hits each time and use Golden Razzberries, I can fail and considering these are near impossible to get at home due to lack of people… It's just really disheartening, honestly.
Speaking of disheartening, StreetPass is just… so empty lately. The most amount of people I got was 9. I never had to empty it out or check too often as it seems most people don't care anymore which is super depressing. I really want to finish the games, but at this rate, it's likely I never will :(