So, recently (and largely hinted at the end of the last Splatfest for this theme) the final Splatfest was announced–Callie vs Marie, a topic that has been pretty popular since the game came out.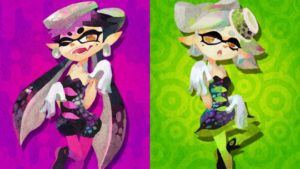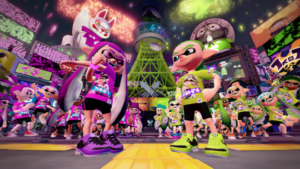 While there are some people who do not care for either or may like both for different reasons (such as myself), there's always been quite a fanbase for each. In general, I feel like I see more Marie fans online, but more Callie fans actually in the game. I'm not sure who will win (as it is, the formula has been a bit broken ever since wins were turned to 6x–due to the fact that the more popular team will cancel their wins out due to often getting same team matches, the less popular team will have more chances to actually contribute to their wins…), but I expect there to be a lot of people talking about it either way.
In honor of the final Splatfest, Splatoon is doing another collaboration with Miitomo!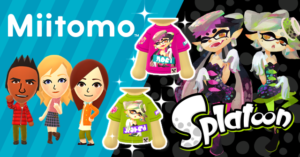 For one, you can purchase the Splatfest shirts (so while you can't keep them ingame, you can get them forever on Miitomo!) for 2,000 Coins each.


Whichever Squid Sister wins, you will receive a free respective pin:


If you want both or wanted the pin of the Squid Sister that lost, don't worry! Both will available in the Miitomo store afterwards.
All the old Splatoon Miitomo items are back in their respective places (The Female and Male Inklings in their Miitomo Drops, the Squid Pins in the Shop, and the Ink Tanks in the MyNintendo Rewards) until the end of July 14th while the Callie and Marie shirts will be around until July 25th. As for the pins, they will be available to get from your gift box July 24th until August 1st–the ones for sale will be available to buy until the 31st of July.
Of course, this isn't the only collaboration happening. The Miiverse Art Academy Community is holding a special event for people to post up their Splatfest Memories.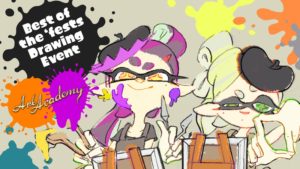 There isn't any special prize, but if you like drawing and have Art Academy, why not participate?
As for me, this is my one big Splatfest memory before my hopes and dreams died and I gave up playing Splatoon: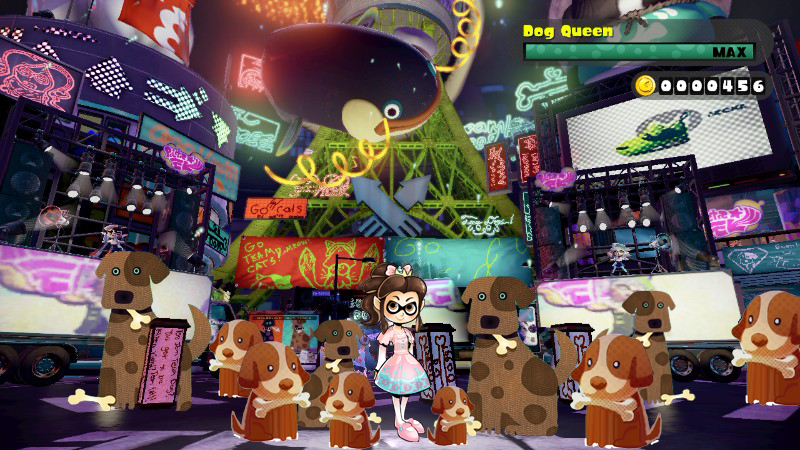 I still love the original dogs and am sad they changed them. And even if I don't see myself ever getting back into Splatoon, I still really like the inklings and adore Apheros' drawing of Inkling!Me.
But yes, are you Team Callie or Team Marie?

Team Callie or Team Marie?
Team Marie! (32%, 11 Votes)
I like both (32%, 11 Votes)
Team Callie! (24%, 8 Votes)
I'm not a fan of either Squid Sister (6%, 2 Votes)
What's Splatoon? Who's Callie? Who's Marie? (6%, 2 Votes)
Total Voters: 34

Loading ...
Look! I even added a handy poll for those who hate commenting (though, feel free to comment to expand your reasoning on why)!
How do you feel that Splatfests are ending? I personally am surprised as I didn't think it'd happen until a sequel came out. That said, part of me wonders if one could be announced at the end of their Splatfest after they announce the winner, but we will see.