So, Miitomo has done it's first special campaign for items from Splatoon. While most people seem to have already stopped playing Miitomo, I've actually still been enjoying it. Even if I've run out of questions, again. But I'm at least still unlocking neat new Miifoto backgrounds: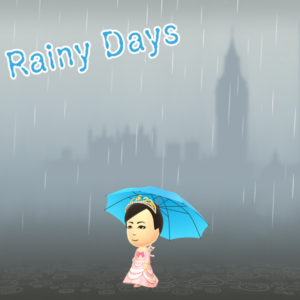 I wonder how many there are? For those who don't know, you can unlock new Miifotos through saving other people's Miifotos from the album page. If you open up someone's Miifoto on the official Miitomo website on your phone/tablet, you will have an option to bring up the photo in Miitomo. If you choose to save it, you'll unlock that Miifoto's background. And best of all? You can buy the clothes someone is wearing too. So if you are upset at missing something, try and find someone's Miifoto with it–you can save it there until you have enough to buy it. I'm still trying to find more clothes myself so hopefully I get lucky with Miifotos too.
Going back to the Splatoon Campaign, the first part has already been completed.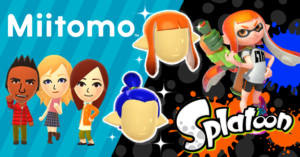 More or less, we needed to get 10,000 Retweets for the Inkling Boy Wig and 20,0000 Retweets for the Inkling Girl Wig (20,000 total–not 30K altogether) by April 26th by retweeting official Nintendo tweets with #Miitomo_Splatoon_RT in them. You could retweet Nintendo America's Tweet, Nintendo Europe's Tweet, and/or Japan's Official Miitomo Twitter's Tweet. Japan alone already has over 20K with Nintendo of America's having over 15K and Europe's having over 5K, so even if we did need 30K total, we'd be set as it's thankfully cumulative of all three and not per region.
Speaking of Splatoon campaigns, you want to know what other game did? :D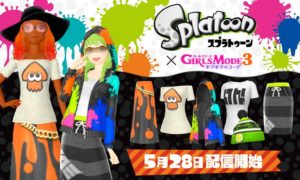 Girls Mode 3. Please come over, Style Savvy 3. I'm still hoping T___T
For reaching the goals (I wonder if they will add more or not due to it being reached so quickly), we will be receiving the wigs on April 27th and with their arrival, a few other things are in store. For one, there will be a Splatoon Miitomo Drop with some neat items: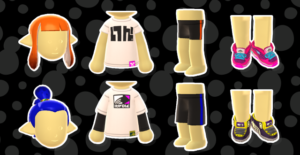 I'm not sure if the wigs will be included there as well for anyone who missed the chance to earn them for free, but I'm kind of hoping there will be more than just those items. Other than the pink sneakers, I don't care too much for the rest. I might get one of the shirts or both, but I would pass on the rest.
Meanwhile, these Squid pins will be added to the ingame shop: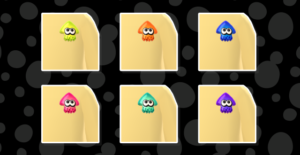 I want them all.
Finally, be sure to save up more of your Miitomo & Platinum Coins in My Nintendo for these special Ink Tanks in various colors: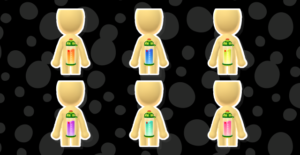 I hope I can afford the pink one. Though, maybe I will try and get the Teal one too.
All the items will be available from April 27th until May 29th, 2016. That's also how long you will have to pick up your wigs if you were around for the retweet promotion. If you haven't downloaded Miitomo yet, as long as your account is set up before April 26th, you will get these items.
While I'm not super big on Splatoon, I still do like the designs and I hope there may be a few more items in Miitomo Drop. I also hope that we will see more campaigns in the future. I'm crossing my fingers for Pokemon. Nintendo, please give me a Pokemon I can have on my shoulder and/or head. Also make it Mega Audino. I don't care that Mega Audino is like my height. Just please.
Moving slightly away from game stuff to some website things, Crystal Dreams will be getting a redesign soon! This layout was always meant to be temporarily and has long since worn out its welcome so I'll be working hard on that which is part of why the updates have been a bit slow (The other part is unfortunately I am still sick =( ). At the moment, I am having a lot of issues with the header so if you have some ideas for a header design, let me know! If I really like your idea, I'll do my best to put it in place and even credit you for it :) I'm not looking for someone to make it (I can do that part myself :P), but just could really use some help brainstorming and would appreciate some ideas!
I'm also working on another sub-site–it'll be more "guide" related and not really be updated even close to as much as this will be, but its in preparation for Star Citizen and my organization there, SEAC (which is open for membership). Star Citizen is currently having a Free Fly Week until April 25th which means you can download the game and try out any current flyable ship as long as you have an account registered (Using this link gets you 5,000 UEC which is ingame currency you can buy some items with). If you are curious if you can run the game or exploring what is available, now is a great time to do so.
Finally, I will be going to Disney next month for the Flower & Garden Festival at Epcot! I will try and post a summary entry either while there or when I get back which brings me to…

If possible, what would you prefer for my Disney trip?
Blog posts & Photos! (53%, 9 Votes)
Video on Youtube (47%, 8 Votes)
Total Voters: 17

Loading ...
Feel free to comment here or send me tweets if you have any other suggestions :) (Keep in mind whichever is picked, I have no plans to show myself on camera or in photos)