Originally, I wasn't planning to talk about any of the recent news beyond some tweets on Twitter, but despite that, I just keep thinking more and more about it in my head and can't help but want to say some things. I was up when a lot of the news was just leaking and I will admit, it got me hyped up. While Magiana isn't one of my top favorite Pokemon designs, I do still like its design a lot (Afterall, it looks like a Princess).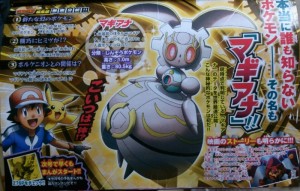 (Photo credit to Serebii)
That said, the resemblance to Diancie (just with Carbink ears) jumps out to me immediately: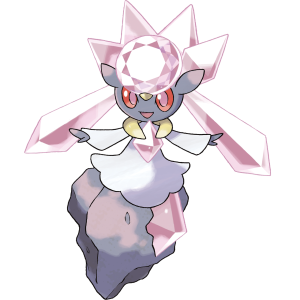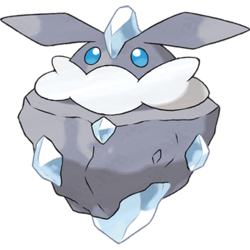 Along with some things from the Klink line.
And it really brings up a lot of the "Could it be a form change?" questions. On one hand, I do feel forms have showed up a lot lately (I mean, between mega evolutions and Zygarde). It could even be another fusion thing like Kyurem. In general, I would prefer a new Pokemon just due to being tired of seeing all of these. I do feel the similarities are more of a coincidence though (Afterall, they say it was "made by human hands"–maybe the person found inspiration in other Pokemon) depending on how it was created, I wonder how it was officially considered a Pokemon.
Of course, Magiana isn't the first that was created largely due to humans. Ignoring ones that seem accidental (Such as Grimer or Voltorb), there was Mewtwo (made from Mew's DNA) and Castform (though, specifically how the Scientists made it is unknown). Golett and Golurk were probably the closest to Magiana due to being made by people and also being robots. While the movie largely seems to hint there is only one Magiana at the moment, that doesn't necessarily mean it's legendary of course. Both Lucario and Zoroark had big purposes in movies despite being normal Pokemon. But with how Magiana is, it makes me wonder if it could be a Pokemon you actually have to make by bringing the "materials" to a scientist. Could the next region possibly have a Steampunk element? While I still would prefer to see more done with our current regions (And Pokemon being shown in the movie both for new regions or expanded for current regions has happened previously), for some reason I still feel Magiana is leaning towards a new region and I do feel a new region coming out or being announced would be more exciting for the 20th anniversary barring a game that works similar to Detective Pikachu (As in being fully 3D and seeing Pokemon interact with the world around you) with online and local multiplayer where you can travel along with your friends to various regions.
It could even tie in to the Strange Souvenir from X/Y as Protector has been thrown around quite a bit–Magiana is somehow important to Volcanion, Golett and Golurk were made for protection, and the Strange Souvenir is of a protector "somewhere far from Kalos".
Of course, I'm just thinking out loud. At the very least, it's just getting me more excited for any future Pokemon announcements this year.